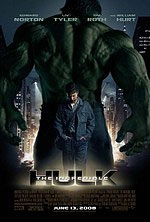 The Incredible Hulk


– for sequences of intense action violence, some frightening sci-fi images, and brief suggestive content.
Director: Louis Leterrier
Starring: Edward Norton, Liv Tyler, Tim Roth, William Hurt
Running Time: 1 hour, 54 minutes
Theatrical Release Date: June 13, 2008
Official Site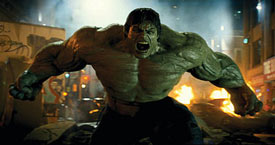 Plot Summary
Scientist Bruce Banner (Edward Norton) desperately hunts for a cure to the gamma radiation that poisoned his cells and unleashes the unbridled force of rage within him: The Hulk. Living in the shadows — cut off from a life he knew and the woman he loves, Betty Ross (Liv Tyler) — Banner struggles to avoid the obsessive pursuit of his nemesis, General Thunderbold Ross (William Hurt), and the military machinery that seeks to capture him and brutally exploit his power. As all three grapple with the secrets that led to The Hulk's creation, they are confronted with a monstrous new adversary known as The Abomination, whose destructive strength exceeds even The Hulk's own…
Film Review
In 2003, director Ang Lee disappointed comic book fans abroad with Hulk, a film adaptation of the popular superhero, boasting a strong cast that offered the likes of Eric Bana, Jennifer Connelly, Sam Elliot, Nick Nolte, and Josh Lucas. Hulk was messy, although it had its moments, and dropped the proverbial ball in so many ways. It seemed overly dark, missing the kind of ingredients necessary that the more successful superhero movies like Spider-Man 2, Iron Man, and X-Men 2 have possessed. Giving the Hulk franchise a fresh start this time around is The Transporter (and its first sequel) director Louis Leterrier and Academy Award nominee Edward Norton. Joining Norton for his first turn as the green giant is Liv Tyler as Betty Ross, William Hurt as General Ross, and Tim Roth as Emil Blonsky.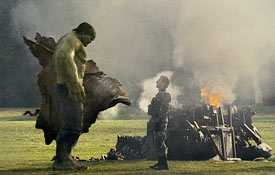 Lee approached 2003's Hulk with a decidedly more stylized feel, while Leterrier goes for a much more cinematic styling, immediately putting considerable distance between the two films. This year's The Incredible Hulk is thankfully not a sequel, and works well to get started as if fans already have a pretty good knowledge of the story, and with Banner already having been on the run for many years. Norton and Leterrier have said this film takes more cues from the TV show version of Hulk than anything, and it only makes perfect sense for the show's original monster, Lou Ferrigno, to not only cameo as a security guard in this film, but provide the voice of the green guy as well. One of the many complaints about Lee's outing was Hulk's CGI appearance, so that surprised me especially when this movie doesn't stray too far from that film's CGI approach. While this Hulk is more textured, detailed, and a darker green, there are too many times when Hulk is just plain too CG for his own good. However, Leterrier makes up for this in some fantastic action sequences and stellar acting from Norton, Hurt, Roth, and Tyler.
While Sam Elliot overplayed General Ross (but still looking perfect for the part), Hurt's more reserved take on the character benefits the film on a whole. Also, Norton is a worthy choice for the unassuming Bruce Banner. Not only does Edward Norton have the intensity the character needs, he's the perfect contrast for the character of the Hulk. And while Lee's version didn't take the opportunity to make nods to the comic book fans, Leterrier winks at the viewers with jokes about purple pants, stretchy pants (since Hulk grows many times the size of Banner yet retains his pants every time), and tosses out an iconic phrase or two at just the right moment. Also, for those who saw Iron Man, Leterrier bookends the movie with references to the character of Tony Stark (keep an eye out for the names "Nick Fury" and "Stark Industries" during the opening credits), as well as a reference to the nugget of a scene tacked on to the end of the credits of this year's Iron Man (No need to stay til the end of the credits for The Incredible Hulk, however. Leterrier gives us everything before the credits roll). It's especially fun to see Marvel tying a few of their movies in together, and it's exciting to wonder just how this will all play out on the big screen in a few years.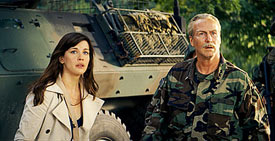 Director Louis Leterrier doesn't shy away from violent content in his The Incredible Hulk. This version, while maybe not as twisted as Lee's, has a great deal of violence throughout, with a fair share of bloody faces and cuts and bruises earned, whether in flashbacks or in some hefty action sequences. Also, the villain of Abomination is quite grotesque looking with most of his body covered with stretched skin over protruding bones. Finally, this movie takes a shot at answering any fanboy's wonderings over whether or not Banner can bed Betty Ross. In a scene where the two get briefly heated, Banner stops them before he gets too "excited" and turns green. Leterrier plays it off as an amusing exchange, but it's also a little racy. Finally, language is kept to mostly mild obscenities, but could still have been toned down further. For the parents contemplating taking the kids to this one, the MPAA slapped it with a pretty good description of what you can expect here, so I'd heed some caution when deciding if it's right for them or not.
In the end, the ornery green giant also known as the Hulk has been redeemed by Norton and crew with The Incredible Hulk. It'd be interesting to see where this franchise goes, but for those disappointed with the first go at it five years ago will most likely find more to like about this do-over. Anyone who's afraid this will be a rehash of all that was wrong with that film can rest assured that Ed Norton and Louis Leterrier may have a successful franchise on their hands this time. While it may not be as "incredible" as Tony Stark's debut outing we saw last month, it's certainly a worthy summer popcorn flick that shouldn't disappoint.
– John DiBiase, (reviewed: 6/13/08)
Parental Guide: Content Summary


 Sex/Nudity: As memories flash in Bruce's mind, we see a brief shot of Betty in bed (from his perspective lying next to her), but nothing sexual; As Bruce runs from a group of soldiers, he climbs down a building and enters a woman's apartment through a window where we see her putting a shirt on. No explicit nudity is shown, but all of her torso except for her chest is briefly seen; We see Bruce in the shower and as he has a flashback of the army attacking, he curls up in the tub. Steam mostly covers any detailed nudity, but we do briefly see the outline of his nude body from the side (his leg covers his crotch), and do see part of his bare butt; Betty and Bruce start
kissing and he lies down on the bed on top of her as they continue to kiss. We see all of Betty's leg up to her hip as she puts her leg around him, all the while we hear his heart monitor beeping and speeding up as he gets excited, causing him to stop so that he does not change into the Hulk. He tells her he can't get excited although he wants to and the scene ends there.


 Vulgarity/Language: 1 incomplete "s" word, 1 "g*dd*mn," 7 "d*mn," 3 "h*ll," 1 "a**h*le," 1 "a" word, 2 "p*ss," 1 "b*tch," 6 derivatives of "G-d"


 Alcohol/Drugs: We see General Ross drinking in a bar and appearing somewhat drunk


 Blood/Gore: In the opening credits, we see a flashback of how Bruce becomes Hulk the first time and quick cuts (from his perspective) of him attacking Betty and the General. We briefly see glimpses of blood all over Betty and the General's faces (with lots on the General), and later shots of Betty with a bruised, beaten face laying in a hospital bed; Bruce accidentally cuts himself at work and we see a close-up CGI effect of a drop of his blood flying into the air and falling several floors down below. We then see some blood on a conveyer belt and in a bottle as it mixes with soda (which someone ends up drinking unknowingly); We see Bruce prick his finger for blood and a droplet forms (in a close-up shot); We see some dead soldiers with varying degrees of blood on their faces; We see Blonsky with a great deal of blood on his hands and face after getting severely injured. We briefly see a closeup of his battered fingers as he moves them, as well as his swollen face; We see a spine slightly protrude from a man's back; Abomination looks a lot like Hulk, but with its bones protruding through its skin all over its body; We see bags of blood hanging in a lab; We see some blood dripping from a container; We see a man with a bloody cut on his forehead with a little blood dripping onto his head; We see a downed helicopter with dead soliders inside with varying degrees of blood on their faces; General Ross has blood on his neck; Hulk has a bloody gash on his chest


 Violence: Heavy. Hulk is often taking the brunt of military force, being shot at and fired upon all the time. He fights back by throwing vehicles, tossing things at them, and causing a great deal of destruction. Deaths do occur, and for the climax of the film, there's a showdown between Hulk and Abomination that is pretty brutal at times; Hulk kicks a man in the chest and we hear that that man's body has had all of his bones pulverized; We see several instances where medical needles are inserted into the skin, and other comic book related violence