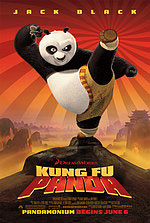 Kung Fu Panda



– for sequences of martial arts action.
Director: John Stevenson, Mark Osborne
Starring: voices of Jack Black, Dustin Hoffman, Angelina Jolie, Jackie Chan
Running Time: 1 hour, 35 minutes
Theatrical Release Date: June 6, 2008
Official Site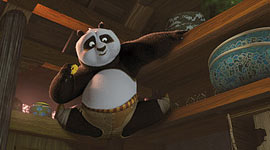 Plot Summary
Enthusiastic, big and a little clumsy, Po is the biggest fan of Kung Fu around…which doesn't exactly come in handy while working every day in his family's noodle shop. Unexpectedly chosen to fulfill an ancient prophecy, Po's dreams become reality when he joins the world of Kung Fu and studies alongside his idols, the legendary Furious Five — Tigress, Crane, Mantis, Viper and Monkey — under the leadership of their guru, Master Shifu. But before they know it, the vengeful and treacherous snow leopard Tai Lung is headed their way, and it's up to Po to defend everyone from the oncoming threat. Can he turn his dreams of becoming a Kung Fu master into reality? Po puts his heart – and his girth – into the task, and the unlikely hero ultimately finds that his greatest weaknesses turn out to be his greatest strengths. (from MovieWeb.com)
Film Review
DreamWorks Animation has been scoring big lately with hits like the Shrek franchise, Madagascar (and its upcoming sequel), Seinfeld's Bee Movie, and one of my personal favorites, Over The Hedge. The latest to add to that mix is Kung Fu Panda – a wonderful fairytale about a panda bear named Po who is a huge fan of kung fu but works his whole life for his father's noodle soup business. The story begins as he struggles with where his life is going, just around the time when the city is ready to announce the crowning of its Dragon Warrior. When Po is unexpectedly chosen as the said "Dragon Warrior," it becomes a battle of disbelief and against all odds as everyone – including himself – have trouble with accepting this bizarre selection. What unfolds is a fun and action-packed little story about believing in yourself when called to do something that seems way beyond your abilities — which is certainly a lesson not uncommon in the Christian walk.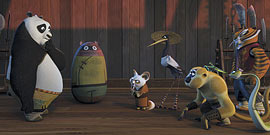 The animation is once again uniquely stylized for the latest DreamWorks Animation installment. Beginning in a flat, hand-drawn anime-styled animation before becoming your usual, beautifully rendered CGI, the film looks just as amazing as most other major animated features these days. The kung fu theme that Kung Fu Panda is centered around leaves the door open for plenty of action, and Panda delivers. The main villain, a snow leopard by the name of Tai Lung, brings about some really dark moments in the film with some potentially scary elements for the kids, while fight scene after fight scene leave our heroes (and others) in rather precarious situations and violent encounters. At the same time, however, half the violence is played for laughs as Po gets put through the ringer when it comes to training. From crotch shots to smacks to the stomach or just full-on getting tossed a mile away, there's lots of slapstick comedy here too.
The voice cast is a perfect assembly. Jack Black, who first voiced for a DreamWorks film with Shark Tale, gets the title character as Po the panda, and breathes lots of life into his clumsy and naive but entirely loveable character. He's as big as Shrek but has the heart and cuteness of a teddy bear. He's an irresistable lead, which becomes more evident when the film deviates from his character to focus on the stories of Master Shifu or Tai Lung. With that, Dustin Hoffman is a perfect guru for the team, while Ian McShane (We Are Marshall) is wonderfully vicious as the villain. The Furious Five is carefully selected to be Angelina Jolie, Lucy Liu, David Cross, Seth Rogen, and
Jackie Chan, but half the time they seem wasted in their parts (particulary Chan who only gets a few lines and probably recorded his part in an hour). Jolie gets the most material as Tigress and, while being mostly unrecognizable in the part, does a fine job. All of the voice acting is handled in such a way that, before long, you're seldom thinking so much about which celebrity is voicing which character, but instead the characters take on a life all their own.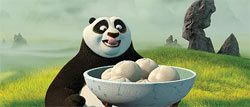 Again, the action and story are certainly more fun and entertaining than most of the animated films in recent memory. The choreography in the fight scenes, along with the unique camera work and angles keep things exciting. Aside from the fantastic finale, there is a thrilling brawl on a rope bridge as well as a fight that involves Master Shifu showcasing his stuff that stand out as some of the highlights of the movie. DreamWorks' Panda is almost akin to Pixar's The Incredibles in presenting an action-filled animated film for the family.
In the end, you can chalk up Kung Fu Panda as one of the summer movie highlights of 2008. Loaded with action, comedy, and heart, Kung Fu Panda is a delight. And make sure to leave room for dinner afterwards… this one is likely to make you hungry for Chinese food in the worst way. Get ready to defend your dumplings. Skadoosh!
– John DiBiase, (reviewed: 6/6/08)
Parental Guide: Content Summary


 Sex/Nudity: None


 Vulgarity/Language: 2 "suck"


 Alcohol/Drugs: None.


 Blood/Gore: None. Although, we do see Mantis sticking Po with acupuncture needles which isn't gory, just a bit violent considering what's being done


 Violence: Lots and lots of martial arts violence. Plenty of kicking, throwing, hitting, beating, etc throughout the entire movie. Nothing is graphic, but it's incredibly violent (although a lot of it is slapstick too).