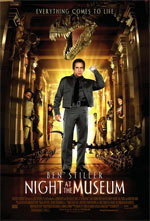 Night At The Museum



– for mild action, language and brief rude humor.
Director: Shawn Levy
Starring: Ben Stiller, Robin Williams, Owen Wilson
Running Time: 1 hour, 48 minutes
Theatrical Release Date: December 22, 2006
Official Site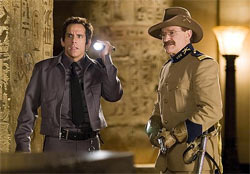 Plot Summary
The fantastical adventure kicks off when Larry Daley (Ben Stiller), a down-and-out dreamer whose imaginative ideas have never paid off, finds himself in desperate need of a job. Larry has always believed he was destined for big things. But he has no idea just how literally gargantuan and hairy a challenge he will face when he grudgingly accepts the supposedly menial graveyard shift as a security guard at the Natural History Museum. Larry soon watches in shock and awe as, one by one, the primeval beasts and storied icons that surround him stir magically to life – and total havoc ensues… (from MovieWeb.com)
Film Review
Family comedies seem to be rare breeds of filmmaking these days, and good ones worth taking the family to are even more scarce. With Christmastime being the prime season for family films, it should be no surprise that fantasy comedy Night At The Museum should find its way into the theaters a few days before the holiday.
Director Shawn Levy's previous venture was this year's much delayed Pink Panther which was panned by most critics and was given a mild reception by audiences. Night At The Museum places comedian Ben Stiller in the lead
role as a down-on-his-luck divorced father who can't seem to catch a break in life. Once given the tip to work as a night security guard at the local Natural History Museum, his life would soon be changed forever. The premise that all museum exhibits come to life after hours is a unique idea that ends up making history fun to learn about.
To see Stiller in a role so family friendly as his character in Night At The Museum is a real rarity. Stiller channels his usual underdog role into more of an everyday man who just wants to make something of himself and make his son proud in the process. Stiller is charming as Larry Daley and it's a real treat to see him perform his usual funny shtick without being vulgar. Ironically, the usually abrasive and perverse Robin Williams is wonderful as a statue of Theodore Roosevelt that comes to life every night inside the museum. And Owen Wilson, who partnered with Stiller in the crude 2004 comedy Starsky & Hutch, is delightfully hilarious as a diorama cowboy with a love for fighting named Jedidiah. Levy injects heaps of charm and silly humor into the film to make it lighthearted and fun from start to finish – managing to be silly without being completely mindless, overly campy, or finding a way to slime a character with some random florescent colored goop. The wit of the humor in Night At The Museum helps make it a film that will be worth revisiting again and again.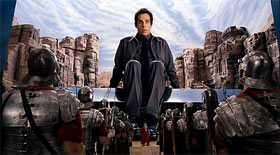 Thematically, Night At The Museum is also a real surprise. A message of everyone being capable of achieving greatness, despite how insignificant they might feel, is conveyed strongly. While Williams' Roosevelt makes a couple misguided comments about evolution (one moment has him trying to encourage Larry that he's better than a monkey by asking him "Who's evolved?"), the film's message is inspirational and uplifting. Content is mild as 1 possible "s" word is present (Larry's mouth is rendered numb and it sounds like he may say it with a bit of a lisp) and 1 "a" word is heard. All of the violence is comedic and there is no sexual content.
One real novelty about Night At The Museum is the sheer presence of screen legends Dick Van Dyke and Mickey Rooney as the old night security guards. Rooney is given numerous opportunities to steal his scenes as a grumpy old man who appears opposed to Larry replacing their job while Van Dyke is his usual charming self (with some surprises). All in all, Levy and company keep Night At The Museum light, fluffy, and ultimately a lot of fun throughout.
It may not be perfect, as the film still finds a few moments of cheesy humor or misfired gags, but the good outweighs any bad as Night At The Museum cements itself as one of Ben Stiller's best and most accessible projects yet and a delightful distraction from the holiday craze.
– John DiBiase, (reviewed: 12/25/06)
Parental Guide: Content Summary


 Sex/Nudity: None.


 Vulgarity/Language: 1 possible "s" word, 1 "a" word, 2 "G-d"


 Alcohol/Drugs: None.


 Blood/Gore: Larry gets a small little cut on his forehead and lip after being beaten up; But a wax mannequin is accidentally split in half and we see the waxy split (it looks like chunks of wax and not at all like a real human wound), but is patched up using wax to put him back together


 Violence: Larry is shot with tons of little arrows by diorama Indians; Miniature cowboys tie Larry to a train track and run a small locomotive into his face (no harm is done); A hockey puck hits Larry in the face; Two men driving a remote control car crash over a mound of snow and seemingly die, but we find out they're okay; A Civil War dummy is stabbed with a bayonet and we see stuffing come out of its suit; A war breaks out between the cowboys and Romans; Larry finds the museum lobby is filled with all kinds of museum characters fighting together and breaks it up; Ghengis Khan and his men try to pull Larry apart but are interrupted before they can finish; A couple men beat up Larry and we later see them each beaten and apprehended