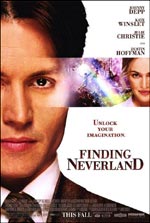 Finding Neverland



– for mild thematic elements and brief language.
Director: Marc Foster
Starring: Johnny Depp, Kate Winslet, Dustin Hoffman
Running Time: 1 hour, 40 minutes
Theatrical Release Date: November 24, 2004
Official Site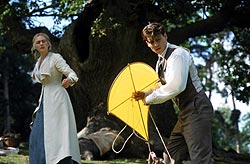 Plot Summary
In Finding Neverland, director Marc Forster and an accomplished cast including Johnny Depp, Kate Winslet, Dustin Hoffman and Julie Christie take a fictional look at the creation of "Peter Pan," the classic of children's literature that speaks directly to the child in all of us.
Finding Neverland traverses both fantasy and everyday reality, melding the difficulties and heartbreak of adult life with the spellbinding allure and childlike innocence of the boy who never grows up. (from MovieWeb.com)
Film Review
I wasn't sure what to expect going into Finding Neverland. All the advertisements and behind-the-scenes specials seemed to hint that it is the story of "Peter Pan" author J.M. Barrie's inspiration for the famous play as well as how it came to life on stage (including plenty of fairy tale sequences). What I actually saw on screen was much different.
Finding Neverland is a wonderfully-written drama about J.M. Barrie's struggle for inspiration in writing a hit play. He meets Sylvia Llewelyn Davies one afternoon in a park with her four young boys. As he begins spending ample time with the family, this starts causing tension between him and his wife Mary and between him and Sylvia's mother Emma du Maurier. From his time with Sylvia's children,
James is reinspired in his writing and writes the tale about children who never grow old… "Peter Pan." But you might think the story would be a happy one, right? Of course not. The story is laced with as much tragedy as tender or fun moments, making Finding Neverland one considerably thematically heavy film.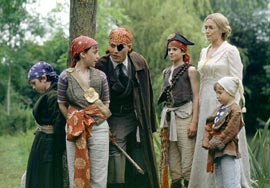 The acting is superb. Although I haven't seen Depp in too many films, He steals every scene he appears in and wields an impressive accent. His performance is charming and is complimented well by the stiff but sensitive Slyvia, performed by British actress Kate Winslet. Winslet is an incredibly versatile actress. From witnessing her breakout, Oscar-nominated role in Titanic to recently seeing her play an extroverted American in an edited version of Eternal Sunshine Of The Spotless Mind, Winslet has proven she can fuse any of her roles with great passion and realism. The other main characters, Sylvia's boys and her mother, also turn in great performances, complimenting each other nicely.
The themes of the movie weigh on the viewer quite heavily after the film ends. While the wonder sparked by Barrie's imagination brings a lot of life to the story (brilliantly shown in flashes between reality and fantasy), the struggles of James trying to get along with his jealous wife, and the pain the boys are struggling with with the loss of their father, give the film a great deal of mature emotion. A younger audience will most likely be lost on a lot of the drama between the adults but will probably enjoy the scenes with the children playing together. I expected more focus on the Peter Pan play itself which would have helped make it a more family-friendly film, but I appreciated the new angle of the popular story. We already have too many films telling the story of Peter Pan, so it's interesting to get a look at the story behind Peter Pan (although apparently a lot of facts were altered for the film version).
Despite heavy themes, the only objectionable content is a few swear words that were all contained in the opening sequence. While unnecessary to even include those, the film retained a sense of innocence to keep it clean through the remainder of the movie.
As a whole, Finding Neverland is an Oscar-worthy gem, but an emotional downer. Although the content is family-friendly, thematically it may go over many children's heads, limiting its audience to Depp fans and those who enjoy dramas and period films.
– John DiBiase, (reviewed: 11/21/04)
Parental Guide: Content Summary


 Sex/Nudity: None. Barrie spends a lot of time with Sylvia and her four boys and a friend tells him people think there is possibly more going on in either relationship (either an affair or he's obsessed with the boys — neither is true); Barrie finds out his wife is having an affair


 Vulgarity/Language: 2 "s" words, 2 "cr*p"


 Alcohol/Drugs: Some people have drinks during the film.


 Blood/Gore: None.


 Violence: Peter trashes a homemade theater stage he made when angry that he feels he's been lied to about his father's (and another
character's) illnesses. While hanging from a rope above a theater stage, the two boys holding their brother up fight over the rope, causing him to fall and break his arm.