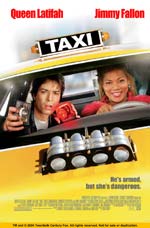 Taxi



– for language, sensuality and brief violence.
Director: Tim Story
Starring: Queen Latifah, Jimmy Fallon
Running Time: 1 hour, 37 minutes
Theatrical Release Date: October 8, 2004
Official Site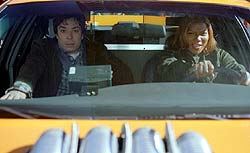 Plot Summary
Chicago's Queen Latifah and Saturday Night Live's Jimmy Fallon team up in this non-stop action-comedy. Latifah is New York's fastest cabbie whose skills behind the wheel and souped-up car help an overeager undercover cop (Fallon) pursue a gang of female bank robbers. (from MovieWeb.com)
Film Review
Sometimes the collective opinions of movie critics can be overwhelming. Considering the merciless shredding that Jimmy Fallon's film Taxi has received, it's a wonder why anyone has seen it. But, out of sheer curiousity and the desire to go to the movies for some lighthearted fare, I'm happy to say I ignored such popular opinion.
Taxi is Saturday Night Live alumni Jimmy Fallon's theatrical debut. Now, the thing about Fallon is I've learned that his schtick is more than just the usual acquired taste. SNL fans usually can tolerate Fallon amongst the cast, but most people seem to have a low tolerance for Fallon's tendency to break character on the show and fight back laughter. Personally, I often enjoyed Fallon's contributions. And while SNL's often raunchy material is seldom funny anymore, I found Fallon at his best when surrounded by the best talent to bring out his.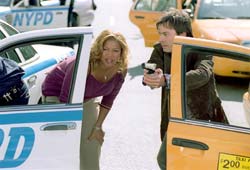 Taxi pairs Fallon up with award winning rapper-turned-actress Queen Latifah. Latifah seems to be more careful in recent years of what projects she chooses and it honestly surprises me to see her choose such a risky flick as Taxi. But what seems like one of the oddest possible pairups for a buddy comedy (although who really knew teaming Chris Tucker and Jackie Chan would be gold?), actually works for much of the film and I found it fun to watch them play off of each other.
But when I say I enjoyed much of what Taxi had to offer, I will admit it's not the funniest film, nor the most action-packed, nor the most creatively written film to ever grace the silver screen. While it definitely warrants bad reviews from some, I'm actually surprised, after seeing it for myself, that it got such a negative reception. The movie is a remake of a 1998 French film from Luc Besson that sparked a couple sequels. Now whether French cinema is an ideal place to pull ideas from for Hollywood remains to be seen, but I found Taxi good for what it was intended for — entertainment. While a number of the jokes weren't really that funny, I didn't find anything wincingly bad (like I regretfully did in Surviving Christmas). Taxi is not a film that takes itself seriously and it reminds the viewer of this throughout its duration. Fallon's comedic approach is a mixed bag of Jerry Lewis meets Mike Myers meets Adam Sandler. He's not quite as appealing as any of those celebrities but decent in his own right.
What I liked about the movie is I just found it pretty fun overall. I went in expecting slop scraped from the bottom of the cinematic barrel but, instead, my wife and I left pretty satisfied. Content-wise, the film has its doses of profanity, sensuality, and violence, but is surprisingly light on all of it considering its potential. Some sexual-related dialog is present, but nothing especially graphic. And with the film's villains comprised of four gorgeous supermodels, cleavage and leg are shown aplenty. The girls wield their looks almost as dangerously as their firearms but the filmmakers do hold back from going a bit too far. Violence is surprisingly limited to mostly nongraphic encounters with just a brief glimpse at some blood on a person's shirt after being shot.
Despite popular negative opinions offered on Taxi, I was pleasantly surprised with its outcome. Not brilliantly acted, directed, or written by any means, Taxi is clearly not meant to be taken seriously. We're only asked that we sit back, buckle our seatbelts for safety
and enjoy an hour and a half of lighthearted entertainment. But keep in mind this film — like most PG-13 rated films — is not squeaky clean and therefore should be carefully looked at before viewed.
– John DiBiase, (reviewed: 10/24/04)
Parental Guide: Content Summary


 Sex/Nudity: The female bankrobbing foursome wear revealing attire for much of their screentime, but no explicit nudity is ever seen. Andy tells Belle there's sexual tension between him and his former-girlfriend-now-boss Marta, but Belle corrects him and tells him it's just regular tension. Vanessa acts somewhat sensually towards a cop who pulls them over. Marta lets herself be taken hostage by Vanessa and the bank robbers in exchange for a hostage. As such, we see Vanessa sensually frisk Marta, feeling up and down her body, grabbing her breasts and butt. This causes Andy and other cops to react somewhat excited and one cop remarks "Would you take me too?"


 Vulgarity/Language: 1 incomplete "f" word (used with "mother"), 2 "J-sus," 10 "s" words, 3 "g*dd*mn," 20 "d*mn," 13 "h*ll," 12 "a" words, 9 "G-d," 1 "Lord" A song that plays briefly seems to use the word "n*gger" and possibly the "s" word.


 Alcohol/Drugs: There's some drinking throughout the film. Belle and Andy accidentally get high off of nitrous oxide when Andy breaks the valve on a tank containing the gas. Andy's mom is always drunk which is played for laughs.


 Blood/Gore: We see some blood on the clothing of a person who has just been shot.


 Violence: Mostly comedic non-lethal violence. Some shooting, explosions, and related violence.