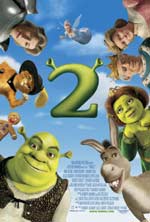 Shrek 2



– for some crude humor, a brief substance reference and some suggestive content.
Director: Andrew Adamson and Kelly Asbury
Starring: voices of Mike Myers, Eddie Murphy, Cameron Diaz
Running Time: 1 hour, 33 minutes
Theatrical Release Date: May 19, 2004
Official Site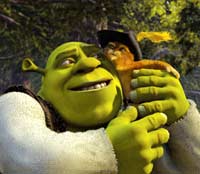 Plot Summary
After returning from their honeymoon and showing "home movies" to their friends, Shrek and Fiona learn Fiona's parents have heard their daughter has married her true love and wish to meet the husband and invite him to their kingdom, called Far Far Away. The catch? Fiona's parents are unaware of the curse that struck their daughter and assumed she married Prince Charming so are a bit shocked to learn thier son-in-law is a 700-pound ogre with horrible hygeine and a talking donkey. (from MovieWeb.com)
Film Review
The first Shrek film debuted in 2001 as a sleeper hit in the cinemas. It went on to win the first ever Best Animated Feature Oscar. Mixing a little more mature humor into a mostly family-friendly format, Shrek began redefining animated films. The only times Shrek over-stepped its boundaries was including one too many adult words. Due to its runaway success, a sequel was set into motion for release to theaters in Summer 2004.
Shrek 2 defies the stereotypical sequel. As I sat and watched the story unfold, I forgot I was watching a sequel and I felt it was a genuine continuation of the story. Just about everyone from the first film makes an appearance in Shrek 2 and it was great to see these characters evolve in their relationships together. It was a pleasure to see Shrek not quite as bitter or annoyed by Donkey and to see how, despite occasionally arguing, they still appreciate each other. The film builds on established characters and introduces new ones as well. Fiona's parents are perfect, featuring the voice talents of the legendary Julie Andrews and Monty Python alumnus John Cleese. But the character that steals the show is Antonio Banderas' brilliant Puss In Boots.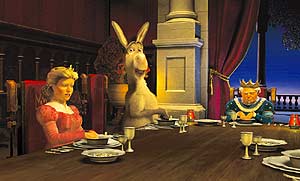 While Shrek was a fairy tale story with a contemporary edge and tongue-in-cheek delivery, Shrek 2 takes it to the line and catapults past it in impeccable screwball fashion. There was nothing tiresome or redundant about Shrek 2, and it inundated the audience with fresh jokes, spoofs, and gags from start to finish.
The only drawback to the Shrek films is the tendency they have to ride the fence with suggestive adult humor. With Shrek and Fiona's recent marriage, comments regarding lovemaking are made (Donkey jokingly calls Shrek a "love machine") while Puss In Boots is seen licking his crotch (as a cat might) and makes a few suggestive comments (not to mention a dance sequence features a Frenchman suggestively smacking his butt). The only thing about most of these, is they'll go straight over the young ones' heads and aren't too racy or foul in the longrun to make a big deal about. But the fact that filmmakers of family movies don't mind even tiptoeing into territory like that make one wonder how far will they go in the future? Are we getting too lax on issues like this? Maybe, maybe not. Perhaps it's food for thought.
Overall, I don't think I can say I've seen a funnier movie in a very, very long time. Shrek 2 is imaginative, witty, clever, and downright hilarious. It knows when to tug on our heartstrings, but chances are we'll be too busy still giggling about a previous joke by the time a serious moment comes along to fully appreciate it. It's a fun and no-holds-barred silly romp that the family can enjoy. I don't want to go into too many details to save the surprises. But be sure to stick around after the movie ends. After the credits start and before the credits for the voice cast roll, a final piece of the story is revealed…
All in all, Shrek 2 is quite possibly the best sequel ever produced and a fun trip to the theaters. Although it gets 5 stars from us, it isn't perfect in the content department, so you may want to check it out first, but we didn't feel any real alarming content was present. Quite possibly better than its predecessor, Shrek 2 is a great start to the Summer 2004 movie season.
– John DiBiase (reviewed: 5/20/04)
Parental Guide: Content Summary


 Sex/Nudity: We see the wolf reading "Pork Illustrated" (a play on the wolf and the three little pigs) and hear a comment about him being "gender-confused". We see Shrek and Fiona rolling around kissing on the beach (and kissing several times later on too). Donkey refers to Shrek as a "love machine". A musical number refers to a sexy man who we see crack a whip (jokingly suggestively) and we hear a comment made about a "sexy tush". We see Shrek in his boxers a few times. We see the Fairy Godmother mixing "passion", "desire", and "lust" into a potion (we see a large bottle labled "lust"). We see several girls fawning over a handsome man. When Puss is asked if he is Shrek, he suggestively replies, "For you baby, I could be." As a joke about Pinocchio needing to lie to make his nose grow, Donkey tells him to say something obsurd like he's wearing womens underwear. He hesitates and says he isn't and nothing happens. Donkey asks if he is and Pinocchio says he's not and his nose grows. A character then pulls on Pinocchio's underwear to reveal he's wearing a woman's thong.


 Vulgarity/Language: 1 "a" word (as a double meaning for the Donkey), 2 "G-d"


 Alcohol/Drugs: We see a few characters having drinks including some characters in a pub. A joke is made about catnip as if it were a drug.


 Blood/Gore: None.


 Violence: We also see Puss In Boots attack Shrek, digging his claws violently into his legs (played for laughs). Other cartoon-related violence is present (Some fighting, etc).