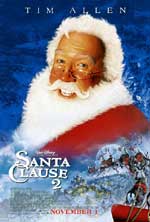 The Santa Clause 2


– for not containing material to warrant a higher rating.
Director: Michael Lembeck
Starring: Tim Allen, Elizabeth Mitchell
Running Time: 1 hour, 37 minutes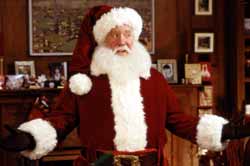 Plot Summary
Scott Calvin (Tim Allen) has been Santa Claus for the past eight years, and his loyal elves consider him the best Santa ever. But Scott's got problems. His son, Charlie, has landed on this year's "naughty" list. And Santa himself is mysteriously de-Santafying. To top it all off, if Scott doesn't get married by Christmas Eve, he'll stop being Santa forever! (It's right in his contract – the "Mrs. Clause.") Desperate both to find a wife and help his son, Scott heads back home, leaving a substitute Claus to watch over things at the Pole. But when the substitute institutes some strange redefinitions of naughty and nice – putting Christmas at risk – it's up to Scott to return with a new bag of magic to try to save Christmas.
Film Review
I barely remember The Santa ClausE, which first hit theaters some eight years ago in 1994. I believe I saw it some time later on TV or something, but it definitely turned out to be an fun and interesting Christmas film. The film makers have had quite a bit of time to work
on a decent sequel and what they ended up with was just that. And although it is a sequel, there's something about this film that really lets it stand by itself on its own. All of the primary cast members return, with the most important being of course Tim Allen in the lead roll as Santa Claus.
The story was clever and often original as it ranged from light-hearted and corny, to serious and thoughtful. While it was inconsistent in mood selection, it gave the movie a nice feeling of variety. For those who maybe wouldn't have the stomach for a film completely comprised of the silly nature of the North Pole, we're offered such delightful moments as Scott trying to win over a woman he's interested in (the "Secret Santa" scene was the film's best moment). The toy Santa was an interesting touch, adding the right amount of cute and twisted humor to the story. Surprisingly and thankfully, the content was about as squeaky clean as Hollywood can offer these days proving once again that you don't need profanity to entertain or be funny.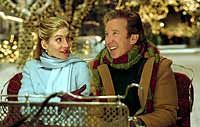 For me, what kept the movie from clinching itself as a member of my annual must-see Christmas films was actually the ending. While the story did have a light-hearted fell through-out, it held itself as moderately believable at times and not to over-the-top (usually while Santa was being himself as Scott. The North Pole was pretty laid back with the elves and Santa's antics). The film possessed some incredibly fun moments (gotta love the Tooth Fairy and Easter Bunny) as well as the touching moments of the sleigh ride and magical touches Scott brought to his relationships from being Santa. However, when addressing the message of Christmas, director Lembeck and company completely missed it. The film clearly stated that without Santa and his elves and their job of bringing toys to the children, there would cease to be Christmas. Sheesh, even The Grinch knew better than that! But not many Hollywood Christmas films get the holiday's message just right. While the story of Santa is all fine and dandy, people must know we celebrate Christmas for Jesus' birth. If you're looking for a film with the right message, I strongly suggest VeggieTales' The Star of Christmas. But if you want a family film to take a break from the hectic shopping of the season and to just recline and shut your brain off, this film is absolutely perfect.
– John DiBiase (reviewed: 11/19/02)
Parental Guide: Content Summary


 Sex/Nudity: none.


 Vulgarity/Language: none.


 Alcohol/Drugs: We see some people drinking wine while in a fancy resturant.


 Blood/Gore: none.


 Violence: some, but most is played for laughs