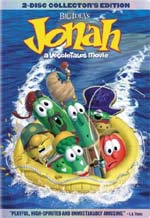 Jonah – A VeggieTales Movie



– for not containing material to warrant a higher rating.
Director: Phil Vischer and Mike Nawrocki
Starring: voices of Phil Vischer, Mike Nawrocki, Tim Hodge
Running Time: 1 hour, 23 minutes
Official Site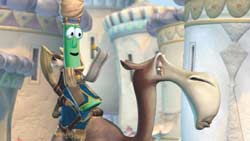 Plot Summary
Tension grows between the friends of Bob the Tomato, Jr. Asparagus, Mr. Asparagus and Laura Carrot as they get lost on the way to a concert. They soon find themselves in a secluded Seafood restaurant where they run into the Pirates Who Don't Do Anything. The Pirates proceed to tell the frustrated group of the Biblical tale of Jonah the prophet and his encounter with the whale. What unfolds is a hilarious new take on the classic Biblical story of compassion, mercy, and second chances.
Film Review
Well it's about time! After years of releasing home video-only episodes of VeggieTales adventures, Big Idea Productions finally release the first theatrical experience, Jonah: A VeggieTales Movie. What a delight to finally see a full-length VeggieTales feature! The geniuses behind the popular and unstoppable childrens series take the amusic and clever humor of the original series and smartly incorporate it into this feature film. It was incredible to see a big screen production featuring the lovable characters of Bob & Larry and their many friends.
Much like the 1990 DuckTales Movie with the genie, Jonah introduces a new character into the VeggieTales family — a caterpillar named Khalil! The caterpillar fits nicely into the story as he is based after the worm that is mentioned at the close of the book of Jonah. Khalil provides quite a bit of the comedy once introduced. While he may be irritating to some, he will surely be the highlight for others. Larry the Cucumber is a delight as one of the pirates while Jonah his played by the more prim and proper Archibald Asparagus. He seemed like an odd pick to be the central character for the movie,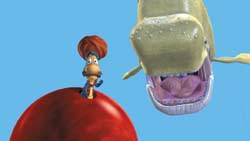 but ended up being perfect. One complaint I do have, however, is Bob the Tomato's roll is greatly reduced to merely the intro and a couple scenes here and there throughout the film. Otherwise, the film was exceptionally well done. While it is probably not the funniest and most clever of VeggieTale adventures, it's certainly a memorable and a must-see for the family.
There's no reason why a Christian family should not indulge in the fruits of Jonah, a squeakly clean film for adults and children alike with an important message for our society these days. Also, I urge you to please see this film over and over and invite your friends. Please support this quality Christian film so more will be produced in the future. Let's see Hollywood revolutionized! Something worthwhile and edifying is finally out so go see it!
– John DiBiase (reviewed: 10/22/02)
Parental Guide: Content Summary


 Sex/Nudity: none.


 Vulgarity/Language: none.


 Alcohol/Drugs: none.


 Blood/Gore: none.


 Violence: Fish-slapping (you just have to see it), Jonah envisions God smiting Nineveh (played for laughs), the large whale swallows Jonah, etc