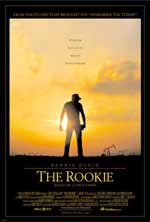 The Rookie


– for not containing material to warrant a higher rating.
Director: John Lee Hancock
Starring: Dennis Quaid
Running Time: 2 hours, 7 minutes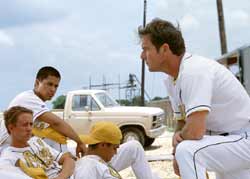 Plot Summary
The Rookie is the true story of Jim Morris, a small town high school science teacher and part-time baseball couch whose team convinces him to try out for the majors. It appears that as he's aged, his pitching arm has improved greatly, allowing him to throw the ball as fast as 98 mph. Suddenly this husband, teacher, and father of three is given the chance for professional baseball. He must make the right decision to either stay in the life he currently leads or chase after his childhood dream.
Film Review
Wow. This is hard to get used to. A G-rated film. And it's not animated! Now there's something you don't see every day. The Rookie is a film for all, but not for everyone. That may sound like it doesn't make any sense, but it will. With its G rating, the worst content is a couple uses of the word "d*mn." I believe that's it. Other than that the film is as clean as can be which makes it especially enjoyable to watch. However, being it's a baseball film, and primarily a drama, it won't be easily embraced by everyone.
Unlike this year's "Best Picture" (according the The Academy… not me) A Beautiful Mind, The Rookie is a drama that does not leave you feeling like all the actors want from this picture is an award. Dennis Quaid does a perfect job as Jim Morris. He's easily likeable, and a well-rounded character. The film, with the aid of Quaid's acting ability, lets you know all the inner turmoil Morris had to deal with with some pretty heavy decisions he had to make regarding his career. He was a family man with a passion for baseball. He had a dream, and when given the chance to fulfill a dream, one must choose which roads to take. In Morris's case, he was no exception.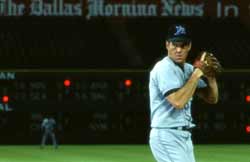 One thing I particularly liked about this film, is it takes its time to develop nearly each character. While that does make for a 2 and a half hour paced drama, you feel like you know the characters, you can relate to their struggles, you can feel their joy and their pain. Hancock, the director, did a fabulous job piecing this picture together. The highlights of the movie are the sequences while he's coaching his high school team. While the whole movie doesn't include these sequences, which the change in overall tone can be felt in the later half, you're reminded the film is about Morris and his journey through his baseball career.
A fantastic film, The Rookie is one for the family. While it may be too slow-paced for some, especially the younger ones, The Rookie is a feel-good film for baseball fans and the sentimental alike. Don't miss this one, it's a guilt-free trip to the cinemas.
– John DiBiase (reviewed: 3/28/02)
Parental Guide: Content Summary


 Sex/Nudity: Jim's wife playfully slaps Jim on the butt while he's in the school office.


 Vulgarity/Language: Possibly 3 "d*mn," 1 "h*ll," 1 "Oh my G-d," "Oh my L-rd"


 Alcohol/Drugs: None.


 Blood/Gore: None.


 Violence: None.