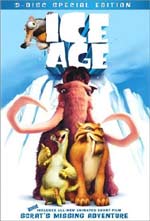 Ice Age



– for mild peril.
Director: Chris Wedge
Starring: voices of Ray Romano, John Leguizamo, Denis Leary
Running Time: 1 hour, 21 minutes
Official Site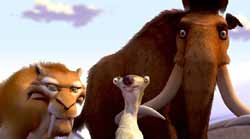 Plot Summary
During the ice age in prehistoric times, a mass migration begins, leaving behind a talkative sloth named Sid (John Leguizamo), who quickly latches on to the trail of a wooly mammoth named Manfred (Ray Romano). When the unlikely pair are suddenly in possession of a Native American infant, their plans change as it becomes their goal to return it to its family. The duo becomes a trio when a sabertooth named Diego (who was sent out by other sabertooths to kill the baby) joins the two to lead them to the baby's tribe. Only Diego knows for sure what the group will face at the end of their quest…
Film Review
It's inevitable to compare Ice Age to 2001's animated giants Monster's Inc and Shrek. Twentieth Century Fox joins the line of computer animated films provided by Disney/Pixar and DreamWorks by releasing Ice Age. This film is just fun and enjoyable enough to rank it up with the other two. While Ice Age may not be as original, actually seeming to blend the plots of Monsters and Shrek a bit, it doesn't matter due to the lovable character personalities and intriguing scenery. It didn't seem to matter too much either that the relationship between Manny and Sid was much like Shrek and Donkey, or that two odd characters are stuck with a human baby, with the larger hairy one eventually warming up to it. Mixing the two plots, tossing the setting back into prehistoric times and using that as a basis for a lot of its humor, works very well here. And this film has heart. While it does seem a little corny at times, the heart is there, and it's always great to see a warm movie like this.
Content-wise, the film isn't too bad. It gets its rating from some violence in the movie, although I must admit I didn't see what was more violent here that makes it PG over many G-rated Disney films. Here the more sinister of the peril is spawned from the sabertooth tigers and their quest to seek revenge on the Native American tribe for killing some of their pack. They could have made it a lot more violent or graphic if they wanted to, but its milder approach makes it more appropriate for families.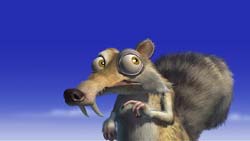 The voice talents of Ray Romano as Manny and John Leguizamo as Sid were absolutely perfect. Romano has a great voice and it's a wonder why they haven't used him for an animated film prior to this. Denis Leary, best known for being a foul-mouthed comedian, did well as the sabertooth Diego. It was a little hard to like his character knowing how Leary is in real life, but he still does well here. Probably the most lovable character would actually be the squirrel-like critter named Scrat who from the film's beginning to end randomly shows up here and there desperately chasing after a precious acorn or attempting to stash it somewhere.
Ice Age isn't the most original animated feature I've seen but definitely a fun and enjoyable one. It serves as more of a throwback to the original Disney animated feature plot "formula" and will make for a decent family outing.
– John DiBiase (reviewed: 3/16/02)
Parental Guide: Content Summary


 Sex/Nudity: none.


 Vulgarity/Language: none.


 Alcohol/Drugs: none.


 Blood/Gore: none.


 Violence: Quite a bit of cartoon or slapstick violence. Nothing graphic though. The tigers who want to kill the baby might be menacing for some.