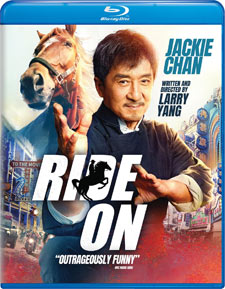 Ride On



Director: Larry Yang
Starring: Jackie Chan, Haocun Liu, Rongguang Yu, Jing Wu, Kevin Guo
Running Time: 2 hours, 5 minutes
Theatrical Release Date: April 7, 2023
Blu-Ray Release Date: October 24, 2023 (Amazon.com)
Plot Summary
A washed-up stuntman and his stunt horse become an overnight social media sensation when their real-life fight with debt collectors goes viral. (from IMDB.com)
Film Review
I've been a fan of Jackie Chan ever since I first saw Rush Hour in theaters in 1998. I've since watched some of his Chinese-made films, and I usually don't love the sometimes cheesy tone of the films, or I can't get past the English overdubbed voices. I recently revisited Operation Condor and found it to be a blast, but it still had a bit of that overly silly tone that the Chinese films tend to possess. It's been quite a while since I've seen something new starring Jackie, so when I had the opportunity to review Ride On, I jumped at the chance.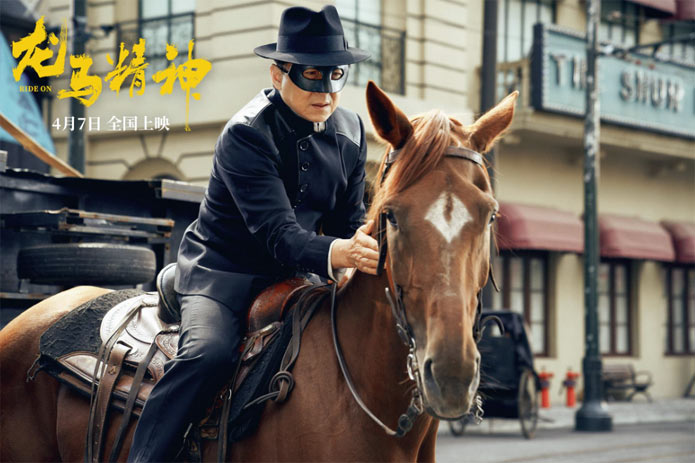 Ride On has a surprising amount of layers to it. It certainly isn't your typical Jackie Chan action film, especially since the famed star is nearly 70 years old in this movie; he's hardly in his prime. Ride On centers around an aging stuntman, named Master Luo, who has raised and befriended a horse in recent years, named Red Hare, and has even trained the animal in the ways of the stuntman. We soon learn that Luo had rescued Red Hare from being put down when it was born for having weak legs. But Luo took the horse under his wing and nursed it to health and, ultimately, great strength. As we meet Luo in this story, he's being approached by a legal team who are contesting Luo's ownership of Red Hare. At the same time, he's trying to reconnect with his estranged daughter, Xiaobao, who is now in her twenties and studying law with her boyfriend. To complicate things further, it's also in the midst of all of this that he finds a resurgence in work as a stuntman — specifically with Red Hare by his side.
The tone and mood of Ride On is constantly in flux, as Xiaobao tries to overcome her feelings of abandonment by her father from her childhood, while Master Luo struggles to reignite his glory days as a stuntman. Xiaobao soon quickly becomes attached to Red Hare, and ultimately wants her father to stop putting the horse at risk during his new stunt gigs. At the same time, Xiaobao begins to learn the truth about her father's role in her childhood, and just how much he really did care and love her when she was resenting his absence.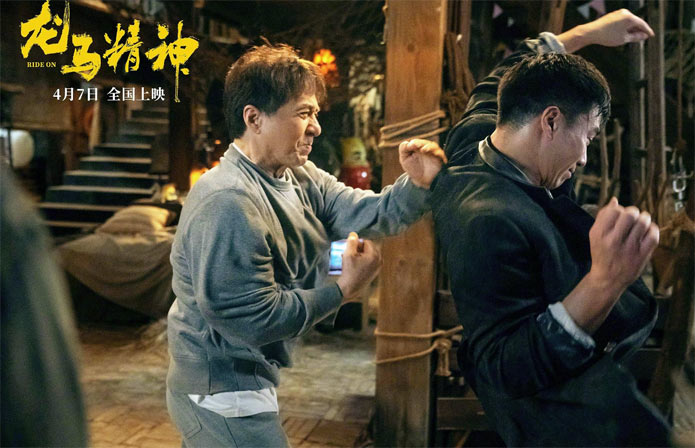 To say there's a lot going on in Ride On may be a bit of an understatement. In true Jackie Chan movie form, there are still some fun fight scenes where Luo has to fight off a group of young street thugs who are trying to collect on debt that Luo owes. A couple of the fights take place in public cafes, so we get to see Chan do what he's always done best and use objects around him to combat his attackers. Honestly, these are the most fun scenes in the movie, and ought to scratch the itch of any Jackie fan hoping to see him in action once again. The drama in the movie works for the most part, too, but the whole thing doesn't quite come together as smoothly as it probably should (or could). In the end, as Xiaobao is looking back on her father's stuntman legacy and finds footage of her father filming his movies — which are actual, real-life outtakes of Jackie Chan getting hurt while making his films — the movie turns into an homage to Jackie and a celebration of his film career. Because of this, Ride On almost feels like Jackie's swan song. (But I've heard nothing about that being the case.) The relationship between Red Hare and Luo is also at the heart of the film, with the relationship between Luo and Xiaobao being more of a catalyst for tension and drama. It feels like whoever wrote this movie tried to jam two or three entirely different stories into one, giving us this two-hour film that never quite lives up to what it's trying to be… despite its strong performance from the one and only Jackie Chan.
Ride On is not rated by the MPAA, but if it were, I'd say it would most likely be PG or PG-13, depending on how much the themes of the movie might affect the end rating. There really isn't much objectionable in it, but the two or so scenes where Xiaobao is watching Luo's stunt accident montage is a little intense considering we know that the injuries the young Jackie is sustaining are all 100% real, and the blood we see as a result is also very much really Jackie's. Otherwise, there is no profanity and no sexual content (aside from a suggestive remark from one of the debt collectors that is trying to antagonize Luo by saying he would like to get with Xiaobao).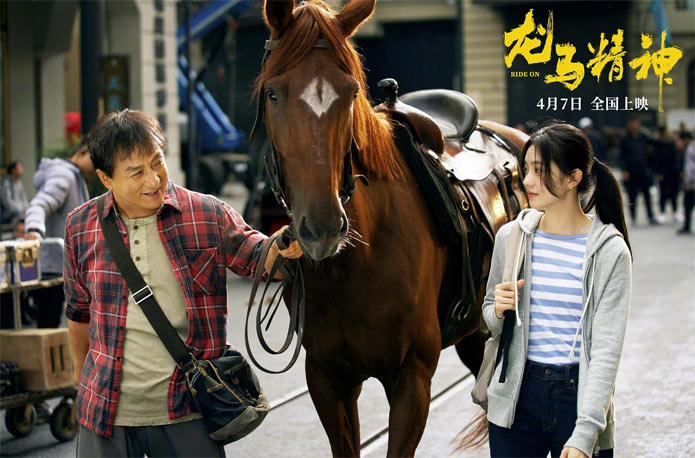 Ride On is actually almost a family movie. The tone is all over the place, however, with there seeming to be a bit more drama and heaviness thematically than lighthearted and silly or just outright fun. It's also just a bit too long, overall, and I think that does hinder the movie a bit. The music also never really meshes with the movie. It swells and crescendos often, and when it probably should, but it feels a bit too melodramatic and even canned at times. A great score can make or break a movie, and I have to say this one almost hinders Ride On. There aren't a lot of special effects in the movie, but the ones we do see aren't very good, with a couple scenes being just plain bad (like when it's obvious a very dangerous stunt was supposed to be performed and they used CGI and green screen to keep the actors and animals safe). Lastly, I put the English audio track on and the movie automatically provides English subtitles, too. I could have turned them off, but I didn't, and I was super surprised by how often the English dialog did NOT match the English subtitles (sometimes almost dramatically different). I prefer to listen to dialog than read it, so I'd recommend the English audio track over the subtitles (and I think Jackie does his own English overdubs? It was tough to tell at times).
Jackie Chan's latest Chinese film, Ride On, may not be tailor-made for U.S. audiences, but it is a decent outing for Chan at this stage in his career, and a touching tribute to his all-in committment to the sacrificial life of a movie stuntman. Diehard fans of Jackie should check this one out, but more casual fans may want to just ride on by this one.
– John DiBiase (reviewed: 10/22/23)
Blu-Ray Special Features Review
Ride On is available on DVD and Blu-Ray separately with no digital copy. However, the movie is available on digital outlets.
The Blu-Ray disc includes two featurettes:
Behind the Scenes (8:49) – While you can watch the movie with English overdubs, the extras are not in English, but there are English subtitles. Jackie talks about being a stuntman now and back then. For this movie, Jackie did some more dangerous stunts where he was lifted onto the Ferris wheel for the flashback scene. He also did the stunt where he fell from the horse. And, of course, he did his own fight scenes as usual.
Oh My Horse (2:55) is an homage to the horse that played Red Hare and how everyone actually loved the horse and were heartbroken when the production ended and they had to say goodbye.
Parental Guide: Content Summary

 Sex/Nudity: When he sees Xiaobao sitting with Luo, Dami makes a comment about Luo still having the moves, but Luo explains that she's his daughter. Dami suggestively remarks that he'll spend time with her and Red Hare hits him.


 Vulgarity/Language:


 Alcohol/Drugs: We see Xiaobao drinking wine; Luo is shown with a bottle while sitting with Red Hare; We see some bottles during the end outtakes.


 Blood/Gore: A flashback shows a horse lying in hay after being born. There's some blood on the hay and on a plastic sheet next to it (We see this again later); Luo lifts up his shirt after a day of filming and we see his back looking a little red and bruised; Luo has a bruise on his cheek and a scrape on his nose; We see a montage of real scenes of Jackie Chan getting hurt while making movies through the years, with blood on his face in several shots; We see another shot with more blood on his head and a cloth; In a flashback of a stunt-gone-wrong for Luo, we see blood dripping out of his nose; A sword drips blood while filming a scene; We see "dead" stunt doubles lying in red pools of water inside a palace;


 Violence: Dami slams his hands down on a table to get Luo's attention. He then kicks over a chair in anger; A fight breaks out in the cafe with tables and chairs. Dami slips into a split. Red Hare kicks a guy. Luo holds the horse and pulls himself up to kick a guy wielding a weapon; We briefly see phone video of part of the fight; Xiaobao shoves Luo in anger; We see a flashback of Xiaobao's mother dying in a hospital bed; Mickey and Luo struggle over a boxing glove and accidentally hit Red Hare, who then pretends to be hurt; Movie extras angrily throw prop axes; A crowd with axes filming a scene where Luo and Red Hare fight the guys off. They fight in a trolley where he uses a pole to throw them out of the windows. The horse kicks the trolley and knocks it over and they escape; We see a montage of violent fights in scenes filmed with Luo and Red Hare; Luo and Red Hare make a dangerous jump and skid to a stop; The horse hits Dami; Luo fights them and throws a chair. They push Xiaobao and Luo goes after them; A man uses two pots to hit thugs with; We see footage of Red Hare running between explosions on set; Luo does a stunt where he and Red Hare are pulled through a wall; A S.W.A.T. team scene is shown with shooting at point blank range and other kinds of shooting. We then see an explosion go off too soon and a woman is thrown out a window. She ends up in the hospital; We see another scene being filmed with battle axes and falling horses. Luo falls. He's then almost run over, but Red Hare jumps in the way to protect him; We see a montage of real scenes of Jackie Chan getting hurt while making movies through the years, with blood on his face in several shots; We see more footage of Jackie hanging on side of a bus, falling off a roof, and then see another shot with more blood on his head and a cloth; We see a cinematic flashback of Luo falling when trying to grab a rope mid-air off a ferris wheel and falling onto boxes below. We learn Luo suffered a brain injury; Luo hits guys with a ladder. They rope Red Hare but are dragged as he flees. Luo fights a bunch of guys. The horse kicks a guy. They fight around the house, on chairs etc. One swings a rake at him; We see explosions in a series of flashbacks; Luo flies over the front of the horse onto the stairs below when Red Hare stops suddenly; Red Hare slips in the mud a couple times while running and falls; We see another montage of Jackie's dangerous stunts on a TV; We see Luo watching the stunts he did with Red Hare; We see more of Jackie getting hurt in this movie's outtakes during the end credits.