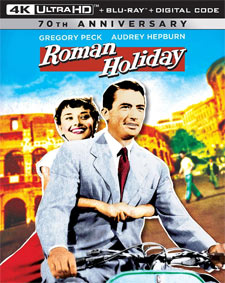 Roman Holiday



Director: William Wyler
Starring: Gregory Peck, Audrey Hepburn, Eddie Albert
Running Time: 1 hour, 58 minutes
Theatrical Release Date: September 2, 1953
Blu-Ray Release Date: September 15, 2020 (Amazon.com)
4K UHD Release Date: August 15, 2023 (Amazon.com)
Plot Summary
Director William Wyler's 1953 fairy tale was one of Hollywood's first on-location motion pictures and memorably captures the bustling streets and iconic sites of Rome. ROMAN HOLIDAY expresses the exhilaration of joyously breaking free as the lead character escapes her royal obligations against the backdrop of post-war Europe embracing long-awaited peace. (from Paramount Pictures)
Film Review
The classic film era is still one of my absolute favorite times in Hollywood history. Sure, some of my top favorites released in the 80's and beyond, but I'd still have to count some of the "golden age of cinema" releases among my favorites. Movies like His Girl Friday, Some Like It Hot, Love Crazy, The Thin Man, A Night at the Opera, The Talk of the Town and so many more are just fantastic in their own right. One I'd have to throw into the mix for sure is William Wyler's 1953 classic–which also introduced Audrey Hepburn to the world–Roman Holiday.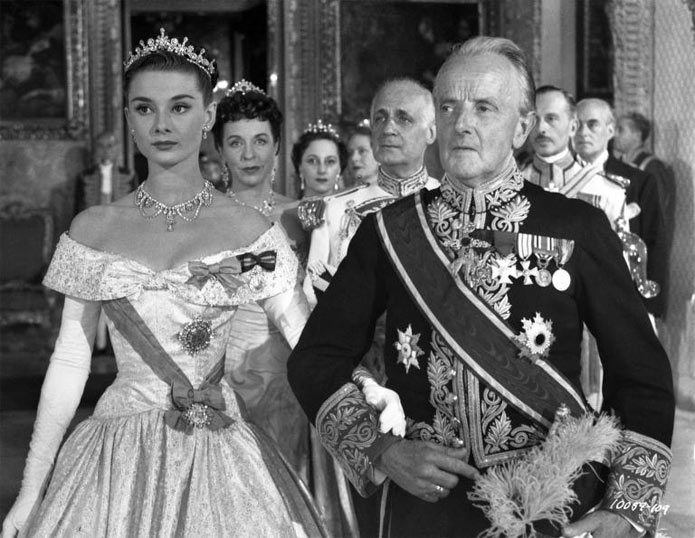 Roman Holiday takes place basically over the course of a day and a half, centering around a young princess, named Ann, on a goodwill tour to various cities around the world, including Rome. Once she arrives in Rome, she's overwhelmed (and frankly, fed up) with her daily routine of royal duties and is administered a sedative to help her sleep. However, she decides to sneak out of her palace to get a taste of life out on the Roman streets. Groggy and dioriented from the sedative, Ann ends up falling asleep on a park bench where she meets an American News Service reporter named Joe who's stationed in Rome. Assuming she's flat-out drunk from partying (or something like that), he reluctantly takes her back to his apartment to keep her safe for the night, and soon realizes she's not just a careless young girl, but possibly the biggest exclusive scoop he could imagine.
It was unusual for this time in Hollywood to film a movie completely on location like Roman Holiday. But the movie proves to be quite the love letter to the city, showing off all its charms as Joe and Ann go traipsing around town. Hepburn is just adorable as Princess Ann. You feel for her character–a young girl forced into the role of royalty and status, but just aching to live a normal lifestyle. Gregory Peck is also perfect as the American reporter. He's out to get that huge exclusive news story, but soon realizes there's more to Ann than just the source of a scoop. He's charming, funny, and the perfect match for Hepburn here. Eddie Albert, who may best be know for later starring in TV's Green Acres, is also excellent as Joe's local photographer friend, Irving. They have great back-and-forth exchanges, and the moments where Joe tries to stop Irving from innocently spilling the beans of what they're doing are just priceless.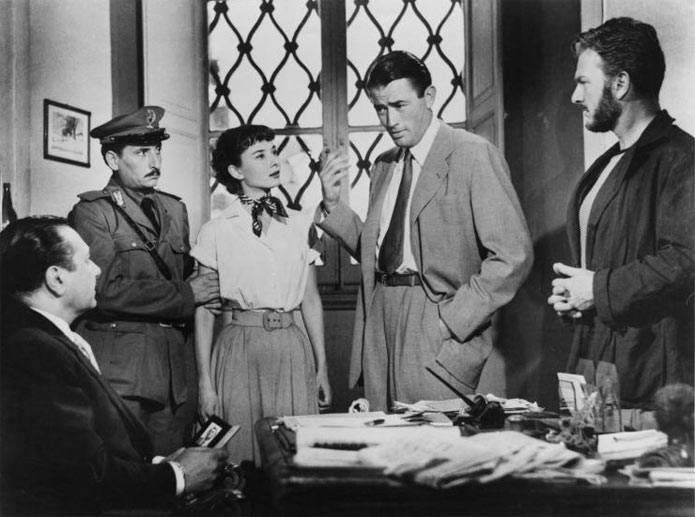 One of the things I love most about these older films is the content is often so much lighter than today's movies. Even if the theme is more for adults, you won't find the kind of sex, profanity and violence you will today (and even in family-oriented entertainment). With that said, there's no profanity at all in Roman Holiday. There is some drinking, and things like Joe assuming Ann is totally wasted, but most of it is done in a good natured and playful way. The same goes for any violence. Joe does things like trip Irving or knock him down in order to stop him from saying something, but it's played for laughs more than anything. There is a scene where a fight breaks out at a party–and Ann clobbers a guy on the head with a guitar–but even in this scene, it's kept rather light and is meant to be more amusing than violent. Still, I could see some finding it surprising. Lastly, there's no sexual content, but there are some little subtle jokes that aren't crude. For example, Ann spends the night at Joe's place merely because she can't wake up and has nowhere else to go. The next morning, after the sedative has worn off, she's horrified at the thought and asks Joe, "So I spent the night here… with you?" to which he smiles and replies, "Well, I don't think I'd use those words, but from a certain angle, yes." There are a couple moments where people in Joe's apartment complex assume he's got a relationship with Ann (they make "knowing" glances, for example), but nothing is ever said. And it's kind of implied that Irving might photograph (and romance?) models–perhaps even more racy ones–especially when he runs into a familiar pretty one at a cafe. Nothing's ever shown, though, and there's not enough evidence to say for sure.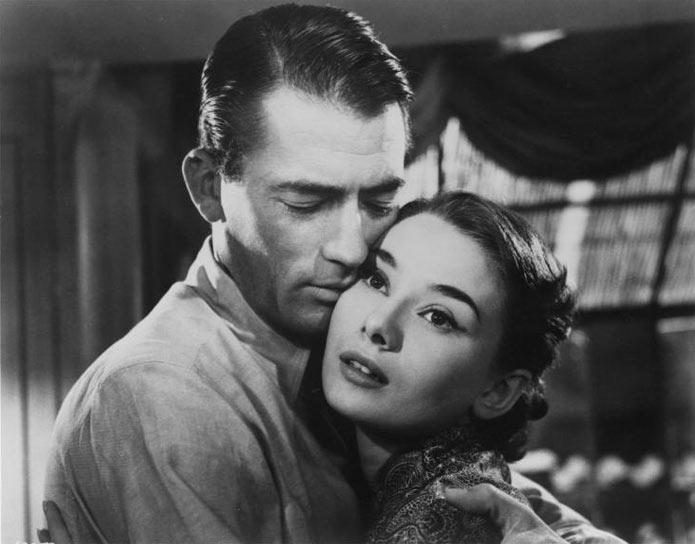 Overall, Roman Holiday is a sweet and entertaining classic film that is a joy to revisit. Its ending is bittersweet and definitely makes the movie more polarizing, but if you're on the look out for a charming film that is good for the whole family, you just can't go wrong with Roman Holiday.
– John DiBiase (reviewed: 9/12/20)
4K UHD Review
I have to admit, I was very excited to hear Paramount was releasing the 1953 gem Roman Holiday in 4K UHD for its 70th (!!) anniversary. Although it's a bittersweet love story, there's just something about this movie I adore. It definitely has a lot to do with Audrey Hepburn's irresistable Academy Award-winning performance, but its on-location setting in Rome also lends a great deal to the movie and its story.
So, without unintentionally launching into another review of the movie itself, let's get down to why you probably clicked on this review in the first place: a review of the 4K UHD release. I have to admit, I didn't find this to be one of the better 4K transfers I've seen. I'm not sure if they just plopped an upscaled Blu-Ray transfer onto a disc or re-scanned the negatives in 4K, but I was surprised that the sharpness you usually get from the 4K format was largely missing, and much of the picture bore a softness. On a rare occasion, the 4K resolution was maybe slightly noticeable, but for the most part, I think it mainly comes across as a crisp standard Blu-Ray HD presentation.
With that said, if you own the movie on Blu-Ray already, or in HD on iTunes, I recommend sticking with the format you already have. It also looks like the HD iTunes copy automatically upgraded itself to 4K, which is a nice surprise (I'm not sure VUDU does that, however). If you are looking to get the movie in high definition for the first time, and maybe only have it on DVD up until this point, definitely pick up the 4K / Blu-Ray / Digital combo pack. The 4K transfer most likely won't 'wow' you, but it's always a delight to see old movies revitalized in a crisper, high definition format.
– John DiBiase, (reviewed: 8/14/23)
Blu-Ray Special Features Review
Roman Holiday is now available on Blu-Ray (and Digital HD) for the very first time with a couple new bonus features and in a neat fold-out cardboard slip packaging. The Blu-Ray transfer certainly isn't the most amazing you'll see, but it's the best this film has ever looked, and if you're a fan of the movie, I highly recommend checking it out. The newer, crisp transfer also lends to the beauty of Rome in the 50's. Along with the feature film, the Blu-Ray disc includes the following extras:
Filmmaker Focus: Leonard Maltin on Roman Holiday (6:59) – In this release's only new featurette, Maltin offers some trivia about Roman Holiday and why the movie has endured over the years.
Behind the Gates: Costumes (5:31) – From this 2008 featurette, we see costumes from Paramount Pictures through the years – items worn by Bob Hope, Tom Cruise, Ginger Rogers, Angela Lansbury, Cary Grant and more. They talk about some of the famous costume designers, too, including Edith Head.
Rome with a Princess (8:57) is a lovely detailed breakdown of the film's key sights in Rome, as highlighted in the film (And it totally makes me want to go there!).
Audrey Hepburn: The Paramount Years (29:55) – This half-hour featurette covers much of how Audrey got her start in Hollywood and the unexpected success that she found almost right from the start.
Dalton Trumbo: From A-List to Blacklist (11:55) — This is a surprisingly dismal featurette about the blacklisting that happened in the 1950s when there was a witch hunt in Hollywood for communists. Dalton Trumbo was one of the blacklist victims who wrote Roman Holiday but wasn't given credit by name for it. Other blacklisted actors — Allan Rich and Marsha Hunt — appear here to talk about their experiences being blacklisted, as well as Trumbo's legacy. This segment feels strangely political at times, though, which feels odd accompanying a non-political movie like Roman Holiday. Some interesting things included here, however, is the fact that Trumbo had won an Oscar under a different name, and legendary actor Kirk Douglas ended the blacklist when he asked Trumbo's name to be attached to Spartacus.
Paramount in the '50s (9:33) – This little featurette profiles a series of recognizable titles from the 1950's, including Sunset Blvd, A Place in the Sun, Come Back Little Sheba, The Greatest Show on Earth, Jerry Lewis and Dean Martin movies, Shane, Stalag 17, War of the Worlds, Roman Holiday, Sabrina, White Christmas, The Country Girl, To Catch a Thief, The Ten Commandments, and Funny Face.
Remembering Audrey (12:12) – Her son, Sean Hepburn Ferrer, talks about what it was like to grow up with Audrey as his mother. Robert Wolders, her last companion, also details his relationship with her. They both talk about her childhood and upbringing as well.
Lastly, there are a series of Theatrical Trailers (Original Teaser, Original Theatrical and Theatrical Re-Release) and a few Photo Galleries (Production [35], The Movie [44], rare Publicity promos [12], and The Premiere [8]).
– John DiBiase, (reviewed: 9/12/20)
Parental Guide: Content Summary

 Sex/Nudity: Princess Ann complains about her frumpy nightgown and how old it makes her feel. She then says to her care giver that "did you know there are some people who don't sleep with anything on at all?" to which the caretaker says she's glad she does not; Still groggy and under the influence of her sedative, Ann asks Joe to help her get undressed. He unties the scarf around her neck and tells her she can handle the rest; Groggy, Ann tells Joe she's never been alone with a man, even with a dress on. And "without a dress, it's most unusual." He then politely excuses himself and leaves the room; The next morning, Ann awakens confused and disoriented. She asks Joe, "So I spent the night here… with you?" And he says "Well, I don't think I'd use those words, but from a certain angle, yes."; Joe's housekeeper walks in on Ann taking a bath and she quickly covers up in a towel; Joe kisses Ann passionately and she looks surprised; Ann and Joe embrace/hug passionately; Joe and Ann kiss and hug passionately.


 Vulgarity/Language: None.


 Alcohol/Drugs: Ann's doctor give her a drug in a needle (not shown in detail) to calm her and help her sleep. She acts drunk afterwards, and when Joe finds her, he assumes she's completely drunk, telling her that people who can't handle their liquor shouldn't drink; We see Joe at a poker game with other men and they're all smoking with drinks in their hands or next to them on the table; Joe takes a swig of liquor from a bottle. Ann, still groggy from the sedative (and he thinks she's drunk) asks if she can have some and he says no; Joe orders champagne for Ann; Irving orders a whiskey in a cafe; Ann has her first cigarette; Joe pours drinks for Ann and himself.


 Blood/Gore: None.


 Violence: Ann dramatically yells at her caregiver to stop telling her her schedule and hits her pillow in frustration; The general faints when Ann is administered a drug with a needle (played for laughs); Finding her passed out in his bed, Joe pulls a chair/cot over to the side of the bed and flips his mattress so she flops out of his bed into the cot; Giovanni guards Joe's room with a rifle; Joe kicks Irving under the table to interrupt him; Joe spills coffee on Irving, then kicks over his chair so he falls over; Ann's vesper loses control and Joe hops on to help her. They cause commotion thru a market and trash some art by mistake; Joe puts his hand in the Mouth of Truth statue and screams that his hand was bitten. Ann tries to help him and when he pulls his hand out, it's tucked in his sleeve (he did it as a joke). After his hand pops out of his sleeve to show he was kidding, she playfully hits him; Joe punches a man at a party. A man pulls on Irving's beard. More fisticuffs happen at the party when the plainclothes men try to nab Ann; Ann clubs a man over the head with a guitar; Joe is punched and knocked into the water. Ann kicks the man and jumps in after Joe; Joe spills water on Irving and then trips him to stop him from telling his boss something.