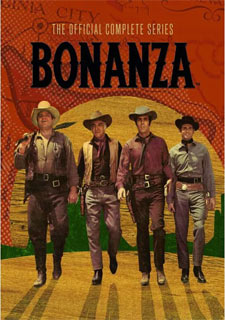 Bonanza: The Official Complete Series

Starring: Lorne Greene, Michael Landon, Pernell Roberts, Dan Blocker
Running Time: 112 discs: 370 hours
DVD Release Date: May 23, 2023 (Amazon.com)
Plot Summary
BONANZA! One of the most beloved and iconic series of all time is presented for the first time in this special edition box set. Every episode in this collection is full-length, with original music and has been completely remastered and restored from the original 35mm film elements for superior picture and sound. The spectacular Ponderosa Ranch and scenic vistas filmed at Lake Tahoe, Nevada and majestic locations in California and Arizona have never looked better. This multiple award-winning series was created and produced by David Dortort and stars Lorne Greene, Pernell Roberts, Dan Blocker and Michael Landon, plus appearances by Victor Sen Yung, Ray Teal, Bing Russell, David Canary, Mitch Vogel and Tim Matheson. Re-live and cherish all your favorite episodes with BONANZA: The Official Complete Series. (from Amazon.com)
Season Review
There's just nothing like the classic western. When I was a young boy, Bonanza aired on Sunday nights well after my bedtime. So, you may ask, how did I watch the show? Well, I lived in a two-family house in the Bronx with my grandparents upstairs and I, with my family, lived downstairs. On Sunday nights, I would sneak up to my grandparents' place, sit on my grandfather's lap and we'd watch Bonanza together. I believe my parents knew what I was doing, and they would retrieve me and put me to bed after the show ended. I still, to this day, think of that special time with my grandfather fondly and miss it.
I now carry on that tradition with my twelve-year-old grandson. Granted, he's too big to sit on my lap, but we watch several episodes every week during breakfast, and I look forward to this tradition for years to come. He tells me how much he enjoys the show, and we have very interesting discussions about the message, the situation, or moral implications presented in the specific episode.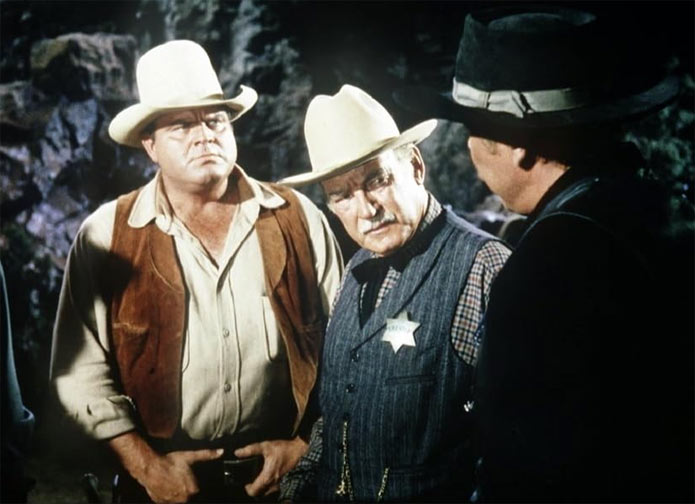 This May, Paramount Home Entertainment released all fourteen seasons of Bonanza together for the first time in one massive box set. Now, to be fair, there's no way to watch the entire series in a short period of time. This set has 431 episodes across 112 discs, which adds up to about 370 hours of viewing. With that said, let's start with the Bonanza Box Set presentation, which is quite impressive. I was so excited to receive this set. Seeing the four wide, book-like DVD cases really impressed me. When opening one of these DVD cases, I was surprised by the non-descript discs inside. Each one is all sliver and barely distinct from one another. The disc does mention which season it is across the top in small lettering, and there's a list of the episodes in the middle of each disc, but they certainly haven't made it easy to read. I understand this was probably done for cost purposes, so I quickly got over it.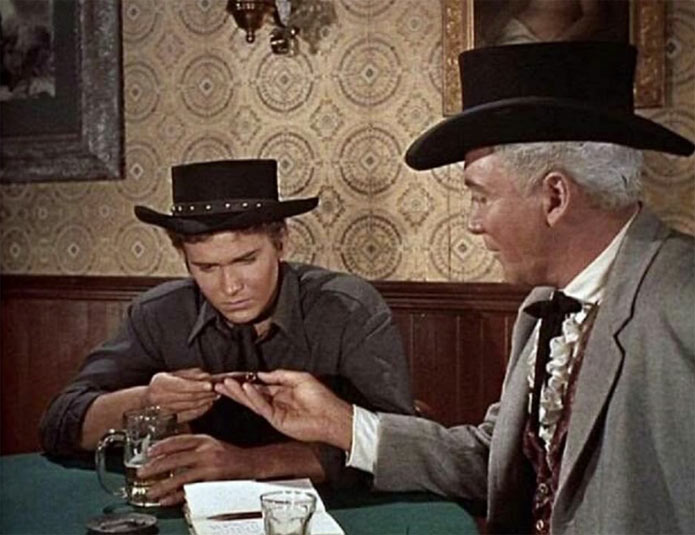 Now, onto the video quality. I must make a distinction that the quality was poor on the first episode I watched, which happened to be the series pilot. I don't think I had ever seen the pilot before and I was immediately turned off by it. The pilot episode is not what I was expecting, because the Cartwright family was not who I remembered them to be. I have to assume that the creators altered the personalities of the characters to be more likeable and refined them after this episode. Leaving the pilot behind, the DVD quality was actually good from that point on. To get a feel for the set as a whole, I sampled episodes from multiple Bonanza seasons. The characters were just as I remembered them, and the loss of Pernell Roberts as Adam Cartwright after the sixth season (he left of his own accord) bothered me, but since the show must go on, I learned to adjust to his absence.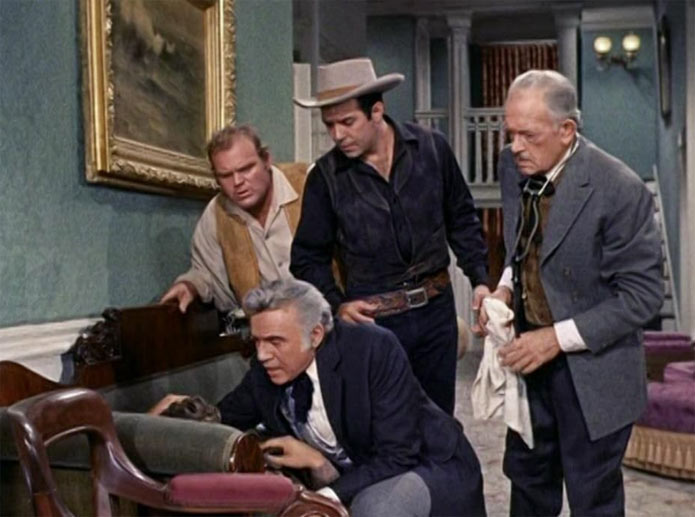 The Bonanza series is wonderful, thought-provoking, and truly inspiring. The show represented times and situations when tough people knew right from wrong. There was a love of God and country, empathy for your fellow man, moral discipline, respect for the elderly, authority, and the law. The complications of life are not dismissed in this show, but embraced with compassion, and through it all, they persevere. Bonanza didn't shy away from difficult subjects, and it worked through them as a learning experience on how to survive the trials and tribulations of life — and it does all that while entertaining the audience.
Frankly, I could go on and on with a lot of little details about the show, but instead, I highly recommend you watch it for yourself and see why Bonanza has become such a beloved American institution.
– Joseph DiBiase for Jesusfreakhideout.com (reviewed: 8/11/23)
DVD Special Features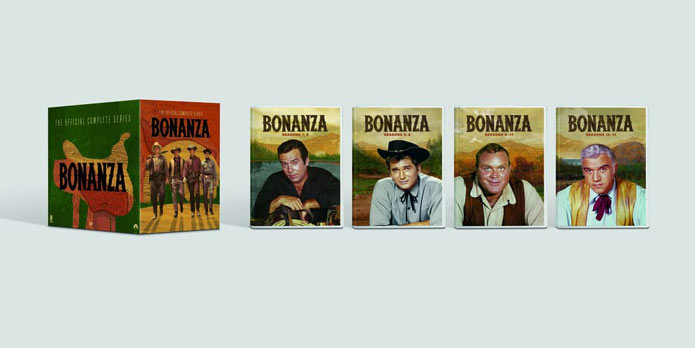 BONANZA™: The Official Complete Series Content:
Includes an exclusive Bonus Disc containing nearly 2 ½ hours of content, with rare performances, photos, personal appearances and interviews with cast members, and footage from "The Tonight Show Starring Johnny Carson," "The Ed Sullivan Show" and "Sesame Street," plus a never-before-seen blooper reel!
Michael Landon Visits Sweden – Interview (1962)
"Lorne Greene's Bonanza" — episode of the CBC series, Telescope, chronicling "a day in the life" of the beloved actor, including rare behind-the-scenes BONANZA set footage (1963)
Lorne Greene Interview — episode of the CBC series, Take 30 (1966)
All-American Soap Box Derby Featurettes

"The Long, Happy Race" – Narrated by Lorne Greene (1962)
"Sideline …? Or Starting Line?" – Narrated by Dan Blocker (1964)

The Cartwrights Visit Sesame Street (1970)
The Last Party ("wake" gathering of the BONANZA company days after the series' abrupt cancellation in November 1972; audio with slide show)
Bonanza Blooper/Gag Reel
Michael Landon: Question & Answer session with Vikki Carr and The Tonight Show audience (audio with slide show; 1973)
Lorne Greene: Comedy Routine (1981)
New Featurette: Mariette Hartley's Memories
Public Service Announcement (P.S.A.): Endangered Wildlife – with Lorne Greene (1975)
U.S. Savings Bonds P.S.A.s with Lorne Greene and Dan Blocker (1968)
Salute to BONANZA (Narrated by Orson Welles; 1976)
Michael Landon: The Last Interview (slide show with audio; March 1991)
BONANZA Episode Trailers with rare on-camera introductions

"Mighty Is The Word" (Introduced by Lorne Greene; 1965)
"The Prince" (Introduced by Dan Blocker; 1967)
"Dark Enough to See the Stars" (Introduced by Michael Landon; 1967)

1959 NBC Fall Preview promo – announcing BONANZA's premiere
1961 NBC on-air promo narrated by Lorne Greene
1967 NBC Fall Preview promo – BONANZA (designed by Bill Feigenbaum)
1972 Chevrolet Billboard Intro.
The Ed Sullivan Show — Pernell Roberts Sings (1965)
The Tonight Show Starring Johnny Carson – Lorne Greene Interview (1972)
Gallery of rare publicity, episodic, "behind-the-scenes" and portrait photos