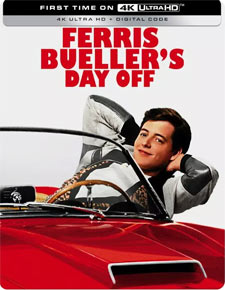 Ferris Bueller's Day Off


Director: John Hughes
Starring: Matthew Broderick, Mia Sara, Alan Ruck, Ed Rooney, Jennifer Grey, Lyman Ward, Edie McClurg, Charlie Sheen, Ben Stein
Running Time: 1 hour, 43 minutes
Theatrical Release Date: June 11, 1986
Blu-Ray Steelbook Release Date: June 8, 2021 (Amazon.com)
4K UHD Steelbook Release Date: August 1, 2023 (Amazon.com)
Plot Summary
A high school wise guy is determined to have a day off from school, despite what the Principal thinks of that. (from IMDb)
Film Review
If asked to think of iconic 80's comedies, there's a good chance Ferris Bueller's Day Off will come to mind. The John Hughes classic revolves around a kid in high school who decides to skip the full day by faking being sick. He dupes his parents (who seem sweet) into leaving him home as they go to work, and he enlists the companionship of two of his closest friends – his girlfriend Sloane Peterson and his best friend Cameron Frye. But this is his ninth school absence this year, which has principal Ed Rooney skeptical about Ferris' condition. What unfolds is a day of fun, mischief, relaxation, deception and life lessons.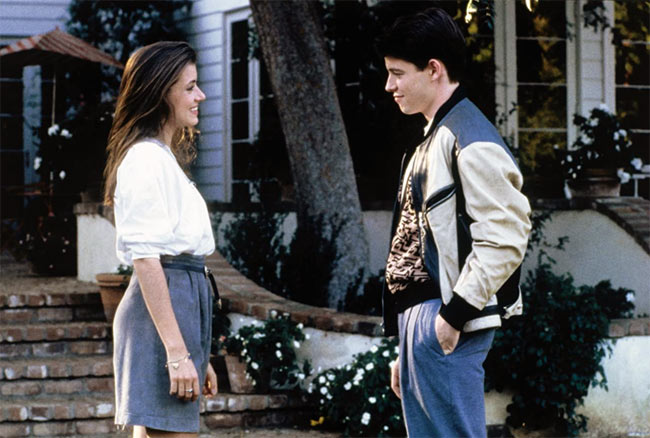 As a kid, I think the PG-13 rating of Ferris Bueller's Day Off kept me from being allowed to see it, so I never actually got around to seeing it till I was much older. I honestly can't remember when I eventually did first see it. (It was probably on TV.) But when I did finally see Ferris Bueller's Day Off, I wasn't quite as swept away in the fun and antics of Ferris Bueller that so many seemed to have been. If anything, I probably felt like I was on the outside of an inside joke. And, 35 years since its release, with it still having a faithful following, after rewatching it, I still get a little bit of that feeling (but not nearly as much). Perhaps it's the way Ferris does things – like force his best friend Cameron to let them borrow his dad's expensive, rare, and highly valued car to go riding around in (and "break" his girlfriend out of school for the day under the false pretenses that her grandmother died), or his blatant deception of his family (and even classmates) for the sake of his own good time. And, perhaps it's because now I'm a parent myself and the father of a pre-teen boy, and it makes me shudder at thinking he'd do pretty much anything that Ferris does in this movie. But, removing myself from that – and trying to watch it as mere entertainment – Ferris Bueller's Day Off is certainly a mostly light and enjoyable school-skipping romp through the streets of Chicago.
Matthew Broderick is pretty great in the role of Ferris Bueller. I've never thought of him as a particularly strong or standout actor, but he does a solid job embodying the likable, albeit michievous, slacker. It's the kind of role that has to be played by just the right person, otherwise his antics would be much tougher for the viewer to accept and process. He's charming and displays a hint of a sensitive side, but for the most part, he seems to just think of himself first above even his closest friends. There isn't a huge character arc for Bueller here either, with the only real arcs in the movie being his sister Jeanie (played by Jennifer Grey), and his friend Cameron (Alan Ruck), the latter of which seems to grow a spine for the first time in his life throughout the course of the day. Although Bueller probably went to sleep that night pleased with himself and the growth he saw in others, he's still kind of a selfish little jerk. He does torment his school's principal, but the movie paints the man as such a questionable character himself that you're doing anything but rooting for the guy to catch Ferris. By the time he crawls onto a school bus in tattered, bloodied clothes, there's a satisfying feeling of seeing the man at his lowest point. Ironically, Bueller's bad behavior never seems to result in anything negative for him, and he ends the movie as a sort of hero to every teen who wishes they could get the better of the adults around them. (A very "us versus them" mentality.)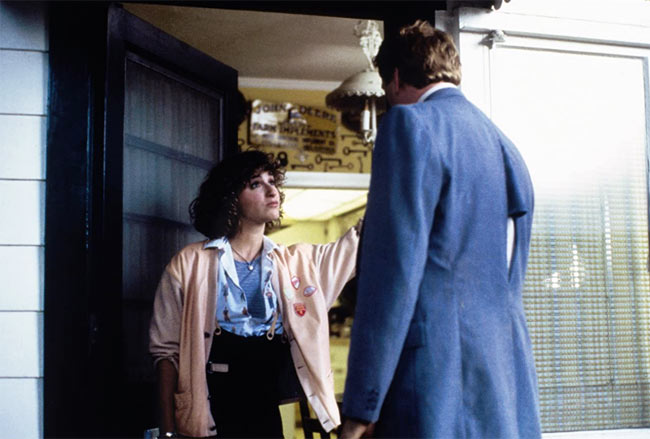 The content for Ferris Bueller's Day Off is surprisingly rough – especially as a movie aimed at teens. It adds to the rebellious nature of the movie, but definitely makes it tougher to enjoy. Sexual content is sparse but mostly present as verbal references. We do get a brief look at Ferris drawing a very unrealistic and pixelated picture of a nude woman on his computer (This was 1986, after all, so computer technology was quite limited). There's then a scene later while the three friends are swimming and Sloane appears to be wearing just a slip as a top, and it's somewhat revealing (but not altogether explicit). Profanity is frequent, with Rooney using the "F" word once, a stripper gram reciting a phrase that suggests it'd end in another use of the word (but she's interrupted before she can; we just see a buxom woman dressed as a nurse at the door when Ferris' sister answers it), there's 25 uses of the "S" word, quite a bit of blasphemy, and an assortment of other offensive words and phrases. Violence is mostly comedic, but it's also mostly involving principal Rooney trying to get into the Bueller home and getting attacked by their dog–or Ferris' sister, Jeanie.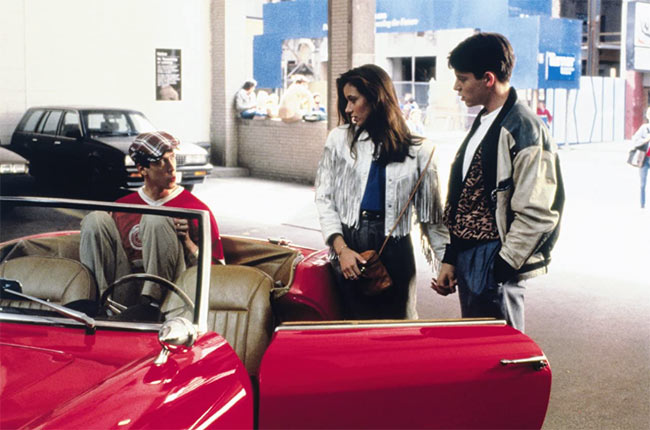 For its 35th Anniversary, Paramount has re-released the film on Blu-Ray in a collector's steelbook case. It's certainly a nice repackaging, but it doesn't offer anything new on the disc. There is a digital copy included, however, which you can redeem at iTunes or VUDU (but it's not compatible with Movies Anywhere), which also contains the Blu-Ray's bonus features. The picture quality is pretty good, but you can occasionally still see some dust and specks on the film (though not often), and it surprises me that Paramount has yet to give it the 4K restoration treatment, as they've been doing that with so many other films lately. Perhaps fans can expect an updated 4K release sometime soon.
While it has its moments, and is most enjoyable when not taken seriously, Ferris Bueller's Day Off definitely isn't one of my favorite films of the 1980's. I think the strong and memorable performances from the cast, and the often lighthearted nature of the movie, is what has helped it endure for these 35 years. However, it is still a rather irreverent comedy and one that has enough going against it to not earn an outright recommendation.
– John DiBiase (reviewed: 7/2/21)
4K UHD Review (2023)
Two summers ago, Paramount Pictures released a special, Limited Edition Blu-Ray Steelbook for the iconic 80's teen comedy, Ferris Bueller's Day Off. For 2023, the movie, and its Steelbook packaging, return for its 4K UHD debut. Everything from the 2021 Blu-Ray release is here, with the major difference being that this Steelbook set includes a 4K disc instead of a Blu-Ray disc. Don't expect to get a Blu-Ray disc included in here as well. But if you're looking to add-on to your collection with a 4K disc, or you're okay with only getting that format, then this new release is right up your alley. (Yet, if you picked up the 2021 Blu-Ray Steelbook release and wish to keep that in addition to the 4K release, it'll feel redundant to have two identical Steelbook cases.) This set does include a 4K digital copy, so if you're looking for an on-the-go option, this set should do nicely.
So how does Ferris Bueller's Day Off look in 4K UHD? As the movie started, my first impressions were not positive. The sequence where Ferris is trying to convince his parents he's too sick to go to school didn't look any better than any given Blu-Ray transfer. However, as the movie progressed, the 4K quality really became more and more evident. From the color tones to the clarity in people's faces – especially in close-up, to the glints in peoples' eyes and so on, Ferris Bueller's Day Off in 4K actually looks pretty good. Even the sound of Ferris revving the engine of Cameron's dad's most beloved car really roars. But the most impressive shots in the film? The Chicago skyline. If you pulled any one of the frames from the camera panning across the buildings in the city of Chicago from this movie, I think you'd be hard-pressed to prove it's from a movie nearly 40 years old. The clarity is astounding. And that's what I love most about the 4K format; it really breathes new life into older movies.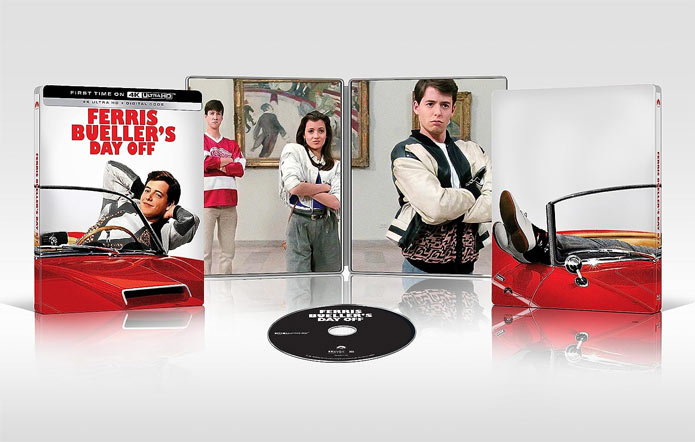 As a movie, I still have some mixed feelings regarding Ferris Bueller's Day Off. The profanity especially grates on my nerves, with the teens frequently swearing and taking the Lord's name in vain. And, maybe it's just because now I'm a parent now with a son mere weeks from becoming a teenager, but the selfish disregard that Ferris has for his best friend Cameron, and Cameron's dad's car, is hard to fully get behind. I get that Cameron is being held back by the callous nature of his father, but Ferris just seems to care more about his own good time than the wellbeing of his friends and family. But, I realize that if you just try not to take the story too seriously, it's a fun one to get on board for.
Ferris Bueller's Day Off may hardly be the best 4K UHD release you'll see, but the sharper and more colorful format does do the movie some good. I kind of hoped to see a more drastic transformation with this transfer, but what we actually get is still pretty good.
– John DiBiase, (reviewed: 8/9/23)
Blu-Ray Special Features Review
In celebration of the film's 35th anniversary, Paramount Home Entertainment will release a FERRIS BUELLER'S DAY OFF Limited-Edition Blu-ray Steelbook on June 8, 2021, which includes access to a digital copy of the film, as well as the following legacy bonus content:
Getting the Class Together: The Cast of Ferris Bueller's Day Off
The Making of Ferris Bueller's Day Off
Who is Ferris Bueller?
The World According to Ben Stein
Vintage Ferris Bueller: The Lost Tapes
Class Album
The special features contain some great interviews from 1986, as well as more recent retrospective interviews with the cast (from an earlier DVD or Blu-Ray release). Just note that many of these do contain clips directly from the film that contain some of the profanity from the film.
– John DiBiase, (reviewed: 7/3/21)
Parental Guide: Content Summary

 Sex/Nudity: We briefly see a poster on Ferris' bedroom wall of a man and woman making out. It's hard to tell, but it appears the woman is naked (seen from the side in an embrace); We briefly see Ferris showering from the chest up and then wrapped in a towel afterwards; Jeanie refers to Ferris as a trouser snake; Grace lists off high school cliques and mentions sluts; We briefly see Ferris drawing a pixelated naked woman on his computer in his room; About his father, Cameron says "The man could squash my nuts into oblivion"; When Ferris, masquerading as her father, picks up Sloane from school, she walks up to him as principal Rooney is watching. Ferris says to her, "How about a kiss for daddy?" and they share a very passionate kiss. Rooney is visibly disgusted as he remarks to himself "So that's how it is in that family"; We see Sloane and Ferris making out in front of an art display in the museum; A taxi carrying Ferris' dad pulls up next to the car that Ferris, Sloane and Cameron in. The guys duck down on the floor while Sloane makes flirting looks at Ferris' dad. Ferris then tickles Sloane's legs and we see her giggling and laughing from the waist up, which his dad also sees, which makes it look like Sloane might be pleasuring herself; We see a stripper gram nurse at the Bueller's front door when Jeanie answers it (the woman's tight nurse outfit reveals cleavage). Jeanie slams the door in their faces, cutting off what she's saying as she was about to say that she's the nurse who likes to– (it would have been the "F" word); Ferris, in his talk to the camera, remarks that Cameron will marry the first person he lays; We see Sloane in a skimpy wet slip as she's swimming in a pool with the guys; A teen in the police station talking to Jeanie tells her she wears too much eye makeup. He then adds that people think his sister is a whore for wearing too much eye makeup. Jeanie tells him to "blow" himself. He then looks down at his own crotch smirking; We then see Jeanie and this teen making out in the police station; While running home, Ferris passes two girls sunbathing in bikinis. He then stops and goes back to introduce himself to them.


 Vulgarity/Language: 1 "F" word (and 1 implied but unspoken one), 25 "S" words, 1 "J-sus," 10 "g*dd*mn," 4 "S.O.B," 2 "For Chr-st's Sake", 1 "Chr-st," 3 "a**h*le," 7 "a" words, 2 "cr*p," 2 "Oh my G-d," 2 "d*ckhead", 8 "h*ll," 1 "By G-d," 1 "p*ss," 2 "d*mn," 2 "b*stard", 1 "p*ssed off"; Jeanie rubs the side of her mouth with her middle finger at Ferris; Rooney gives the finger.


 Alcohol/Drugs: A guy asks if Jeanie is in the police station for drugs.


 Blood/Gore: Rooney has some bloody cuts on his face; Rooney has some blood on his mouth and a bloody tissue in his nose; We see cuts on Rooney's face and some blood on his sock and torn pants.


 Violence: Cameron angrily hits his car seat; While he's on the phone, Ferris hits and kicks Cameron who drops his phone; Cameron smacks Ferris on the head; Jeanie smacks a can for taking donations out of a student's hand; Cameron throws a matchbook at Ferris; A girl spits soda through a straw into Rooney's face; A dog chases Rooney; Jeanie kicks Ed in the face several times; Cameron angirly kicks a car. It then car goes off the edge of an elevated garage and crashes into the woods below; Sitting by himself by the side of a pool, Cameron leans forward and falls into the water, sinking to the bottom. Ferris panics, jumps in and rescues Cameron. Cameron smiles that he was faking drowning himself; A dog attacks Rooney outside the Bueller house; We see Rooney hobbling along the side of the road bloodied and in tattered clothes.