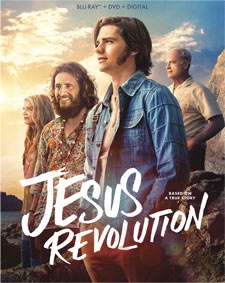 Jesus Revolution


 – for strong drug content involving teens and some thematic elements.
Director: Jon Erwin, Brent McCorkle
Starring: Joel Courtney, Kelsey Grammer, Jonathan Roumie, Anna Grace Barlow, Kimberly Williams-Paisley
Running Time: 1 hour, 59 minutes
Theatrical Release Date: February 24, 2023
Blu-Ray Release Date: April 25, 2023 (Amazon.com)
Plot Summary
The true story of a national spiritual awakening in the early 1970s and its origins within a community of teenage hippies in Southern California. (from IMDB)
Film Review
Years ago, a "Christian" or "faith-based" movie was almost guaranteed to be well-intentioned, but also be comprised of amateur production, poor acting, terrible dialog, and a less-than-subtle message (with an often unrealistic delivery). As a reviewer, I think I was scarred by one-too-many poor faith-based movies that were just more embarrassing than inspiring. Thankfully, in recent years, the tide has been turning, and thanks to filmmakers like the Erwin brothers, who've made a name for themselves with quality offerings like I Still Believe and American Underdog, the bar has been raised significantly. Don't get me wrong; there's still room for growth in the genre as a whole, but if more movies like Jesus Revolution keep getting made, then Christians in the world of movie-making will finally have a respectable place.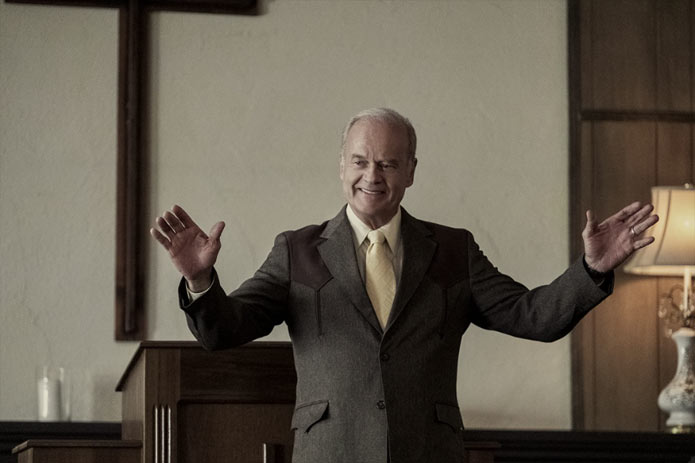 While I'm still hesitant to run out and watch the next new faith-based movie in theaters, the cast and premise of Jesus Revolution had my attention. I thought Joel Courtney was excellent in J.J. Abrams' Super 8, and upon hearing he was playing pastor/speaker Greg Laurie, I found myself definitely intrigued. Furthermore… Fraser himself, Kelsey Grammer as pastor Chuck Smith?! Now I have to see this.
From the start, the focus is kind of split between Courtney's Laurie and Grammer's Smith, with the story really coming together around Chuck Smith and his introduction to the Christian hippie movement. Meanwhile, Greg Laurie is meeting his would-be wife, Cathe, in school and the two are trying to find their place in the world by slipping into the drug-using hippie subculture. But when a man named Lonnie Frisbee – played by The Chosen's Jonathan Roumie – shows up at Chuck Smith's door and pretty much won't leave, Smith's Calvary Chapel church is transformed forever.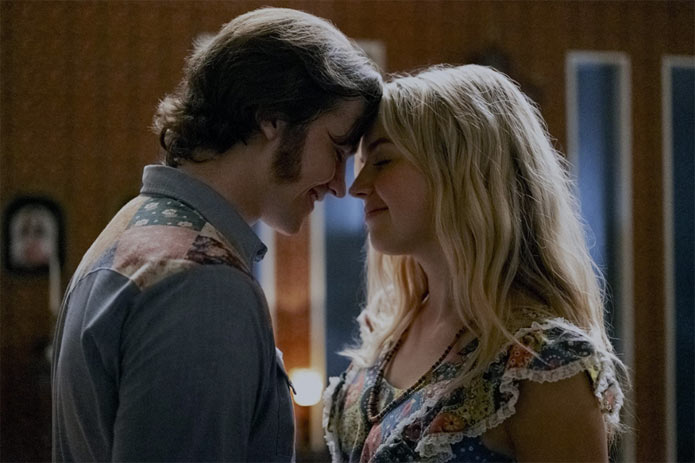 Having some substantial acting talent behind Jesus Revolution is one of the main reasons why the movie works so well. Although I have never dreamed of seeing Kelsey Grammer play a preacher, he absolutely nails it here. He's not only convincing, but he brings incredible heart and passion to the role, which I wasn't expecting. One of my favorite scenes in the film is a brilliant mirroring of a drug high versus a spiritual high. In one scene, Greg is on an acid trip, where a girl nearly dies when she passes out and begins foaming at the mouth. The scene that immediately follows it shows Lonnie introducing the worshipful music of a few spirit-filled hippies to a reluctant Chuck Smith as they all sit around his living room. As they play and sing, Chuck quietly goes from apprehensive to overjoyed by the love for Jesus in the room. It's a wonderful contrast that shows how risking a high with drugs can be lethal and unfulfilling, while risking a spiritual high with Jesus and stepping out of one's comfort zone can be truly rewarding. It's this kind of handling of the subject matter that makes Jesus Revolution a really inspiring film.
Not everything is butterflies and roses in this story, however. From the start, Greg is struggling with a heavy theme of abandonment from his family and those he's loved and trusted. We also see how losing our focus when we let God use us, and getting prideful over our success, can drive a wedge between us and the Savior — and it's a real problem to be careful of. The movie also does not shy away from the depiction of drug use and addiction, and we do see the ugliness of their effects. But the filmmakers do well to show that these Christ followers are not perfect, and that God loves to use the broken to bless His Kingdom.
If I had one thing to nitpick a little, is that when the story calls for inspirational moments, at times, pretty much any character tends to slow-deliver poignant words for another character to chew on. Most of these scenes do work in the moment on an emotional level, but there may be one too many scenes like these in the movie. By the time yet another character delivered a nugget of wisdom near the film's conclusion, it actually distracted me from the movie a bit. Still, Jesus Revolution was no less moving, and I finished out the movie with my heart just aching for this kind of revival to happen again in our country. I remember what it was like, even as a teen in the mid-90's, to be surrounded by genuinely passionate and on-fire believers without a cynical bone in their bodies… and I feel like that is something I've greatly missed and would love to see again.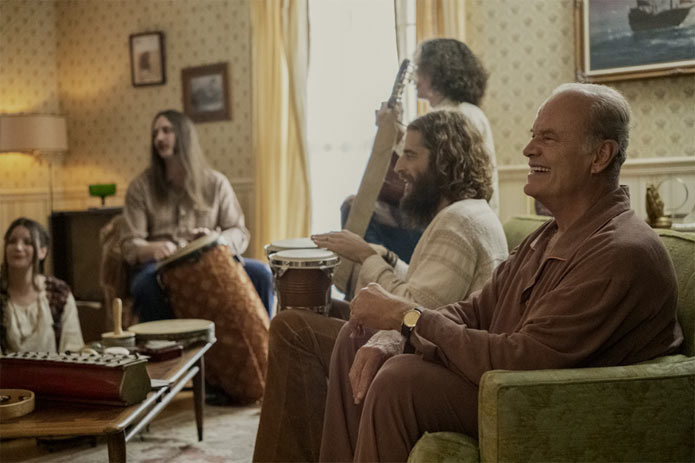 The content for Jesus Revolution is only PG-13 because of the drug use shown in the movie and its heavier themes at times. There may be a suggestive comment or two, but aside from seeing Greg, Cathe, and some other teens tripping out a couple times, there isn't anything else bad in the film. However, there is a brief car accident sequence, due to drunk driving, which lands a character in the hospital briefly with some bandages on their cheek. Later, we see a scar on their face as a result of the accident. Overall, the movie is probably not appropriate for younger viewers, but if you have teenagers, this should be fine for them. It really is a quality film with solid acting and a story to stir your soul.
Jesus Revolution is kind of a rarity, not only in the Christian or faith-based markets, but in film in general. The movie feels like a love letter to a special time in American history when desperate youth were finding what they were looking for in a relationship with Jesus. Memorable performances, especially from Kelsey Grammer and Joel Courtney, only make the movie stronger. This one definitely comes highly recommended.
– John DiBiase (reviewed: 4/26/23)
Blu-Ray Special Features Review
Jesus Revolution is available on Blu-Ray, DVD, and Digital. The Blu-Ray combo pack includes a DVD and a VUDU-only digital copy. The Blu-Ray disc includes the following extras:When God Has a Plan: Making Jesus Revolution (32:50) – Here is the meat and potatoes, figuratively speaking, of the special features. In When God Has a Plan, the cast, crew and directors talk about their experience making Jesus Revolution and the meaning behind it. Director Jon Erwin reveals that it was his personal 7-year mission to bring this story to the big screen. Jon had bought the historical "Jesus Revolution" Time magazine issue on eBay and read it, becoming inspired. Kelsey Grammer explains how he had wanted to do a movie that really mattered, and this script showed up the next day. The featurette continues on to cover the cast, filming locations – including filming at the real Pirates Cove, words from the real Greg and Cathe Laurie, and more.
The Heart of the Film (3:57) – This is a short promo for the movie that is cut fast and feels like a short commercial. In fact, much of the rest of the featurettes play out the same way. This one reiterates most of what the longer one offers. Its focus is about the movement and how a new one could happen again any time now!
Inspired by a True Movement (6:24) – This promo is more about the hippies and the movement. The real members of the band LoveSong are featured here, too, which is a nice touch.
Behind the Scenes of "Living Water" with Anne Wilson (11:31) – This segment was originally made to air before an early preview of the movie when it first hit theaters. It features an interview with the directors, producer and CCM artist Anne Wilson. All of them agree they long for another Jesus revolution in America!
Faces of the Jesus Revolution (5:55) is specifically about the actors in the film and the real life characters they play.
Deleted Scenes (9:41) – There are 7 deleted scenes with optional commentary from the directors. In a short intro, they talk about how the first cut of the film was 3 hours long! They reveal that the scenes included here – the 9 minutes or so of deleted footage – are the hardest they had to let go. In the first scene, we see an elder of Calvary Chapel telling Chuck that hippies don't belong in the church. Chuck sits on the altar steps looking defeated when Lonnie comes to talk to him and tells him he has seen a vision that people will soon fill the church. Next, we have Lonnie preaching to hippies by the beach, telling them they are welcome. He shoos his wife away and she meets up with Greg and Cathe down the hill, frustrated. The third scene shows Greg and Cathe at a carnival. The two are flirting and talking about scripture together. The following scene takes place right afterwards where Cathe comes home from the carnival and her parents confront her about what she was doing. The next scene then shows Cathe's parents arguing with her about Greg while in their kitchen. The sixth scene shows younger Greg waking up to find his mom outside packing their car. And finally, the last scene shows Greg walking out on military school and meeting up with Cathe and her friends in their van.
Audio Commentary with Directors Jon Erwin and Brent McCorkle and Producer Kevin Downes – Lastly, there's an option to watch the entire film with commentary from the filmmakers.
– John DiBiase (reviewed: 4/26/23)

Parental Guide: Content Summary

 Sex/Nudity: While talking to Chuck about his life as a hippie before finding Jesus, Lonnie says "We did everything and everyone"; We see a flashback where Greg's mom tried to take a man home from a bar but Greg tells her she can't because of his dad.


 Vulgarity/Language: None.


 Alcohol/Drugs: We see bottles and cigarettes near Greg's mom passed out on her bed; A woman asks her daughter if she's doing drugs. She says she isn't and argues with her parents. As she leaves, her parents as where she's going and she jokes that she's going to go use drugs; We see a news report talking about hippies and how they're doing drugs; At a concert, postcards are dropped from the sky that have drug tabs on them. Greg and the Cathe pull them off the cards and put them in their mouths. We then see the screen glowing and getting hazy to mimic their drug trip; We see Greg's mom lying on her couch with a glass of alcohol (which he takes from her and sets aside); We see Greg and his friends having a drug trip at a party. Dodie falls backwards and spits up all over herself and then onto the floor (sort of foaming at the mouth) from overdosing; Greg panics as he rides in a van with his friends who are all high and the driver is driving recklessly; A woman gets into a car accident from drunk driving.


 Blood/Gore: We see a woman in a hospital bed after a car accident and she has a bandage over her cheek with a little bit of blood on the bandage; A woman is seen briefly with a big scar on her cheek from a car accident earlier.


 Violence: Greg burns his finger on an iron while ironing his clothes; Dodie falls backwards and spits up all over herself and then onto the floor (sort of foaming at the mouth) from overdosing; Greg panics as he rides in a van with his friends who are all high and the driver is driving recklessly; Two cars collide. A woman ends up in the hospital with bandages on her face.