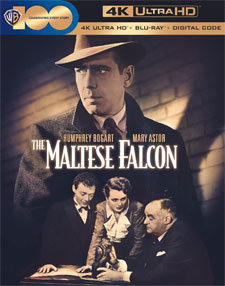 The Maltese Falcon


 – for mild violence.
Director: John Huston
Starring: Humphrey Bogart, Mary Astor, Sydney Greenstreet, Peter Lorre
Running Time: 1 hour, 40 minutes
Theatrical Release Date: October 18, 1941
4K UHD Release Date: April 4, 2023 (Amazon.com)
Plot Summary
San Francisco private detective Sam Spade takes on a case that involves him with three eccentric criminals, a gorgeous liar and their quest for a priceless statuette, with the stakes rising after his partner is murdered. (from IMDb)
Film Review
A few years ago, I watched my first Humphrey Bogart movie, The Maltese Falcon, with a friend and not only did neither of us understand the movie, but I just couldn't see Bogart's appeal as an actor. Some time later, I finally watched Casablanca and suddenly had a newfound appreciation for the legendary actor. I ended up watching any Bogie movie I could get my hands on and before I knew it, I had been converted to a full-fledged fan of Humphrey Bogart. When I rewatched The Maltese Falcon, I not only finally understood the film, but I found myself actually liking it.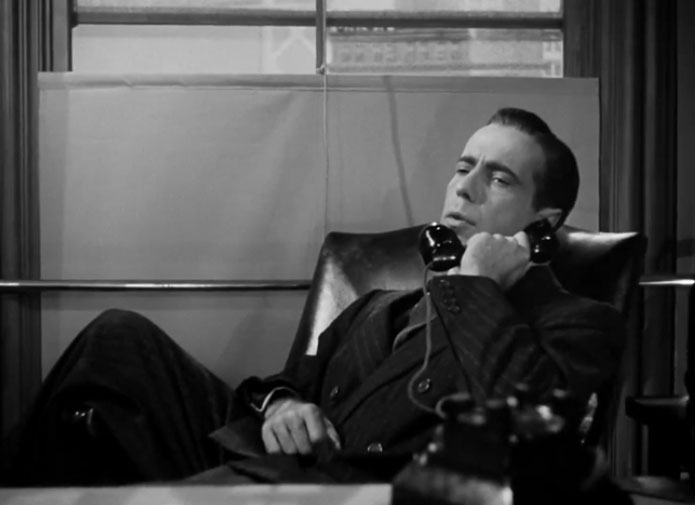 Honestly, even as I write this, a part of me feels like I've heard the title The Maltese Falcon all my life and I'm not quite sure the film lives up to its hype. However, when you stop to really contemplate what The Maltese Falcon accomplishes, it's not hard to see why it's been regarded as a classic through the decades since its release.
In the film, a mysterious woman enters the office of detectives Archer and Spade, asking them to help find an old colleague of hers. While Archer tails the subject, he's shot dead, and his partner Sam Spade (Bogart) digs into the mystery to get to the bottom of just what kind of case could get his partner killed. Through his investigation, he encounters several other colorful characters and finds that he can't trust a single person that crosses his path. A couple other murders get added to the mystery, and the intrigue regarding this black statue, the Maltese Falcon, looms over everything.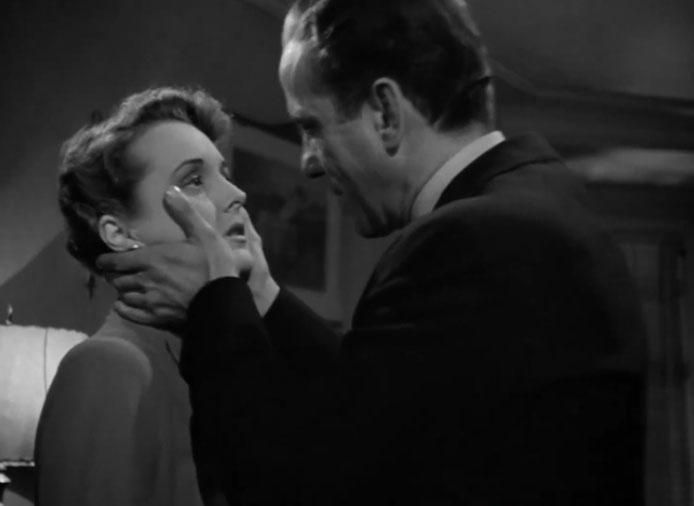 Bogart's Sam Spade is a hard-nosed detective who doesn't take junk from anyone, and knows how to play the people who try to play him. He's pretty rough around the edges, though, and I could see his kind of character not being too well-received in today's extra-sensitive society. Bogart plays Spade as quite the tough guy, though, and unlike Rick Blaine in Casablanca, he doesn't appear to have a soft side. But the weirdest thing about The Maltese Falcon, which I've never been able to quite figure out, is how or why Sam would even be remotely attracted to Mary Astor's character, Brigid O'Shaughnessy. Astor plays the character with great insincerity, keeping Sam trying to figure out the truth about her, and the audience as well. She lies to him constantly (which he realizes each time), she overacts in an attempt to manipulate him, and she's just an all-around unlikeable character. In fact, I can't imagine what Sam would see in her. It's to the point where I have to wonder if he's just messing with her the whole time, but by film's end, it seems pretty clear that he cares for her. And folks, that seems to be the film's biggest mystery of all.
My minor gripe about Mary Astor's character aside, The Maltese Falcon scratches the itch of any film noir fan. The dialog is sharp, the performances tight, and the mystery compelling. Bogart is fantastic, and his devotion to cracking the case (and, spoiler alert, doing the right thing) is captivating and admirable. And there are plenty of twists and turns to keep the viewer on their toes. However, sometimes things are explained so swiftly in a fast, wordy delivery (like from Bogie), that it can be easy to miss, but that's also what makes this a highly rewatchable movie.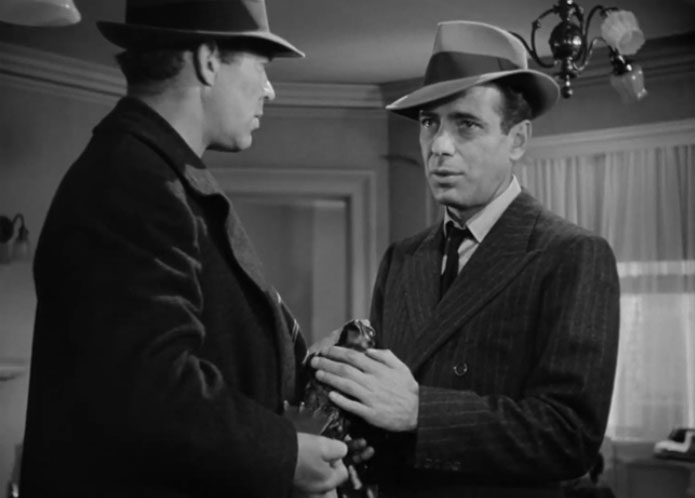 Content-wise, it's a 1940's noir, so there's some violence, smoking and lots of drinking. There is no profanity or sexual content, but it's slightly hinted at that Peter Lorre's character, Joel Cairo, might be gay (apparently his character was in the source novel for the film, and it's hinted at when Spade is shocked to hear that a gardenia-scented business card left for him was from a man (and later, it sounds like Brigid and Joel argue about a man they may have both tried to woo in the past). According to trivia for the movie – but is not common knowledge apparently – the author of the book hinted that the young gunslinger Wilmer was actually intimate with the heavyset Kasper Gutman, which is what the term Spade uses to describe Wilmer, "gunsel," supposedly means. Otherwise, there is some violence with characters shot or punched or kicked, but there is rarely ever blood shown (but there is a little).
The Maltese Falcon is one of the earliest and most popular of the film noir genre, and is still a classic today. This 4K release does a great job of adding immense clarity to the picture – to the point where it's kind of mesmerizing. I love seeing these classic old movies getting the 4K treatment, and I must say The Maltese Falcon looks fantastic!
– John DiBiase (reviewed: 4/6/23)
4K UHD Special Features
TheMalteseFalcon Ultra HD Blu-ray disc, Blu-ray disc and Digital contain the following previously released special features:
Commentary by Eric Lax
"Warner Night at the Movies"

"Sergeant York" Trailer
"New Highlights of the Roosevelt Churchill Parley" (newsreel)
"The Gay Parisian" (1941 WB short)
"Meet John Doughboy" (1941 WB cartoon)

The Maltese Falcon: One Magnificent Brid
Becoming Attractions: The Trailers of Humphrey Bogart
Breakdowns of 1941 (WB short)
Make-up Tests
2/8/43 Lux Radio Theater Broadcast
9/20/43 Screen Guild Theater Broadcast
7/3/46 Academy Award Theater Broadcast
Trailers

1936 "Satan Met a Lady"
1941 "The Maltese Falcon"
Parental Guide: Content Summary

 Sex/Nudity: Archer ogles Brigid when he walks into his office behind her. He makes an excited face at Sam; A married woman kisses Sam and we find out that they seem to have had history of an affair together; Sam's secretary hands him a business card for someone waiting for him. Without reading it, he smells a gardenia scent on the card and asks his secretary to "send her in." Cairo, a man, walks in and Sam looks visibily surprised (the first hint that Cairo is gay); Later, Brigid makes a very quick comment that sort of suggests that Cairo had gotten involved with a man in another country. As he starts to say something like, "You're just saying that because you couldn't–" she slaps him in the face (possibly hinting that she was interested in the man, but the man was more interested in Cairo); Sam calls Wilmer a "gunsel" several times, which, according to the book's author, was meant to insinuate that the boy Wilmer was physically involved with the older "fat man," Gutman; Sam forcefully kisses Brigid.


 Vulgarity/Language: None.


 Alcohol/Drugs: Sam has drinks with two policemen; Gutman pours drinks for him and Sam; Gutman pours Sam a drink and drinks from his own glass; Sam is drugged in what he was drinking, stumbles around and passes out.


 Blood/Gore: A dead man has some blood on his head; After Sam punches him, Cairo has a little blood at the corner of his mouth and on his shirt; Cairo has a little blood on his face after being slapped repeatedly. He then has more blood on his forehead and cheek; Sam has a big abrasion/lump on his forehead.


 Violence: From the perspective of the shooter, a man is shot and then falls over and rolls down a hill; Sam's secretary burns a piece of paper; Cairo pulls a gun on Sam. When he goes to frisk him, Sam grabs his hand and smacks him in the face with it twice. He then punches Cairo in the face and he passes out on the couch; Cairo points a gun at Sam again; Sam forcefully kisses Brigid; Brigid slaps Joel. Sam grabs him and slaps him repeatedly, too; Two cops push Cairo back. Brigid kicks him hard; A policeman punches Sam on the chin; Sam throws and breaks a glass; Sam pulls Wilmer's jacket over his shoulders and takes his two guns; Having been unknowingly drugged, Sam stumbles, knocking over flowers and a table. Wilmer pushes him over and then kicks Sam hard across the face; We see a large ship on fire with firemen trying to put it out; A man stumbles into Sam's office, knocking something over. He drops a package and slumps onto Sam's couch and dies. We don't see anything, but Sam comments on how the man had been shot multiple times; Wilmer draws his gun and Sam punches him in the face.