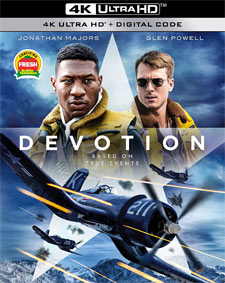 Devotion


 – for strong language, some war action/violence, and smoking.
Director: J.D. Dillard
Starring: Jonathan Majors, Glen Powell, Christina Jackson, Joe Jonas, Serinda Swan
Running Time: 2 hours, 19 minutes
Theatrical Release Date: November 23, 2022
4K UHD Release Date: February 28, 2023 (Amazon.com)
Plot Summary
A pair of U.S. Navy fighter pilots risk their lives during the Korean War and become some of the Navy's most celebrated wingmen. (from IMDB)
Film Review
There are all kinds of films in the war movie genre. From the graphic, hyper-realistic violent depictions like Saving Private Ryan, to more family-friendly representations like most black-and-white classics from decades past, there seems to be no limit to how some of the darkest days in the history of mankind can be presented on film. Devotion is a PG-13 war film that, instead of taking a large-scale epic approach, focuses primarily on the lives of two U.S. Navy pilots in 1950. Based on the true story of African American pilot Jesse Brown and his friend and fellow pilot, Tom Hudner, the two took part in the Korean War, which is often considered "The Forgotten War."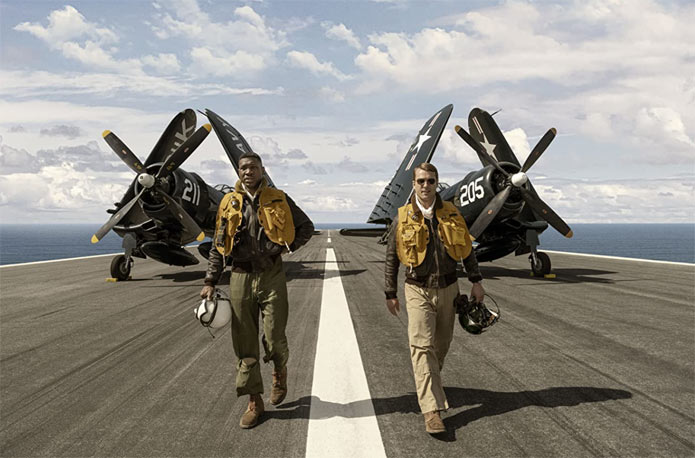 Rising star Jonathan Majors – who seems to be popping up in every movie lately – plays Brown with great depth. I see why he's becoming quite the sought-after actor these days. Glen Powell, of Top Gun: Maverick fame, plays a pilot once again, but he's given so much more to do with this role as Tom Hudner than he did as the cocky and conceited "Hangman." Much of Devotion is a character-driven drama, focusing on the racial tension of the 1950's and Brown's struggle to just be accpeted for the exceptional pilot he is and not just an outsider of color. Hudner proved to be a reliable ally, but Brown still struggled to even accept his help, no matter how well-intentioned it might be at times. The almost 2-and-a-half-hour runtime is used well to develop the characters and their friendship while also painting a tangible portrait of life in America in 1950. Racial tensions may continue to exist in 2023, but it's still heartbreaking to see what people of color had to endure in this free country in the mid 1900's.
One thing that becomes very evident while watching Devotion is just how high quality the film's production is. It's seriously impressive. I honestly expected this to be more of an indie film, but it bears the appearance of a big budget blockbuster with the intimacy of an indie drama. The CGI used to make some of the landscapes more accurate for 1950 is barely noticeable, while much of the aerial footage feels extremely real. It's not quite Top Gun: Maverick-level real, but it's still done really, really well. A sequence where we see various vantage points of the planes flying through cloudy, flak-filled skies is engaging to say the least. And everything from the carriers to the planes on deck look completely real. It definitely lends to the authentic feel of the movie and the time period it's recreating.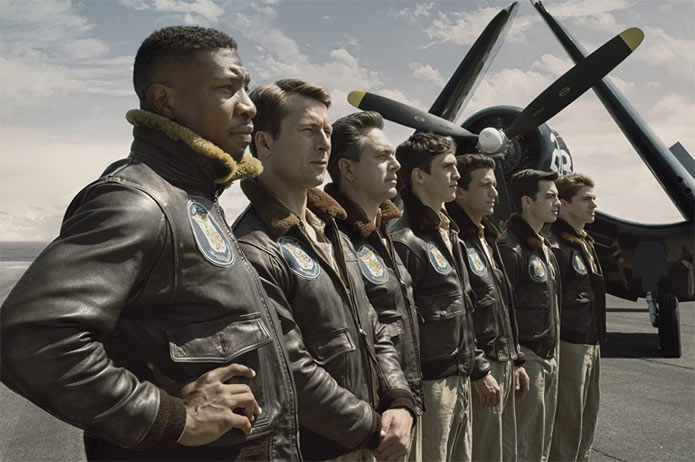 The content for Devotion is definitely aligned with the PG-13 rating, but it's mostly due to language and some of the racial tensions. Brown uses the "n" word twice, referring to himself, and I think that's probably where the MPAA got the "for strong language" in their rating. Brown also looks at his own reflection in a few scenes and spouts hateful words at himself, and that may also be what the MPAA is referring to. There are no "F" words in the movie, but there are still several uses of the "S" word and a few uses of Jesus' name in vain. There is no explicit sexual content, but some passing comments are made by the men in the film in trying to woo women in a sexual fashion. Most of it is subtle, however. And while there is some lethal violence in the movie, the only blood we see is soaked into a pilot's pant-leg in a dimly lit sequence. Nothing graphic is shown. The ending is pretty emotional, though, and it may be a little heavy for some viewers.
I found Devotion to be a solid and well-made war drama that may not be action-packed enough for some moviegoers, but is kept interesting and engaging from start to finish. I actually wish I had caught it on the big screen when it was in theaters. I'd also be remiss if I didn't mention how beautiful this movie looks in 4K UHD. It's super clear and vivid quite often. This is one of those movies that constantly reminds you you're watching a 4K movie. It's definitely noticeable. So if you have the viewing capabilities and are a fan of the format, this one is well worth the purchase.
Devotion is a heartfelt and emotional nod to America's "Forgotten War" and its heroes. It's an impressive piece of filmmaking that puts the spotlight on some American heroes that deserve to be remembered. Wonderful performances from the cast, a brilliant 4K transfer and beautiful cinematography make this one worthy of a watch. It's definitely not a thematically light film, however, so that should be taken into consideration when deciding whether or not to experience Devotion.
– John DiBiase (reviewed: 2/26/23)
4K UHD Special Features Review
Devotion is available on 4K UHD disc, Blu-Ray, and DVD. It's also been available digitally for a while now. Along with the film in glorious 4K, the special features include the following:
The Aviation of a Forgotten War (11:17) – Glen Powell shares that he read the book and wanted to make the movie and fought to get it made. The featurette goes through some great detail on the process that went into making this movie a reality. Even director JD Dillard is the son of a Blue Angel pilot who grew up around aviation. To film the flight scenes, they acquired 5 Corsairs – which are extremely rare these days – for filming and had to refurbish them accordingly. They even got the world's oldest flyable helicopter for the movie! They also modeled a lot of the flight filming techniques after what was achieved in Top Gun: Maverick. (2 "h*ll" from a scene in the movie; 1 "S" word from Jonathan)
The Legacy of Jesse Brown (12:02) – This featurette covers the impact Jesse Brown had on the Korean War as well as what his legacy meant to the cast and author of the book. It's a really nice homage to the legendary Naval pilot.
– John DiBiase, (reviewed: 2/26/23)
Parental Guide: Content Summary

 Sex/Nudity: In the locker room, we see many 1950's style girl pin up images and posters hanging up. They show women in bikini's and underwear, but there isn't any nudity; One officer makes a comment about another guy seeing "no action" and having "clean sheets"; The captain tells the men, "You're not just here to fly and screw"; While on leave in France, one guy says "This doesn't look like a street with a whorehouse on it"; We briefly see people in their swimsuits and bikinis on a beach; Elizabeth Taylor shows significant cleavage in the dresses she wears; A soldier laments a couple times that he missed his shot with Liz Taylor (which his comrades make fun of him for believing); Tom flirts with a couple French women and briefly kisses one.


 Vulgarity/Language: 7 "S" words, 2 "Oh J-sus," 2 "n*gger," 1 "Chr-st," 13 "h*ll," 4 "*ss," 1 "*ssh*le," 7 "d*mn," 1 "Oh G-d," 1 "Dear G-d," 1 "b*stard," 1 "G-d help you"; Fritz gives middle finger


 Alcohol/Drugs: Daisy and Tom have beers at the Brown home; Some of the boys drink to a fallen friend; Many people have drinks at a party.


 Blood/Gore: We see a couple brief views of a pilot with their pant leg soaked in blood. It's dimly lit (at night), so we don't really see anything graphic; We see the bare back of a pilot sitting on an exam table and he has nasty bruises across his back.


 Violence: A Naval plane loses control and crashes in front of the carrier, killing the pilot; A fist fight/brawl breaks out over Jesse at a bar; We see the planes flying through airspace that is filled with flak and aircraft fire. We see a plane blow up; A bridge is blown up by one of the planes; We see anti-aircraft guns shooting at the planes; A pilot races through a barrage of anti-aircraft fire to reach a bridge to blow it up (and does); We see soldiers in a trench at night. Suddenly one is hit by gunfire (maybe in the head?) and thrown backwards to the ground, dead. Approaching troops then pin down the soldiers in the trench with gunfire; We briefly see some men carrying a wounded soldier on a stretcher; We see more shooting on the frontlines on the grown. An explosion throws a soldier backwards but he's okay; Air support arrives and provides cover fire for the ground forces; We see a plane leaking oil that ends up crash-landing and catching on fire.