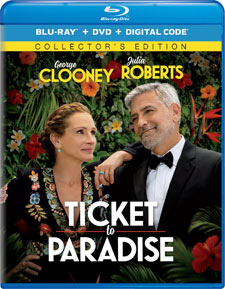 Ticket to Paradise


 – for some strong language and brief suggestive material.
Director: Ol Parker
Starring: George Clooney, Julia Roberts, Kaitlyn Dever, Billie Lourd, Maxime Bouttier, Lucas Bravo
Running Time: 1 hour, 44 minutes
Theatrical Release Date: October 21, 2022
Blu-Ray Release Date: December 13, 2022 (Amazon.com)
Plot Summary
A divorced couple teams up and travels to Bali to stop their daughter from making the same mistake they think they made 25 years ago. (from IMDB)
Film Review
Ah, the romantic comedy. At a time when it seems like superhero and horror films are leading the box office, a modest little rom-com called Ticket to Paradise has crept in to try to offer a little slice of charm to the movie-going audience. And who better to lead the way than real-life-best-friends George Clooney and Julia Roberts, two of cinema's biggest names in the past thirty years. Ticket to Paradise follows a divorced couple — Clooney's David and Roberts' Georgia — who hate each other, by the way, as they rush to Bali to try to stop their daughter from trading her budding career as a lawyer to marry a young man in his home country. The events that unfold involve a little romance and a whole lot of bickering, which sadly is probably the film's biggest drawback.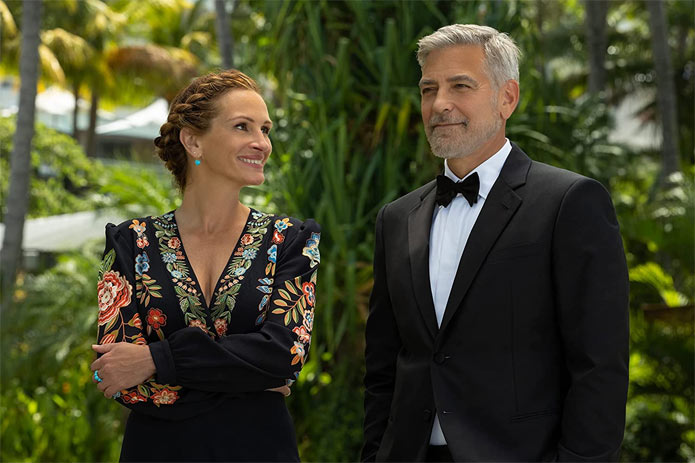 The whole point of the rom-com is to have a nice balance between comedy and romance. Ticket to Paradise uses the premise of young love to be at the core of the movie's romantic angle, centering around David and Georgia's daughter, Lily (Kaitlyn Dever) and her newfound relationship with island native, Gede. But the complete antithesis to their relationship is the near hatred between Georgia and David. Some of the bickering is genuinely funny, but these two delightful actors lose their charm as many of their scenes resort to the pair just seeming old and ornery. The plot does have some common cliches and is a bit predictable, but given how nasty these two are to each other, it still seems surprising when they inevitably begin rekindling feelings for each other. It all concludes on a much more positive note, so the movie at least leaves you with some warm fuzzies when all is said and done.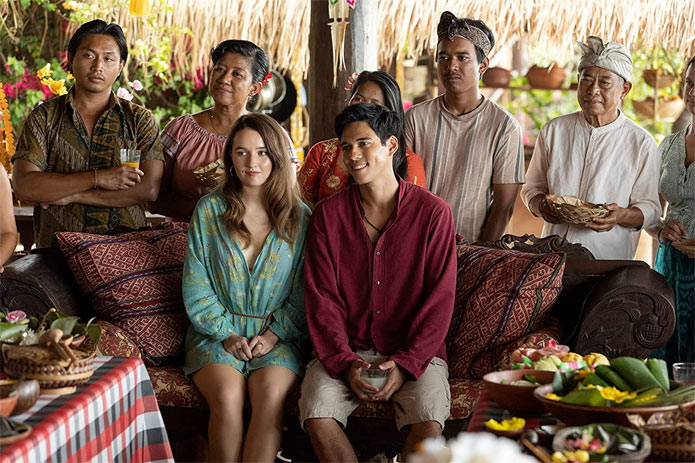 Last Man Standing's Kaitlyn Dever is cute and warm as Lily, and her love interest, Gede, played by Maxime Bouttier, is a charming fellow. Their relationship is a bit too blissful to work as the main focus in the film, but the two are so likeable, you can't help rooting for them. Meanwhile, you kind of can't wait for Georgia and David to get to the part where they start being civil to each other, just so they'd stop bickering. As their relationship begins to change — going from resenting each other for having ever loved one another to starting to remember why they originally did — the movie does as well. Probably my favorite scene is a wacky one where David and Georgia end up playing team beer pong in a bar and Clooney seems to really show the sillier side of his personality. There are definitely some laughs here.
But another problem with Ticket to Paradise is that the movie's premise is hardly relatable. For starters, Georgia and David are clearly quite successful in their careers (i.e. they're loaded) and can afford a trip to Bali and nice accomodations. Also, Lily throwing away her pursuits of becoming a lawyer to basically run away to paradise, isn't terribly realistic either. The story feels like it's only plausible for the priveleged, and it's hard to feel like you can empathsize with the characters here. It's really only when David and Georgia start to show their more sensitive sides and voice regrets that you can almost connect with them. Still, as an hour-and-a-half distraction with stunning visuals courtesy of beautiful Bali, Ticket to Paradise is a cute and enjoyable movie.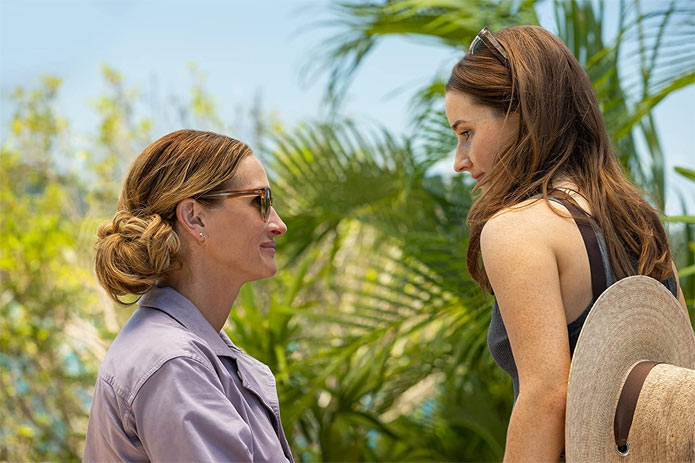 The content for Ticket to Paradise isn't too edgy, but there are roughly 3 uses of the "F" word, in whole or in part. This seems oddly excessive for a movie of this kind. Otherwise, there are a couple uses of the "S" word, and a few other choice words, as well as a couple uses of blasphemy. There's a little bit of sensuality mixed in, too, including Lily's best friend, Wren, played by Carrie Fisher's daughter, Billie Lourd, who is really into booze and boys. In the scene that introduces the two of them, we see her breaking out the champagne and counting the contents of a box of condoms. Later in the film, we see her with the condoms again. It's also sort of a controversial matter in the film that Georgia is dating a much younger – and foreign – man named Paul. He seems way more serious about her than she is about him, too. There are also a few scenes where characters either wake up in bed together or are seen in bed together, but it doesn't appear that the couples actually did sleep together in those instances.
While it's hardly a highlight release of 2022, I still found Ticket to Paradise to be a cute and enjoyable romantic comedy. The bickering between the two leads isn't as funny as the filmmakers probably thought it was, but it's still fun to see Clooney and Roberts paired up again on screen. And, if Ticket to Paradise does nothing else, the sunshine and surf of Bali are likely to keep you a little warmer during these nippier winter months.
– John DiBiase (reviewed: 12/10/22)
Blu-Ray Special Features Review
Ticket to Paradise is available on Blu-Ray, DVD, and Digital. The Blu-Ray disc, as well as the iTunes digital copy includes the following extras:
Return of the Dynamic Duo (4:37) – This featurette reveals that the movie was based on a real experience that one of the producers brought to director Ol Parker, who then wrote the script with George Clooney and Julia Roberts in mind. This short video also celebrates the big screen reunion of Clooney and Roberts.
Production in Paradise (4:35) – Here, the cast and crew gush about how beautiful their on-location filming was. However, it's here that we learn the production did NOT film in Bali, but in a remote area in Queensland, Australia. (1 "Oh my G-d")
Destination Wedding (3:38) is about designing the wedding ceremony and trying to be as authentic to Balinese and Indonesian culture as possible.
Keep a Straight Face (2:35) – When Kaitlyn Dever was cast in the film, and she learned that they needed to cast someone to play her best friend, she suggested her real-life friend Billie Lourd, who ended up getting the part. They talk here about how close they are and how much fun it was to make the movie together (3 "Oh my G-d")
Parental Guide: Content Summary

 Sex/Nudity: We see Wren in her dorm counting the contents of a box of condoms; After they meet, we see that Lily stayed over in Gede's home, but it looks like he slept on the floor and they hadn't slept together; A comment is made about the French being great lovers; Georgia is in a relationship with a much younger man named Paul; Georgia and David wake up in the same bed together and they worry that they "slept" together, but they realize they did not; We see Georgia and Paul in bed together, and it's not specified if they had "slept" with each other or not, but given their conversation, it seems unlikely; Wren hands a bunch of condoms to Lily; Georgia shows some cleavage in a few of her outfits.


 Vulgarity/Language: 3 "F" words, 4 "S" words, 1 "J-sus," 1 ""a**h*le," 1 "a" word, 3 "G-d," 11 "Oh my G-d," 4 "Oh G-d," 1 "b*tch"


 Alcohol/Drugs: Wren and Lily have champagne in their dorm; Some characters have champagne on a plane; We see David drinking at a bar while talking to Wren; Some people play beer pong in a bar in what is a pretty fun scene. One person falls over; There's more drinking in a bar. Some characters play team beer pong, drinking excessively and getting drunk.


 Blood/Gore: We see a little blood on a man's leg.


 Violence: A man gets bitten by a snake and a woman has to try to suck the venom out of his leg; Paul accidentally hits Georgia in the face when he stands up quickly.