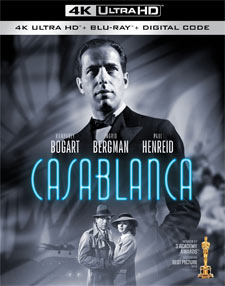 Casablanca


 – for mild violence.
Director: Michael Curtiz
Starring: Humphrey Bogart, Ingrid Bergman, Claude Rains, Paul Henreid, Sydney Greenstreet, Peter Lorre
Running Time: 1 hour, 42 minutes
Theatrical Release Date: November 26, 1942
4K UHD Release Date: November 8, 2022 (Amazon.com)
Plot Summary
A cynical expatriate American cafe owner struggles to decide whether or not to help his former lover and her fugitive husband escape the Nazis in French Morocco. (from IMDb)
Film Review
Once upon a time, I watched my first Humphrey Bogart movie, The Maltese Falcon, with a friend and didn't understand the movie or Bogart's appeal as an actor. We later followed it up with The Big Sleep and it still didn't change my mind. But after finally seeing Casablanca in the spring of 2021, the movie sparked a new interest in watching anything and everything starring Humphrey Bogart. And, ironically, he has become one of my all-time favorite actors. And now, after about four viewings (including a big screen showing earlier this year) of arguably his biggest film, Casablanca, it's definitely one of my favorite movies of his.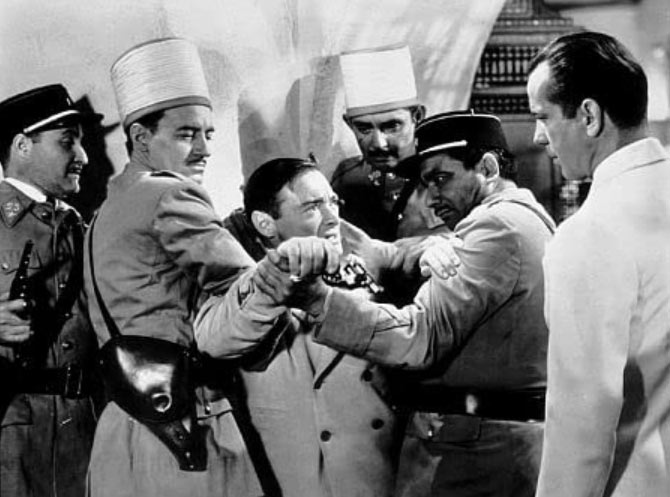 For 2022, Warner Bros. has given Casablanca the royal treatment with an all-new 4K scan of the film, using its original negatives for the best possible quality. And folks, Casablanca has never looked this good before. Warner also gave the movie the HDR treatment, so the black-and-white picture is crisp and clear. After watching the new transfer, I put on the old HD digital transfer from iTunes and the difference is noticeable; there is film dirt in the old transfer, and the picture, while still pretty clear, looks low key in comparison to the new transfer. This new 4K scan definitely is a real improvement.
Bogart is one of the old-time "man's man" kind of actors, a serious man who often plays a tough guy or even a gangster. I prefer Bogie as the hero, like in The Maltese Falcon (which I've grown to really like with more rewatches), or the fantastic Sahara, but he undeniably makes a good bad guy, too (High Sierra). It's often been said that Harrison Ford plays the same kind of character in every one of his movies (his role in 42 proves that to be untrue), and one could argue that the stoic nature of Bogart makes him seem that way as well. However, it's roles like his incredible performance in The African Queen, or even Casablanca that shows just how nuanced his performances can be. Sure, if you don't like Bogart in one movie, you might not like him in any of his movies, but it's roles like in African Queen or We're No Angels that may help change your mind. (Even my wife has become a really big Bogie fan, too.) They just don't make 'em like they used to.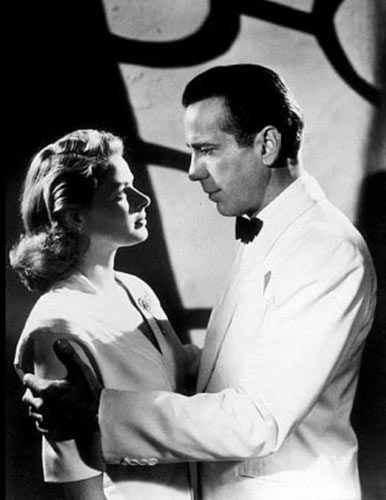 Now, onto the film. Casablanca shows a much more sensitive side to Humphrey Bogart. He's a man that had fallen in love, had his heart broken in pieces, and tried to run away from his past by resorting to stay in Casablanca. However, his past still somehow comes to find him in the hopless land of Casablanca. Bogart's Rick Blaine owns a bar in French Morocco, where he tries to keep the corrupt French officials off his back, especially Claude Rains' Captain Louis Renault. With Germany bringing their Nazis to Casablanca, any effort to leave the city is thwarted by them. The German interference brings freedom-fighter Victor Lazlo (Paul Henreid), and Ilsa Lund (Ingrid Bergman), who ends up being an old flame of Rick's. He unwantedly comes into possession of a pair of papers that could help two people escape Casablanca, and soon it seems as though everyone is trying to get their hands on them. When he and Ilsa are reunited, and she's in need of his help, he's forced to pick a side, and decide whether or not he's going to help Victor and Ilsa escape.
Casablanca has long often been considered to be one of the greatest films of all time, especially one of the greatest love stories to ever hit the big screen. After a couple viewings of the film, I understand all the love and admiration for the film. It's a drama first, with a little unexpected humor sprinkled through, and a heart-rending love story that really makes you feel for both Rick and Ilsa. You realize the poor guy can't catch a break, but you hope he'll end up doing the right thing in the end. Bergman turns in a wonderful performance as Ilsa, too, and she has great chemistry with Bogie. The dialog is excellent, with some of the most quotable lines in cinema history ("Here's looking at you, kid." and "This is the beginning of a beautiful friendship," for example).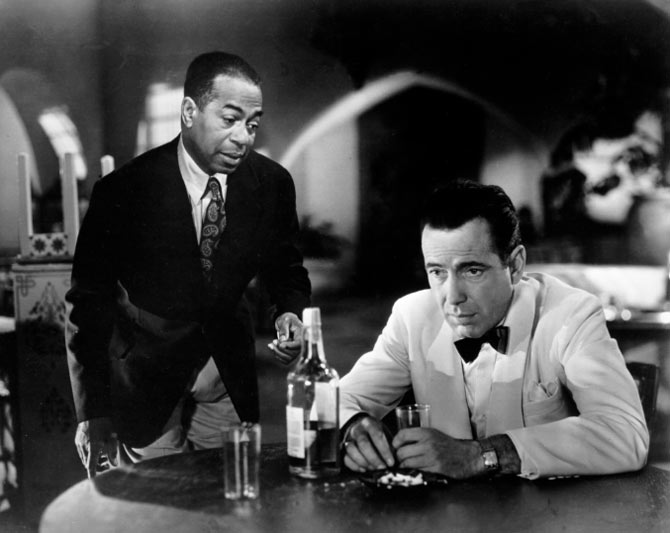 Casablanca is rated PG for violence, and there is a little in the movie. A couple characters are shot and killed at different points in the film, but there's no blood and no wounds shown at all. Another character sustains a cut from climbing through a window — an act we do not see and only hear about — and we only barely see a little blood on their sleeve. The romantic scenes are sweet, and kept to just kissing, but it is made known that a married woman kisses a man that isn't her husband. There is no profanity, but there is a substantial amount of drinking shown in the film. This has a lot to do with Rick's cafe being a bar and casino, but we also see Rick drunk in a scene or two.
It's not hard to understand how Casablanca can be considered one of the greatest films of all time (and I'm sorry I never saw it before last year). This 4K UHD transfer, with HDR, is a wonderful way to honor this gem from Hollywood history, and diehard fans, with 4K viewing capabilities, will want to pick this up for sure.
– John DiBiase (reviewed: 11/5/22)
Here's a list of the bonus features this set offers:
Casablanca Ultra HD Blu-ray disc, Blu-ray disc and Digital contain the following previously released special features:
Commentary by Roger Ebert
Commentary by Rudy Behlmer
Introduction by Lauren Bacall
Casablanca Blu-ray disc and Digital contain the following previously released special features:
Warner Night at the Movies

Now, Voyager trailer
Newsreel
Vaudeville Days (1942 WB short)
The Bird Came C.O.D. (1942 WB cartoon)
The Squawkin' Hawk (1942 WB cartoon)
The Dover Boys at Pimento University (1942 WB cartoon)

Great Performances: Bacall on Bogart (1988 PBS special)
Michael Curtiz: The Greatest Director You've Never Heard Of
Casablanca: An Unlikely Classic
You Must Remember This: A Tribute to Casablanca (1992 TEC documentary)
As Time Goes By: The Children Remember
Deleted Scenes
Outtakes
Who Holds Tomorrow? (1955 "Casablanca" TV episode)
Carrotblanca (1955 WB Cartoon)
Scoring Stage Sessions (audio only)
Lady Esther Screen Guild Theater Radio Broadcast – 4/26/43 (audio only)
Vox Pop Radio Broadcast – 11/19/47 (audio only)
Trailers
Parental Guide: Content Summary

 Sex/Nudity: A woman wears a low cut dress top that is also very short, revealing her stomach. Rick has the bartender take her home. He then tells him to come right back and the man acts disappointed; A married woman kisses a man that isn't her husband.


 Vulgarity/Language: None.


 Alcohol/Drugs: Rick's cafe is a bar and casino. As such, many characters drinking throughout the film and are at times shown drunk; Sam suggests he and Rick go out and get drunk. Rick is sitting there drinking alone and seeming drunk Rick and Ilsa drink in a bar. She knocks over a glass of wine by accident; Rick knocks over a glass of alcohol.


 Blood/Gore: A man has a little bit of blood on his hand and sleeve from a cut that we do not see.


 Violence: A man is grabbed by police, while another man is chased by police and then shot in the back. (There's no blood or wound shown.) He falls to the ground dead; A man runs out the door of the cafe, turns around and fires his gun at some guards. They then grab him and take him away; Rick angrily bangs his fist on his table; We hear artillery cannons going off in the background; A man slaps another man and the other man punches back. Their fight is then broken up; A woman points a gun at a man; A man points a gun at another man; A man is shot and killed.