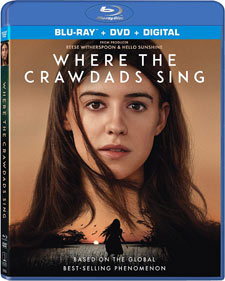 Where the Crawdads Sing


 – for sexual content and some violence including a sexual assault.
Director: Olivia Newman
Starring: Daisy Edgar-Jones, Taylor John Smith, Harris Dickinson, David Strathairn, Michael Hyatt, Sterling Macer Jr.
Running Time: 2 hours, 5 minutes
Theatrical Release Date: July 15, 2022
Blu-Ray Release Date: September 13, 2022 (Amazon.com)
Plot Summary
A woman who raised herself in the marshes of the deep South becomes a suspect in the murder of a man she was once involved with. (from IMDB)
Film Review
The curiously titled Where the Crawdads Sing is a popular novel by author Delia Owens who captivated readers around the world with her 2018 book. This book even caught the attention of actress Reese Witherspoon who became determined to see it adapted for the big screen. And now, in 2022, we have the theatrical presentation of Where the Crawdads Sing.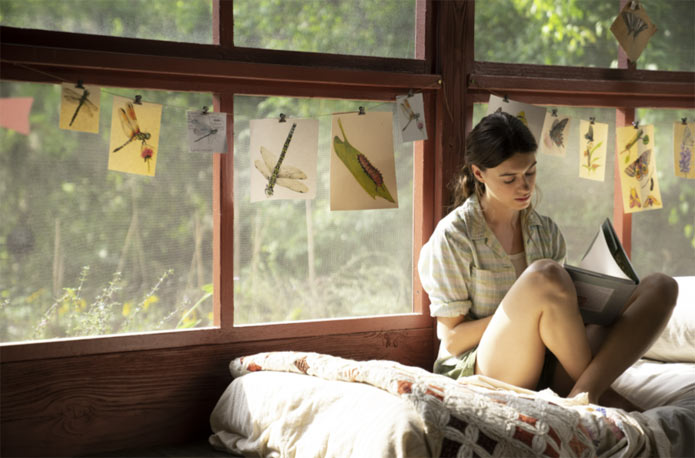 My entire knowledge of the book was given to me through my wife, Amy, who listened to the audiobook about a year ago… and didn't like it. It wasn't that it was a bad book, per say, but that she hated some of the characters – like the villain of the story – and found it to be a depressing book. I would often tease her about the odd title, too, and it'd elicit a sigh of frustration over the book. When I told her it was becoming a feature film, she was surprised and insisted it'd have to be rated R. Imagine her surprise, then, when it was given a PG-13 clearance.
I got the vibe from Amy that this was a movie to pass on, yet I found the trailer intriguing and the audience response to the movie to positively outweigh the negative reviews from the critics. So when I got the opportunity to review the home release of the film, I took the leap. Amy decided to watch the film with me (out of morbid curiosity?) and I found myself completely intrigued by her thoughts on the movie as we watched it.
As the story beats played out, I often looked over and found her nodding, "Yup, that's in the book!" or "Wow, they left a big part of the story out!" to which I had to remind her – it's a 2-hour movie version of a 400-page book. She agreed the movie was cast well for the characters in the story and that, compared to the book, she liked the movie much better.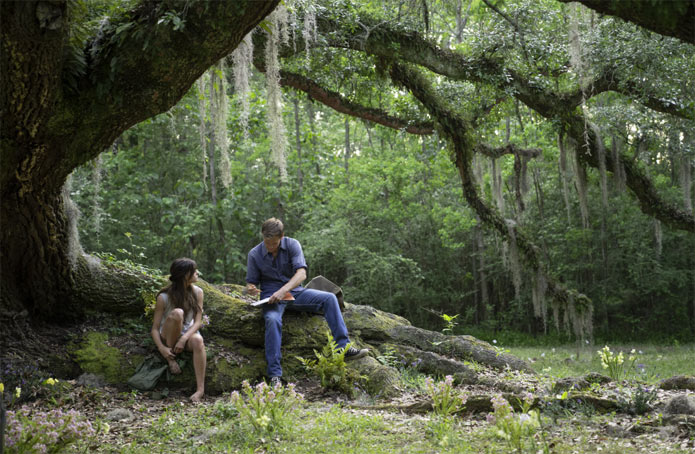 From my perspective, I was surprised to find that I actually liked the movie. It revolves around a girl named Kya who lives out in a shack in the marshlands of North Carolina in the 50's and 60's and is ultimately abandoned by her family. She ends up raising herself and becoming sort of town legend – about the "marsh girl" that sometimes is seen in town but is otherwise a recluse. As she grows into her teen years, she meets the sympathetic Tate who befriends her and even teaches her how to read. He becomes her first real friend in life. But when Tate goes off to college, she doesn't see him for years, and that's when a man named Chase begins pursuing her. He's hardly the nice guy that Tate was, and we find out that he's the true villain of the story. But the movie opens with Chase's death and Kya immediately being accused of his murder. However, the viewers don't know who any of these characters are at that point yet. We get bits of details here and there through her court case as Kya relays her story to us via narration and flashbacks. Through Daisy Edgar-Jones's wonderful performance, we get to know who Kya is and witness the rough life she's led living alone in the marshes.
I loved the subplot that Kya has a deep love for making art (like myself), and would frequently find inspiration in illustrating the beauty in the nature she finds around her. It actually becomes a very big part of her story. Director Olivia Newman was drawn to the story because of the empowered woman that Kya becomes, but I think through the storytelling and Edgar-Jones' performance, we really get to know and understand this young girl who has the strength to survive on her own, but is frequently wounded by the cruelty and prejudices of the world around her; it's no wonder she remains in solitude. There is a slight spiritual angle to the story, brought into it by way of her town friends Mable and Jumpin' (who are also just wonderful characters), and some bits of wisdom she's given here and there.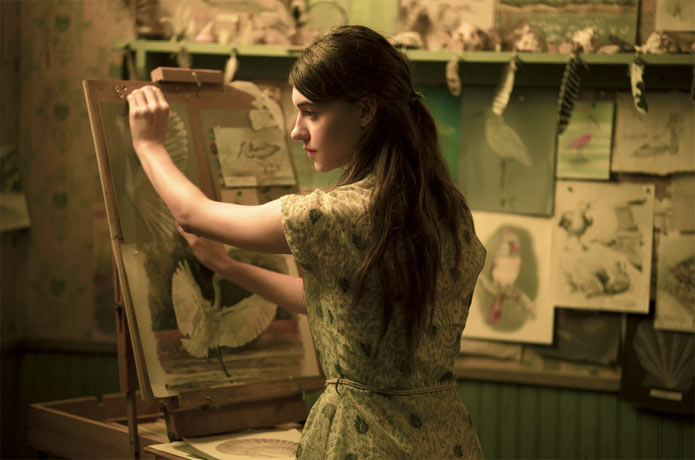 But, sadly, the content for Where the Crawdads Sing is pretty rough when it comes to sexual content. There was even one scene where my wife exclaimed to me, "This is PG-13?!" Yeah… it is. The first sexual scene involves Tate undressing her and himself, and is about to have sex with Kya, but he suddenly stops when he decides he doesn't want to possibly "damage" her. From that point on, he doesn't try to sleep with her again. Later in the film, Chase isn't so gentlemanly. Early on, after they first meet, he tries to force himself on her and she shoves him off. Later, he takes her to a hotel where he gets on top of her (she's clothed in a dress, he has no shirt on). We hear him unzip his pants, and then there's thrusting as the camera focuses on her face as she's losing her virginity to this guy. Within seconds, he rolls off of her and we hear him zip up again. He then coldly tries to tell her it'll feel better in the future as she does it more. Although there's no nudity, it's kind of graphic in nature since there's no mistake what is happening here. This would definitely be quite uncomfortable to watch as a family. There are still a couple more scenes, including an attempted rape scene which Kya is able to get out of by wiggling away and kicking her assailant, and then there's another scene where she and a man disrobe and we see them briefly in bed before and after sex, but it's handled more subtly than the other scenes. It's disappointing in the way sex is portrayed in the film, as no characters seems to express the desire to wait until marriage. Language is infrequent, but there's at least one "S" word and a few uses of "S.O.B," "h*ll," and "d*mn," and a use each of "For Chr-st's sakes" and "g*dd*mn." Violence includes seeing a dead body in the opening scenes but it isn't graphic, the aforementioned attempted rape, and some abuse from Kya's father towards his family. While there's certainly inspiring elements and redeeming qualities about the story, it's not a light one by any means.
Where the Crawdads Sing is a good romantic drama made with care and attention to detail regarding its original source material. You definitely don't need to have read the book to appreciate the film. I found the movie to be a sweet surprise, for the most part. However, its sexual content, although somewhat crucial to the main plot, is a bit gratuitous and hampers an otherwise good movie.
– John DiBiase (reviewed: 9/14/22)
Blu-Ray Special Features Review
Where the Crawdads Sing is available on Blu-Ray, DVD, and Digital. The Blu-Ray disc and digital copies have the following extras:
Creating the World (6:10) – Reese Witherspoon and the author, Delia Owens, talk about the sets in the film and what it was like bringing the author's vision to life. We find out here that they built Kya's cabin from scratch on location. They talk about the evolution of the house during the movie, set dressing, making over the town and the bait shack.
Women in Focus (5:47) – Delia talks about the story and how it's about being motivated to keep going in life. The author hoped to empower women through her book. This featurette also focuses on all of the women in the production and how encouraging the story is to them.
Adapting a Phenomenon (9:35) – Delia talks about the inspiration for writing the book, while the cast and crew talk about their personal relationships with the story. They then talk about casting Kya and the process of making the story into a movie. It ends with a note on how Where the Crawdads Sing is a story of hope and love in a time when it's really needed.
Deleted and Extended Scenes (19:19) – There are a batch of deleted or extended scenes, but most of them don't amount to very much. The first scene shows Tom walking through the streets of Barkley Cove (1 "h*ll"). Next is an extended version of little Kya with her family. The third scene is a longer version of the scene after Jody leaves. Kya starts her father's boat on her own (for the first time?) and takes it out for a ride. Following that is a short scene of her walking to school. We then see her fleeing school and running home. We also see little Kya thinking she hears her mother returning but sees it's just a bird and chases it out of the house. Next we see older Kya fishing and looking around, acting paranoid. Another scene shows her trying to bringing a pie to Mable and Jumpin' but sees them walking around with their family (which causes her to just miss her own family more). She then finds a feather in the woods. The following scene shows Kya sailing past a boat with Tate and his dad out on it and then we see her walking in town. There are then tiny scenes that show her and Tate on the beach extended and then returning to the boat, as well as more of her drawing seashells. We then see a scene that shows Tate at college where a professor invites him to stay at the school over the July 4th weekend for academic reasons (which is why he stands up Kya). Finally, there's a neat scene where Kya receives a proof of her art book and a letter from the publisher, and pages through it, while the last scene shows Tate visiting Kya in prison where she tells him to forget her.
Parental Guide: Content Summary

 Sex/Nudity: We see kya and Tate kissing passionately several times; We see Kya and Tate kissing passionately in the water and then lying on the beach kissing (clothed); Tate undresses Kya and drops her dress to the ground (we only see her bare shoulders and feet during this). They kiss and he disrobes himself. He lies them down kissing and groping each other's skin and he kisses her neck. He then suddenly stops and says he wants her but he can't do it. She says she wants to, but he says he can't be damaged as easily (as she can be). Kya sits up and we see her arms covering her otherwise bare breasts, and he hands her her dress to cover up with; Kya wears a sheer nightgown briefly as she dresses (we see the outline of her chest); Chase kisses Kya and tries climbing on top of her but she shoves him off. He apologizes; Chase and Kya kiss as he takes her into a hotel room, unzips her dress, puts her on the bed, unzips his pants (heard, not seen) and has sex with her. We see her face as he thrusts her and she shows pain and discomfort on her face. He then quickly rolls off and zips up (out of frame). He then tells her it'll get better for her the more they do it; Kya says she doesn't want to tell people about Chase trying to rape her because she doesn't want to see it written up in the paper, accusing her of "whorin'"; Tate and Kya passionately kiss and disrobe and we see them under the covers with him on top briefly. It then cuts to them in bed the next morning (a sheet covers her).


 Vulgarity/Language: 1 "S" word, 2 "S.O.B," 1 "g*dd*mn," 4 "h*ll," 5 "d*mn," 1 "a" word, 1 "b*tch," 1 "For Chr-st's sakes," 1 "b*stard"


 Alcohol/Drugs: Teens or college-aged kids are drinking on the beach; We see Chase drinking beer while in a boat with her; Chase brings beer over to Kya's. He drinks on the beach with her.


 Blood/Gore: When Ma is punched in the face, we see some blood on her cheek; Ma has nasty bruises on her face; Jody has some bloody cuts and bruises on his face from abuse; Chase spits blood after Kya punches him. He hits her and we see scrapes and bruises on her face.


 Violence: Some kids find a crumpled dead body on the ground, but foreground plants hide some of the details. It's apparent that the victim fell to his death. We see the body again a couple times, but not in great detail; Kya's father smacks a little girl who falls in the water; The man punches his wife in the face; Chase and Tate shove each other and Chase punches Tate in the face before others break them up; Kya throws rocks at Tate; Chase kicks something on Kya's porch in anger; Chase grabs her arm and she yanks it away; Chase slaps Kya and she punches him back. He spits blood. He then hits her and shoves her to the ground and tries to rape her. She has bloody scratches on her face. She hits him off and kicks him repeatedly on the ground and runs away; Kya returns home to see that it has been ransacked, with stuff thrown everywhere.