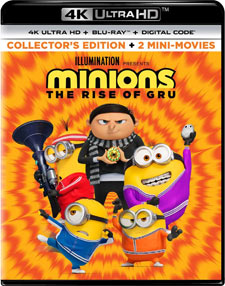 Minions: The Rise of Gru


 – for some action/violence and rude humor.
Director: Kyle Balda, Brad Ableson, Jonathan del Val
Starring: voices of Steve Carell, Pierre Coffin, Taraji P. Henson, Alan Arkin, Russell Brand, Julie Andrews, Jean-Claude Van Damme, Dolph Lundgren, Lucy Lawless, Will Arnett, Danny Trejo, Steve Coogan
Running Time: 1 hour, 27 minutes
Theatrical Release Date: July 1, 2022
Blu-Ray/4K Ultra HD Release Date: September 6, 2022 (Amazon.com)
Plot Summary
The untold story of one twelve-year-old's dream to become the world's greatest supervillain. (from IMDB)
Film Review
I'm actually not quite sure when I saw the Minions movie that had released in 2015, but when I did, it kind of just had confirmed my original decision to not see it in theaters. The movie was an attempt to give the beloved yellow, gibberish-talking minions from the Despicable Me franchise an origin story, taking them all the way back to their creation at the dawn of time. The movie is kind of all over the place; it feels like a collection of ideas and skits strung together as a journey for the minions to find the ultimate villain for them to follow. After unsuccessful pairings with Dracula, a T-Rex, and other villains, they found Scarlet Overkill, who is delightfully voiced by Sandra Bullock. The movie is downright silly (and sometimes needlessly crass), and definitely a departure from the Despicable series. But as the movie ends, the minions meet Gru when he's still just a little kid, and so begins their journey with one of the world's most beloved supervillains.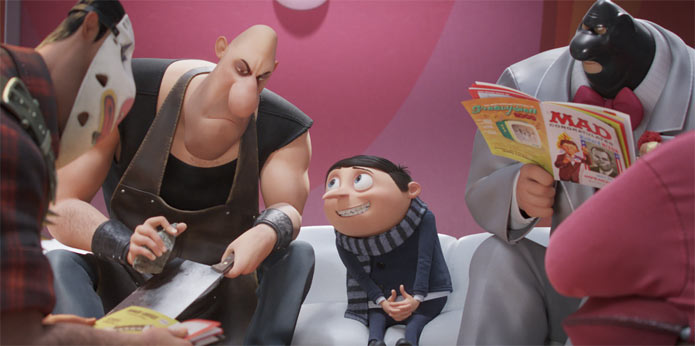 Five years later, in 2020, fans were promised a Minions sequel, but the pandemic scare derailed its release… for two years (earlier this year, it was even suggested the film wouldn't release until 2023, but thankfully they changed their minds about that). A local theater of mine still has the teaser poster up outside the theater that they hung over two years ago; it's now a sad, whiteish-yellow and wrinkled sight. Since the first Minions ended with the lovable trouble-makers finding Gru, the Minions sequel is appropriately Minions: The Rise of Gru. This is the story about how Gru pursued his life of villainy at such a young age. ("11 and 3 quarters," to be exact.)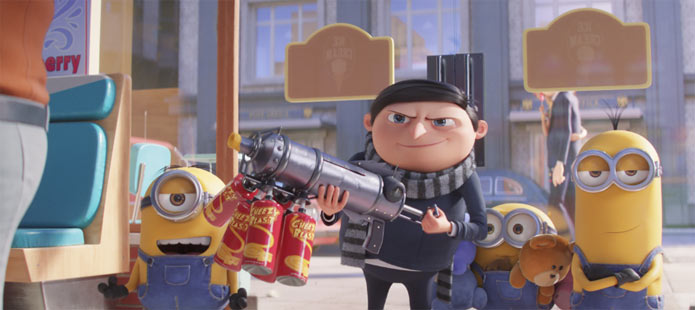 While 2015's Minions was more of a haphazard mess, The Rise of Gru has a much stronger narrative. The first film gave the spotlight to three minions in particular: Kevin, Stuart and Bob, and here the trio once again get the main focus. However, this time, they also share the spotlight with a little Gru, still voiced by Steve Carell. It's great because it captures much more of the feel that makes Despicable Me so good, even if it lacks the heart that the three little girls brought to those stories. Still, the younger Gru is less grumpy and more optimistic, which also is a great way to show Gru's growth over the series. In this story, he feels as though he doesn't need the minions, so they try to prove themselves and, obviously, end up winning him over. But probably one of the most fun aspects of this story is seeing Gru's unbridled admiration for a league of supervillains, called the Vicious 6, and seeing him meet some "nefarious" familiar characters – also at a younger age – along the way. It's definitely a fun movie no matter which way you slice it.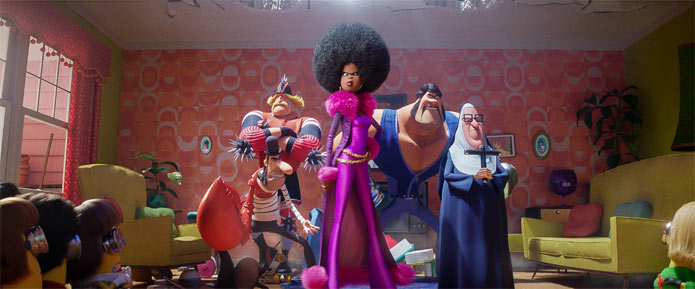 However, there does seem to just be a little something special missing from The Rise of Gru, and I can't quite put my finger on to what that might be. Perhaps it's that it's not as funny as it could (or should) be, or that the best gags were spoiled in the trailers (like the minions taking over an airplane flight to San Francisco), but it just doesn't quite have the impact that the Despicable movies do. And when the movie shifts its focus from Gru to the minions exclusively, it again feels a little off. (And, to be honest, I love the minions, but maybe they just don't work well enough to headline their own movie. Gru's presences this time really helps to buffer that). Still, The Rise of Gru remains entertaining throughout, with great vocal performances, a fun and funky soundtrack, stellar visuals, and excellent animation. My son and I saw it on IMAX, but I don't really think this is a movie that necessarily begs to be seen in large format.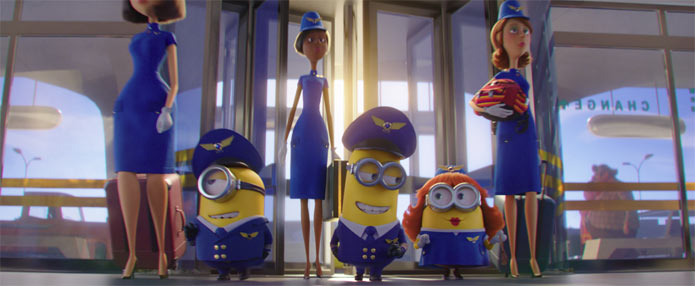 The content for Minions: The Rise of Gru is often violent, but always comedic and silly. I'd say it's less vulgar (well, like I said, "crass") than the 2015 movie (like less fat guys dancing almost naked and stuff), but because the focus is still on our heroes pursuing villainy, it's an odd things to be rooting for. However, Gru and company, as usual, are the lesser evil, and the story becomes more about misguided evil, with a lower case "e," so to speak, fighting greater Evil. And since we know Gru eventually takes the straight and narrow for his adopted daughters, we know this kid will eventually turn out okay. There is no profanity or blasphemy, but one of the villains in the Vicious 6 is called "Nun-Chuck" and is literally a Catholic nun who uses rosary beads and a cross-shaped nunchuck as weapons. As other villains fly on jetpacks or use vehicles, she seems to descend from above magically. It is pretty funny, and it's meant to be silly, but I wouldn't be surprised if Catholics find it offensive. Otherwise, there is just a lot of slapstick violence and some almost-deaths involving the villains in the film (including two instances where you think someone died, but they did not. There's even a funeral scene that turns out to have a good turn of events). There is no sexual content, but we do briefly see young Gru's bare cartoon butt, as well as at least one instance of a minion like that too. Several minions dress up as girls at times, too, but that's nothing new for the minions, and it isn't done in a way that seems especially inappropriate.
While not as good as probably any of the three Despicable Me entries, Minions: The Rise of Gru is a leap above its Minions predecessor, and a fun prequel to the Despicable trilogy. Fans of that series, and the original Minions, should definitely still check this one out this summer.
– John DiBiase (reviewed: 7/3/22)
4K UHD Special Features Review
The silly but highly enjoyable Minions: The Rise of Gru comes home on Blu-Ray, DVD and 4K discs, while it's already been available digitally for a few weeks. The digital copy, as well as the 4K and Blu-Ray discs, offer the following extras:
Minions: The Rise of Gru in 4K UHD – Most computer animated movies just automatically look beautiful in 4K, but Minions: The Rise of Gru definitely makes the transition quite well. It's often tough to see the difference between regular HD and UHD for these kinds of movies – with the difference being almost indistinguishable, but Rise of Gru is definitely a little sharper and more colorful in 4K – and the animators make this a visually delectable viewing.
Mini Movies – There are two brand new mini-movies featuring the mischievous minions.
In Post Modern Minion (3:49), Claude accidentally creates art at an art show by stumbling and smashing into a canvas with food stuck on him. He becomes an absolute sensation… but it doesn't last. It's a pretty cute short story.
Minions and Monsters (4:22) shows a couple minions playing a Dungeons and Dragons kind of game and one of the minions imagines himself in the monster world attacking trolls and fighting beasts. He ends up using music to defeat the creatures. It's exhaustingly frenetic. I wouldn't have minded seeing a longer, slower version of this, but at just 4 minutes, it's actually overwhelming to watch. (It feels like you're watching a much longer story on fast-forward.)
Extended Scene (1:27) is a slightly longer version of the scene where Gru meets other bad guys in the Viscious 6 waiting room. He gets a little clumsy in the process. Ultimately, I think it was a wise move to trim this little bit out to keep the story moving forward.
Outtakes (3:04) – Here, the voice actors are shown having fun recording their voice performances in the studio. I always love seeing the voice actor recording sessions, so this is a fun addition.
Gru-vy Animation (6:29) features the director and crew talking about the evolution of the animation from rough ideas to the final detailed design. We see more voice studio footage and hear how the filmmakers recorded Steve Carell's performance as Gru and gave it to the animators to use for reference.
The '70s – Fashion, Food & Funk (4:50) – Here, they talk about the movies and fads from the 70's and how the love of that inspired the movie – from Bruce Lee movies to bell bottoms!
Minion Martial Arts (4:13) – They talk again here how they were inspired by 70s movies, and that they did research on kung fu artists to inform their work. They also talk about how they had fun figuring out how the minions would react with martial arts.
Character Profiles (15:57) – This section gives a breakdown of the main characters in the movie, while also focusing on the voice actors who played them. It doubles a little as a making-of featurette. "Gru" (2:48), who is voiced by Steve Carell, covers how he's 11 years old in this story and just aspires to be a part of something. It talks about how Steve gave a lot of personal input into the character and even ad-libbed a lot. "Wild Knuckles" (2:36) is voiced by Alan Arkin and they talk here about how Gru emulates him and how Knuckles is betrayed by his team and ends up mentoring Gru. "Belle Bottom" (2:13), voiced by Taraji P. Henson, is the true villain, and they talk about Henson bringing a lot to the character. "Master Chow" (2:37) is voiced by Michelle Yeoh and is just who the minions needed at that point in their journey. "The Vicious 6" (3:09) details the rest of the gang, voiced by Jean-Claude Van Damme, Dolph Lundgren, Danny Trejo and Lucy Lawless. It's a really fun segment that really helps you appreciate this band of misfits. Finally, "Biker" (2:34) is about the man on the motorcycle who gets the stone and who Otto tracks down. They talk here about how RZA voiced him and how Otto has his special journey with the biker. (They even both have braces!)
How to Draw with Brad Ableson (11:14) – This three-part segment shows you how to make simple line drawings of some of the characters, and Brad gives some tips on how to animate something on your own. "Minion" (4:11) kicks things off as Brad shows how to draw and animate a minion on a piece of paper. Then, "Young Gru" (3:24) and "Kung Fu Stuart" (3:39) show you how to draw them and animate them on an iPad.
Make Your Own Minion Hideout (10:25) – It's craft time! This is another three-part section that shows kids how to make detailed do-it-yourself craft accessories for your own plush minion. "The Lair" (4:18) shows you how to make a secret lab out of boxes and accessories; "Disco Bubbles" (2:49) shows you how to take straws, soap and garlic oil to make your own stinky bubbles, and then shows you how to make your own disco ball; and finally, "Jet Pack" (3:19) shows you how to make a jet pack out of soda bottles and streamers for your minion. This is a really creative collection of ideas, but the list of craft items your kid will need is pretty extensive and I can imagine most of these will be pretty pricey to replicate. (They also assume you have a plush minion of your own at home to make this stuff for.)
Super Style Shop (6:52) – This is about designing felt and fabric outfits for your plush minions at home. It's divided into two sections: "Bell Bottoms and Bandana" (3:52) and "Fringe Vest and Chunky Necklace (2:59)
– John DiBiase, (reviewed: 9/4/22)
Parental Guide: Content Summary

 Sex/Nudity: We briefly see 11-year-old Gru's bare butt after a shower; We see a minion's butt crack as he is sucked into an airplane toilet upside down and his clothes are suctioned off; Several minions dress up as girls at times, but that's nothing new for the minions, and it isn't done in a way that seems especially inappropriate.


 Vulgarity/Language: None.


 Alcohol/Drugs: None.


 Blood/Gore: When a beast is kicked in the face in slow motion, we see a tooth flying out of its mouth in slow motion.


 Violence: Wild Knuckles is attacked by little golden tribal robots and we see him crush them in slow motion; A swarm of robots chases Wild Knuckles as he escapes; A man is hanging from a rope high above water when someone cuts the rope and he falls. It's assumed he's dead, but we later find out he survived; There's a car chase through the streets that causes all kinds of destruction and mayhem. It looks like a villain is crushed by a van but we see them bust out of it, showing that they're okay; We see a woman sticking needles into a man lying on a massage table (the sight made my son squirm). She then tugs on the pins in the man's body to make his arms move involuntarily; Master Chow beats up a bunch of henchman using kung-fu; Master Chow tries to teach some of the minions how to use kung-fu and we see them training with lots of slapstick violence; The minions often hit and slap each other; There's a montage where little Gru does some bad things, including shooting people waiting in line at an ice cream parlor with liquid cheese and setting off a fart smoke bomb inside a movie theater; We hear the screams of a shark's victim in a movie the minions and Gru are watching, but we don't see what they see; Some villains demolish a house; We see a funeral for a villain who died, but then we see that they're still alive and had just faked their own death; Little Gru is tied to a clock by his arms so that, as time passes, it'll eventually pull him apart. We see him yell in agony a couple times, and his shirt begin to rip, but he's rescued before anything serious happens; Little Gru is bound to a large record player that has a buzz saw on the needle arm, which is set to kill him in two days (it doesn't); Some villains suddenly mutate into large beasts (which could be scary to some younger viewers), and they fight the minions and Anti-Villain League; We see the minions, who were turned into animals, violently attack the monster villains in slow motion; And other cartoony violence.