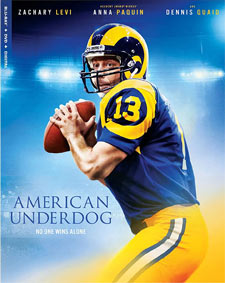 American Underdog


 – for some language and thematic elements.
Director: Andrew Erwin, Jon Erwin
Starring: Zachary Levi, Anna Paquin, Hayden Zaller, Dennis Quaid, Bruce McGill, Adam Baldwin
Running Time: 1 hour, 58 minutes
Theatrical Release Date: December 25, 2021
Blu-Ray Release Date: February 22, 2022 (Amazon.com)
Plot Summary
The story of NFL MVP and Hall of Fame quarterback Kurt Warner, who went from stocking shelves at a supermarket to becoming an American Football star. (from IMDB)
Film Review
Andrew Erwin and Jon Erwin, also known as The Erwin Brothers, have made a name for themselves as some of the premiere filmmakers in the faith-based movie genre. It's no secret that this genre is often a well-intentioned but flawed one, as many movies can't seem to find a healthy balance between delivering a gospel message and telling a good story. So many movies through they years have come across as heavy-handed or second-rate because of a poor script and/or a low budget. Worse yet is when the talent just isn't there; a heart set in the right place can only account for so much.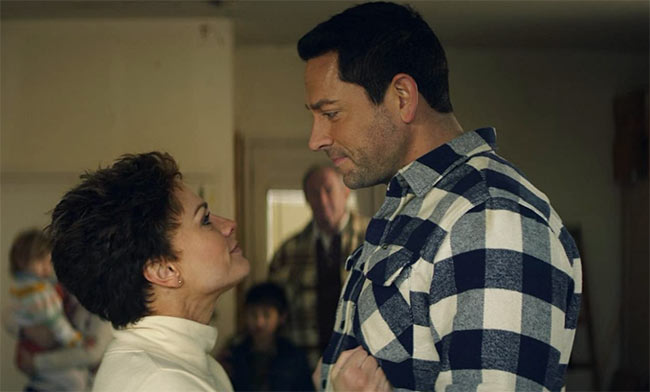 With American Underdog, the Erwin brothers set out to bring the true story of football star Kurt Warner to the big screen, and they even enlisted the reliable talents of actors Zachari Levi (Shazam, TV's Chuck) and Anna Paquin (X-Men, HBO's True Blood) to take on the movie's lead roles. The filmmakers also had a global pandemic to work around, defying all odds to make the movie in record time, with equally acclaimed talent behind the camera as well (they hired the editor of movies like 2011's Warrior and 2006's Rocky Balboa, Sean Albertson). Thanks to a solid script and successful delivery, American Underdog is easily one of the most genuinely inspirational movies, both spiritually and just in general, to come out in some time.
American Underdog is just as much about Kurt's relationship with his wife Brenda as it is about his rags-to-riches football journey. We see early on how the two met and how instrumental her faith was in Kurt's life and career. Faith is a huge piece of who Brenda is, and it's her personal relationship with Jesus that spilled over into Kurt's life and drove him to keep after his dreams. Neither character is perfect, either, and their lives were filled with all kinds of heartbreaks and challenges, but the end result is a really encouraging story. And it's these rough roads that some of us have to weather before we can make it out on the other side stronger and wiser.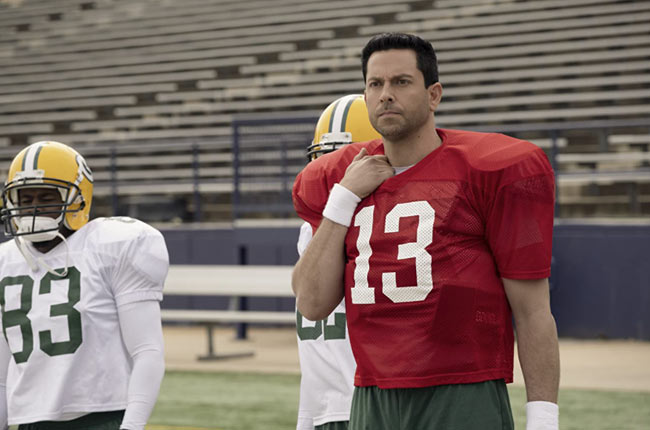 Levi, who I loved in the show Chuck and more recently in Shazam, does a great job as Kurt. The actor has had his own ups and downs with his personal faith journey – and has been very open about it as of late on social media – and I'm sure it helped him play that part more earnestly here. Paquin is certainly not an actress usually associated with the faith genre, and she is pretty candid about this herself in the movie's special feature interviews, but she brings real weight to her protrayal of Brenda. She may not have the kind of faith Brenda does, but Paquin does an exceptional job making you believe that it really is a part of who her character is as a person.
You definitely don't have to be a football fan to get the most out of American Underdog. I have never been a fan of the sport myself, but the Erwin's keep even the sports action interesting. They utilized some of the latest technology – including attaching a camera to an RC car to capture the closest on-the-field action possible. Also, the production was painfully limited in how they could film the movie's climactic Superbowl game, and they ended up very effectively utilizing actual footage from the historic game intercut into the Erwin's film footage to create a gritty and real recreation of the game. It was really nicely done!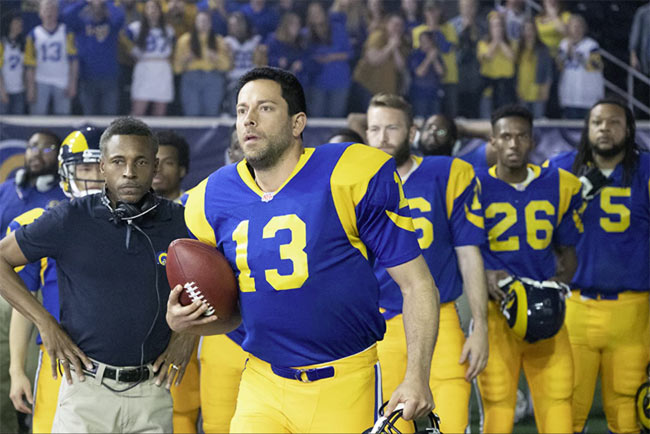 The content of American Underdog is PG-friendly for the most part, but the story is very much drama-driven, so the highs and lows of Kurt and Brenda's relationship is focused on for a good chunk of the story. I wouldn't necessarily call it "slow" at times, but I can see younger viewers being bored or uninterested in some of these aspects of the story (and, admittedly, it took some time for the story to pull me in). The most interesting moments are probably the bits of sports action, but that might be too infrequent for the younger audience. Families can still expect to find a pretty wholesome movie here, though, as language is pretty infrequent. There are 4 uses of "d*mn," 2 of "h*ll," 1 incomplete "Son of a–" and about 5 uses of "G-d" as an exclamation (but not intended to offend). Several scenes show characters in bars and drinking beers, but no one is ever shown intoxicated. Finally, there isn't any explicit sexual content, but we do see Kurt and Brenda passionately kiss several times. There's also an extremely brief scene where the two are sitting on a couch in the dark and the scene changes just as Brenda kisses him and begins to pull at Kurt's shirt to take it off. We also learn that the two move in together while not being married, but it's only because Kurt ends up getting kicked out of his place when his roommate moves away.
American Underdog is a touching, moving, encouraging sports drama that presents a love for God and Jesus without coming across as disingenuous or insincere. Solidly acted, directed, and told, the story of Kurt Warner's journey from stocking grocery shelves to winning the Super Bowl is one to encourage and inspire, and if you're a fan of the player – or just need a pick-me-up, American Underdog is a must.
– John DiBiase (reviewed: 2/20/22)
Blu-Ray Special Features Review
American Underdog is available on 4K UHD, Blu-Ray, DVD, Digital UHD and Digital HD. We received a Blu-Ray to review, and the disc (along with the 4K iTunes digital copy that came with it — but you can choose which movie vendor to redeem your digital copy from) included the following extras:
Audio Commentary (1:52:08) – You can watch the full-length film with feature commentary from Directors Andrew and Jon Erwin and Producer Kevin Downes.
iTunes Exclusive – American Underdog: A True Story of Perseverance (2:12) – This iTunes exclusive featurette runs like a mini promo for the movie. The real life Kurt Warner shares that he didn't want them to make the movie unless it was done right. (1 "Holy cr*p" from Zachary Levi)
Behind the Game (8:13) – The Erwin's and the Warner's talk about the story and the relationships that make up the story. The directors talk about using new techniques to film on the football field to capture the action like never before. They also talk about the complications of filming during COVID, and how they had to create the football stadium audience digitally. They also tried to recreate the real life game plays as historically accurate as possible.
American Underdog: Behind the Story (3:40) is a short movie promo that talks about the faith and hope behind the story.
Meet the Champion (14:51) – Kurt Warner is interviewed here about the film and his experience in helping make it. The Rams' coach Dick Vermeil then talks about the movie and how he was inspired by Kurt's talent. Finally, Directors Andrew and Jon Erwin and Producer Kevin Downes are interviewed about their experience making the film, especially during COVID, and releasing it during Christmas time 2021.
Inspired (16:09) is about the movie's casting and the inspiring story. It's here that actress Anna Paquin talks about being foreign to anything faith-based and how she was nervous about taking the role at first.
New to the Scene: Hayden Zaller (6:10) – Here, we learn about the little boy who played legally blind Zack, Hayden Zaller. We find out that he is really blind in real life, and the cast and crew talk about how wonderful he is as a talent and person.
Making the Cut (13:44) – The Erwin's talk about how they wanted the editor from Warrior to edit this movie, because Warrior is one of Andy's favorite movies of all time. They talk about trying to find the right balance of drama and sports action and how they tested it with audiences (and we see some actual footage of this). Editor Sean Albertson talks about riding the faith-based line. He talks about how the faith in it isn't exclusive to Christianity, but I think that would kind of defeat the purpose of the movie; it's definitely clear Who the Warner's believe in. (1 "suck")
A Coach's Faith (30:48) – SNL's Heidi Gardner interviews Dick Vermeil. (Gardner explains that she's a huge football fan who loved when he had coached the Chiefs some years before.) Vermeil talks about his history as a coach, his struggle with burnout, moving to broadcasting, and back to coaching the Rams. He also shares his experiences working with Kurt Warner and taking a chance on him.
Deleted Scenes with Optional Commentary (17:57) – There are 11 deleted scenes with optional commentary from the directors and producer. "Kurt, Matt and Sue" (3:23) takes place in 1982 when Kurt wss a kid. It shows him at the table with his mom and brother and the tensions he had with his family. After Kurt storms out of the house, his mother Sue follows him out and encourages him to work hard and not quit. "Brenda Comes Home" (1:23) takes place after Brenda comes home from the sports bar and tucks her children in (and she sings "This little light of mine" to Zack). "Minister of Defense" (0:49) is when Kurt meets Reggie White when he goes to try out for the Packers. "Move Into Garage" (0:49) is a short scene that shows Kurt moving his stuff into Brenda's garage to live there. (1 "a" word, 1 "h*ll") "Standing up for Zack" (1:55) is a teacher's conference with Kurt and Brenda about Zack. Kurt insists they can help him in order to keep him in school. "New House" (0:33) is a short scene where Kurt and Brenda walk Zack into their new home. "Tunnel Fight" (1:35) is an extended version of Brenda and Kurt's fight after a football game. His friend then encourages him to fight for his relationship with Brenda. "Break Up" (3:31) is a follow-up scene to their break-up at his apartment when he goes to her house to take it over more. She shuts him out, but Zack comes and brings him a radio. The next morning they continue their talk. It's a good sequence, but it definitely wasn't needed to keep in. "Ashes" (2:19) continues the burial on the water. They go to throw the ashes into the water and it blows back on them, leaving the girls shocked and laughing. "Meet Dad" (1:00) shows Kurt and his father reconnecting at his wedding (drinking beers together). "Zack Driving" (0:41) is a cute scene where Kurt is driving his ride-on mower with Zack in his lap, and Zack insists that he can drive it himself. He then briefly lets Zack drive before taking the wheel back.
– John DiBiase, (reviewed: 2/20/22)
Parental Guide: Content Summary

 Sex/Nudity: Brenda mentions to Kurt that her husband had cheated on her while she was pregnant with their second child; Brenda jumps up and passionately kisses Kurt, to his surprise; During a scene montage, we briefly see Brenda and Kurt sitting on a couch in the dark and she starts pulling at his shirt to remove it as the scene cuts away to a totally different moment;


 Vulgarity/Language: 2 "h*ll," 4 "d*mn," 1 incomplete "Son of a–," 1 "Oh G-d," 3 "Oh my G-d," 1 "G-d"


 Alcohol/Drugs: Kurt and his friend get beers at a bar; Kurt and Brenda have drinks at the bar; We see scenes in bars with bottles and drinks sitting in front of people; We see lots of beers and people drinking at a party after a football game; Kurt shares beers with his mom.


 Blood/Gore: None.


 Violence: Lots of football game action violence (tackling and hits and such); We see the devastating aftermath left by a tornado in Arkansas, with demolished homes and vehicles. We learn that some people died in the storm (which directly affects the main characters).