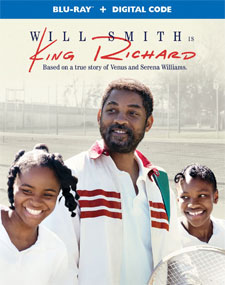 King Richard


 – for some violence, strong language, a sexual reference and brief drug references.
Director: Reinaldo Marcus Green
Starring: Will Smith, Saniyya Sidney, Demi Singleton, Aunjanue Ellis, Jon Bernthal, Tony Goldwyn
Running Time: 2 hour, 25 minutes
Theatrical Release Date: November 19, 2021
Blu-Ray Release Date: February 8, 2022 (Amazon.com)
Plot Summary
A look at how tennis superstars Venus and Serena Williams became who they are after the coaching from their father Richard Williams. (from IMDB)
Film Review
Biopics are not only tricky tasks to accomplish, but there are often so many ways to approach them in execution. For example, a movie about tennis superstars Venus and Serena Williams might be all about the drama in their lives, or it may be heavily tennis-based. Or, like some films, end up having very little to do about the sport their most known for. However, King Richard tackles it from an unusual but interesting angle. In this movie, the focus is very much on the father of Serena and Venus, Richard, who is played masterfully by Will Smith. Smith dons some prosthetics and alters his voice and way of speaking to portray the stubborn and eccentric Richard Williams. This story is just as much about Richard as it is his famous daughters, and director Reinaldo Marcus Green and company do a wonderful job creating an entertaining and inspiring story.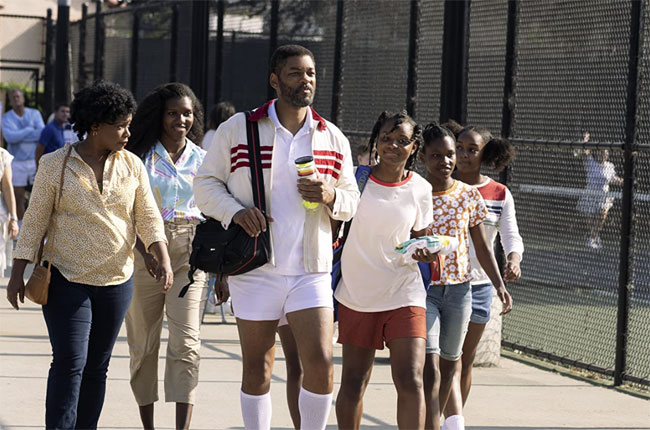 It might seem odd to focus a story about the Williams sisters predominantly on their father – who is considerably lesser known – but I found it to work quite well. Perhaps it's because I'm a father myself, or perhaps it's because I enjoy Will Smith as an actor, or maybe it's just because it's an intriguing idea to tell the origin of these sports heroes from the parents'-eye-view, but telling the story this way gives viewers a much, much different perspective than if it were told through the eyes of one of the young ladies. Because of Richard's difficult childhood and upbringing, we see his distinct motivation for wanting his children to succeed in ways he never could. The only thing that is a little unsettling is just how determined one father is to force his children into a very specific mold. In the movie, Richard even admits to picking tennis because of how challenging it is and how profitable it can be. But the children, while pushed very, very hard by both of their parents, appear to genuinely love the sport that was seemingly picked for them. But whether it was Richard's design or divine guidance, there's no doubt that these girls have INCREDIBLE God-given talent, and it's unlikely that Richard could have molded his girls into the superstars they have become if they weren't truly gifted from the start. But this story shows just how important practice, persistence, perseverance and humility really is, and that alone makes the movie overflow with inspiration; it's hard to walk away from this story and not feel inspired and ready to face even the toughest challenge.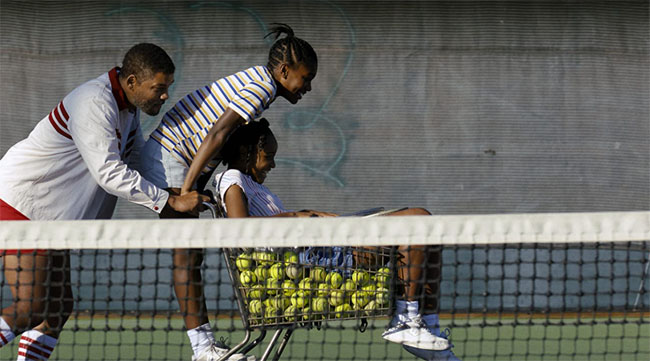 Of course, part of Richard's story involves the struggle and discrimination of race. The movie doesn't tiptoe around this topic, and it may feel a little heavy-handed at times, but it's used to illustrate some of Richard's motivations. And one of the most moving scenes is when he tearfully explains to one of his daughters that he grew up with parents who ran away from adversity–even leaving him to get beat up by a gang, and he wants to prepare his children for the harshness of life and be by their sides no matter what. The movie only touches on Richard's darker, underlying faults in a semi-underdeveloped fashion. It starts when we see him prepare to respond to a violent encounter with some hoodlums in the ghetto with violence of his own, but is interrupted before he can carry it out. Later, his wife Oracene mentions Richard's "other" children and starts to paint a picture of either his infidelity or previous broken marriage, as well as his over-inflated ego as reasons for why she shouldn't have stuck around as long as she has. (A deep dive into the history of Richard Williams online reveals that he and his wife Oracene BOTH had previous marriages, with the three daughters other than Venus and Serena being all Oracene's. Sadly, Richard eventually split from Oracene and remarried again.) It helps to make the audience realize Richard was certainly no saint, but he ultimately only wanted the best for his children. At times, we see his stubbornness as significant roadblocks, but thankfully it isn't enough to hold Venus and Serena back from achieving immense success.
With its near 2-and-a-half-hour runtime, you might wonder just how much tennis is shown in the movie. The beginning sets up Richard's mentoring and training of his children, as well as the kind of life they lead living in a rough area in Compton, but tennis scenes begin to amp up once Richard is able to get the girls some professional coaching and court time. You don't have to be a tennis fan to enjoy King Richard, but I'm sure fans of the sport will get the most out of the movie. Smith's charismatic performance is worth the price of admission, as they say, and he's surrounded by solid performances as well.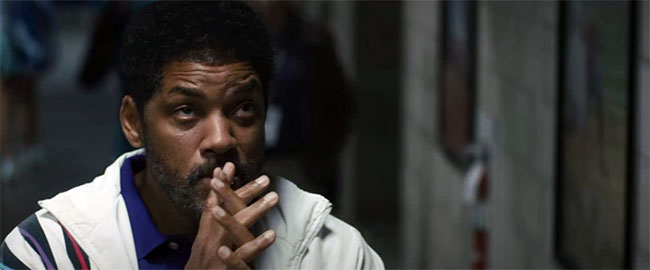 The content of King Richard isn't nearly as edgy as you might expect, but also edgier than it probably needed to be. However, I understand why they chose to show what life in the ghetto is like so we can truly understand the Williams' circumstances and origin. Richard gets beaten up by some punks on the tennis court late at night, and he ends up trying to retaliate on a following night (and right after he offered a pretty honorable grace prayer at the dinner table with his family) by going to find the ringleader of the hoodlums with a pistol in hand. But as he begins crossing the street to confront the young man on the other side, a car drives by and guns the youth down. It's shown at a distance, so it's not especially graphic, but it's definitely shocking. Language is infrequent, with one use of the "F" word from one of those hoodlums and just a couple uses of the "S" word. Given the inspirational nature of the story, I'm tempted to share the movie with my 11-year-old son, but it's definitely not a light movie by any means (and the lengthy runtime may not keep too many youngsters' attention).
King Richard is an excellent drama and a timely one for today. While racial issues are still tense, this is a relevant biopic that shows what perseverance, practice, and determination can accomplish. Before I finished this review, it was announced that Will Smith was nominated for a Best Actor Award at the Oscars, with the movie being nominated for Best Picture, too. There's good reason for that. Definitely check this one out if you're looking for a pick-me-up or are a fan of any of the actors or Williams' sisters.
– John DiBiase (reviewed: 2/8/22)
Blu-Ray Special Features Review
King Richard is now available on 4K UHD, Blu-Ray, DVD, Digital UHD and Digital HD. We received a Blu-Ray to review, and the disc (along with the iTunes digital copy) included the following extras:
Following the Plan – The Making of King Richard (9:05) – The crew chased authenticity and accuracy in the story from the first moment. This segment talks about casting, the story, bringing the story to the screen, and the challenges of making the tennis playing look really accurate. We also learn here that they used tennis player doubles for some of the actors – especially the child versions of Serena and Venus – and replaced their faces digitally with the actors.
Becoming Richard (6:23) focuses on Will becoming Richard in this Oscar-nominated performance. He talks about how he channeled his relationship with his own daughter Willow for playing this character. His fellow cast members also reflect on Will's dedication and commitment to the role.
Champions on Screen (5:49) – Saniyya and Demi talk about playing the legends Venus and Serena and also talk about getting to work with the other stars of the film, like Will Smith and Aunjanue Ellis.
Deleted Scenes (3:01) – There are 2 short deleted scenes. Rick's and Richard's phone call is extended. In this version, Richard describes his daughters to him and encourages Rick to hop on a plane to Compton to see them play. (1 "cr*p") In the second scene, Rick encourages Richard to reconsider the Nike deal.
– John DiBiase, (reviewed: 2/9/22)
Parental Guide: Content Summary

 Sex/Nudity: Richard jokingly asks a woman what corner her daughter is working on; Some young hoodlums call to one of Richard's stepdaughters, Tunde, and say they want to "run a train" on her; Venus walks through the girl's locker room and we see two women in towels and one removing her shirt to show a sports bra underneath.


 Vulgarity/Language: 1 "F" word, 2 "S" words, 1 "g*dd*mn," 11 "n*gger," 9 "a" words, 4 "h*ll," 3 "d*mn," 2 "b*tch," 1 "p*ssed off" 1 "cr*p," 1 "Oh G-d," 1 "Oh my G-d"


 Alcohol/Drugs: A character talks about how his dad taught him how to smoke a blunt; Some characters casually have drinks; We hear news about a teenage tennis player who was busted for heroin and marijuana.


 Blood/Gore: We see Richard's face bruised and bloodied on one side; We briefly see some blood at a distance when a young punk is gunned down during a drive-by shooting.


 Violence: Some hoodlums on a neighborhood tennis court hit Richard in his stomach and face and mock him. One of them spits on Richard; Rich hits a kid in the face with a racket and hits him repeatedly on the ground. The rest of the guys pull Richard off and kick him on the ground. The teen that Richard hit puts a gun to Richard's head and threatens him; Richard gets out of his truck with a gun in hand, spotting the kid who threatened him at a place across the street. As Richard starts to move towards him, a car drives by and shoots the youth up, killing him. Richard is caught off guard, turns and leaves; We see footage of police beating Rodney King on the news on TV.