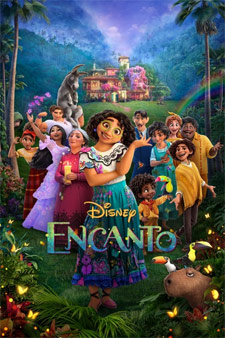 Encanto


 – for some thematic elements and mild peril.
Directors: Jared Bush, Byron Howard, Charise Castro Smith
Starring: voices of Stephanie Beatriz, María Cecilia Botero, John Leguizamo, Mauro Castillo, Jessica Darrow, Angie Cepeda
Running Time: 1 hour, 42 minutes
Theatrical Release Date: November 24, 2021
Digital HD Release Date: December 24, 2021
Plot Summary
Walt Disney Animation Studios' Encanto, with all-new songs by award-winner Lin-Manuel Miranda, tells the tale of the Madrigals, an extraordinary family living in a magical house in the mountains of Colombia. But when Mirabel, the only ordinary Madrigal, discovers the magic surrounding their home is in danger, she may be her family's last hope. (from Disney)
Film Review
For several years now, Disney has stepped away from the more fairytale-centric fantastical stories (like The Lion King or Beauty and the Beast) to dive into more culturally-driven fantasy stories. Moana is a good example of one of these stories, shining the spotlight on the Polynesian culture, or Raya and the Last Dragon, which focused on Southeast Asian culture. Encanto is the latest entry that tries bring seldom-represented cultures to the forefront, taking viewers to Columbia to meet the family Madrigal, a group of eccentric people who were all given magical gifts while living inside a magical house. When the film's central character, Mirabel, is the only one not to receive a magical gift, she makes it her mission to figure out the secrets of the family's gifts, and hopefully discover her purpose.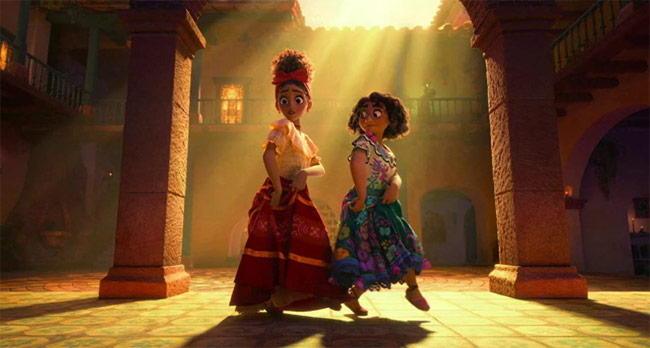 The heart of Encanto is to highlight the big families common to the Colombian culture. I, myself, have a pretty big extended Italian family, and used to revel in all of us gathering together at my grandparents' home for the holidays. But for Encanto, this large family lives under one roof, in a big, majestic, beautiful house. Every character has a pretty outrageous gift – be it shape-shifting, having incredible strength to lift the heaviest of things, the power to heal with food they make, or spreading flowers with the wave of their hand. These magical elements scream "Disney" for sure, but the fact that the movie tries hard to ground the big family story in a movie about a magical house and magical gifts, feels contradictory in a way. Especially after watching the special features accompanying the digital copy, I understood their aim for this movie and how much it was a labor of love, but the movie still didn't seem to coalesce to me. It feels like there's a conflict of ideas here. It'd be one thing if the whole world they live in is magical, but it felt like it detracted from the "big family" focus when they were the only family in town with these tremendous, colossal gifts, living in a magical house. They seemed like a family of superheros that the town looked to for help. One member of the filmmaking crew commented that they didn't want to make the house look too beautiful because the family might seem rich, but I definitely felt like there was a privileged and almost royalty feel from this family. (And maybe that's also because we're all so conditioned to see princesses and princes in Disney movies? Or maybe I just really don't know the Colombian culture well enough to appreciate what this movie sets out to accomplish.)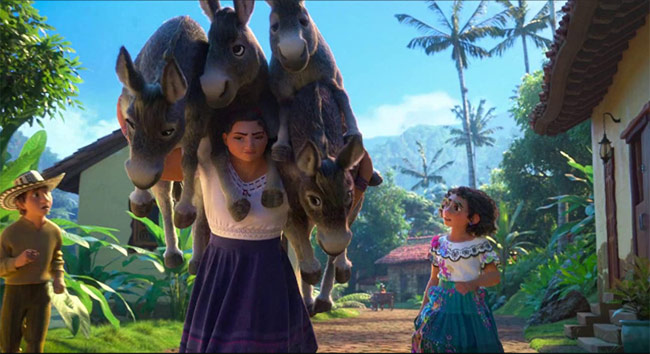 Another thing that didn't land with me is the music. While decent pop numbers, all written by Hamilton's Lin-Manuel Miranda, some of them try too hard to be modern when the movie doesn't feel modern (again, it feels like there's an odd tension there that wasn't intended). And maybe it all comes down to taste in the end, especially when it comes to music, but some of the songs began to wear on me before they even finished, and when they popped up again in the special features, I found myself yearning for them to just end (like that repetitive "Family Madrigal" song). I think the best song in the movie – musically and also visually – is "We Don't Talk About Bruno," which is equal parts fun and tragic. And when we meet Bruno, voiced wonderfully by John Leguizamo, I found him to be one of my favorite characters in the film.
The movie's themes, which become clear by the film's end, showcase the struggles that the matriarch had to endure to even start this family, but I felt like it was a revelation that probably would have served the story better if shown in a prologue at the beginning of the movie, to setup some sympathy for her stoic character. It does make for a nice turn in the story, revealing some depth to the cost she had to pay, but I kind of wish I had that information earlier. And being from a decent-sized Italian family myself, I know what it's like to see grudges and drama come between family members. Encanto slides the curtains open on the damage that can do – to not only one person, but to the whole family, and I have to applaud the filmmakers for tackling such a heavy and real problem that can happen in any family, big or small.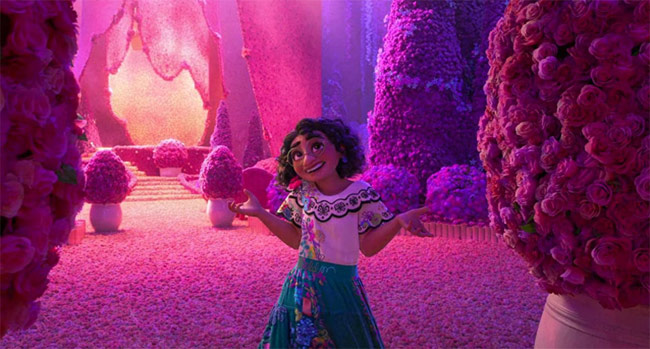 The content of Encanto isn't bad. The worst may be a couple surprisingly violent images that most would consider minor, but some kids may squirm at. Mirabel gets a slightly bloody cut on her palm, which is briefly focused on, and then we see it again as it quickly heals. Her father's face also swells up in a gross fashion when he's stung by bees, but her mom's healing food clears it up quickly. Finally, there's another quick shot of a man with a very broken wrist, which is used to show us how Mirabel's mom's powers work and help the town. Otherwise, it's a pretty tame movie that has some drama, but isn't especially scary. The aforementioned musical number, "We Don't Talk About Bruno," shows him as a green-eyed creepy guy, which may unsettle some younger viewers (because we're hearing from the family about why they don't talk about him), but when we do meet him, we realize he's quite the opposite of what that imagery suggests.
Encanto is visually stunning, especially in HD, but it's not a story everyone will appreciate. I can see even some younger ones being a little underwhelmed by the human-centric story. It's definitely an oddball tale that will mostly be appreciated by people who can relate to the culture, but it's still a decent Disney entry, even if it isn't anywhere near as memorable or top-tier for the company's animation efforts.
– John DiBiase (reviewed: 1/1/22)
iTunes / Digital Copy Bonus Features Review
Encanto released on Christmas Eve digitally, and will debut on disc in February, 2022. Along with the feature film, the iTunes digital copy of Encanto includes the following hearty helping of Extras:
Optional Singalong Version – Yep, there's a separate version of the feature-length movie that you can watch if you'd like to singalong and learn the song lyrics.
An introduction to Far from the Tree (2:09) – Natalie Nourigat introduces this short film of hers and explains the inspiration for it.
Far from the Tree Theatrical Short Film (7:23) is a short theatrical cartoon that utilizes a watercolor, illustration-style animation that we don't see much of these days. It's a cute story that follows a little raccoon who experiences the excitement and dangers of venturing out from his home to explore.
Familia Lo Es Todo (23:53) – This 3-part featurette can be viewed in parts or with a Play All option. The filmmakers talk about coming from large families and how Lin-Manuel wanted to make this with the directors, Jared and Byron, when they realized they all had big, crazy families in common. We learn about some of the families of the movie's animators, hear about the Madrigal family grandmother, Abuela, and how Bruno represents that person in any given big family that no one talks about.
Discover Colombia (17:27) – The crew traveled to Colombia for research. They had wanted to pick a real place to ground the story in, wanting to ground it in reality, despite the magical elements. Ironically, they often referred to the film as having "Magical realism."
A Journey Through Music (24:12) talks about the music in Encanto and how it's a mix of African, indigenous and European styles. Lin-Manuel talks about the separate styles and mashing them up for this movie. Here, they deconstruct the songs and the meanings behind them. They also cover the film's score and the specific character songs. It's a nice in-depth look at the music of Encanto.
Our Casita (10:36) is about the magical house in the movie and how it was designed as a character. They talk about its personality and how it reacts towards characters based on how others treat them (like Mirabel). We hear about what its design influences are, how they created new software just to animate it, and about the magical rooms inside the home.
Feaurrettes
Let's Talk About Bruno (8:18) is about how Lin-Manuel wrote the song, and how the dance moves were choreographed. The crew talk about how it came together and the fun they had making the dance for it.
Outtakes (2:59) – Here, the voice actors are shown messing up, playing around, having fun, and doing multiple takes in the recording booth. (This was a fun an innocent blooper reel.)
Journey to Colombia (2:23) is a little plug for the country shown through the eyes of the Encanto crew. Colombia is described as a crossroads of multiple cultures. We see video and photos of the team visiting there. It serves as a little love letter to the country.
Deleted Scenes (20:35) – Lastly, there is a collection of deleted scenes shown in rough storyboard form. After an introduction (1:29), we have four scenes: "Chores!" (4:04), "Another Way In" (4:28), "Isabela Goes into the Woods" (4:38) and "Back to the Mural" (5:54).
– John DiBiase, (reviewed: 1/1/22)
Parental Guide: Content Summary

 Sex/Nudity: None.


 Vulgarity/Language: None.


 Alcohol/Drugs: We see people with drinks at a party / celebration and talk of the drinks being strong; Characters have wine at dinner.


 Blood/Gore: We briefly see a man with a very bent and broken wrist get healed with by eating a meal; We see Mirabel's dad with overtly swollen hands, nose and ear from bee stings till his wife's food heals him; We see a deep cut in the palm of Mirabel's hand; We see Mirabel's cut heal up; We see Mirabel's dad with a swollen face again.


 Violence: We briefly see a man with a very bent and broken wrist get healed with by eating a meal; We see Mirabel's dad with overtly swollen hands, nose and ear from bee stings till his wife's food heals him; A little paper decoration catches on fire accidentally and Mirabel stomps it out; The house cracks and shakes; The house's window shutters smack a boy; During a musical number, we see Luisa knocking around and breaking rocks and her briefly fighting a three-headed dog beast in a fiery arena; Mirabel slips down a sandy cliffside and face-plants on the ground; Mirabel nearly falls when another cliff crumbles; A room crumbles and sand nearly smothers Mirabel. She escapes through a door as the sand pushes her out; We see people blown away by wind while they're holding umbrellas; We see a goldfish die in a fish bowl; A flower grows out of the floor and smacks a guy in the face; Isabela causes vines to wrap around Mirabel and drag her around; Another plant hits her in the face; The house breaks up and falls apart. Characters fall while they lose their powers; A man puts a bucket on his head and busts through a wall head-first; A tower falls but part of the house blocks the fall from hitting people; In a flashback, we see marauders attacking a town and burning it; We see horses chase people as they flee. A man stays behind and it's implied that he is stabbed and killed off screen (We see another person's devastated reaction); A candle gives off a blast of light that throws the horsemen back; We see Mirabel's dad with a swollen face again.