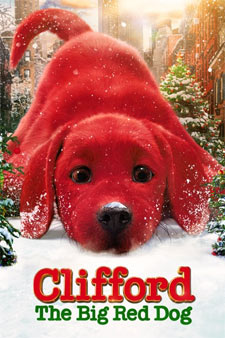 Clifford the Big Red Dog


 – for impolite humor, thematic elements and mild action.
Director: Walt Becker
Starring: Darby Camp, Jack Whitehall, John Cleese, Tony Hale, Sienna Guillory, David Alan Grier
Running Time: 1 hour, 36 minutes
Theatrical Release Date: November 10, 2021
Digital Release Date: December 14, 2021
Plot Summary
A young girl's love for a tiny puppy named Clifford makes the dog grow to an enormous size. (from IMDB)
Film Review
Tis the season for family entertainment at the movies. Clifford the Big Red Dog is a new feature film based on the popular children's book of the same name, written by Norman Bridwell, that debuted in 1963. I remember, as a kid in the 80's, reading Clifford books and loving the idea of a big, red dog (especially since I had a soft spot for the color red). Honestly, it kind of surprises me that it took this long for Clifford to make it to the big screen, and it's kind of long overdue. However, while the technology is here now to properly transfer Clifford's magnitude to the big screen, the feature film ultimately falls prey to the kids-centric family film formula.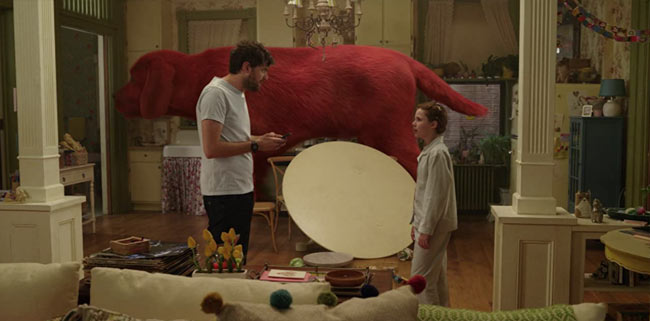 Now, don't get me wrong in stating that; I'm a firm believer that family films can be just as good for adults as they are for the children. Many animated series like Toy Story, How to Train Your Dragon, Kung Fu Panda, The Incredibles, etc, go beyond the intended younger target audience and connect with the older viewers, too. Even last year's live action / animated hybrid Sonic the Hedgehog was pretty good. I'd be happy to watch any of those movies on my own, even if there's no family in tow. However, it seems like most of the hybrid movies, like Clifford the Big Red Dog, seem to be skewed toward the younger demographic almost exclusively. Sure, I may fall under a less common parental demographic who watches more entertainment than others and views them more with a critical eye, but I also believe that the more fantastic family entertainment has ruined the more mediocre ones. The same can be said for food; you may enjoy a hamburger at McDonald's until you have a far more delicious and satisfying burger at a finer establishment. Suddenly, that hamburger you used to think was pretty good just doesn't cut it anymore. Now you've had better.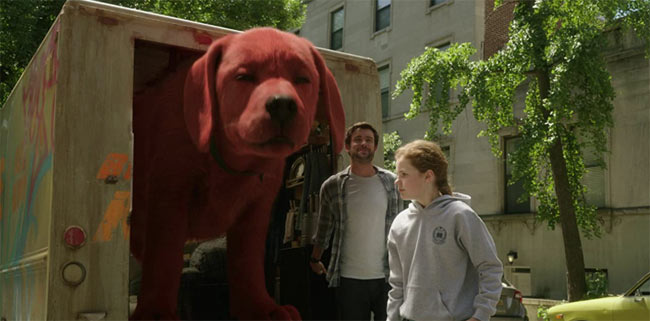 Clifford the Big Red Dog is hardly a terrible family film, but it's also not great. It feels pretty formulaic from the start, and it finishes in a somewhat predictable fashion. And even if you didn't predict the exact outcome, you'll realize you've definitely seen something like it before. To make matters worse — and I'm probably overstating the use of that word — the movie is short on laughs, relying too much on Darby Camp's sweetness as little Emily and Jack Whitehall's slacker uncle character, Casey, to carry the film. Even having Arrested Development's Tony Hale as the villain, Tieran, sounds like a win on paper, but he just doesn't bring enough humor to the character (unlike Jim Carrey's Robotnik in Sonic). It's fun to see him in a role like this, but the character shackles the actor's hands from being able to bring much to the movie. Whitehall, who had a big role in this summer's Jungle Cruise, is also fine as Casey, but I don't think he's got enough of a presence to carry the brunt of the film's comedic situations. And Clifford is certainly cute on his own, but he doesn't quite leave the same impression as, say, Toothless in How To Train Your Dragon. And when the titular character doesn't leave much of an impression (and this is a BIG one), your movie has some serious problems.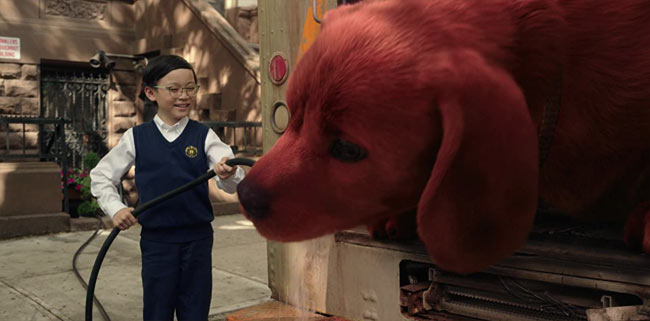 Clifford the Big Red Dog's content is pretty tame. Emily is a good kid who really only gets in trouble because her uncle Casey is so irresponsible. Emily is a bit of an outcast struggling with bullying at school — which many kids can relate to — and Clifford enters the picture as kind of support for the problem. The main theme of the movie is "different is good," which is a pretty tired theme by now, but one that still strikes a chord with those who feel a bit like outcasts or misfits. In today's social climate, being "different" can mean anything — oftentimes used to push some social or political agendas — but in my day, it was just not fitting in with the status quo, and taken as such it definitely works for Clifford. There doesn't seem to be any secret agendas or underlying messages here, but with how weird things have gotten in Hollywood lately, it's not hard to wonder if there's something more to the story being presented to us in any given film (Disney even used Jungle Cruise to push the acceptance of "alternative lifestyles" with Whitehall's character in that film). For the most part, Clifford the Big Red Dog is harmless fun, with an emphasis on doing the right thing, looking out for those who need our help, and being yourself despite what those around you might think. There isn't much by way of objectionable content, but as far as language goes, there's one incomplete "Kiss my—" (from Casey), one "sucks," one "Oh my G-d," one "Oh G-d," and one "Oh L-rd." Darby's Emily goes out of her way to use "gosh," but a few other characters slip in "God" a couple times. (I did think it was surprising and kind of cute that, when Emily was trying to suggest names to Clifford before settling on that name, she suggested "Ishmael," and added "It's in the Bible!")
When all is said and done, Clifford the Big Red Dog isn't a very memorable movie, but it's a pretty safe one for the family. As an adult, it felt bland and even a little boring at times, but my 11-year-old son really enjoyed it, and for our father/son afternoon outing to the theater, that's all that really mattered to me. So while I doubt I'd ever pop this one on to watch by myself again someday, it was a decent family film to watch with my young one.
– John DiBiase (reviewed: 12/6/21)
iTunes / Digital Copy Bonus Features Review
Clifford the Big Red Dog has been out for over a week digitally, and will debut on disc in February, 2022. Along with the feature film, the iTunes digital copy of Clifford the Big Red Dog includes the following few extras:Part of the Pack (6:33) – Director Walt Becker talks about trying to approach this movie like a version of E.T.: it's a story about two lonely characters finding each other and helping each other. Here, the cast and crew praise Darby Camp's acting as Emily, and then talk about Whitehall's character Casey and how he fits into the story. They also point out how the cast is loaded with well-known comedic actors, including Monty Python's John Cleese as Bridwell. (1 "Oh G-d")
Acting is for the Dogs (3:19) shows us how the animation for Clifford worked on set. To stand in for the 10-foot dog, two men wore a giant red puppet suit — one steering the head and front legs, the other the tail. They even took turns with who wore the front and who wore the back (since the front weighed 75 pounds!) as they would begin to tire during filming.
The Magic of Bridwell (7:11) talks about author Norman Bridwell and his creation, Clifford. We hear straight from Norman here (who actually passed away at age 86 in 2014), who talks about creating Clifford in 1963 and how difficult it was to get his stories published back then. (We even learn why Clifford is red!)
Tips & Tricks for Taking Care of a 10 Foot Dog (2:28) is a cute little featurette that uses scenes from the film to illustrate ways of taking care of a dog as big as Clifford.
Deleted Scenes – There are 4 short deleted scenes with no "Play All" feature. "Dr. Russ" (0:17) is a tiny extra moment with the vet where Casey suggests leaving Clifford with him. "Searching for Bridwell" (0:57) shows them leaving the vet and trying to hide Clifford under a tarp while they walk down the street. Finally, "Animal Blessings" (1:35) shows the trio bringing Clifford into a church where a priest is blessing animals. It's here where they learn that Bridwell was in the hospital. Overall, these scenes don't add much to the story, and I see why they were omitted. Also, the animation for Clifford is unfinished, so you can sometimes see the big red puppet behind the animation.
– John DiBiase, (reviewed: 12/23/21)
Parental Guide: Content Summary

 Sex/Nudity: We see a little of Packard's butt crack when he bends over to check out the plumbing in Emily's home. Clifford then leans in to sniff it; Owen lifts up his little dog toward Clifford's butt so he can sniff it (as dogs do); When Casey goes to a job interview, he uses hand sanitizer on his clothes to freshen up. He then takes a handful and looks down at his pants and considers putting it down inside (even pulling his pants open a little), but decides not to.


 Vulgarity/Language: 1 incomplete "Kiss my–", 1 "sucks," 1 "Oh my G-d," 1 "Oh G-d," 1 "Oh L-rd," 1 "bullocks," 1 "bloody"


 Alcohol/Drugs: None.


 Blood/Gore: A man who works in a deli is mentioned to have lost his hand in a meat grinder. We then see him hold up a prosthetic hand (played for laughs).


 Violence: A man who works in a deli is mentioned to have lost his hand in a meat grinder. We then see him hold up a prosthetic hand (played for laughs); We see an angry sheep which rams the inside of the glass case it's in; Clifford causes some destruction accidentally because of his size. A couple times he causes characters to be thrown around a room or crash into things, but it's accidental and played for laughs; There's a fight scene inside a deli where characters use things like ketchup bottles, flour, bags of chips and other food items to fight each other; A man falls off a high building's roof but Clifford catches him, saving his life; Clifford is injected with an electronic ownership tag using an injection gun; and other comedic violence.