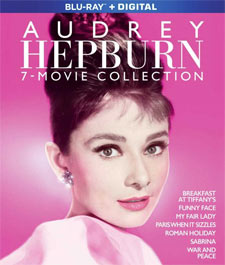 Audrey Hepburn 7-Movie Collection


Blu-Ray Release Date: October 5, 2021 (Amazon.com)
Plot Summary
Audrey Hepburn 7-Movie Collection synopsis:
Rediscover seven of legendary actress Audrey Hepburn's most memorable films with the AUDREY HEPBURN 7-MOVIE COLLECTION, debuting on Blu-ray October 5, 2021 from Paramount Home Entertainment.
Timed to coincide with the 60th anniversary of the beloved classic Breakfast at Tiffany's, which was originally released on October 5, 1961, this must-own collection sparkles with luminous performances from Hepburn in My Fair Lady, Funny Face, Sabrina, Roman Holiday, Paris When It Sizzles, War and Peace, and, of course, Breakfast at Tiffany's.  The Collection also includes access to Digital copies of each film and the legacy bonus content detailed below.
(from Paramount Pictures)
Film Review
Through the years, as I've increased my viewing of older, classic films, I've come to love and appreciate Audrey Hepburn as an actress. 1953's Roman Holiday may have been one of my first-ever Audrey films, too, and it remains my favorite of hers to this day. As I watched and rewatched the movies in this set, I enjoyed seeing some of these again and others for the very first time. Below are my mini-reviews for these films.
Roman Holiday (1953) 1 hr, 58 min. – I actually previously wrote a full-length review for Roman Holiday's stellar Blu-Ray debut in 2020. Check out that review here. 5/5 stars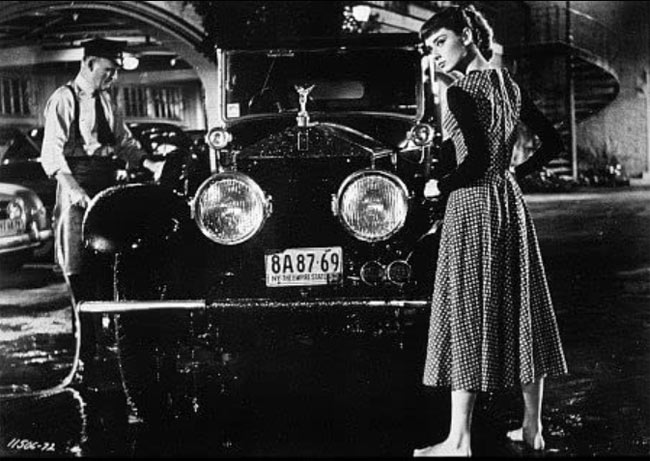 Sabrina (1954) 1 hr, 53 min. – While modern movie-goers may be more familiar with the 1995 remake of Sabrina, starring Harrison Ford, the original film starred the likes of Audrey Hepburn, Humphrey Bogart and William Holden. This version is a fun, memorable romantic film about a rich family and their chauffeur's daughter, Sabrina, who was in love with the youngest of two Larrabee brothers, David (played by Holden). However, David never paid any attention to Sabrina, and his older brother, Linus (Bogart), frequently used David's womanizing ways to help expand the family's ever-expanding business. After a two-year education of the arts in Paris, Sabrina returns home more mature, finally catching the eye of David. However, as she begins spending time with the Larrabee brothers, something of a love triangle begins to reveal itself. Shortly before I first saw this version of Sabrina earlier this year, I had just begun warming up to Bogart as an actor. He's a phenomenal actor, but he can be dry at times, so it seems unusal for him to play an aging romantic lead in a movie like this one. And while this isn't one of Bogart's best movies, Hepburn is wonderful here, and I loved seeing the two together. (Sadly, Holden's performance as the super shallow David just furthers my distaste for the actor and the roles I've seen him play.) While not perfect, it's an enjoyable movie with great stars. (Content: There's quite a bit of drinking, and a couple characters throw a punch at each other in different scenes, but that's about it. A character sits on a couple champagne glasses and a doctor has to dig out the glass, but we don't see it – and it's played for laughs. For language, there's one use of the "a" word.) 4/5 stars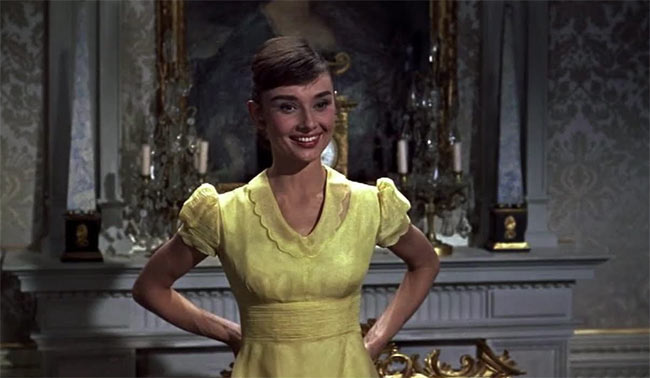 War and Peace (1956) 3 hr, 28 min. – In 1956, Hollywood brought Tolstoy's famed book War and Peace to the big screen as a 3-and-a-half-hour epic. Unfortunately, the film feels as long as it is (if not longer), and seems to jump around too much from character to character, trying to establish a story, but I'm not quite sure it actually ever finds itself. By the end, there's a very sudden romantic side story revealed that had me wondering, "Wait — I thought they were brother and sister?!" Ha! Maybe it's my fault that I didn't pay enough attention, but there seemed to be a lot of characters from different relations and associations mixed into this long and drudging story, and it wasn't always clear as to who was related to whom or whatever. I get that the source material is a frightfully long book (1,225 pages!), but I still expected a more cohesive story in the film adaptation. Some scenes seemed to go on much longer than they needed to (or just weren't important to the story), while others were super short and felt haphazardly included. Overall, I think this is the weakest film in the set, unfortunately. The only real upside to the film is it frequently mentions God, shows characters praying, and seems to show it all in a positive light. Henry Fonda, although a little miscast being that he was 50 years old in real life playing a 20-something character, was good, and Mel Ferrer was pretty great, but the movie just didn't really seem to come together too well. It's probably why you don't hear War and Peace ever named as a memorable film of Hepburn's. (Content: In the beginning, we see some partying and lots of drinking, where a man knocks out a window and guzzles a full bottle of alcohol while teetering dangerously on the window sill; We see some war action and cannons firing; We see Pierre nuzzling a woman's neck in bed, who turns out to be his new wife; A woman dies in child birth and we see her body. We see the naked baby briefly as it's being cleaned off; Pierre gets a note that his wife is cheating on him; A man shoots another man in a duel, but we learn he doesn't die; We see soldiers marching through burning fields; Pierre visits the frontlines and we see their cannon fire cause the approaching French infantry to flee. However, the French cavalry rush them in retaliation and slaughter them. Pierre carries a wounded man away from the battlefield to a medical camp where he finds out the body is dead already. We see lots of dead and wounded soldiers with some blood on them in the medical camp; We see lots of dead bodies littering the battlefield; Some bloodied, wounded soldiers arrive home with bandages on them; Pierre witnesses executions as some of the victims beg for help; We see Pierre and some POW's trudging through snow, with any stragglers being shot (and it happens off screen); As they walk through the snow, a person finds a crashed carriage and opens the door. A finely-dressed dead woman falls out; Another man is shot off screen; A young teen is shown being shot and killed in battle; There are two uses of "d*mn," one being "D*mn you to h*ll!") 2.5/5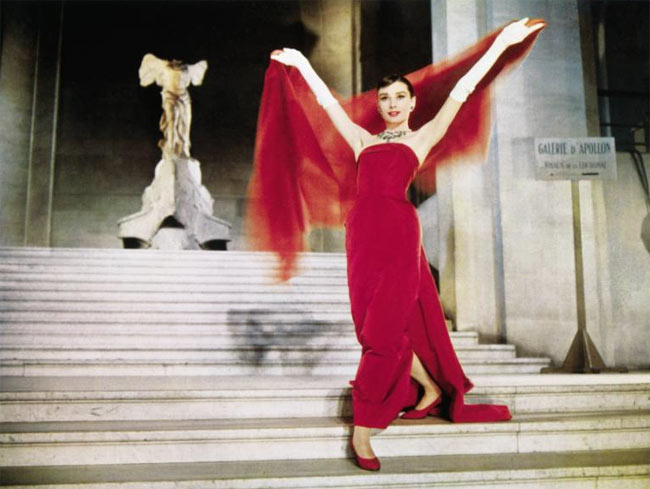 Funny Face (1957) 1 hr, 43 min. – Once again teaming a young Audrey with a much older co-star and love interest, Funny Face is an adorable musical about a girl who works at a bookstore being discovered by a fashion photographer who believes she's got that special something to help the magazine he works for with their next clothing line. Fred Astaire plays the spunky photographer, and he dances his way into the viewer's heart, despite his drastic age difference from Audrey. The songs are fun, the dance numbers delightful, and the movie will make you desperate to visit Paris. It's a pretty tame, family friendly story, too. The only possible content to maybe be concerned about is when Audrey's Jo starts spending time with a philosopher in Paris who Astaire's Dick Avery accuses of having less than honorable motives. When the philosopher proves Dick right, Jo hits the man over the head with a ceramic figurine and leaves. It's really pretty benign, though. Overall, Funny Face is cute and heartwarming, and the kind of movie that uses all of Audrey's strengths to the best of her abilities. 4/5 stars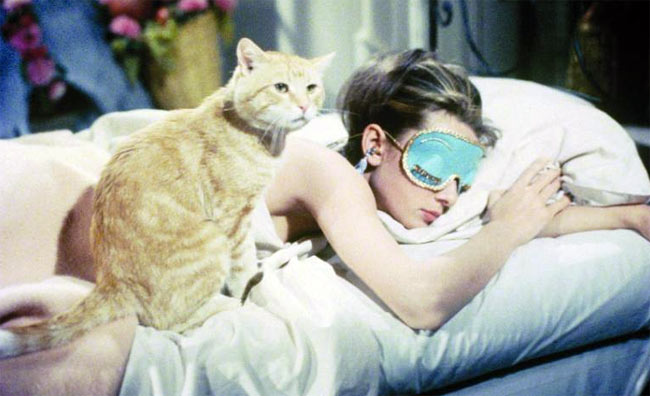 Breakfast at Tiffany's (1961) 1 hr, 55 min. – When I first watched Breakfast at Tiffany's some years ago, I actually hated it. My wife really liked it, and I just didn't see why. I watched it again last year and was surprised how much more I liked it that time. (And I watched it again for this review and still enjoyed it.) It's an unusual role for Audrey, and definitely a unique one to see The A-Team's much younger George Peppard in such a different role, but the story about a young girl running away from her life in the country to the big city to reinvent herself as a party girl is a surprisingly charming affair. The original novel, written by Truman Capote, is apparently a lot different, with Peppard's character Paul (AKA "Fred") not being a love interest for Holly in the book (his interests are apparently quite the opposite), but this film works really well as it is. There's growth for Holly, and even Paul, and the ending is a sweet button on the rather mature story. The content is not as sweet as you'd expect from an Audrey Hepburn movie. Holly uses men for their money and seems to lead them to believe they'll get to "spend the night" with her in exchange for showing her a good time out at a party or something. While we see her evading these men more than anything, it's unclear how much she does entertain fellas, but there's definitely some implications. Meanwhile, it's abundantly clear that a married woman literally pays Paul ("Fred") for sex, which is unfortunate (and icky). We don't see anything aside from her leaving him shirtless asleep in bed and putting money on his dresser, but still — it's obvious what's going on. Throughout the movie, there's quite a bit of drinking and there's even an awkward strip club scene where Holly and Paul watch a woman dance seductively, remove some clothing, and then the camera cuts away just as she starts to undo her top, which we see Holly react to (Played for laughs). Holly gets pretty drunk in another scene, and there's a playful scene where Holly encourages Paul to steal something from a "5 and 10" store (which kind of makes stealing seem fun and thrilling). There isn't much language, just two uses of "h*ll." 4/5 stars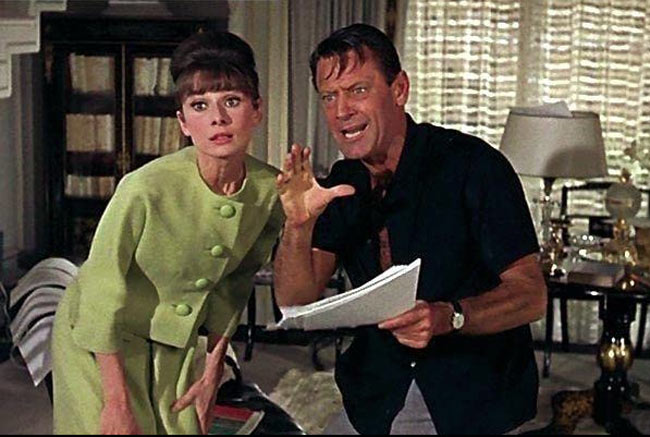 Paris When It Sizzles (1964) 1 hr, 50 min. – Pairing Audrey with William Holden again, Paris When It Sizzles is an odd duck. It's hardly a bad movie, but it's just an oddball from start to finish. The story revolves around Audrey's character Gabrielle Simpson, who is a typist who comes to the aid of movie scriptwriter Richard Benson (played by Holden), who has come to the deadline for turning in his next script. Gabrielle quickly finds out that the heavy-drinking Benson is a flirtatious bachelor who doesn't waste time seizing the opportunity for having the young and beautiful Gabrielle alone with him in his Paris penthouse. While he steals kisses and flirts with her relentlessly, the pair try to come up with a story in the two-day window he has left to get it finished. The film shows us the twosome's interactions in Benson's apartment while we see his ideas for his film play out as a dream-like subplot, which also stars Benson and Gabrielle as the leads. A few real Hollywood cameos make appearances in his film concept, like Tony Curtis – which is kind of fun – but the constant idea-shifting plot points and switching back and forth to Benson trying to woo Gabrielle, only to eventually tell her he's never going to settle down, just feels a little uncomfortable (if not entirely creepy – especially watching it in this day in age), and it makes it tough to get behind their romance. Overall, it's not one of Hepburn's best (although she's definitely great in it), as it just ends up being a weird, muddled mess. (Content: The opening scene shows a man sunbathing with a few women in small bikinis. One is lying topless with only her bare back visible; Benson's movie character has some blood on his mouth after getting injured while flying a plane; Benson steals a kiss from Gabrielle right after they meet as he describes a cinematic love story and its sexual tension; Benson keeps flirting with Gabrielle and even nibbles her neck unsuspectedly; During the movie story, we see Benson's character and Gabrielle's character kiss on a bed. It cuts to the two writing the story and Gabrielle objects to the implications of what the two are doing, meaning sex. He says they're just "playing Parchesee" and we see the two in the movie again sitting on the bed playing the board game; Benson explains to Gabrielle that the "fade out" used in movies is often used to imply things. We later see it used when the pair are seen kissing passionately. We then hear them talking as we see the imagery of the movie they're writing and Gabrielle says "How can I type if you're going to do that…" and then they continue before Benson interrupts and says "Miss Simpson, how can I write if you're going to…" but they never say what each other is actually doing; During a party we very briefly see a girl wearing pasties over her nipples, otherwise topless, in a net hammock.) 2.5/5 stars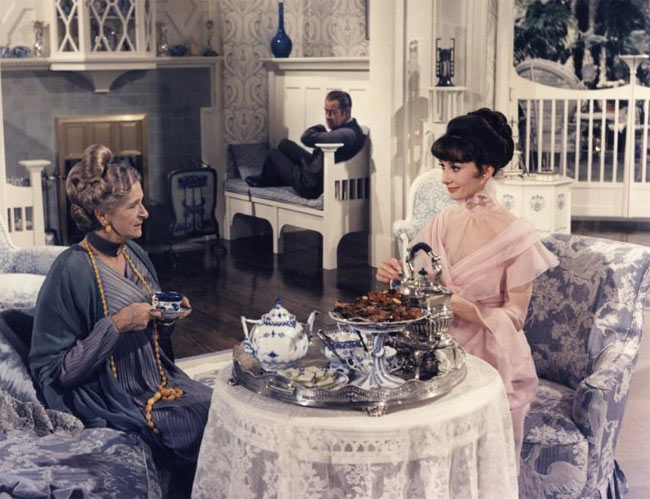 My Fair Lady (1964) 2 hr, 53 min. – Famed musical My Fair Lady is a nice addition to this set. Fans of movies like Mary Poppins should especially like this romantic rags-to-riches tale of an upper class phonetics professor who decides to take a poor girl off the street and turn her into a classy woman. Hepburn is fantastic as the sassy Eliza Doolittle, and is shockingly different than any role I have ever seen her in before. Rex Harrison is also just amazing as Professor Henry Higgins, and definitely won every inch of the Best Actor Oscar for this role. The songs are memorable, the set pieces lovely, and the costumes are breathtaking. I was surprised I'd never gotten around to seeing this film before this set. My only real complaint is that the film is much too long as it clocks in at almost 3 hours. If it could have been trimmed to 2 to 2 and a half hours, I think it would have been near perfect. There was also a surprising amount of mild language in the film, which is otherwise rated G. (Content: There is a lot of drinking in the film, especially involving Eliza's father. For language, there's 1 "a" word, 14 "d*mn," 6 "For G-d's sake" which is also featured in one of the songs, 1 "Oh G-d," and 1 "Good L-rd.") 4/5 stars
– John DiBiase (10/17 – 10/21/21)
Blu-Ray Special Features Review
Breakfast at Tiffany's
Bonus Content:
Commentary by producer Richard Shepherd
A Golightly Gathering
Henry Mancini: More Than Music
Mr. Yunioshi: An Asian Perspective
Breakfast at Tiffany's: The Making of a Classic
It's So Audrey: A Style Icon
Behind the Gates: The Tour
Brilliance in a Blue Box
Audrey's Letter to Tiffany
Original Theatrical Trailer
Galleries
My Fair Lady
Bonus Content:
More Loverly Than Ever: The Making of My Fair Lady Then & Now
1963 Production Kick-Off Dinner
Los Angeles Premiere 10/28/1964
British Premiere
George Cukor Directs Baroness Bina Rothschild
Rex Harrison Radio Interview
Production Tests
Alternate Audrey Hepburn Vocals
Galleries
Comments on a Lady
Theatrical Featurettes

Story of a Lady
Design for a Lady
The Fairest Fair Lady

Trailers
Awards
Funny Face
Bonus Content:
Kay Thompson: Think Pink!
This is VistaVision
Fashion Photographers Exposed
The Fashion Designer and His Muse
Parisian Dreams
Original Theatrical Trailer
Sabrina
Bonus Content:
Audrey Hepburn: Fashion Icon
Sabrina's World
Supporting Sabrina
William Holden: The Paramount Years
Sabrina Documentary
Behind the Gates: Camera
Roman Holiday
Bonus Content:
Filmmaker Focus: Leonard Maltin on Roman Holiday
Behind the Gates: Costumes
Rome with a Princess
Audrey Hepburn: The Paramount Years
Dalton Trumbo: From A-List to Blacklist
Paramount in the '50s
Remembering Audrey
Theatrical Trailers
Galleries