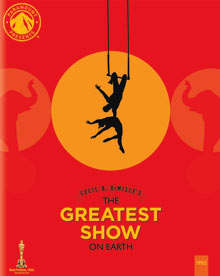 The Greatest Show on Earth



Director: Cecil B. DeMille
Starring: Charlton Heston, Betty Hutton, Dorothy Lamour, Gloria Grahame, Cornel Wilde, James Stewart
Running Time: 2 hours, 32 minutes
Theatrical Release Date: February 21, 1952
Blu-Ray Release Date: March 30, 2021 (Amazon.com)
Plot Summary
A two-time Academy Award-winner*-including Best Picture and Best Writing, Motion Picture Story-THE GREATEST SHOW ON EARTH captures the thrills, chills and exhilaration of the circus. Featuring three intertwining plotlines filled with romance and rivalry, DeMille's film includes spectacular action sequences, including a show-stopping train wreck. THE GREATEST SHOW ON EARTH also boasts a sensational cast, including Betty Hutton, Cornel Wilde, Charlton Heston, Dorothy Lamour, Gloria Grahame, and James Stewart. (from Paramount Pictures)
Film Review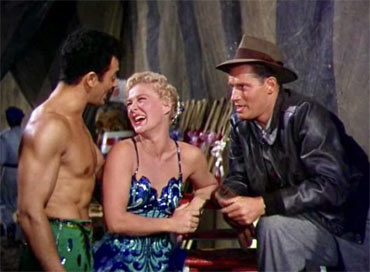 Four years before Cecil B. DeMille would release the biggest film of his career (and his final film), The Ten Commandments, the famed director released his epic ode to circus life, The Greatest Show on Earth. Featuring Charlton Heston in what was only his second film ever, The Greatest Show on Earth is the kind of detailed and quality made production one would expect from the man who made The Ten Commandments. While hardly a perfect film, The Greatest Show on Earth captures a time in American history, before electronic screens ruled entertainment, when you'd be hard-pressed to find a more engaging show than the one under the big top.
At over two-and-a-half hours, The Greatest Show on Earth takes a intimate look at the circus at the height of its run. Focusing specifically on a handful of the main players in this particular circus, The Greatest Show on Earth aims to give a rounded representation of what it took to bring such a huge and elaborate show from town to town, and the challenges that it presented. But the core story here follows circus producer Brad Braden, played fantastically by Charlton Heston, and his drive to run a successful and profitable circus – especially at a time when they have to make sacrifices to ensure this success. Braden's love interest and chief performer is an acrobat named Holly, played excruciatingly over the top by the melodramatic Betty Hutton. When Braden has to push her out of the center ring to hire a crowdpleaser like The Great Sebastian, the drama is stirred up and a love triangle is introduced with Cornel Wilde's character. Perhaps my favorite character in the film, however, is James Stewart as a troubled clown named Buttons. The character has a mysterious past that he's trying to run away from through life working as a clown, and Stewart is his usual reliable self as he delivers another great performance here. Dorothy Lamour and Gloria Grahame play additional standout characters (Phyllis and Angel, respectively), but Hutton is given the most attention as Holly. The film's saving grace in the midst of this is DeMille's insistance that the actors be able to perform their own acrobatic stunts, and it lends great authenticity to the performances in the film. (I actually wondered if Hutton had been a performer hired to also act, but was surprised that it was actually the other way around.) He also enlists the help of real circus performers to fill in additional roles and extras, and the movie ends up being a love letter to the circus.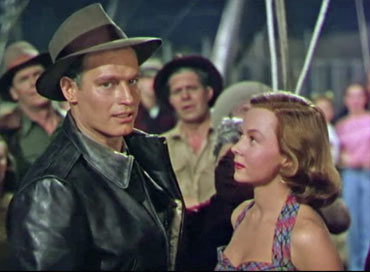 In between scenes that tell the dramatic rivalry between Holly and Sebastian, and the struggles Braden goes through to keep the circus going, DeMille treats the audience to multiple performances from various circus acts. At times, it disrupts the flow of the story — like dances and musical numbers can often do for musicals with show performances in them – and I found myself getting anxious to see the story return to the character-driven drama. But, in the end, DeMille's efforts to capture the essence and entertainment of the circus creates a snapshot of an era long past.
This Blu-Ray debut of The Greatest Show on Earth is mostly a beauty. They created a new 4K scan of the film to make this Blu-Ray disc (even though Blu-Ray really only captures 2K — maybe the digital copy will be a true 4K presentation?). It brings a lot of vitality to the visuals, but it also painfully reveals any visual flaws in the production, too. I was surprised – and perplexed – by DeMille's use of green screen in several scenes that wouldn't seem like they'd need it. Perhaps they were pickup shots when the tent wasn't available, I don't know, but a green outline shows around characters in a few scenes which only pulls them further out from the background they're supposed to be blending in with. It's forgivable, however, especially when the rest of the movie looks so crisp and clear.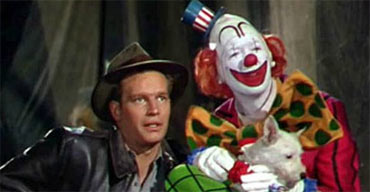 The content for the film is relatively mild, but there is still an intense and lethal train wreck scene later in the film. There's also a circus accident that leaves a character wounded and unable to perform, while a subplot rivalry leads to a man threatening to kill a woman by having an elephant crush her during their performance (thankfully, this is interrupted so it does not happen). The only language I noticed was a single use of "jack*ss" from a character yelling at an elephant, but there may have been more. There isn't any sexual content, but The Great Sebastian is painted as a bit of a womanizer, and most of the women who know him fawn all over him. Many of the women characters wear two-piece outfits that show varying degrees of cleavage and skin. There's nothing explicit, however. Finally, the aforementioned train accident scene shows a car drive onto train tracks to try to flag down an approaching train and warn it of another train stopped on the tracks up ahead. The approaching train then crashes into the car, killing its passengers, and crashes into the stopped train, causing a tragic and extraordinary wreck. It's rather surprising and unexpected in the movie, and I can imagine it'd upset some younger viewers.
Overall, The Greatest Show on Earth is a good classic drama with memorable performances that wonderfully captures a very unique time in the history of entertainment. If you're a fan of any of the cast or interested in circuses in general, you'd likely enjoy The Greatest Show on Earth.
**Note: The screenshots included with this review are not representative of the 2021 Blu-Ray transfer.
– John DiBiase (reviewed: 3/28/21)
Blu-Ray Special Features Review
The Greatest Show on Earth is now available on Blu-Ray (and Digital HD) for the very first time with one new bonus feature and in a neat fold-out cardboard slip packaging. Along with the feature film, the Blu-Ray disc includes the following extra:
Filmmaker Focus: Leonard Maltin on The Greatest Show on Earth (7:42) – Here, Leonard talks about director Cecil B. DeMille, how the actors did their own stunts, the documentary style of the film, and how this was actually only Charlton Heston's second movie!
– John DiBiase, (reviewed: 3/28/21)
Parental Guide: Content Summary

 Sex/Nudity: Some women acts wear bikini tops; Sebastian flirts with many women who often have a history with him (he seems to be a womanizer); Sebastian tries to woo Holly and cradles her and kind of forces himself on her a little; A man in a gorilla suit briefly spanks a woman during an act.


 Vulgarity/Language: 1 "jack*ss"


 Alcohol/Drugs: Brad tells a man to give an elephant gin and to make sure it gets all of it.


 Blood/Gore: During the introductory narration about circus life, we very briefly see a man lying on the ground with a little blood on his head and hand to illustrate accidents happen at the circus; Sebastian accidentally falls during his act and has blood on his mouth and a net burn on his torso; Brad has a little blood on his head and arm; A little person has blood on her head; Brad has blood on his hands and side; A miscellaneous man has a bloody arm; A doctor performs a blood transfusion with two men. We don't see the needle in their arms, but we see a tube with some blood going through it as the doctor slowly pumps it.


 Violence: During the introductory narration about circus life, we very briefly see a man lying on the ground with a little blood on his head and hand to illustrate accidents happen at the circus. We briefly see a wind storm blowing a tent violently, too; A woman puts a sword down her throat as part of an act; Sebastian and Holly compete for applause with increasingly dangerous acts. At one point, Holly slips but grabs onto the bar to save herself; Holly swings wildly on her rope to try to break a record but Brad stops her, lowers her down and cuts the rope with a knife because it was beginning to fray; The clown act has gun popping sounds and then shooting liquid into the air (slapstick); Brad punches a vendor who then lunges at Brad with a wooden arrow. Brad punches him again and tosses him over a fence into a puddle of mud; Sebastian cuts the net down and does dangerous trapeze stunts. He accidentally falls and has blood on his mouth and a net burn on his torso; A man in a gorilla suit briefly spanks a woman during an act; Angel puts a hot iron on a man's hand; A man threatens Angel by holding an elephant's foot over her head. Brad steps in and stops him; A couple guys light a flare and put it on the train tracks; A man breaks a train window with a gun and holds up a car. Another man clubs a conductor and they rob the train; A man clubs another man in the back seat of his car. He then drives his car onto the tracks to try flagging down another train. It hits the car and flips it in the air, killing its passengers. The two trains then collide in a massive and dramatic wreck. People are tossed around and the train cars are twisted wrecks; We see a dead man's feet sticking out from under and overturned automobile.