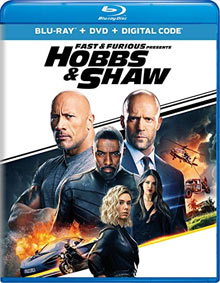 Fast & Furious Presents: Hobbs & Shaw


– for prolonged sequences of action and violence, suggestive material and some strong language.
Director: David Leitch
Starring: Dwayne Johnson, Jason Statham, Vanessa Kirby, Idris Elba, Ryan Reynolds, Helen Mirren, Eiza González, Eddie Marsan
Running Time: 2 hours, 16 minutes
Theatrical Release Date: August 2, 2019
Blu-Ray Release Date: November 5, 2019 (Amazon.com)
Plot Summary
Lawman Luke Hobbs and outcast Deckard Shaw form an unlikely alliance when a cyber-genetically enhanced villain threatens the future of humanity. (from IMDb)
Film Review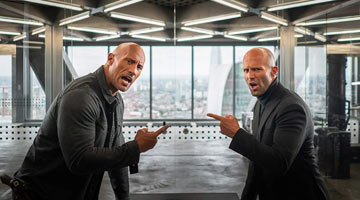 Ah, the spin-off. For the sake of full disclosure, when it comes to the drawn out, never-ending Fast & Furious franchise, I actually have previously only ever seen the first film — and that was quite some time ago. With each new entry into the core franchise, however, it seems like the car heist film series gets more outrageous and fantastical. But each new F&F film seems to take in more at the box office than the one before it, making it seem like a truly unstoppable franchise, serving as a gift that keeps on giving for Universal Studios.
So, it's no surprise that a spin-off was in order. The first film to expand the world of The Fast & The Furious follows two action stars' characters from previous Fast & Furious entries–Dwayne Johnson's Luke Hobbs and Jason Statham's Deckard Shaw. If you haven't seen any of the F&F movies, you won't really be missing anything if you see this one, which is what makes a good standalone spin-off work well. Right out of the gate, Fast & Furious Presents: Hobbs & Shaw doesn't take itself all too seriously, and it plays up a sci-fi action-driven vibe, which works well with its highly comedic tone. In short, Hobbs & Shaw is straight up over-the-top in every way it can be. And because they're aware of it, they tend to play it up even more. If you're looking for gritty realism, this isn't the kind of movie for you. But if you're looking for action-for-action's sake with a wink and a nod to the audience along the way, this is just what the doctor ordered.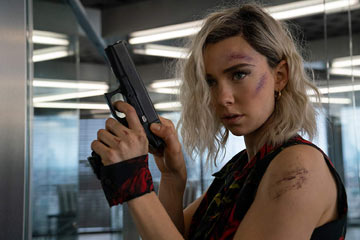 Both Statham and Johnson are known for their over-the-top nature and performances on screen, and this film not only acknowledges this, but relies on it. And seeing the two going head-to-head, ruffling each other's feathers in the process, is a lot of fun. A movie like this feels a bit odd admidst a social climate that tenses up at the mere thought of hurling an insult at someone else, especially if it's rooted in intolerance. But something about the way Hobbs & Shaw does it feels ridiculous and less serious. Plus, when the two inevitably begin working together (and doing it well), it makes the rough road they paved to get there pay off. Statham and Johnson have great chemistry, and it makes Hobbs & Shaw a solid buddy movie. Also, the whole film seems a bit old school in its approach, exploring the buddy-action-comedy genre (think Rush Hour or Lethal Weapon), so it works well as an homage to those films of decades past. Ryan Reynolds is a surprise addition to the cast as a CIA operative that has worked with Hobbs in the past. Nearly everything out of his mouth is hysterical, and he helps elevate the scenes he's in. (And he gets great mid-credits and post-credits sequences as well.)
One of the oddest side-steps the film chooses to make is when the characters–and the action–retreat to Hobbs' homeland of Samoa. It feels a bit forced for this kind of movie–especially when it boils down to a tribal fight consisting of ancient and homemade weapons, but the team does their best to make it work. Still, it mostly feels like the movie goes there just because Johnson wanted it to. Also, as fun as the action can be, some of it is still too silly for its own good — whether it's dangling connected cars off of a flying helicopter, driving a car out the side of a building while doing a corkscrew, or characters surviving the most brutal hits and punches as if it's nothing. At times, Hobbs & Shaw feels like a live action cartoon–sometimes in a good way, and other times in a bad way–and it's that feel that the recent Fast & Furious movies have been giving off that makes them seem so unappealing to me.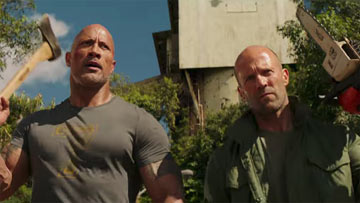 Unfortunately, the content is pretty well in line with the kinds of films it pays homage too. Profanity is pretty constant throughout the film, along with some vulgar insults. To be fair, a lot of the comedy stems from the ridiculousness of what these grown men say to each other, but that doesn't change the fact that a lot of it is pretty crass (although hearing Shaw likening looking at Hobbs' face to being like God has vomited hot lava into his eyes, is pretty hilarious). With that said, aside from quite a bit of language that includes several uses of blasphemy, a slew of the "S" word, and one use of the "F" word spoken in unison, and then another one clearly mouthed (and kind of audibly muffled), there's a great deal of violence. However, most of it is bloodless. Aside from some bloody scrapes and cuts on characters' faces, the grossest moment comes in the form of seeing the villain, Brixton, with the skin on his back peeled back a bit as a machine is closing it up over what looks like a metal, robotic spine.
Fast & Furious Presents: Hobbs & Shaw is a fun action/adventure film that is well aware of its own silliness, but manages to get by on its entertainment value and charm alone. It's hardly the best film you'll see this year, but for its genre, it's surprisingly good–enough to make me moderately interested in a possible sequel. However, despite the film being a lot of fun, given its crass nature and frequent violence, I can't outright recommend this one and leave it up to the viewer's own discretion.
– John DiBiase (reviewed: 11/9/19)
Blu-Ray Special Features Review

Fast & Furious Presents: Hobbs & Shaw is available on 4K/Blu-Ray, Blu-Ray/DVD/Digital, DVD, and through the usual digital providers. Along with the feature film and a feature-length commentary by director David Leitch, the Blu-Ray disc/iTunes include the following extras — almost all of which contain some moderate profanity. (Any "F" words are bleeped out, except when pulled straight from a scene in the movie – which I've noted below):
Alternate Opening (10:14) – The alternate opening is pretty much the existing, final film, reordered to open with Hobbs and Shaw hurling insults at each other, then it flashes to "one day earlier" when we see their side-by-side routine. It then moves into the same opening fights they each have, with the MI 6 heist mixed in.
Deleted Scenes (36:16) – There is a staggering 22 deleted moments or extended scenes included here. The first scene (0:34), shows Brixton finding a grenade with the laptop in the truck at the beginning, which causes him to jump out as it explodes. The next one (2:53), is an extended version of the pancake house scene. It includes more talk about the Hobbs family tree. We then get a very short (0:13) additional moment with Locke, and then there's an extended Hobbs and Shaw face-off with comments made by onlookers in the office (0:45). Next is an extended scene showing Shaw tracking Hattie (2:02). In a short moment cut from their fight scene, Hobbs accidentally grabs Hattie's chest and apologizes (0:20). There's then an extended version of their "tango" interrogation scene, in which they both drink tea and Hobbs uses this tactic to get her fingerprints (2:21). We then get extended dialog from the car chase scene (1:20), followed by an alternate version of the airport security check (1:44) and a much longer chat with Dinkley on the plane (4:41). Next is a short piece of dialog about the weight the parachutes can hold (0:32), and then an alternate take of Dinkley in his office, instead of the bathroom (1:04). The following scene shows the guys riding in the car through Samoa and fighting over the radio (1:14), and then there's an extended Hobbs and Hattie talk (1:27) about family (Which explains why Jonah is mad at him!). The following scene reveals that the car they drive in the Samoa chase was Hobbs' father's (0:25), and then there's a short argument between Hobbs and Shaw about it being Hobbs' land, so they have to use his plan (0:56). Next is an extended Hobbs and Hattie sunset chat (1:33), then an extended Hobbs and Jonah talk (1:12), a Shaw and Hattie extended talk (1:26), and then an extended Samoan battle, which includes more Samoan chanting (4:43). Finally, there's an alternate version of the cliffside walk after they've won, with more banter (1:28), and then there's a little more added to Hobbs and Locke's phone call (1:24).
Johnson and Statham: Hobbs and Shaw (3:38) is about the chemistry between Johnson and Statham and how they worked so well in F8 that it made sense to spin-off for their own movie. (Features 1 "F" word said in unison by two characters, straight from the scene in the movie).
Progress of a Fight Scene with Director David Leitch (4:58) – Leitch talks about the art of found-object fighting, and how the two Shaw siblings would fight similarly. It also covers the Samoan fight and the weapons they used, as well as the slow motion fight. Leitch talks about how he is a martial artist, fight choreographer and stunt man, and how that affected the creation of the film's action.
Practical Action (3:44) is how they plan out fights ahead of time and break them down hit by hit.
The Bad Guy (2:01) is all about Idris Elba's villain, Brixton, and how he's basically a robot and the toughest foe the heroes have yet to face in the franchise.
The Sister (3:59) is about how Hattie is a lone wolf and as tough as the guys. Vanessa Kirby briefly talks about how this was her first experience doing action scenes, and we're treated to some behind-the-scenes training footage along the way.
Hobbs Family Tree (3:20) is all about Hobbs' Samoan family roots.
The Matriarch (1:35) focuses on Shaw's mother, played by Helen Mirren, and how she's back from briefly appearing in F8. They also talk about the Shaw family dynamic here.
New Friends (2:02) focuses on the characters played by Ryan Reynolds and Kevin Hart, which are great additions to the cast. Kevin actually flew in to shoot some scenes while on his own comedy tour, as a favor for his friend, Dwayne Johnson.
Elevator Action (1:59) is about how this action scene was an "anchor scene" of the movie. They actually built the film around the idea of it (1 mouthed "F" word).
Stunt Show and Tell (3:41) – Here, the director talks about creating previs animations for scenes to try to plan out as much of the action as possible through practical, physical action and enhancing everything with digital effects.
Keeping It in the Family: A Conversation with Roman and Dwayne (5:02) – Johnson's on-screen brother is played by Roman Reigns, his real-life friend from wrestling in the WWE. The two talk about their longtime friendship and how that lead to casting Roman in this film… where we learn Roman accidentally knocked out a camera man during the big fight (and we see the footage of this happening!). (1 S word, 1 bleeped F word)
Blind Fury (1:51) is about how, during the Samoan battle, Hobbs bites a guy's face, which is an homage to Johnson's real-life grandfather who was a pro wrestler. Johnson tells the story of how his grandfather had actually bitten a man's eye out during a street fight in Tokyo to prevent getting killed.
Dwayne and Hobbs: Love at First Bite (1:36) – Here, "Hobbs" is the name of Dwayne's dog, which Dwayne had named after his F&F character. The dog actually has a cameo in the movie as Hobb's dog! (1 bleeped F word)
– John DiBiase, (reviewed: 11/9/19)
Parental Guide: Content Summary

 Sex/Nudity: We see Shaw lying in bed with a girl wearing a camisole; We see girls in fashionable lingerie at a party, with a close-up of a clothed butt; We see several sexy, shapely (anatomically correct) mannequins in a tattoo parlor; A woman in a tattoo parlor's shirt is open revealing cleavage in a bra or bra top; We see Hattie in a tank top; Shaw makes a vulgar hand-jerk motion as an insult to Hobbs; A running joke is made when Shaw gives Hobbs the cover name of "Mike Oxmaul" (and it's said aloud several times); Shaw says Hobbs sticks out "like balls on a bulldog, in all the wrong places" and he thinks Hobbs wants to "impregnate" his sister. A reference is made to "Horizontal hula sexy sexy time." Hobbs refers to himself as a "well-endowed" mountain of a man and that if she wants to, she can climb "this mountain over and over and over"; Madame M passionately kisses Shaw (much to Hattie's surprise, and Hobbs' disgust); Madame M's outfit shows cleavage; We see many Samoans without their shirts on in just tribal "skirts" as they fight; While Locke talks about Game of Thrones on the phone with Hobbs, he complains that Jon Snow had sex with his aunt; A SWAT team calls for Shaw to come out of his pub, using the name "Hugh Janus."


 Vulgarity/Language: 2 "F" words (1 spoken in unison by two people, another mouthed); 1 "Eff you" (spoken as such); 1 incomplete "Mother–"; 3 "J-sus," 1 "Chr-st," 3 g*dd*mn," 11 "S" words, 14 "h*ll," 6 "a" words, 1 "d*ckface," 1 "d*ck," 4 "*ssh*le," 4 "S.O.B," 3 "b*tch," 3 "b*lls," 2 "d*mn," 1 "My G-d," 3 "G-d," 1 "Oh my G-d," 1 "Oh G-d," 1 "b*stard"


 Alcohol/Drugs: We see Shaw sitting at a bar, drinking; Hobbs dumps two shots into his mouth at once; Hattie and Hobbs pour drinks in Shaw's pub; We see Shaw in his pub.


 Blood/Gore: We see a quick digital animated effect of zooming into the blood in Hattie's veins; Hattie has some bloody scrapes on her face, throat and shoulder; Hobbs has an abrasion on his cheek after Hattie hit him there with a bottle. The abrasion is visible for most of the rest of the movie; We see three red marks on Hattie's palm; We see blood on a man's head who is tied up; We see a bruise on the professor's face; We see the skin on Brixton's back peeled open, revealing a metal spine as he's being sewn up; We see an abrasion on Shaw's head; Like earlier, we see a close-up of spikes entering into the inside of a person's veins; The tubes sticking out of a machine that Hattie carries around are red with the blood from a blood transfusion; We see blood all down the side of Hattie's head; We see blood on the faces of Hobbs, Shaw and Brixton; We see a hallway filled with dead, somewhat bloodied soldiers with blood on the walls above them; Locke has blood all over himself, including his hands and shirt; We see Locke again with more blood on him. At first he thinks it's his, but then realizes it's not; We see a dead man with blood on his head and a bloody brick sticking out of his tactical-vest-covered chest.


 Violence: An explosion breaches a door; A flash bang rolls across a floor and we see electrical shocks fired onto guys wearing tactical suits; Brixton shoots guys off screen in the head and hand-to-hand fights them, knocking them out; Hattie crashes the van she's driving as Brixton shoots at it; Hattie slams her hand onto a needle; Brixton kicks a downed MI 6 agent, and then executes him (seen from a distance; not graphic); Shaw beats a guy up with a champagne bottle. He then throws and shatters it; A tattoo gun falls into man's shoe and he screams; Shaw hangs a guy out a window with a rope and ties him up so he stays dangling out the window; Hobbs threatens to tattoo a man's face while interrogating him. We then hear the guy screaming and see that he did tattoo his face; We see a flashback of two children blowing a box up; Hobbs slams a chair at plexiglass window; Hattie attacks Hobbs and hits him with a motorcycle helmet while, at the same time, Shaw fights thugs in a house and shoots one with a shotgun. During the fight, he possibly breaks one of the guys' arm (not graphic) and beats up multiple guys with a toaster. Hobbs and Hattie fight while he's cuffed to her. Meanwhile, Shaw beats a guy in a shower stall with a pole (as the fight moves across the house); We see Brixton shirtless while being probed by unseen robotic utensils on his back as he screams in pain; Hattie kicks a chair into a guy, then hits him repeatedly with the chair and throws him around; Hattie wraps her legs around Hobbs' neck and points a gun at his face. Then she, Hobbs and Shaw point guns at each other; Brixton blows out the window of the office and comes in with his entourage. They shoot operatives and take Hattie. Hobbs and Shaw beat a few guys as they jump out the window; We see more fighting between Hobbs and some of Brixton's bad guys as they fall from the building. Shaw beats up and kicks some guys after they land. He then shoots some of them. Brixton kicks and hits Hobbs, then punches Shaw. Hattie beats up a guy to get away. We see a car blow up into the air and Brixton catches it. A big car and motorcycle chase breaks out from here, with lots of crashing and shooting. Hobbs grabs a guy off a motorcycle while they're driving and throws him into the pillar of a nearby building. A motorcycle goes over a car and flies right through a double decker bus. Brixton gets out and then smashes his helmet on the ground in anger; Airport security detain Hobbs; We see the professor chained up and dangling. Brixton shoots at a target nearby. He then grabs a flame thrower and fires it at the professor (we see he's still alive later, though); Hobbs, Hattie and Shaw visit a mobster woman in a mansion after some kind of fight or shootout has happened. We see some men tied up or lying dead. A girl puts a bag over a guy's head; Shaw beats up a lot of guys in a hallway, electrocuting some with shock sticks and whipping some with regular sticks. Hobbs knocks one guy out. Both slam the faces of their victims violently against a retinal scanner; We see Hobbs and Shaw get hit on their backs, knocking them out; Hattie beats up and stabs her captors with sedatives; We see Hobbs and Shaw tied up with chains to receive lethal electric shocks; Hattie beats up some scientists; Hobbs and Shaw receive shocks. Then again. Then a third time. A huge fight breaks out with lots of shooting and physical fighting. The professor lights up guys with flames; Brixton breaks the professor's neck in a quick twisting motion; The factory building explodes as Hobbs drives a truck through support beams; Hobbs, Shaw and Brixton engage in a fist fight on the back of truck. We see slow motion of them getting punched in the face. There are more explosions as a factory stack collapses; Jonah punches Hobbs in the face; We see the skin on Brixton's back peeled open, revealing a metal spine as he's being sewn up; Like earlier, we see a close-up of spikes entering into the inside of a person's veins; There's a huge brawl in Samoa with vintage and makeshift hand-to-hand type weapons, and with such, we see many brutal hits to the head or chest, but it's not gory or graphic; We see a car explosion, then a building explosion; Brixton grabs Hattie by the throat; Hobbs ropes a helicopter with a chain and pulls it by a truck. Other cars hook onto the one Shaw is driving to try to keep the helicopter from pulling the car into the air; Hattie pushes a guy out of a helicopter while it's in the air; The helicopter fires missiles at the cars below. We see explosions tossing cars into the air; The helicopter and cars crash onto a cliff below; A brutal fist fight breaks out between Brixton, Hobbs and Shaw. We see many slow motion punches as they connect with their faces; Hattie uses a wire to ignite some gasoline and cause a small explosion to distract a thug. She then chokes him till he's unconscious; Brixton is decommissioned and we suddenly see him feel pain and then fall off a cliff; We see a hallway filled with dead, somewhat bloodied soldiers with blood on the walls above them; Locke has blood all over himself, including his hands and shirt; We see a dead man with blood on his head and a bloody brick sticking out of his tactical-vest-covered chest.