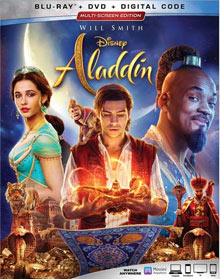 Aladdin


– for some action/peril.
Director: Guy Ritchie
Starring: Will Smith, Mena Massoud, Naomi Scott, Marwan Kenzari, Nasim Pedrad
Running Time: 2 hours, 8 minutes
Theatrical Release Date: May 24, 2019
Blu-Ray Release Date: September 10, 2019
Plot Summary
A kind-hearted street urchin and a power-hungry Grand Vizier vie for a magic lamp that has the power to make their deepest wishes come true. (from IMDb)
Film Review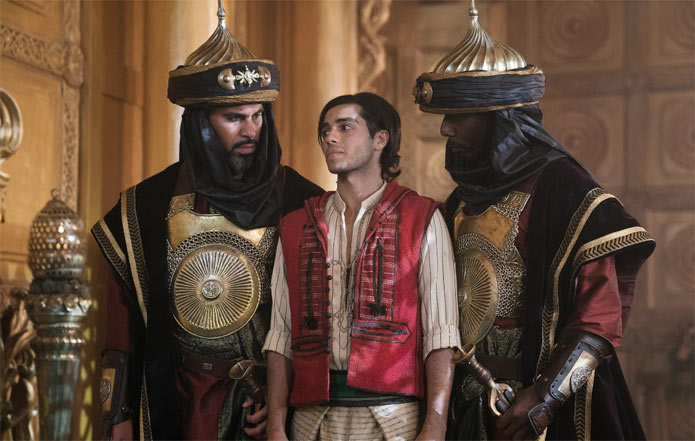 The Disney live action remakes continue with the latest treatment, 1992's Aladdin. On paper, this story does feel perfect for a live action take, but it still makes you wonder… do we really need it, though? At what point does it just seem like another unimaginative, easy cash grab?
Stylistic director Guy Ritchie, who is probably most known for his Robert Downey, Jr.-helmed Sherlock Holmes films, takes the reins on this one, bringing a lot of his signature flair to this rags to riches tale. He utilizes mostly unknown and little-known actors, too, largely using ethnic actors to bring more authenticity to the world he builds. Replacing the late Robin Williams as the film's fast-talking blue genie with a heart of gold is also no easy task, but he rolls the dice with the versatile and charming Will Smith, and it mostly pays off, too. Smith steals the show throughout the film, easily making it worth the price of admission. Is he better than Williams' iconic character? Probably not, as that's a pretty big lamp to fill, but Smith does elevate Aladdin higher than it probably otherwise should be.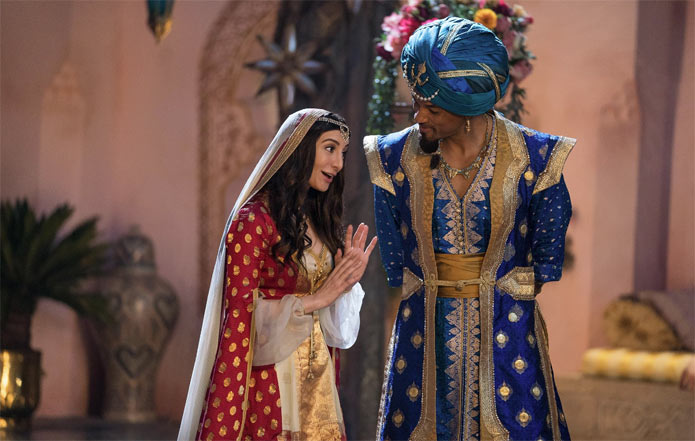 Mena Massoud and Naomi Scott are both good in their respective roles as Aladdin and Jasmine—as those definitely seem like tough roles to fill as well. I wasn't feeling their casting at all when I first saw the trailers for this film, but they both proved to excel in their respective roles. The only real poor casting comes in the form of Marwan Kenzari as Jafar, unfortunately. While he gives it his best shot, he's really too shrimpy and vanilla to even begin to match the animated character. The cartoon Jafar was big, creepy and sinister. This one just squeaks through and never seems to match our expectations for the character. While going TOO big for the villain would have certainly been easy to do, too, finding the right mid ground is important—and I just don't feel like they achieved that here. Aspects of the film feel like a lower budget outing, while others match the extravaganza you'd expect form Disney and Aladdin. In the end though, the movie works more than it doesn't, and this live action Aladdin manages to sweep us away on that promised carpet ride.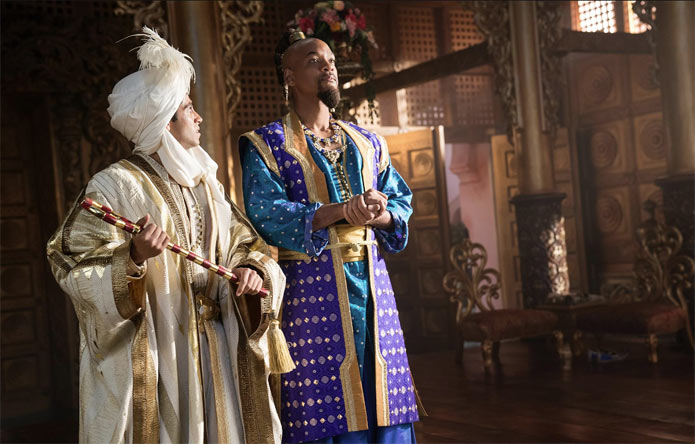 The content for the film is in line with what one would expect from a PG-rated Disney film. There is no profanity, and the only sexual content is a gag where the genie wears a dress and another where he tells Aladdin he needs to be specific with his wishes before he can "make him a prince" and then has a male prince appear for him (like he made a prince FOR him). The only other content to be careful of is the magic elements and the related action scenes. Jafar making himself big and menacing at the end, along with some of the things he does to threaten the film's heroes, will likely frighten children, so that's definitely something to keep in mind.
While it's debatable if we ever needed a live action version of the animated classic Aladdin, there's enough they did right with this new version to make it worth your time if you're a fan. It's hardly one of the best movies of the year, but it's also a highly entertaining and enjoyable fantasy tale.
– John DiBiase (reviewed: 7/7/19)
Blu-Ray Special Features Review

Along with the feature film in HD, the Blu-Ray/Digital combo pack version of the Aladdin offers a series of Extras. Some are exclusive to the digital copy, but the core extras are also on the Blu-Ray disc.
Aladdin's Video Journal: A Fantastic New Point of View (10:40) – Mena Massoud, who played Aladdin, was given a phone to document his experience throughout production. We see glimpses of the parade set, the carpet ride scene, shooting "Friend Like Me" with Will Smith in a motion capture suit, shooting underwater, shooting in Jordan, and wrapping on the last day of filming.
Deleted Song – Desert Moon (2:20) – Aladdin and Jasmine sing the song at the same time independently. It's an okay song, but it's more of a modern pop number (along the lines of "Speechless"), and doesn't quite fit with the original songs from the 1995 film.
Guy Ritchie: A Cinematic Genie (5:29) – Being a family man, the action movie director now wanted to make one for his family to be able to watch. He talks about how he shot at 18 frames per second and 36 frames to get a certain feel for different moments–it's pretty interesting!
A Friend Like Genie (4:32) – Will Smith talks about how he was scared to follow up Robin Williams' iconic performance from the original movie, but was excited to do something new. They show us more here of how Will brought the genie to life in this new take.
Bloopers (2:07) – In this family friendly blooper reel, we see the cast falling, having fun, and goofing around on set.
Deleted Scenes (10:45) – There are 6 deleted scenes with unfinished effects (like rough outlines where the digital animals should be). They're viewable individually or together with a Play All option. "Falling Petals into OJ" shows some more of Aladdin and Jasmine in the marketplace. "Jafar's Magic Orrery" shows Jafar trying to make a potion in his lab. "Ander's Gift" is a fun extended meeting of Ander when he unveils a gift for Jasmine–a cannon! "Wrong Wishes" gives us visual examples of poor wishes that previous masters of the Genie made, like being irresistible to women or everything they touch turning to gold. "Silly Old Fool" is a scene where Jasmine argues with her father. After she leaves, Jafar then talks to him alone and imagines yelling at him, but does not. Finally, in "Post Yam Jam Debrief," Genie scolds Aladdin for how he was acting.
Music Videos (11:34) – There are three music videos based on the film. First is "Speechless," sung by Naomi Scott in the studio, set to scenes from the film. Next are two versions of "A Whole New World" — One by ZAYN and Zhavia Ward, and another in Spanish ("Un Mundo Ideal"), by ZAYN and Becky G.
Digital Exclusives:
We Can Show You the World: The Extended Video Journal (6:04) – Here, we see some smartphone videos side by side with making-of footage and rehearsal footage, giving us an intimate behind-the-scenes look at the film. The Aladdin cast and crew talk about specific scenes, as well as the film's story. For example, we see Naomi Scott talking about the song "Speechless" and then see some of the on-set footage while she was filming it.
"Speechless" – Creating a New Song for Jasmine (3:53) digs deeper into the song, and is about how composer Alan Menken wrote the new song just for this film. We see a lot about how they filmed the song and how it was filmed all in one take.
Diamonds in the Rough: Fun Facts and More: There are 33 stills with captions–stuff like Easter eggs highlighting easy to miss treats hidden throughout the film (like Carpet building a sandcastle that is the Disney logo).
Character Journey separates the extras out specifically related to their individual characters. It's not necessary, because it repeats a lot, but they are separated as: The Diamond in the Rough (Aladdin), The Princess (Jasmine), The Genie, and The Villain (Jafar).
Environmental Concept Art features 28 highly detailed works of art for sets and scenes–from Jasmine's bedroom to Tower Aladdin to areas of the palace, and beyond.
Behind the Scenes shows us 32 behind-the-scenes stills with captions for each.
Lastly, Premiere and Event Gallery gives us 40 stills from the movie premiere night, giving us an intimate look at the stars at the movie's opening event!
– John DiBiase, (reviewed: 9/7/19)

Parental Guide: Content Summary

 Sex/Nudity: The only sexual content is a gag where the genie wears a dress and another where he tells Aladdin he needs to be specific with his wishes before he can "make him a prince" and then has a male prince appear for him (like he made a prince FOR him)


 Vulgarity/Language: None (although according to comments on IMDb, it contains a few mild Arabian curse words).


 Alcohol/Drugs: We see the genie with a martini in his hand a few times.


 Blood/Gore: None.


 Violence: Some mild spoilers ahead: The Cave of Wonders collapses on a man who tries to enter; Jafar throws a man down a dark well; Aladdin runs from soldiers (and knocks some over) through the streets and causes some mayhem; The magic flying carpet gets a tear in it; Jafar pushes Aladdin off a ledge; Aladdin almost freezes to death in a frozen wasteland he's banished to; Jafar magically freezes the Sultan, which causes him to struggle (and he appears to be in pain); We see Jafar grow into a large, menacing red genie; and some other fantasy violence.