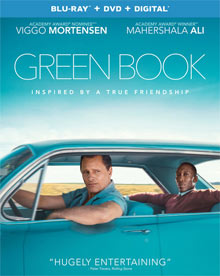 Green Book


– for thematic content, language including racial epithets, smoking, some violence and suggestive material.
Director: Peter Farrelly
Starring: Viggo Mortensen, Mahershala Ali, Linda Cardellini, Dimiter D. Marinov
Running Time: 2 hours, 10 minutes
Theatrical Release Date: November 16, 2018
Blu-Ray Release Date: March 12, 2019 (Amazon.com)
Plot Summary
A working-class Italian-American bouncer becomes the driver of an African-American classical pianist on a tour of venues through the 1960s American South. (adapted from IMDb)
Film Review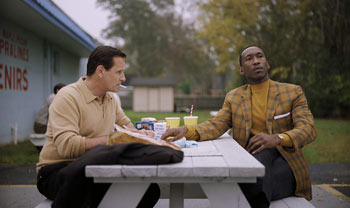 It seems that, in this current age of filmmaking, "inspired by a true story" movies are becoming more and more common. Furthermore, they seem like the kinds of films Hollywood has been making in an attempt to chase after Oscars. The latest contender is a good one, too, the inspiring comedic drama, Green Book.
In fact, I actually started this review weeks ago, before the Academy Awards took place for 2019, and realized I should finish this after hearing the news that this film not only won Best Screenplay and Best Supporting Actor (Mahershala Ali), but Best Picture!
Directed by one-half of the brotherly directorial team that brought you movies like Dumb and Dumber, Shallow Hal, The Three Stooges, and Dumb and Dumber To, Peter Farrelly's Green Book is a brilliant mix of the funny and the serious without ever venturing into "silliness." The humor is mostly situational, which works in the film's favor, while the drama also stems from such situations.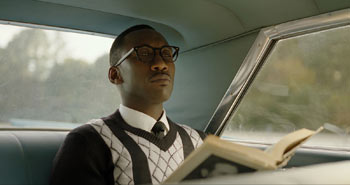 It still blows my mind to see Viggo Mortensen (Aragorn from The Lord of the Rings trilogy) embody the 1960's New York Italian character of "Tony Lip." Tony resides in the Bronx–also where my own Italian American father was born and raised–and carries on the old traditional ways of the Italian culture of the time. Viggo channels a bit of Joe Pesci in his portrayal of the character of Tony, but he's completely believable in the role, which is a real testament to his talents. Viggo is also a New York native, but he's hardly Italian, yet he pulls it off so well. While the old Italian ways are mostly long gone, and at least a generation removed from this traditional lifestyle, there's a great accuracy and nostalgia to how Tony and his family are portrayed. It's also, however, an accurate account of how serious racism was back then.
Honestly, when I think of the kind of racism exemplified by Green Book, I think of it having been eradicated by this point in our history. Sadly, especially in the "deep south," this was very much a serious problem in the early 60's, and this plays a huge part in Green Book. The story revolves around an Italian bouncer at a New York club taking a job for a wealthy African American classical musician to be his driver on a U.S. tour from the east coast to the south. Immediately, there's an intense culture clash as the two are from very, very different worlds. The film is very much based on the pair's real-life friendship, and while the movie has caught a great deal of flack for the "white savior" trope, I didn't think it came across as such. (I was actually really surprised to hear of these complaints about the film. But, alas, it's a reflection of the times we're living in right now I suppose.) If anything, I felt like their friendship enriched each other's lives. There's immense depth to their complex relationship, with both actors playing their parts exceptionally well. Ali becomes Shirley (at least a cinematic represenation of him), and Viggo really captures that New York Italian persona beautifully. The humor is also genuine and isn't done at the expense of the drama or heart of the film. When it gets serious, it gets very, very serious. But when it's funny, it's laugh-out-loud funny–and it feels right.
Ali definitely deserved an award for his portrayal as Shirley. The African American community…I can't even begin to imagine what life was like for them during this time. Mahershala Ali plays Shirley with great grace and charm, while showing a great vulnerability as well. In the film, he struggles with where race relations are and where he fits into the world. And as such, he tends to drink too much and get drunk pretty often as he tries to cope with his inner demons. Thankfully, Lip is there to help him out of some tough situations, but that's literally his job and what he's being paid to do. Italians weren't exactly viewed as high class at the time either, although they clearly didn't have to endure such intense segregation and discrimination, but this pair were definitely oddballs in society. And it's the fact that they're both black sheep of sorts that makes their relationship so endearing. They end up learning so much from one another, too. They inevitably butt heads time and again, but they are able to see past their differences to embrace a friendship that would end up enriching their lives until death.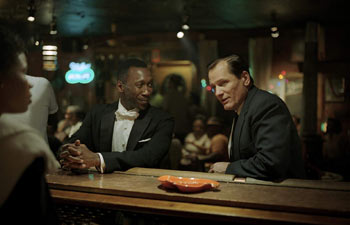 The content is a bit rough for PG-13, unfortunately, but mostly in the profanity department. Tony swears frequently, even using the "F" word twice in English and once in Italian. There's also quite a bit of blasphemy use, which is not uncommon for the time or the culture, but it feels really unnecessary. There isn't any explicit sexual content–beyond a couple jokes–but there's one scene that heavily implies that Dr. Shirley is gay. Tony receives a call that police are holding Dr. Shirley at a YMCA, and he arrives on the scene to find both Don and another man sitting naked handcuffed to a wall in a bathroom (they're sitting in a way that doesn't show nudity). The film doesn't focus too much on this, and never turns it into an agenda, but it does seem a little thrown-in to elicit some additional sympathy for Dr. Shirley. (I did a little research online, and apparently Dr. Shirley never revealed much about his personal life in this way, and so this may be more of an assumption about him than a truthful representation). Otherwise, there is some violence involving Dr. Shirley getting roughed up a couple times by racists in the south, and a scene at the beginning when Tony is seen roughing up a nightclub patron.
Green Book is one of those rare, sweet cinematic surprises that ends up being the kind of film you just keep thinking about and talking about. It's funny, heartbreaking, inspiring, and worth revisiting. It actually captures a bit of the old classic movie charm that seems scarcely found in today's Hollywood. I'm thrilled it won Best Picture; it deserves it.
– John DiBiase (reviewed: 1/23/19 and 2/24/19)
Blu-Ray Special Features Review

Green Book is available on Blu-Ray/DVD/Digital, DVD, 4K/Blu-Ray, and through the usual digital providers. Along with the film in high definition, the Blu-Ray disc and digital services include some extras that delve just a little bit into the making of the film. The picture of the film is crisp, colorful and vibrant in HD. I'm really surprised, for a film that just won Best Picture at the Academy Awards, and won Best Picture at the Golden Globes, that it only features three extras (and no commentary). Perhaps it'll get additional features down the road…Virtuoso Performances (4:11) is a featurette about the standout performances of Viggo Mortensen and Mahershala Ali. The cast and crew talk about the actors' craft, working together and their characters. Tony Lip's real-life son shares about the film and says that Viggo eerily captured him–"in a good way."
An Unforgettable Friendship (5:09) – Tony's son, Nick, helped provide the production team with research regarding the lives of Don and Tony, helping shape the story about a real friendship that lasted 50 years. (The real pair actually died within 3 months of each other!) This short featurette feels like a response, in a way, to the controversy some have tried to pin on the film for not being accurate enough. They address here how they even had talked to Dr. Shirley before he passed, and had used recordings Tony had made as reference for the character.
Going Beyond the Green Book (4:21) sheds some light on the history of the book's origin and the importance of it to our human history. Mahershala Ali speaks of how important it is for stories like this to tear down the walls of segregation, not only racially, but also in regards to gender and sexuality (which I think, frankly, is a topic that doesn't need to be addressed in the same breath as the subject matter of this film). They also talk a bit about who wrote the Green Book and when it stopped being needed.
– John DiBiase, (reviewed: 3/9/19)
Parental Guide: Content Summary

 Sex/Nudity: Tony tells Don that he heard from a guy that the women in Pittsburgh have large breasts, so they call it "titsburg." Don tries to make Tony see how ridiculous that sounds; Later, Tony complains that, after visiting Pittsburgh, the women didn't seem any different; Tony receives a call that police are holding Dr. Shirley at a YMCA, and he arrives on the scene to find both Don and another man handcuffed to a wall in a bathroom with both being naked (they're sitting in a way that doesn't show nudity). This implies that the two men were engaging in some kind of sexual act at the YMCA (and most likely while Dr. Shirley was drunk). When Don asks Tony to be discreet, Tony says that because he spent so much time working nightclubs, he's seen everything.


 Vulgarity/Language: Roughly: 2 "F" words in English, and a third in Italian; 24 "S" words, 13 "g*dd*mn," 2 "d*mn," 11 "h*ll," 1 "J-sus," 2 "Chr-st," 2 "J-sus Chr-st," 1 "S.O.B," 3 "pr*ck," 3 "b*stard," 3 "t*ts; There are some racial slurs in the film, including the "n" word; Tony rolls up to a stop light, and when two young people sitting in another car at the light next to them spot Don in the back, they begin to talk and stare. Without looking over, Tony raises his hand up, flashing his middle finger at them as they drive off.


 Alcohol/Drugs: Dr. Shirley frequently drinks too much at night and appears drunk, including stammering and stumbling around; We see people drinking in various clubs and bars throughout the film.


 Blood/Gore: When Tony throws a guy out of the Copa at the beginning of the film, we see him punching the man off screen and some blood splatters on Tony's face; Dr. Shirley has some blood on his face after getting roughed up by some thugs at a bar.


 Violence: Tony throws a guy out of the Copa at the beginning of the film, we see him punching the man off screen and some blood splatters on Tony's face; A police officer uses some racial slurs about Tony and Don, so Tony punches him in the face; Tony slaps a man in the face who insults Don; Don is beaten up by some thugs in a bar, so Tony threatens that he has a gun (which we never see). The bartender then holds a gun on them, telling them to leave (and they do); Tony pushes a maitre d' of a restaurant up against a wall when he insults Don, causing the wall to have a huge break in it; Tony fires a gun in the air, scaring off two guys who were hiding behind their car to mug them outside a club.