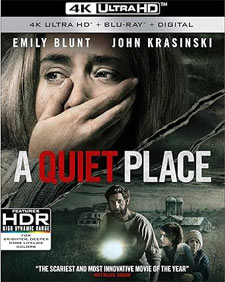 A Quiet Place


– for terror and some bloody images.
Director: John Krasinski
Starring: Emily Blunt, John Krasinski, Millicent Simmonds, Noah Jupe, Cade Woodward
Running Time: 1 hour, 30 minutes
Theatrical Release Date: April 6, 2018
Official Site
Blu-Ray/4K Ultra HD Release Date: July 10, 2018 (Amazon.com)
Plot Summary
A family is forced to live in silence while hiding from creatures that hunt by sound. (from IMDB)
Film Review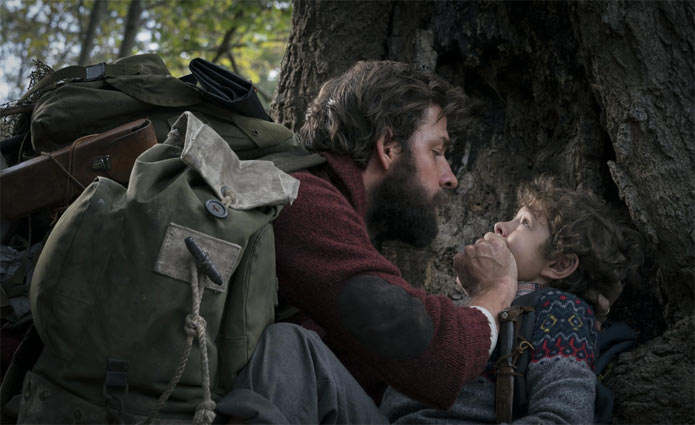 For a guy who's favorite movie is technically a horror-comedy (1984's Ghostbusters), I'm not a fan of the horror genre. To be fair, the horror genre is usually filled with slasher fare and purely sadistic gore-fests that are just dark for dark's sake (and frankly, just seem steeped in really evil content). Enter A Quiet Place. Nothing about it fits that description. And where many horror films are loaded with graphic violence, strong/pervasive profanity and sexual material and nudity, A Quiet Place offers not one profane word, not one bit of sexual content, and holds back from getting too graphic. Instead, it's a gritty, real, emotional, heartfelt and downright scary thriller.
It's hard to imagine a film like this was directed by the actor who played the practical jokester Jim Halpbert on TV's The Office. A Quiet Place is directed by John Krasinski, who also stars as one of the leads. Krasinski is joined by his real-life wife, Emily Blunt, playing his on-screen wife, Evelyn, and the pair are supported by two young talents playing their kids. The story solely follows the foursome as they try to navigate living life on a farm while blind monsters that hunt by sound roam the nearby lands. This forces the family to try to live in almost complete silence, using primarily sign language to communicate with one another. There's very little actual spoken dialog in the film, and Krasinski brilliantly uses sound in a way to enhance the story and make you more conscious of sound in your everyday life.
A Quiet Place is a very human story. The Abbott family are not only dealing with trying to live day-to-day life in near silence, but they're also coping with loss while trying to prep for a new baby on the way. The stakes are high, but the Abbotts must rely on their intincts and close bond with one another to get through each day. But the weight of their loss hangs heavy on the characters throughout the film, and it greatly impacts their decisions and relationships. It's a very real depiction of family and the parental (and sibling) burden. It doesn't hurt to know that Krasinski and Blunt are married in real life either; it lends an authenticity to the characters and their relationship and a deeper emotional bond for them. I found it all too easy to get deeply emotionally invested in the story and characters.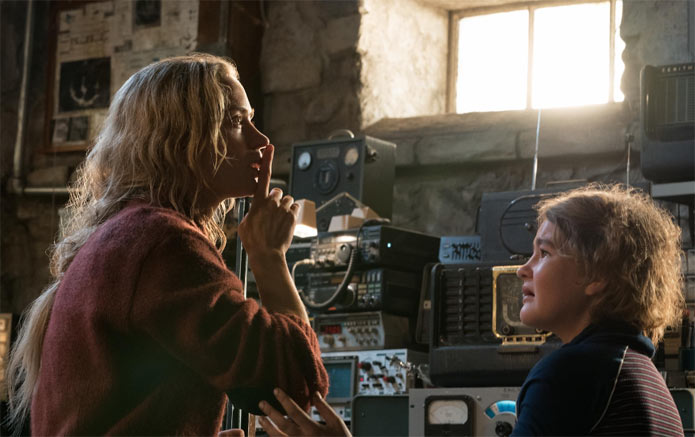 The monsters are a little unexpected in a way. I knew monsters would play a part in the film, but I was kind of surprised by how much. Krasinski also doesn't hold back from giving us a good look, either. Some movies, like Jaws or Cloverfield, for example use their menacing monsters sparingly, but A Quiet Place uses them very effectively and in a satisfying way. Design-wise, theyre suprisingly similar to the creatures from Stranger Things, but they're still unique enough to stand on their own here. It doesnt hurt that Lucasfilm's Industrial Lights and Magic lend their talents to the creature creation either. These things are dang scary, and the actors sell the horror of the terrifying situations beautifully. But let's not forget how crucial the score is. Composer Marco Beltrami is no stranger to horror (he composed World War Z, after all), and his pounding score adds so much tension and dread to each scary moment. Equally, he provides a lovely, more delicate score for the quieter moments before (and in between) most of the mayhem and terror. I haven't heard a score this harrowing and intense since last year's Dunkirk.
Regarding spiritual content, there's nothing at all spiritually dark or disturbing in the film. In fact, there's a moment where the family sits down to eat dinner together and they all hold hands and silently say a prayer together. That is literally the extent of the spiritual content; there are no demons or anything like that. There isn't even any blasphemy. As far as the other content goes, as I mentioned earlier, there is no profanity at all and no sexual content. (There are some minor spoilers ahead, but it mostly involves the "bloody images" specified in the MPAA rating.) Evelyn's character is pregnant and we see her water break and drip on the floor, as well as a scene of her starting to give birth (with blood inside an empty bathtub), but there is no nudity and nothing graphically shown. Aside from the relentless suspsense and terror, there are just a handful of scenes that feature some bloody imagery. A character accidentally impales their foot on a nail sticking out of a stair and we see a closeup of them struggling to pull their foot off of the nail (with some resultant blood). There's another scene where a couple characters are walking in the woods and they come upon a dead woman lying on the ground. As the camera pans down from her face to her torso, we see the start of what is apparently a gruesome fatal wound, but the camera cuts just before we see more than some bloody clothing on her body. Later in the film, we see blood on a character after they've been attacked by a monster, and there's quite a bit of blood following the aforementioned birth sequence. There's also a pretty bloody aftermath when a monster is wounded.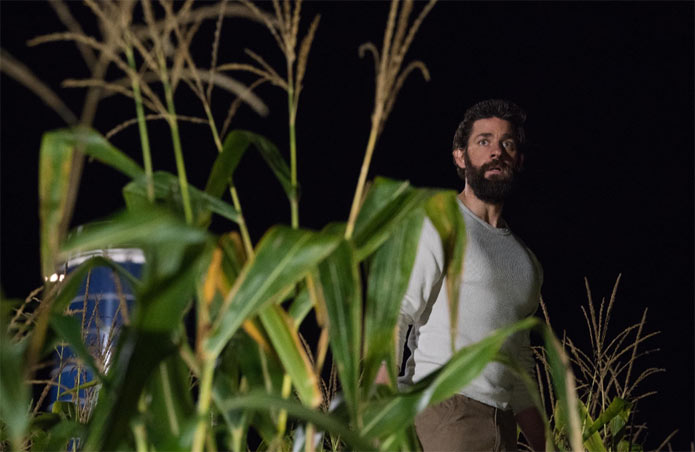 A Quiet Place is fantastic. It's a moving, intense and gripping thriller that is likely to stick with you long after you leave the theater. The content is light in some respects, but it's entirely terrifying and creepy and certainly not for the faint of heart or younger audiences. But if you want something that's the theatrical equivalent of a rollercoaster that will also hit straight at the heart, A Quiet Place is something to scream about.
– John DiBiase (reviewed: 4/11/18)
4K UHD / Blu-Ray Special Features Review

Along with the feature film in 4K UHD, the 2D Blu-Ray disc and digital copy of the A Quiet Place are the following Extras:
A Quiet Place in 4K UHD – The 4K version of A Quiet Place, with HDR (High Dynamic Range), is beautiful. It's a slightly grainer picture than some other 4K discs I've seen–and I could have sworn I occasionally saw dust on the film (which shows a flash of a white speck during a given shot), but it's minor. 4K is still crisper with more brilliant colors than Blu-Ray, so while this is not the best 4K transfer I've seen, it's still very good.
Creating the Quiet – Behind the Scenes of A Quiet Place (14:45) – This great little featurette opens with explaining the origin of the film's story. Here we learn that two writers had the idea, pitched it to John Krasinski, and he agreed to do it. He actually decided to do his own pass at the script himself, minimizing the horror element of it a little, and then wanted to take on the director's role, as well as star in it. Krasinski then takes over much of the discussion about the film and its story, revealing how his wife, Emily Blunt, decided to take the role (after first being rather reluctant). We see lots of great behind the scenes stuff here, and hear from the cast as they talk about the project.
The Sound of Darkness – Editing Sound for A Quiet Place (11:43) talks about the power of sound and how important of a role it plays in this story and film. They also talk about the way they used it here, and even how they had scaled it back and utilized less music than originally intended, trying to minimize noises and sound. They actually play some of the original sounds from December 2017's cut of the movie and compare it to the final cut. (1 "Oh my G-d")
A Reason for Silence – The Visual Effects of A Quiet Place (7:33) is about designing the creatures in the film and how ILM created the effects we see in the movie. Michael Bay's team from Transformers had helped on the sound and design of the film, and Krasinski had nothing but great things to say about all of it. We see some early creature design concepts here, hear about the origin of the monsters, the different revisions to the design, how sound came into play, and how they'd used motion capture technology to bring the creatures to life. There's even a great example shown of how they had an actor move like the creature and then they inserted the creature realistically via digital effects afterwards.
On iTunes: Image Galleries – I'm not sure if it's exclusive to the iTunes digital copy, but if you view the iTunes version, you get additional image galleries, separated into four categories: Atmosphere, Behind The Scenes, Creature Design and Production Design. The photos are really neat and a great addition to the extras for the film.
– John DiBiase, (reviewed: 7/11/18)

Parental Guide: Content Summary

 Sex/Nudity: None.


 Vulgarity/Language: None.


 Alcohol/Drugs: None.


 Blood/Gore: Some Semi-SPOILERS ahead… In a dimly lit scene, we see a racoon explode in a spray of blood when a monster quickly smashes and grabs it; Evelyn accidentally steps on a nail on a stair step and we see blood as she pulls her foot off of it (in close-up). We see some blood on the stair afterwards and we see her leave some bloody footprints; Lee and his son see a dead woman lying in the woods. There's a little bit of blood on her face and her eyes are open. As the camera pans down her body, we see the beginning of a very bloody wound, but the camera cuts back to their horrified reactions as they see the rest; A man is slashed by the monster and for a split second we see a bloody cut across his abdomen as he falls (but we see this from a distance); We see blood in a tub Evelyn sits in as she starts to give birth; Lee finds a tub empty with blood all over the inside of it; A bloody hand slaps the inside of a shower door. We then see inside where there's more blood after Evelyn has given birth; A person has blood on their clothes on their side after being hit by the monster; A monster's head explodes in a splatter of blood after being shot.


 Violence: Some Semi-SPOILERS ahead… A man runs toward a child in danger and we see the child suddenly swept away by a monster. We see this again when someone is dreaming later in the film; In a dimly lit scene, we see a racoon explode in a spray of blood when a monster quickly smashes and grabs it; A man screams and two people run away to hide. We then see a flash of monsters attacking the main in the background in the distance; Many scenes of people hiding from monsters as they creep up around them and behind them; A person screams in fear and pain as they're giving birth while being terrorized by a monster on the hunt; A kid falls through a silo roof and sinks into seed below. Another kid jumps in to help and sinks under the surface. The other child pulls them out. A monster attacks them and stabs through a piece of metal they hide behind; A child reacts in pain a few times to interference in their homemade hearing aid; A person swings an ax at a monster but it hits them and the person goes flying; A person has blood on their clothes on their side after being hit by the monster; A person is attacked and killed by a monster; A monster's head explodes in a splatter of blood after being shot.