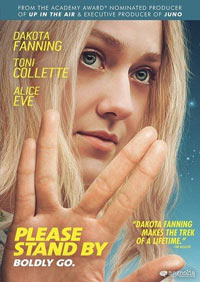 Please Stand By


– for brief strong language.
Director: Ben Lewin
Starring: Dakota Fanning, Toni Collette, Alice Eve, River Alexander, Michael Stahl-David
Running Time: 1 hour, 33 minutes
Theatrical Release Date: January 26, 2018
Official Site
DVD Release Date: May 1, 2018 (Amazon.com)
Plot Summary
A young autistic woman runs away from her caregiver in an attempt to submit her manuscript to a "Star Trek" writing competition. (from IMDB)
Film Review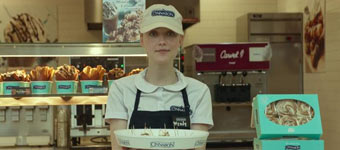 As an introvert myself, I know from experience that venturing outside of one's comfort zone isn't easy. That means different things to different people and personality types, but being forced out of that cozy place can be terrifying, yet ultimately rewarding. Please Stand By is a modest indie film about a 20-year-old girl with crippling autistic issues who goes on a road trip in an attempt to better her life.
Dakota Fanning paved for herself an impressive child-actor career, starring in such films as War of the Worlds, Dreamer, Uptown Girls and later Push (opposite Captain America himself, Chris Evans) and the Twilight movies. She has dwelt more so in the independent underground as she's grown, but it's good to see her exercising her acting talents in a central role like this one once again. Fanning is convincing as the autistic Wendy, who loses herself in a love for anything Star Trek as a way to help her cope with her life and fragmented family. She relates more to the emotionally-challenged Spock than anything, and her view of the relationship between Kirk and Spock is more telling about her personality than you may realize at first. But it isn't long before we learn that Wendy has been writing a script for a Star Trek script-writing contest in hopes of using the money from winning to help her leave the special care facility she's in, and move home with her sister.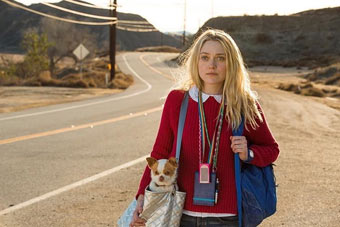 Please Stand By has the look and feel of a low budget indie film. It's fitting for this kind of story, and it lends to the real, intimate feel of the character's journey, but there are certainly moments where some side characters and extras are clearly either not actors or just not very good ones. Fanning, and acting support from the likes of Toni Collette and Alice Eve, help sell the film, however, and carry it well. Things are rather slow-going to start, though; it isn't really until Wendy sets out on her journey that the movie seems to come alive. Even if the viewer doesn't struggle with the same issues that Wendy does, we can relate to the kind of passion she exhibits and the determination she has — but some viewers may find it difficult to get to this point in the film.
Extremely Loud and Incredibly Close was a film that dealt with Asperger syndrome, with the central character being a boy who struggled with this condition who set out on a journey of discovery as well. However, in that film, our little hero was tough to connect with. He wasn't very likable and that ultimately hurt the film's impact. Fanning at least makes Wendy likable, for the most part, even if her social awkwardness is anything but warm and inviting. She still has moments where you "get" her. In the end, you're rooting for this girl to defy all odds to achieve her goals.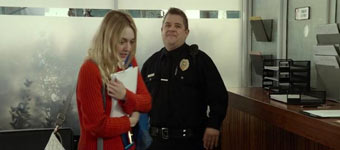 The content for the film isn't horrible, but they did manage to needlessly include one use of the "F" word (most likely to ensure a PG-13 rating, instead of PG). There are a few other swear words, but it's rather infrequent. The only violence is an off-camera car accident and a few little outbursts from Wendy (one is on a home video her sister is seen watching where she's hitting herself in the head with her fist). There's also no sexual content present. It's a fairly mild film, but the subject matter would keep it from being one that families will want to tune in all together for.
Please Stand By is an enjoyable little film, but it's certainly not for everyone. As mentioned before, the beginning is a bit sluggish, as Wendy's story is established, but once she sets out on her journey, it's much easier to want to follow along on her trek with her. The pacing and some of the supporting characters hold the film back from being stronger, but if you're up for a low budget indie film with a strong central cast, you might just find Please Stand By to be just what you've been waiting for.
– John DiBiase (reviewed: 4/30/18)
DVD Special Features Review
Deleted Scenes (3:57) – There are four deleted scenes, all revolving around Scottie's son, Sam. The first shows Sam stealing medication from his mom's office (1 "S" word). The next scene shows Sam getting caught while trying to sell it and his mom reprimanding him (1 "S" word). The following scene is a little moment where Scottie watches Sam sleep in a hotel room bed, and then it's followed up by an extended version of an earlier scene where Scottie asks Sam what a tribble is. In this version, Sam tells his mom he's going out and then rudely criticizes her inability to make lasagna. Each one of these scenes would have been terrible to have in the film. It was smart to cut them out. The added subplot of Scottie's son being a problem would have felt really forced and out of place in the film. The version of Sam in the finished movie feels so much like a pure, sympathetic distant ally for Wendy.
Making of Please Stand By (6:28) – In addition to the trailer, the only other special feature is a short making-of featurette. In it, they talk about the theme of autism in Wendy's case, and the cast and crew talk about the story and the theme of the film.
– John DiBiase, (reviewed: 4/30/18)
Parental Guide: Content Summary

 Sex/Nudity: As Wendy talks about her routine in via narration, she mentions getting her period and doing things to try to remember that she has it; We briefly see Wendy in the shower, but from behind and from her shoulders up. (There's no real nudity)


 Vulgarity/Language: 1 "F" word, 2 "S" words, 1 "sucks," 1 "b*tches," 2 "Oh G-d," 2 "h*ll," 1 "d*mn," 1 "cr*p"


 Alcohol/Drugs: None.


 Blood/Gore: In Wendy's fantasy about Kirk and Spock, we see one of them is injured. When she lifts the mask on the other, we see blood on her sister's mouth.


 Violence: We see a home video of a young Wendy throwing a tantrum and hitting herself in the head with her own fist; Wendy has her iPod and notebook hanging around her neck like a necklace. A man rips it off of her neck and runs off with it; We see a man starting to fall asleep while driving and the screen goes black as the van starts to veer off the road toward a pole; In Wendy's fantasy about Kirk and Spock, we see one of them is injured. When she lifts the mask on the other, we see blood on her sister's mouth.