Murder on the Orient Express


– for violence and thematic elements.
Director: Kenneth Branagh
Starring: Kenneth Branagh, Michelle Pfeiffer, Josh Gad, Daisy Ridley, Willem Dafoe, Judi Dench, Penelope Cruz, Leslie Odom Jr.
Running Time: 1 hour, 54 minutes
Theatrical Release Date: November 10, 2017
Official Site
Blu-Ray/4K Ultra HD Release Date: February 27, 2018 (Amazon.com)
Plot Summary
Kenneth Branagh directs and leads an all-star cast, including Johnny Depp, Michelle Pfeiffer, Penélope Cruz, Judi Dench and Leslie Odom, Jr., in this stylish, suspenseful and thrilling mystery based on the best selling novel by Agatha Christie. Everyone's a suspect when a murder is committed on a lavish train ride, and a brilliant detective must race against time to solve the puzzle before the killer strikes again. (from Twentieth Century Fox Home Entertainment)
Film Review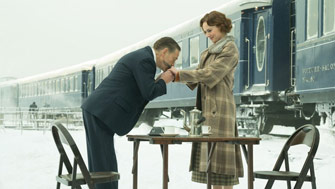 I love old movies. This probably isn't news to anyone who's been reading these movie reviews for a while, but classic films were things my family shared with me since a young age. Among them were murder mysteries, which, back then, were seldom gruesome and focused more on characters and the sleuthing than the shock of the murder itself. Some of my favorites were The Thin Man films, which spanned six movies starring William Powell and Myrna Loy. That series wonderfully mixed comedy with colorful characters and genuine mystery (and the second film, After The Thin Man even starred a newcomer named Jimmy Stewart!). But some of the most famous murder mystery stories were written by an author named Agatha Christie whose stories have been adapted for the small and big screen many times over the years. Acclaimed actor/director Kenneth Branagh took on the daunting task of adapting one of Christie's most known stories, Murder on the Orient Express, himself, stepping into the lead role of detective Hercule Poirot as well as taking a seat in the director's chair. The end result is one very entertaining throwback.
Branagh assembles an impressive team of young and veteran talent, including the likes of Michelle Pfeiffer and Star Wars newcomer Daisy Ridley, as well as the likes of Josh Gad, Johnny Depp, Judi Dench and Willem Dafoe, to name a few. But it's not just a "Hey! I recognize them!" kind of cast; these A-listers bring a lot to the film, including humor, sophistication and emotion. But Murder on the Orient Express is hardly the summer blockbuster audiences are accustomed to. It does have a few exciting moments, but, for the most part, Murder on the Orient Express is a slow-paced mystery that feels more like the films of yesteryear than the late 2010's. In fact, it's so much so that sometimes the mini bursts of action feel a little out of place — like they're intentionally trying to cater to the short attention spans of modern audiences. But it's a realistic concern that most audiences just won't be interested in a film like this today otherwise. (Audiences have proven time and again that star power isn't enough and does not automatically guarantee a hit for studios.) Sadly, these types of films are hidden gems, and moviegoers miss out on some really great films by limiting their style of entertainment.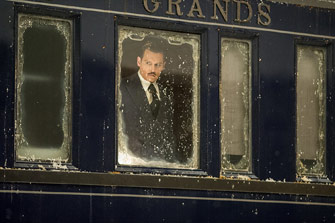 With that said, Murder on the Orient Express is a murder mystery. With that, you can expect some violence, and it's violence that is the main content issue for some viewers. The titular murder is rather gruesome, and while we don't see explicit details, there's a long overhead view of the body with blood-soaked clothes on and bloody bed sheets nearby. A later scene shows a character with a knife sticking out of their back and it being pulled out (with some blood on the end). Later, a character is shot and we see some blood on their hands. Finally, the most disturbing scene shows the victim being stabbed, albeit off screen, and the way it's handled is pretty heavy. There is a little language, but not much, with it mostly being a couple uses of "h*ll" and "d*mn." However, there is some blasphemy too, including a couple uses of "g*dd*mn" and "Oh G-d" as exclamations. There isn't really any sexual content (although it's hinted at with Bouc and a call girl running into a restaurant kitchen in search for a private place), but there are a few subtle comments or flirtations, mostly from Pfeiffer's Mrs. Hubbard.
Kenneth Branagh is wonderful as Hercule Poirot, and he does an incredible job pulling double duty as director and leading man. The cinematography is beautiful, the acting is solid, and it's a "whodunnit" that'll keep you guessing till the end (although the result is bound to polarize audiences). The movie nicely sets up another adventure for Poirot to embark on, with a sequel already tentatively planned for 2019. It's hardly perfect, but Murder on the Orient Express is quite enjoyable and a reminder of what the golden age of cinema used to offer.
– John DiBiase (reviewed: 2/27/18)
4K UHD / Blu-Ray Special Features Review
Murder on the Orient Express is available in a 4K UHD/Blu-Ray/Digital Combo Pack, Blu-Ray/DVD/Digtial combo pack, on DVD/Digital, and separately through the usual digital movie providers. I've seen a handful of 4K UHD movies so far, and honestly, Murder on the Orient Express is so far the crispest, most colorful and most stylish transfer I've seen in this newer format yet. Along with the 4K disc is a standard blu-ray disc, and that disc (along with the Movies Anywhere iTunes digital copy) comes with a wealth of special features — including a feature-length commentary from Kenneth Branagh, a photo gallery, trailers, and the following extras: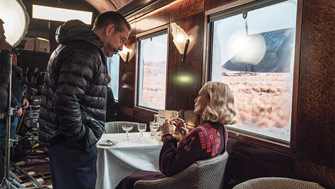 Agatha Christie: An Intimate Portrait (19:04) – This is a great featurette about Christie and her novels, and how influential her works were. Her own grandson shares his thoughts on her legacy — and we even get to hear some audio clips of Agatha herself!
Let's Talk About Hercule Poirot (9:55) – Agatha's grandson and Branaugh discuss the character of Poirot, as well as other historians. They also talk specifically about Christie's design of the characters and stories and Branaugh's take on the character. (It's interesting to hear them talk about the character as if he were a real person.)
Unusual Suspects: Part One (5:59) – I'm not sure why, but this segment is separated into three parts, broken up by other featurettes. Part One features Kenneth deconstructing the cast, focusing first on Johnny Depp's Ratchett, then Derek Jacobi and Josh Gad with their characters. The cast also talk about their characters and working with each other.
The Art of Murder (16:23) is an in-depth look at making the film, Branagh's direction and taking on the role, and the cast and crew talking about him. Branagh also talks about the story, set design, how they built a train for the movie, as well as other grandiose sets. There is some really great behind-the-scenes footage included here. And the featurette concludes with a look at the beautiful costume design. (1 "d*mn")
Unusual Suspects: Part Two (5:56) covers Daisy as Mary, Penelope's character–whose character is actually from a different book, kicking out the original character of Greta; and Judi Dench's character — and how Branagh got her to sign on for the role! (1 "g*dd*mn froma a scene in the movie, spoken by Mrs. Hubbard)
All Aboard: Filming Murder on the Orient Express (16:35) is about how the train action was filmed. Branagh also talks about shooting in 65mm film, which is seldom done anymore. They talk about building the Wailing Wall in Malta, recording footage in New Zealand to project behind the train as if it were actually moving, mounting the train on a gimbal, filming the emotional stabbing scene (which the actors talk about), and more.
Unusual Suspects: Part Three (6:49) addresses the diversity of the cast, including the characters of Pierre, Marques (a new character), the doctor, the Count and his countess — as well as Poirot's sidekick of sorts, Bouc.
Music of Murder (7:31) is lead by composer Patrick Doyle who talks about writing the score and the different themes throughout the film. He also reflects on the emotional theme in the finale, and we see some great footage from the scoring sessions.
Deleted Scenes with Optional Commentary (15:36) – There are over a dozen deleted scenes, accessible with a Play-All function. Most of them don't add a whole lot, but if you enjoyed the film, they're worth a look. "Alternate Opening" (1:19) shows Armstrong watching family videos, while "Newsreel Extended" (0:55) is a mock news account of the Armstrong murder case. "Breakfast" (0:36) adds on to the Wailing Wall sequence where Hercule is attacked and defends himself with his cane… and then accidentally breaks his breakfast eggs. "Hotel Check-In" (0:48) shows Hercule receiving news of his accommodations. "Arasta Bazaar Extended" (4:59) shows more of Ratchett and Hercule, and the dancer beating guys up at the bar. The "Train Montage" 14-second snippet isn't much different, while "Departure" (1:07) just shows the train leaving the station. "Poirot Bedtime Rituals" (1:06), and two subsequent scenes (Bedtime Alt – 0:29 and Alt 2, 0:30), are rather silly and don't add much. In them, they're various takes of Hercule combing his mustache and clipping nose hairs while wearing some kind of male corset. "Pierre Michel Interview" (2:06) just adds a scene where Poirot questions Pierre, which is followed by a slightly longer "Luggage" (0:40) check moment, and concludes with a peek into Poirot's mind as he imagines who the killer might be.
– John DiBiase, (reviewed: 2/27/18)
Parental Guide: Brief Summary of Content

 Sex/Nudity: Bouc runs into Poirot in a restaurant kitchen where Bouc was trying to hide with a prostitute to "sleep" with her quickly. He jokes about it with Poirot briefly, but nothing seems to happen between Bouc and the woman; Mrs. Hubbard makes a comment about knowing what it feels like when there's a man in her room; Ratchett and Hubbard share a flirtatious moment.


 Vulgarity/Language: 2 "g*dd*mn," 5 "d*mn," 4 "h*ll," 1 "G-d," 2 "Good G-d," "1 "My G-d"


 Alcohol/Drugs: Mary mixes two wines together and drinks it; There is some other drinking on the train; Nervous, McQueen drinks from a flask; We learn of a woman being addicted to barbitol.


 Blood/Gore: We see a very long overhead view of a very bloody, clothed dead body, with rips in the clothes and blood on the bed sheets; We see a knife sticking out of a woman's back (she's still alive) with some blood on knife and her shirt when it's pulled out; A man is shot in the arm and we see blood on his hand; We see a bloody handkerchief; We see the original murder victim in the background with blood on their mouth.


 Violence: An accused man runs away from the police but is clothes-lined by a cane sticking out of a crack in a wall; The Count beats up some photographers in a restaurant after his picture is taken. A man takes a picture of him and after the Count looks his way, the photographer smashes his own camera on the floor; An avalanche derails the train and people inside fall out of their bunks; Poirot uses his cane to break a cabin door's lock; We see an overhead shot of the bloody, dead body; We hear a story of a little girl that had been murdered, and the mother was so distraught she lost the baby she was carrying at the time; A book is set on fire; A man falls off a ladder and two men struggle and fall from the scaffolding under the train tracks (they're not hurt much); We see a knife sticking out of a woman's back (she's still alive) with some blood on knife and her shirt when it's pulled out; The Count angrily slams his fist on a dresser; The Count shoves the inspector out a doorway into the hall; A man is shot in the arm; There's a rough struggle and fight over a gun. The attacker is then hit over the head from behind, getting knocked out in the process; We see a flashback of a person stabbing another person in the back; We see the murder covering the victim's mouth and stabbing the victim off screen (rather disturbing); A person tries to shoot themselves in the head but the gun isn't loaded.