Daddy's Home 2

** (see below notation)
– for suggestive material and some language.
Director: Sean Anders
Starring: Will Ferrell, Mark Wahlberg, Linda Cardellini, Mel Gibson, John Lithgow, John Cena, Alessandra Ambrosio, Scarlett Estevez, Owen Vaccaro
Running Time: 1 hour, 40 minutes
Theatrical Release Date: November 10, 2017
Official Site
Blu-Ray/4K Ultra HD Release Date: February 20, 2018 (Amazon.com)
Plot Summary
When it comes to raising their kids, Dusty (Mark Wahlberg) and Brad (Will Ferrell) finally have this co-parenting thing down. That is, until Dusty's macho dad (Mel Gibson) and Brad's sweet-natured father (John Lithgow) come to town, throwing the whole family into complete chaos. As old rivalries create new problems, Dusty and Brad's partnership is put to the ultimate test in this hilarious and heartwarming comedy that gives new meaning to the term 'blended family.' (from Paramount Home Entertainment)
Film Review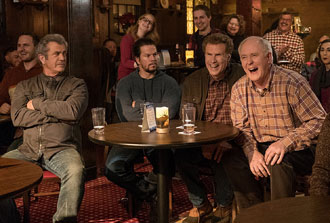 Sometimes it's a bit baffling as to why sequels are made. 2015's Daddy's Home was a decent comedy, reteaming The Other Guys' Mark Wahlberg and Will Ferrell as a stepdad vs dad trying to win over their family. It certainly had its moments, but some really crude humor definitely limited the film's reach. Still, it did well enough at the box office to warrant a sequel (at the request of the studio), and in 2017, we were given Daddy's Home 2, a story that builds on what was created the first time around.

At the end of Daddy's Home, Wahlberg's Dusty and Ferrell's Brad — the stepfather to his children — had made peace with each other. By the start of Daddy's Home 2, the guys have become pretty good friends, but things get complicated really fast when, at Christmastime, the boys' fathers both come to visit. Mel Gibson plays Dusty's womanizing, unavailable and opinionated father, Kurt, and John Lithgow plays Brad's soft, rambling, loving goofball of a dad, Don. After Kurt recommends the two families collectively vacation for Christmas at a log cabin, the close quarters ratchets up the tension for everyone.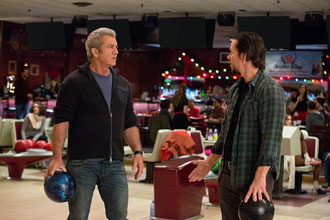 First off, I hadn't realized that Daddy's Home 2 is essentially a Christmas movie. The entire story takes place leading up to Christmas and during Christmas. In fact, Daddy's Home for Christmas probably would have been a more fitting title. But from the start, with Dusty and Brad getting along, it's a much more enjoyable affair. And adding Lithgow and Gibson to the mix is a great deal of fun. But it doesn't take Kurt long before he starts trying to derail everyone's holiday spirit and does the best he can to spark fights among the families. There are a lot of funny moments along the way, but by the time we get to the climax of the story, there are so many "bad vibes" going around that the film struggles to balance the bitterness and comedy. In some ways, the sequel improves upon the original, but that probably isn't saying a whole lot.
It's a bit obvious going into Daddy's Home 2 that a sequel was never planned — something the director admits in the film's extras. For starters, the film ends with two jokes that sew up the film with cameos that upset the balance of the family and two main stars. Supermodel Alessandra Ambrosio appeared at the end of the first film as Dusty's new wife, and WWE star John Cena made a cameo as her ex-husband–and Dusty's foil. (It's a similar problem that Back To The Future encountered when the studio asked for a sequel, and the original film had ended with them on their way to the future–with Marty's girlfriend in tow. It was never the filmmakers' intentions for that to be the setup.) For Daddy's Home 2, the production is kind of stuck with Ambrosio–who's not really an actress–as Dusty's wife, but they do a pretty good job not trying to give her more than she can handle, so she doesn't stand out too much for not fitting in with the team. Cena is … well, Cena. He's not really an actor either, but audiences are used to seeing him in films as he's trying to transition more into being an actor.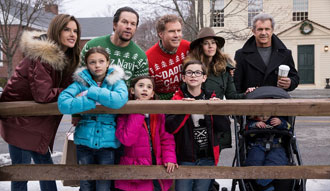 This time around, the film does seem like they tried to tone the content down a little for families. Still, the PG-13 rating is warranted, mostly due to some awkward or crude moments. There's also some comedic violence, the worst of which has one of the characters accidentally getting shot in the arm with some blood on their clothes and the ground behind them. There is some language, but not nearly as much as the first film, with only a couple uses of the "S" word this time, and the rest being "*ss," "h*ll" and "d*mn," mostly (and a surprising "d*ckhead"). There's a running joke about the fathers having to tell little Dylan about girls and giving him "the talk," and the two young girls in the family get drunk in one scene off of alcoholic eggnog. The littlest one, Megan, also gets excited about using a shotgun to hunt a turkey, and we see her fire several times at an off-screen animal. When Dylan finally makes good use of mistletoe in the film's finale, we see a bunch of girls line up to kiss him, and then a little boy looking ahead in line with a big grin on his face (excited to potentially kiss Dylan himself). I get that it's played for laughs, but it seems extra creepy that the gag involves young children.
Overall, if you liked the first film, Daddy's Home 2 should be right up your alley. If you found the first film too crass, this one is a bit better, but it still is more of a film for adults than families (even if it does attempt to aim for a wider audience). The movie gets off to a pretty good start but starts to unravel by the end, limping to the finish with a final sequence that takes place entirely inside a movie theater. It then turns into a feel-good fest — even more so than the first movie — but is presented in a way that's much too heavy-handed and sloppy in the process. Still enjoyable for the most part, Daddy's Home 2 is a better sequel than it deserves to be, but I'm still not sure that's saying much.
– John DiBiase (reviewed: 8/10/17)
4K UHD / Blu-Ray Special Features Review
Daddy's Home 2 is available in a 4K UHD/Blu-Ray/Digital Combo Pack, Blu-Ray/DVD/Digtial combo pack, on DVD, and separately through the usual digital movie providers. This is officially our first 4K UHD review, and while I admit, at this point, I've only watched a handful of 4K disc releases, I was mostly impressed with the Daddy's Home 2 4K treatment. I'm a firm believer in Blu-Ray being the ultimate format, so I'm not quite on board with necessarily even a need for 4K at this point, but the color saturation alone is a pretty nice upgrade with 4K. It seems as though the picture can get a tad fuzzy or maybe pixelated in some shots (which, admittedly, could just be a setting on my TV?), while most moments are as crystal clear as you can imagine. And being that this is a comedy and not a special effects spectacle, you might not see a need to go for the 4K release, but I at least recommend seeing it in HD on Blu-Ray.Making a Sequel (4:51) – The first featurette confirms our suspicions that there had never been plans for this sequel. Director Sean Anders admits that it was the studio that asked for it and Anders resisted until he and his team put together a story for it. This featurette shows a lot of B roll footage, and features the actors talking about the project.
Look Who's Back (7:17) is all about the cast that returns and reunites from the first film. Everyone seemed really excited to get to work with one another once again.
Co-Dads: Will & Mark (6:36) addresses the film's theme of family and everyone getting along (or NOT getting along) and how things have evolved since the first film.
The New Dads in Town: Mel & John (7:37) is dedicated to Dusty and Brad's own fathers, played by Mel Gibson and John Lithgow. (1 "S" word, 1 "Oh my G-d")
Captain Sully (2:18) – This is dedicated to the cameo of Captain Chesley Sullenberger (yes, from the movie Sully) and his appearance at the end of the film. (1 "Oh my G-d")
Gag Reel (3:41) – The gag reel isn't super funny, but it's still fun, utilizing mostly a bunch of messed up lines and some goofing off on set. (There are 2 "Oh G-d" and some bleeped "S" and "F" words, with 2 possible soft audible uses of the "S" word)
There are six Deleted / Extended / Alternate Scenes with no "Play All" option (at least not on iTunes). "Cabelas Extended" (3:59) is actually much too long, fleshing out the scene where Kurt encourages Dylan to get a rifle. "El Padre Stink Eye – Alternate" (0:46) is a great little moment where Gibson gives Ferrell a deathly stare (which ends with Ferrell cracking up). "Kurt's Firewood – Deleted" (0:30) is a moment deleted from the film's trailer which shows Kurt chopping wood, not realizing the cabin has a gas fireplace, not one that takes firewood. "Really Brad Advice – Extended" (3:58) is more of Brad trying to give Dylan advice about girls and getting used to the "friend zone," but it doesn't add much value to the scene. "The Wise Man – Deleted" (1:33) is a sad little scene that shows Don drinking at a bar while dressed as a wise man from the Nativity. Finally, "Yammering Don – Deleted" (0:33) is just more footage of Don standing around rambling about working as a postman in the past.
– John DiBiase, (reviewed: 2/19/18)
Parental Guide: Brief Summary of Content

 Sex/Nudity: Karen (supermodel Alessandra Ambrosio) is clearly wearing no bra under her tank top shirt, which causes Sara to feel self-conscious towards her sexiness. We see Karen in similar cleavage-revealing clothing during the movie; Kurt tries telling a joke and starts out saying "two dead hookers washed up on shore," before the parents cut him off; There's a lot of talk about giving Dylan "the talk" about girls, as well as Brad having been given "the talk;" In a flashback, we see Kurt in the audience rubbing a woman's foot during a school play (apparently another kid's mom), and then they walk out together and stop to make out some. There's talk about all of his promiscuity; We see Brad in just his underwear when he stands up after his inner tube crashes; The young girls tease Dylan about wanting to "French" a girl he likes. Brad tries to give him advice and starts a birds-and-the-bees type talk, mentioning that boys "have a dangle and girls have a –" but Dylan stops him and says they learned that in school and it's gross; Kurt is seen flirting with a girl at a bar and then walking out with her. He then arrives back at the cabin in the morning, hinting that he slept with the woman; Don partakes in an improv skit about walking in on his wife having an affair with another man. It starts to get all too personal to Don and he begins reacting dramatically as it is something that actually happened to him; Girls line up to kiss Dylan under the mistletoe, and then we see a young boy pop his head out from behind the line of girls and smile (implying he's gay)


 Vulgarity/Language: 1 incomplete "motherf–" in a movie they're all watching; 1 "S" word, 5 "d*mn," 2 "h*ll," 1 "Oh G-d," 4 "a" words, 1 "*ssh*le," 2 "b*stard," 1 "Dear G-d," 2 "b*lls," 2 "cr*p," 8 "Oh my G-d," 1 incomplete "Son of a–;" 1 "p*ss off;" 1 "G-d;" 1 "Eff you" (said just like that); 1 "b*tches;" 1 "d*ckhead;" 1 "t*t;" Kurt gives the finger through a car window to Dusty. Although he's wearing a mitten when he does it, you can tell he's trying to flip Dusty off.


 Alcohol/Drugs: We see Dusty, Brad and Kurt drinking beers in Brad's living room; There's a big bowl of alcoholic eggnog in the cabin and the young (very underage) girls express interest in it. Karen says they can, but Sara refuses to let them have any; We see the men at a bar drinking beer and shots; Don pours liquor; The young girls steal the eggnog bowl; We see little Megan is drunk and slurring her words. Her step-sister, Adrianna is also drunk and falls off the top of the manger;


 Blood/Gore: We see Don's barefoot which looks badly frostbitten and gross, but Don says it's a curse from being a mailman; Kurt has blood on his coat and blood on the snow next to him after he's shot by accident in the arm;


 Violence: While Brad is in a park, a tetherball ball whacks him in the face and then a kid on a swing collides with him; Brad backs his car into another car; Sara's inner tube gets flipped over by accident while Brad's loses control after he accidentally loses his grib on his little son's tube. Brad's tube hits a window after he flips over; The young girls hit Dylan in the back of the head with a snowball; Dylan is hit in the face with a snowball; Brad accidentally pulls an outdoor Christmas fixture down while trying to set it up; Brad loses control of his snow blower and it starts reeling in the Christmas lights, eventually pulling the blower up the side of the house and Brad along with it. It then drops the blower onto the roof of Dusty's car, smashing it; Kurt hits Don in face with a pillow; Dusty convinces Brad to cut down a tree, but Brad accidentally cuts down a cellphone tower. It crashes, shocking him in the process and knocking him out. The chainsaw flies through the air and Dusty catches it before it lands on Brad; Brad finds Don lying in the snow facedown with wolves rolling on top of him; Brad spills hot cocoa on himself and yells in pain; Megan tries to shoot a turkey but it charges her. She gets scared and falls back, accidentally shooting Kurt in the arm. She then gets up and shoots the turkey twice off screen; Kurt knocks Mark over. Then they wrestle a bit by putting each other in choke-holds; A snowball hits Don in the face; Another snowball hits Don in the face again; Don is hit with a snowball again off screen; The family watch a violent Liam Neeson action movie, but we don't see it, we only hear it. As such we hear his gruff voice and hear some explosions and violent sounds; Brad throws a bag in an airport in anger.