My Cousin Rachel

** (see below notation)
– for some sexuality and brief strong language.
Director: Roger Michell
Starring: Rachel Weisz, Sam Claflin, Holliday Grainger
Running Time: 1 hour, 46 minutes
Theatrical Release Date: June 9, 2017
Official Site
Blu-Ray Release Date: August 29, 2017 (Amazon.com)
Plot Summary

Passion overtakes reason in this dark and layered romance – based on Daphne du Maurier's classic novel – starring Oscar® Winner Rachel Weisz*. Believing his mysterious, beautiful cousin Rachel (Weisz) murdered the man who raised him, Philip (Sam Claflin), a young Englishman, plots revenge against her. But, despite evidence that Rachel might be a killer, Philip finds himself falling deeply in love with her in this visually stunning, tension-laced film. (from Twentieth Century Fox Home Entertainment)
Film Review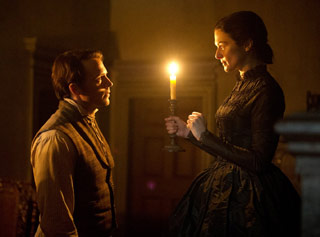 My Cousin Rachel is a film based on a novel by Daphne du Maurier, set in the 1830s. It follows the story of a 24-year-old young man in England who goes to investigate his older cousin's mysterious death, only to suspect his cousin's wife, Rachel, might have been the cause of it. He becomes determined to get revenge on the woman who wronged this man who raised him, but he wasn't prepared for Rachel to be beautiful and alluring. And as he gets to know his cousin Rachel, he soon finds himself falling for her, being blinded by his newfound attraction to her.

I haven't read the book that the film is based on, but as a film, My Cousin Rachel is an interesting story about being blinded by love, to the point of being utterly foolish (and sadly, I'm sure some of us can relate to this). Still, with the film's central character — Sam Claflin's Philip — being so naive and prone to making stupid decisions, it can be really frustrating to watch. It's easy to sympathize with Philip from the start of the film, but it isn't too long before he's making one dumb decision after another, and know he's just setting himself up for ruin.

So far, I've only ever seen Sam Claflin in the fourth Pirates of the Caribbean film, On Stranger Tides, but I did enjoy his performance in that film. He does quite well here as Philip, playing an inexperienced and gullible young Englishman quite well, and letting his emotions get the better of him at other times. I've loved seeing Rachel Weisz in films since the 1999 remake of The Mummy (actually, I always forget she was in 1996's Chain Reaction, but I primarily think of her as Evie in The Mummy), so admittedly she was the main draw of interest in this story. Both actors do wonderfully, and Weisz has the acting chops to play both the alluring side of Rachel and the more mysterious side as well. However, this isn't exactly the kind of role for her that would make you a fan. (I did more recently see her 2008 film, The Brothers Bloom — which is directed by Rian Johnson, who directed the latest Star Wars: The Last Jedi — and thought she was just a pure delight in it!) Without knowing the source material, it's tough to know if any of the problems with the film's story is due to du Maurier's novel or Roger Michell's direction. But, ultimately, I found the story to be relatively unsatisfying in how it ended. Much of the story is rather predictable, but I figured it may have a shocking twist or, at the very least, a satisfying conclusion. And while they did aim to give you a semi-surprise at the end, it seems to lend more contradiction or confusion to the story than anything else. And the film wraps on a more unresolved note.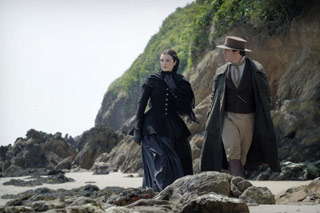 There isn't a whole lot of objectionable content, but some of it is definitely surprising. For example, a manservant of Philip's shouts the "F" word while some helping hands are trying to setup a Christmas tree. While it's played for laughs, it just doesn't fit in the movie and feels starkly out of place. There is some other mild profanity (and about 2 uses of the "S" word), but there are two scenes of sexuality. The first involves a kiss that leads to Rachel and Philip crawling into bed. However, the camera goes out of focus as the two recede into the background, and then the scene ends there. The following morning, we briefly see Philip's bare butt at a distance as he goes swimming in the ocean, and later when he meets up with Rachel in the woods, he semi-forces her to the ground, quickly unbuttons his pants and then we see him thrusting on top of her (with the camera focusing on her face). There's no nudity–and no undressing even, but the scene feels explicit in the sense that it feels rather spontaneous, unexpected, and realistic. After they stand up, she takes a handkerchief out to wipe under her dress and then tosses it to the ground.
My Cousin Rachel is well-acted and decently directed, but anyone who isn't a fan of the source material or the main actors are liable to find the film a bit dull at times. It probably won't be considered the best work by anyone involved, but the strong talent behind the project do their best with what's here. It's not quite as thrilling as one might expect such a romantic thriller to be, nor is it especially romantic, and the mysterious nature of the story feels a bit undercooked. And you can't help but just want to smack some sense into the film's lead character. So while My Cousin Rachel is by no means a complete loss, you probably wouldn't miss much if it were to pass you by either.
– John DiBiase (reviewed: 8/30/17)
Blu-Ray Special Features ReviewMy Cousin Rachel is available in a Blu-Ray/DVD/Digital combo pack, single-disc DVD, and through the usual digital movie providers. The regular Blu-Ray disc has a respectable amount of extras, even if most of them are just little promotional spots:Deleted Scenes (12:35) – There are over fifteen little deleted scenes, with most of them being tiny little forgettable snippets (some of which make no sense either). The first is a shot of a young Philip street fighting (and having a bloody nose). Next is Philip reading a letter from his cousin with Louise, then meeting his cousin's lawyer Rainaldi and later talking to him again. Another shows Louise and Philip talk about meeting Rachel, Philip saying he wants to meet her face to face, and a snippet of Philip sitting by the fire. Next is Rachel and Philip talking at dinner, another where Rachel talks about women for Philip to potentially date, chatting on the beach, and a brief scene where Rainaldi and Rachel chat in Italian. There's then a bizarre scene of what appears to be Philip walking completely nude through the forest, so we see his bare butt a couple of times. It's obscured a little, but his butt is briefly in full view a couple times. There's then a snippet of a farmer complaining to Philip, Philip asking why Mary's bags are now at their house, Philip waking up sick, Rachel reading in the library, and Louise asking Philip out for a walk.
Promotional Featurettes
Costumes (2:40) – Here they talk about choosing to set the film in 1840, and picking out the clothes you see in the film.
Daphne du Maurier (2:12) – Here, the cast and crew talk about the original novel's author.
Did She or Didn't She (1:43) briefly touches on the mystery of the plot.
Story (Rachel) (1:01) features Rachel Wesiz talking about her character, Rachel.
Story (Sam) (1:02) features Sam Claflin talking about his character, Philip, and how love makes you do crazy things.
Cast (2:35) – The cast talks about each other — like how Sam grew up watching Rachel Weisz on the big screen and was excited to work with her.
West Horsley (2:54) is about the home of the Ashleys.
VFX Progressions (2:50) – This is a montage set to music of originally shot scenes and then views of the same shot with added effects. We see screen wipes of fall or summer scenes turned into winter scenes, or adding in cities in the background of shots, added fog to others, or digitally creating the cliff's edge.
Scoring Sessions (6:35) are a series of clips from the studio while they were composing, set to film's music.
Finally, there's a feature-length Audio Commentary by Roger Michell and Kevin Loader and photo Galleries.
– John DiBiase, (reviewed: 8/30/17)
Parental Guide: Brief Summary of Content

 Sex/Nudity: A comment is made about a man preferring other men; Rachel and Philip kiss passionately and climb into bed together. The camera blurs out as they move towards the bed. The scene immediately ends before we see anything. The next morning, we see him shirtless and her bare shoulders as she lies in bed with the sheet pulled up around her; We see Philip's bare butt from a distance as he jumps into the ocean to go swimming; Philip and Rachel are walking in the woods, both fully clothed. He kisses her, then pushes her to the ground, unbuttons his pants, and starts thrusting on top of her. They both grunt a bit until he quickly climaxes. He then just puts his head on her chest for a moment before she asks to get up. She then takes out a handkerchief and wipes under her dress and then tosses it to the ground; Some comments are made about Rachel being very passionate, having an insatiable appetite, and possibly having multiple lovers.


 Vulgarity/Language: 1 "f" word, 2 "S" words, 6 "d*mn," 2 "For G-d's sake," 1 "Good G-d," 2 "Oh G-d," 2 "G-d," 1 "Oh my G-d," 1 "My G-d."


 Alcohol/Drugs: We see people drinking socially a lot, including wine at lunch and dinner; Philip drinks wine from the bottle


 Blood/Gore: None.


 Violence: In anger, Phil tosses a table and grabs Rainaldi by the collar and pushes him against a wall; Upset with himself, we see Philip hitting some shrubs with a stick, calling himself an idiot; He angrily throws a rag; As Philip is riding his horse, the cliff underneath him gives way and he nearly falls to his death; Rachel and Philip argue and he puts his hand to her neck, accidentally breaking her necklace; Louise and Philip ransack a room, with Philip throwing things around; We see a dead body lying on the ground at a distance; An injured horse is shot dead in the distance of a shot.