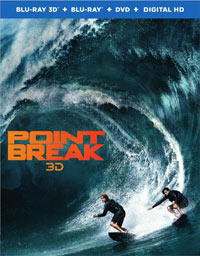 Point Break (3D)



– for violence, thematic material involving perilous activity, some sexuality, language and drug material.
Director: Ericson Core
Starring: Edgar Ramirez, Luke Bracey, Ray Winstone, Teresa Palmer, Matias Varela, Delroy Lindo
Running Time: 1 hour, 54 minutes
Theatrical Release Date: December 25, 2015
Official Site
Blu-Ray Release Date: March 29, 2016 (Amazon.com)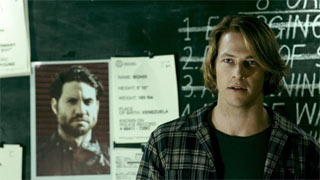 Plot Summary
In Alcon Entertainment's fast-paced, high-adrenaline action thriller "Point Break," a young FBI agent, Johnny Utah (Luke Bracey), infiltrates a cunning team of thrill-seeking elite athletes – led by the charismatic Bodhi (Edgar Ramirez). The athletes are suspected of carrying out a spate of crimes in extremely unusual ways.
Deep undercover, and with his life in imminent danger, Utah strives to prove they are the architects of this string of inconceivable crimes. (from Warner Bros.)
Film Review
Like the recent remakes of RoboCop and Total Recall, another R-rated cult classic that gets the PG-13 remake treatment is 2015's redo of 1991's Point Break. Now, to offer full disclosure, I've actually never seen the original Point Break. It was mainly a rating / content issue for me personally, but when I heard it was getting a rather perplexing second take, I decided to check it out.
First off, the casting is especially underwhelming. Replacing two popular actors in their day with two virtual unknowns isn't too promising right out of the gate (and I'm surprised the group of guys wasn't replaced by all girls just to switch it up… But then again, this isn't a Sony movie). However, with technology and effects changing so much in the past 25 years, there's definitely a lot of potential for the story to be told in a new and modern way.
After viewing the film, I read up on the original's plot and I was surprised to find just how different details of the plot were. The original involved a group of thrill seekers who would rob banks to fund their exploits and hurt "the system." This remake changes things up by making it some kind of new age-y, spiritual quest called "The Ozaki 8," a fictional spiritual journey that involves life threatening extreme sports. And in an attempt at making things more "relevant" for today's times, the main character of Johnny–AKA "Utah"–is known best for his YouTube channel as a thrill seeker than anything else. It's corny the way it's handled too.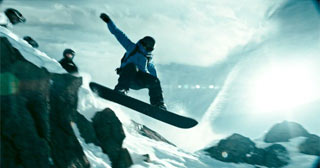 After a motorcross accident that claims the life of a friend, Utah joins the FBI, which takes us to the real start of the story 7 years later. Utah is aware of this fictional Ozaki 8 and realizes a recent string of crimes are exactly that. After convincing his superiors to let him go undercover, he infiltrates the group who easily let him in and rather close to them, making his job a lot easier. And they push him to join them in the extreme sports challenges. The biggest problem is that these sports scenes are surprisingly kind of boring – especially the flying squirrel "wingsuit" gliding sequence. There's a lot of the same camera passings of the characters in action and the scenes just go on for much too long. The Best of Me's Luke Bracey, who plays Utah, is also just too bland and serious in the role. He lacks charm and a strong presence on screen. The Bourne Ultimatum's Edgar Ramirez takes Patrick Swayze's role of Bodhi and does a decent job, but he's much more likable than the "good guy" Utah. And with the two leads not being all that engaging, with a script that is just poorly written, all the film has to offer is extreme sports footage and beautiful locations. And that's not much to carry a movie on.
The review copy we received gave me a chance to watch the film in 3D and I had to admit, while this isn't a movie you need to watch in 3D or that you'd think should be watched in three dimensions, it actually offers pretty decent 3D. The scenery and sports scenes definitely feel suited for it. I wouldn't say it's a must to see the film in this format, but it might at least make the film a bit more enjoyable.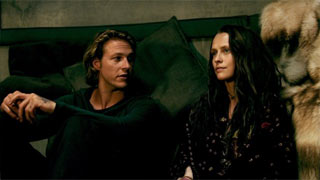 The content isn't too horrendous for PG-13, with profanity and some violence being the roughest parts. There's one "F" word and quite a few uses of the "S" word, but not much blasphemy beyond a muffled "Oh God." There's also a sex scene between Johnny and Samsara that is really short, but cuts several times, showing them embrace, then in various stages of undress before he lays her down and the scene ends. It's definitely a sensual scene though. Johnny's handler, Pappas, also shows him a couple photos from that moment while they're embraced and topless–caught in the act–with no real explicit nudity visible. Finally, there's some violence, mostly when there's a shootout outside a bank. And several characters get pretty banged up and a little bloody during their thrill-seeking (and from street fighting in one scene).
Remake or not, 2015's Point Break isn't really that strong of a movie. A poor script, passable acting, underwhelming action and an average cast make for a movie you probably wouldn't even think twice about when finding amongst a pile in the bargain bin.
– John DiBiase, (reviewed: 3/27/16)
Blu-Ray Special Features Review
Point Break arrives on Blu-Ray in a DVD/Digital HD combo pack, on DVD, in a combo pack that includes all of that plus a 3D Blu-Ray disc, and through the usual digital providers.
The special features on the 2D Blu-Ray disc include the following:
Rock Climbing (1:52) – This is a short ad promo style featurette (that's about 1/3 trailer footage) that focuses on how they filmed the rock climbing scenes on location in Venezuela and how they got one of the foremost professional rock climbers to work on the scene.
Wingsuit (2:16) – They filmed this sequence over two weeks by having the men jump 60 times. Apparently there's no CG used either, with it all being shot for real.
Snowboarding (1:58) is another short segment that focuses on the extreme snowboarding in the film. Here they reveal that they learned just how dangerous it was when a class 4 avalanche occured because of their filming!
Motorcross (1:55) gives us a little insight into the on-location motorcycle shooting in Utah.
Deleted Scenes (8:17) – There are four deleted scenes. The first shows Utah meeting Pappas in an airport. Next is a curious scene where Utah is alone in a parking garage and decides to go skateboarding into oncoming cars, colliding in some fashion with each one until he finally breaks his board and falls on the ground. It's kind of a stupid, nonsensical scene. It ends with him burning his FBI ID card. The third scene, on the contrary, should have been left in. In it, Utah just sits silently as Pappas tries to make him feel better for blowing his cover and turning on the criminals. It's a good scene that lends weight to Pappas' character and Utah's situation. Finally, there's an extended/alternate ending where we see that Utah has returned to motorcross (just like the opening sequence). A young rider comes up to him and asks him to ride with him. Utah utters cheesy dialog about following your own path before the two ride off (1 "S" word).
Trailers – There are two theatrical trailers for the film added as a bonus.
– John DiBiase, (reviewed: 3/27/16)
Parental Guide: Content Summary


 Sex/Nudity: We see many girls in bikinis and shirtless guys on a party boat. Later that night there's a party with some senual dancing and grinding; Samara finds Johnny drinking alone. They talk for a bit and then kiss. We then see quick cuts of her pulling his shirt off and then them embracing both topless. He then lies down on her and the scene ends; In the following scene, Pappas shows two photos of Samsara and Johnny having sex with the two embracing topless (we see some of her sideboob but that's it)

 Vulgarity/Language: 1 "F" word, 16 "S" words, 2 "d*mn," 5 "a" words, 2 "a**h*le," 1 "S.O.B," 4 "h*ll," 1 "Oh G-d," 2 "p*ss"; Three masked guys give a security camera the finger; Two more guys give the finger before jumping out of a plane.

 Alcohol/Drugs: Some characters appear to smoke what might be weed a few times; There's drinking at a boat party; The gang has some wine with lunch; More drinking at a party;

 Blood/Gore: Utah has some blood on his head after surfing; We see blood on two people's faces after fist-fighting for sport; Johnny and Bodhi have blood on their faces after fist-fighting for sport; We see bloody cuts on their faces and others throughout the movie from previous sports; Johnny has a bloody nose; We see a dead man with some blood on his face; Johnny has more blood on his face and hands after pulling himself out of a rocky creek.

 Violence: We see two motorcross riders doing dangerous stunts in Utah. One jumps a gap onto a really high-up plateau. The second rider attempts the jump, slides off, falls and dies; Utah gets wiped out by a huge wave and is saved by another surfer; Johnny walks past an empty car on fire; We see some guys fist-fighting for sport in a dark building at night; Johnny and Bodhi fist-fight pretty roughly; A snowboarder falls off a cliff to his death; The gang builds a wooden funeral pyre for their friend's body and burn it; A group of cars try to run trucks off the road on a cliff. There's machine gun fire that riddles the vehicle windows. One of the cars goes off the cliff and explodes; A bomb goes off on the side of a cliff causing a rock avalanche that crushes the trucks on a road below; Bodhi and Johnny ride their bikes through rough terrain in the woods and wipe out, sending them flying; Johnny yells and fires his gun in the air repeatedly; There's a shootout outside a bank that leaves some of Bodhi's guys dead and police shot. Some flashbangs go off as well; Johnny shoots out the wheel of Bodhi's bike. He then follows him into a sky car where he jumps in, kicking him and they fight. Johnny shoots the masked thief dead; A man falls off of a cliff to his death; Two characters fall off of a high cliff down a waterfall and somehow survive; A huge wave presumably wipes out and kills a person.