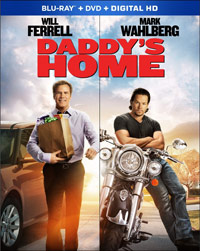 Daddy's Home



– for thematic elements, crude and suggestive content, and for language.
Director: Sean Anders
Starring: Will Ferrell, Mark Wahlberg, Linda Cardellini, Thomas Haden Church, Scarlett Estevez, Owen Vaccaro, Hannibal Buress
Running Time: 1 hour, 36 minutes
Theatrical Release Date: December 25, 2015
Official Site
Blu-Ray Release Date: March 8, 2016 (Amazon.com)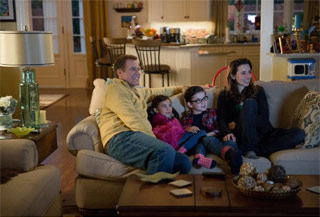 Plot Summary
Will Ferrell and Mark Wahlberg "are comedy magic" (Tara McNamara, Fandango) in this uproarious, feel-good movie that offers "plenty of family-sized laughs" (Alex Zane, The Sun). Brad (Ferrell), who always dreamed of having the perfect family, is determined to become the best step-dad to his new wife's (Linda Cardellini) children. But when their biological father Dusty (Wahlberg) shows up unexpectedly, Brad's idyllic family life is turned upside down and he must go toe-to-toe with Dusty in this hilarious family comedy that "will have you in stitches" (Jaclyn Roth, Life & Style).
(from Paramount Pictures)
Film Review
It seems like the days of Will Ferrell doing family-friendly films like Elf, Megamind and Kicking and Screaming are long, long gone, but with 2014's The LEGO Movie and now 2015's Daddy's Home, it's nice to see Ferrell stepping away from his string of more vulgar, adult comedies to do something different again. Still, Daddy's Home isn't exactly family-friendly, but it does have a strong and sincere pro-family message, shedding a rare positive light on the step-father role in the process.
In Daddy's Home, Ferrel plays Brad, a hyper-sensitive, all-around good guy who has married a mother of two named Sara. He genuinely just wants to be a great dad and be accepted as such, but it's quite the uphill battle, as he quickly discovers. But just as he appears to be gaining ground, the kids' biological father, Dusty, shows up — a special ops, rugged man's man, played by Mark Wahlberg — who is determined to win back his family. Brad is hardly ready to relinquish his seat as king of the household, and before he knows it, the fight is on.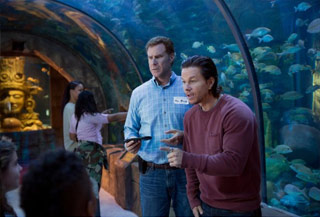 Ferrell and Wahlberg previously paired up in the cop comedy The Other Guys (with mixed results) five years ago, and it's fun to see them together again here, even though it kind of feels like it's for the first time. It's refreshing to see Ferrell in more of a good guy role again, too, since he usually portrays egomaniacs in some form. He does get a moment or two to go over-the-top and pretty much be that kind of character yet again, but for the most part, he's the victim here, and when he does lose it, it's born out of frustration over his altercations with Dusty. Linda Cardellini plays the object of what each man is fighting for, and she does a great job staying strong and grounded. At first you may wonder how she could have ended up with Dusty and then Brad, but it's pretty natural to realize she had some wild younger years with Dusty and now just wants stability with Brad for her children's sake. The two little ones, played by newcomers Scarlett Estevez and Owen Vaccaro, are sweet and adorable and they only add to the film. However, and much to my disappointment, Thomas Haden Church fills the role of the stereotypical ally to the victimized lead (in this case Brad) who's quirky and often needlessly crude, only existing to make the audience laugh (or uncomfortable?). His nonsensical stories recall Paul Rudd's Brian Fantana from Anchorman, but it's never as funny, and Church seems uncomfortable in this role. It is nice to see him return to comedy (I loved him as Lowell Mather in Wings), but he's sorely misused here. A good example of the unorthodox comic-relief coworking friend would be Jeff Goldblum in The Switch (alongside Jason Bateman), but here it feels mostly wrong. On the flipside, Hannibal Buress plays a bizarre character in handyman Griff who ends up moving in with the Whitakers, but he adds just enough of the right quirkiness to the moments he oddly intrudes upon.
The overall comedic aspect of the film, and its story, is decent, working a lot better than some other recent comedies, but it still lacks in certain aspects. Whether it's the side characters or the fact that it gets unnecessarily crude in attempts at getting laughs, Daddy's Home still falls short at times.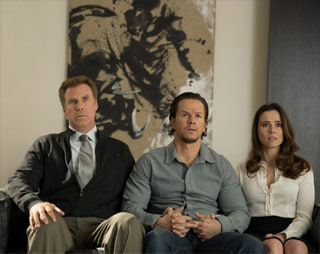 The content is about what you'd expect from a PG-13 comedy. There are plenty of uses of the "S" word (almost 20), as well as other colorful phrases. They also use the tiresome joke of hearing little kids swear, and so we hear the little boy and girl say things like "b*tch" in attempts to get a laugh. As I mentioned earlier, Brad's boss is kind of vulgar at times and often talks about his multiple previous marriages and the affairs those wives had had while they were together. Also, a big part of the plot is that Brad is barren and cannot get Sara pregnant, who Dusty knows wants another child (so he tries to drive a wedge between them with that fact). So there's plenty of talk about conceiving and Brad's genitals, as well as some sight gags at a reproductive doctor's office.
Daddy's Home is a flawed comedy, but Will Ferrell's performance is a refreshing change from his norm. It's still a bit too crass, opting for a lot more bedroom humor than needed, and parents will especially want to proceed with caution when considering the family for this.
– John DiBiase, (reviewed: 3/20/16)
Blu-Ray Special Features Review
Daddy's Home arrives on Blu-Ray in a DVD/Digital HD combo pack, on DVD, and through the usual digital providers. The high definition transfer is excellent, so I definitely recommend it (although the trailer at the beginning of the disc for the upcoming TMNT sequel was shockingly fuzzy and pixelated). The special features include the following:
The Making of Daddy's Home (11:54) – This featurette talks about how the script came together and how the story was inspired by real-life experience. We also learn that the script was in the works for a while before they started production. It also talks about the actors working together, working with the director, etc. (1 "S.O.B.," 1 "J*sus")
Daddy-Off (6:44) shows some deleted footage and focuses on the difference between Brad and Dusty. We also see some outtakes included here, too.
Daddy Daughter Dance (5:11) centers on the "dance-off" at the end of the film and what it means for the story and characters. We also learn here that Mark hates dancing on screen! (1 "b*tch," 2 "a" words, 1 "S" word)
Half-time Stunt (8:55) – On January 21, 2015, production filmed the half-time scene during a real Lakers game. Here they talk about filming with Kobe Bryant, as well as the basketball stunt involving the ball throw to the cheerleader's face (who was a stunt double). (1 "S" word, 1 "a" word)
Tony Hawk: Stunt Double (4:02) – Here we learn that pro skater Tony Hawk had filled in as the stuntman for Will Ferrell during the skating scene. We then see some cool behind the scenes footage of Tony filming the scene.
Child's Play (5:00) – Here, they talk about the kids on set and how great they were to work with – and how they pumped up the cast and crew every day just by being on set.
Hannibal Buress: The Perfect Houseguest (5:36) is dedicated to the character of Griff and how the crew found Hannibal – a comedian – via videos on YouTube. They also talk about how perfectly he fits into the film.
Blooper Jeet Kune Do (2:05) – In this short moment, we find that Mark can't hold it together when Will tries to say that the "Step King" learned Bruce Lee's style, "Jeet Kune Do."
Deleted and Extended Scenes (7:38) – There are just five deleted/extended scenes with an option to "Play All." In "Car Ride Q&A," Brad and Dusty talk after they drop off the kids at school. Then they ask each other questions about one another (1 "Oh G*d"). In "Have Fun," an extended school basketball scene from a montage, Dusty encourages the kids to really play for points instead of just for fun. In "Pre-Dance," there's a great moment between Griff and Brad about not getting Dusty's bike towed away (1 "sucks," 1 "h*ll). "Motorcycle Brad" is a great scene where Brad is riding down the highway with Dusty behind him. They should have kept this one in. There's also more from Griff here (2 "b*tch). Finally, "Special Ops" shows Dusty going into a warehouse a year later and shooting up the place to rescue someone. He finds that it's a gorgeous woman and we then see them visiting Brad and Sara after just getting married.
– John DiBiase, (reviewed: 3/19/16)
Parental Guide: Content Summary


 Sex/Nudity: We hear that Brad is barren after an accident at the dentist when the x-ray machine scanned his crotch (and we see him strapped in the chair as the machine slowly lowers there and flashes several times); Leo tells a story about dating a topless maid; As Dusty tells the kids a story about a king and queen (with him being the king and the queen being Sara), he mentions that the queen used to be "up for anything," implied in a sexual manner; Brad laments to Sara about not being able to give her children and she comments that his privates are her "fuzzy little pals;" Brad says after getting picked on in school, he'd changed his name to "Devin Lacecock;" Dusty makes a comment about putting a baby in Sara; Leo tells a story to Brad about one of his wives having a 23-year-old son that she spent way too much time with and that he felt she needed to stop doing things with, including sharing the same bed. He said he later found out he was not her son but her boyfriend (to which Brad said he could see that coming); The reproductive doctor calls Brad "Chief Glowing Sack;" Sara tries to defend Brad's testicles and comments that they feel like all the others she's touched, but stops saying it as she realizes how that sounds; The doctor describes Dusty's testicles as two "Patrick Stewart's" (bald) and when Dusty drops his pants, Brad exclaims "James and the Giant Peach!" at the size of Dusty's manhood. We then see a visual gag of the doctor reaching at Dusty's crotch and lifting his large manhood to talk about the testicles beneath them (but we see no nudity, just an exaggerated reaching motion); Brad goes into a room to take a sperm sample and drops his pants. He then fiddles with the window's blinds and they all suddenly open, revealing his nudity to an office party in the next room. They gasp and we see their view of him with something in the foreground blocking any nudity to us; The reproductive doctor apologizes to Sara because Brad will be "pounding on" her as they try to have a baby; We see Tumor the dog humping a doll; We see some cheerleaders at the Lakers game in their usual sexy attire; Brad, while very drunk, tells the stadium of Lakers fans that he made love to Sara last night and took his wiener out; Leo talks to Brad about the time he found his wife's ex in bed with her and he didn't see it coming; Dusty tucks Brad's shirt into his pants and Brad tells him to get his hands out of his pants; Jerry asks if Dylan called his daughter a whore; Brad throws his shirt off while dancing and it lands on a little girl's head; Sara shows some cleavage in her attire.

 Vulgarity/Language: At least 18 "S" words, 2 "g*dd*mn," 2 "J-sus," 4 "a" words, 6 "d*mn," 5 "h*ll," 10 "Oh my G-d," 1 "Oh G-d," 8 "b*tch," 1 "Holy balls!," 1 "sucks," 1 "p*ssed," 1 "p*ssy," 1 "b*stard," 1 "cr*p," 1 "pr*ck"

 Alcohol/Drugs: Brad and Dusty talk about having "a cold one" together and we see them sitting outside drinking; Brad drinks a lot of beers at the Lakers game and gets really drunk.

 Blood/Gore: We see a little bit of blood on Brad's head after he goes through a wall in their house (and is stuck); We briefly see a couple minor cuts or burns on Brad's leg; We see Dusty at the airport bar with a drink.

 Violence: We see child-like crayon drawings that the kids made of Brad being killed, like with a knife in his eye or him on fire; Brad tries Dusty's motorcycle, but it flies through their house, sends him through a wall, and lands the bike outside on top of the family SUV; Dusty slides down a zip line and knocks Brad over; Brad jumps off the roof onto a skateboard ramp and ends up skating into the power lines. He gets shocked and falls to the ground and everyone talks about him being dead before they resuscitate them; Brad tries to make a basket shot and accidentally hits a cheerleader in the face. He then tries again and accidentally hits a little kid in a wheelchair. He's then tackled by security and carried out; Brad punches Dusty in the face and it lands as a light slap; Dylan slaps a girl, knocking her over, and then kicks her between the legs (after a scene where Dusty tries to teach Dylan to protect himself); Jerry punches Dusty.