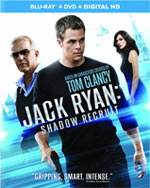 Jack Ryan: Shadow Recruit



– for sequences of violence and intense action, and brief strong language.
Director: Kenneth Branagh
Starring: Chris Pine, Kenneth Branagh, Keira Knightley, Kevin Costner
Running Time: 1 hour, 45 minutes
Theatrical Release Date: January 17, 2014
Official Site
Blu-Ray Release Date: June 10, 2014 (Amazon.com)
Plot Summary
Based on the CIA analyst created by espionage master Tom Clancy, "Jack Ryan: Shadow Recruit" is a blistering action thriller that follows Ryan (Chris Pine, "Star Trek") from his quiet double-life as a veteran-turned-Wall Street executive to his all-out initiation as a hunted American agent on the trail of a massive terrorist plot in Moscow.Ryan appears to be just another New York executive to his friends and loved ones, but his enlistment into the CIA secretly goes back years. He was brought in as a brainy Ph.D. who crunches global data – but when Ryan ferrets out a meticulously planned scheme to collapse the U.S. economy and spark global chaos, he becomes the only man with the skills to stop it. Now, he's gone fully operational, thrust into a world of mounting suspicion, deception and deadly force. Caught between his tight-lipped handler Harper (Academy Award-winner Kevin Costner), his in-the-dark fiancée Cathy (Keira Knightley) and a brilliant Russian oligarch (Kenneth Branagh), Jack must confront a new reality where no one can seem to be trusted, yet the fate of millions rests on his finding the truth. With the urgency of a lit fuse, he's in a race to stay one step ahead of everyone around him.
(from MovieWeb.com)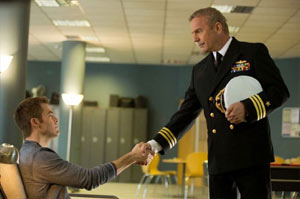 Film Review
The character of Jack Ryan has had an intriguing history in film. As a character created in book form first by author Tom Clancy, Jack Ryan made his feature film debut in 1990's The Hunt for Red October, portrayed by Alec Baldwin. The character went on to appear in three more films, played next by Harrison Ford in Patriot Games in 1992 and Clear and Present Danger in 1994, and then by Ben Affleck in the 2002 attempted reboot, The Sum of All Fears. In 2013, Ryan was promised a new film in Jack Ryan: Shadow Recruit, with Chris Pine in the starring role, but the film was pushed back from a Christmas release to January of 2014, making it 30 years since Jack Ryan debuted on paper. Reception for the latest entry has been mixed, but Shadow Recruit ushers in a new Jack Ryan for a new generation of movie watchers.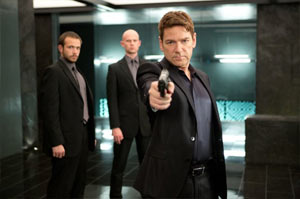 With the success of the Jason Bourne films in the last decade, blockbuster action thrillers have been taking on a grittier feel, including the latest reboot of the James Bond series with Daniel Craig in 2006. It should be no surprise that Jack Ryan gets a grittier approach as well in Shadow Recruit, as Thor director Kenneth Branagh takes the helm and stars as the villain in this latest outing. The story opens in a post 9/11 America and keeps as true to Ryan's origin as possible, even giving him the Marine background and back injury that knocked him out of field work. But his knowledge causes him to be sent to Moscow to meet with Viktor Cherevin (played by Kenneth Branagh) who is believed to be planning a major terrorist attack on the United States. From the moment Pine's Ryan is met with a near-death experience while alone in Russia, we're faced with a very human hero in Ryan who is clearly out of his element doing field work. Meanwhile, he's struggling with keeping his job secret from his girlfriend Cathy, played by Keira Knightley, and dealing with his mysterious CIA handler, Thomas Harper, played by Kevin Costner. Between the cat-and-mouse game with Cherevin and the careful spy work that needs to happen to catch the villain at his game (and prevent a catastrophe on U.S. soil), Shadow Recruit offers plenty to keep the audience entertained.
Still, not much about Shadow Recruit seems much bigger or more elaborate than a season finale of a TV show like Burn Notice or Person of Interest. And given the character of Jack Ryan's origin being the early 80s (the first novel was written by Clancy in 1984), there's a bit of a retro feel to the story; the film actually has a similar vibe to the Ford-starring entries. But Branagh does his best to contemporize the series, giving it a big finish that feels more suitable for a Bourne film but a bit more outlandish like that of a Bond film. For example, when Ryan is able to catch up to a car on foot and then stop it by leaping onto the vehicle and beating it, you have to wonder what logic was applied in the creation of that moment. Suddenly, Ryan went from a CIA operative recruit to the mighty Thor. But Branagh does his best to keep it interesting and entertaining, and Pine delivers a convincing performance that's relatable. When he (somehow) bests a bulky hitman sent to kill him, his fear and regret brought on by the encounter is tangible. It's something that isn't focused on as much in movies like this.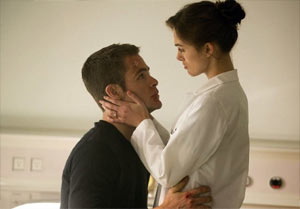 Alongside Pine is British actress Keira Knightley, most notable for her performance in the first three Pirates of the Caribbean films, who turns in a performance as an American nurse this time around. Knightley is fine in the role, but anyone accustomed to her British accent may find her American accent jarring for a good portion of the film (she does a pretty good job with it too, even though she lets it slip once or twice momentarily). Branagh does a great, menacing Russian nemesis for Pine's Ryan, and Kevin Costner is an inspired choice for the stoney Harper. All of the talent is in place for a solid thriller, but the end result just seems to come up short slightly.
The content for Jack Ryan: Shadow Recruit is about on par with a Bourne or Bond film, actually. There's a scene where Ryan fights a hitman in a hotel room and while the fight itself is brutal, the end result finds Ryan holding the man's head under water with his foot to drown him (in self defense). The camera lingers a little too long on the man's face as he struggles not to drown (but does). There's also a Russian hitman who kills random characters with a dagger he keeps hidden up his sleeve. In one scene, he plunges it into a man's neck, and in another scene, we see him stabbing an innocent bystander in the stomach. After taking someone hostage, Cherevin threatens to kill the victim by having them bite down on a lightbulb. There's some other action violence (including in the finale), and an explosion that kills a one of the bad guys. Language includes 1 "F" word flippantly used by a side character and a handful of uses of blasphemy (mostly Jesus' name and "g*dd*mn"). There's no real sexual content to speak of, other then passing comments about one of Cherevin's weaknesses being women (and Ryan and Cathy live together but aren't married).
Not perfect but certainly far from being a loss by any means, Jack Ryan: Shadow Recruit is a decent political and action thriller but not a great one. It's worth a matinee or rental if you're a fan of the genre, character, or any of the main actors. Hopefully the poor box office performance of Shadow Recruit doesn't bury Jack Ryan; it'd be great to see this intelligence hero grace the big screen again soon.
– John DiBiase, (reviewed: 2/1/14)
Blu-Ray Special Features Review
Jack Ryan: Shadow Recruit is available on DVD and in a Blu-Ray/DVD combo pack. The Blu-Ray looks great, with vivid color and a crystal clear picture. Along with a director's commentary track are the following extras:
Jack Ryan: The Smartest Guy in the Room (13:37) The film's producers, cast and director talk about Tom Clancy's Jack Ryan franchise and bringing it back eleven years after the last time we saw Jack on the big screen. Clips from all of the earlier movies featuring previous players of Jack flesh out what is a great retrospective of the character.
Sir Kenneth Branagh: The Tsar of Shadow Recruit (9:49) focuses on director/actor Kenneth Branagh and his dual role as actor and director for this film. We're treated to some footage of Branagh in the midst of directing a scene involving Chris Pine on the set. It also talks about how Paramount actually pushed for him to do the role in addition to directing. Branagh then reveals how he filmed some of his scenes in secret with his own small crew.
Jack Ryan: A Thinking Man of Action (5:19) focuses on the action in the movie and frequently contrasts the character of Jack Ryan with the likes of Jason Bourne or James Bond.
Old Enemies Return (21:13) is a bit of a documentary about the relationship between Russia and the US and their rivalry. We hear from some experts about the politics of it, while relating it to the world of Jack Ryan. It's a little boring if you're not really into the political drama of the countries' relationship.
Deleted and Extended Scenes (5:03) – There are six deleted or extended scenes with optional commentary from Branagh. All of them are very disposable and aren't really all that exciting. The first is an extended scene where Cathy finds the ticket stub in Jack's pocket before he comes home. They then nervously chat about their work. The second has Jack riding in a car through Moscow with the hotel room assassin driving, while the third is a super brief shot where Jack makes eye contact with Cherevin's security. The next is a pretty pointless shot of Jack leaving Cherevin's building, then a brief shot of Jack pursuing a police van in a helicopter. Finally, there's an alternate ending that ends the movie shortly after Jack stabs the main assassin, so the bomb never goes off. The final version in the finished film is considerably better.
– John DiBiase, (reviewed: 6/8/14)
Parental Guide: Content Summary


 Sex/Nudity: Some comments are made about Cherevin's weakness for women; We see Jack and Cathy in bed together in the morning. We just see his bear chest and her shoulders as they talk. No sexual acts are seen or even really all that implied.

 Vulgarity/Language: 1 "F" word, 4 "S" words, 7 "J-sus," 4 "g*dd*mn," 5 "G-d," 2 "h*ll," 1 "d*mn," 1 "*ssh*le," 1 "b*tch"

 Alcohol/Drugs: Jack pretends to be drunk as he drinks a lot of wine at dinner with Cathy and Cherevin. They all drink at dinner together as well; There are a few references to Cherevin's weakness for vodka; Some other miscellaneous drinking.

 Blood/Gore: After a major accident, we see Jack's face and chest are very, very bloody and scraped up as he's being transported on a gurney. We also briefly see his back which appears purple-ish in color from having been badly damaged; We see some blood on a dagger after a man stabs another man in the throat; Jack has some blood on his face after a fight; There's some blood on a dagger and the victim after a man stabs a heavyset man in the stomach, killing him; Jack has blood on his face after jumping out of a moving vehicle and rolling on the ground.

 Violence: When we first see Cherevin, an assistant tries to give him an injection of medicine, but keeps failing to get the needle into his arm. So Cherevin punches him and he falls to the floor. While he's out of view of the camera, Cherevin continues to kick him repeatedly while he's down and then completes the injection into his arm by himself; We briefly see real footage of the World Trade Center towers smoking on news footage in a 2001 flashback; A helicopter is hit by a missile and we briefly see it spiraling out of control. We then see Jack on a gurney in a hospital after he's been badly wounded; Jack and a hitman fight brutally in a hotel room. It ends with Jack holding his foot on the man's head under the water until he drowns; It's implied that a young man murders two adults posing as his parents; The same young man follows a car on foot that has been following him and surprises the driver, plunging a dagger into the man's neck, killing him; The man also stabs a man in the stomach, killing him; After being provoked, Cherevin shoots a man repeatedly; There's a shootout in a parking garage, with some thugs of Cherevin shot dead; Cherevin kidnaps a woman and threatens to kill her by having her bite down on a lightbulb; Jack chases Cherevin's car in his car. Jack's car crashes into a truck, so Jack runs after Cherevin's car and jumps on it, causing it to crash; Jack and a man fight brutally in water and then inside a moving truck (with the truck crashing into a lot of cars and causing accidents on the road). The truck explodes when it hits a river (from a bomb); A man is shot dead.