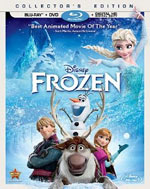 Frozen




Director: Chris Buck, Jennifer Lee
Starring: voices of Kristen Bell, Idina Menzel, Jonathan Groff, Josh Gad, Santino Fontana, Alan Tudyk, Ciarán Hinds, Maurice LaMarche
Running Time: 1 hour, 48 minutes
Theatrical Release Date: November 27, 2013
Official Site
Blu-Ray Release Date: March 18, 2014 (Amazon.com)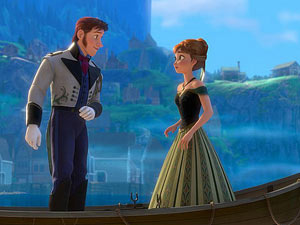 Plot Summary
Walt Disney Animation Studios, the studio behind "Tangled" and "Wreck-It Ralph," presents "Frozen," a stunning big-screen comedy adventure. Fearless optimist Anna (voice of Kristen Bell) sets off on an epic journey—teaming up with rugged mountain man Kristoff (voice of Jonathan Groff) and his loyal reindeer Sven—to find her sister Elsa (voice of Idina Menzel), whose icy powers have trapped the kingdom of Arendelle in eternal winter. Encountering Everest-like conditions, mystical trolls and a hilarious snowman named Olaf (voice of Josh Gad), Anna and Kristoff battle the elements in a race to save the kingdom. The film is directed by Chris Buck ("Tarzan," "Surf's Up") and Jennifer Lee (screenwriter, "Wreck-It Ralph"), who also wrote the screenplay. It is produced by Peter Del Vecho ("Winnie the Pooh," "The Princess and the Frog"). Featuring original songs from Tony® winner Robert Lopez ("The Book of Mormon," "Avenue Q") and Kristen Anderson-Lopez ("In Transit," "Winnie the Pooh"), and an original score by Christophe Beck ("The Muppets," Oscar®-winning short "Paperman"), "Frozen" hits theaters in 3D on Nov. 27, 2013.
(from MovieWeb.com)
Film Review
For decades, moviegoers have been growing up with Disney films enchanting them from children to adulthood. For me, I have fond memories of watching many of the 60s and 70s classics on TV and VHS and seeing the 80s and 90s entries in the theater. But it's no secret that when animation moved from hand-drawn to computer-generated starting with Toy Story in 1995, Disney had a really hard time making the adjustment. At first, they tried to keep on making those hand-drawn ventures (usually enhanced with some CGI technology somehow), but projects from the studio Pixar were what helped make audiences realize that that is what they really wanted to see. Disney's own animation studio began working on some of their own CG-animated films, but most of them lacked, well, everything that made Pixar's movies so great. But that all changed in 2010 with the wonderful Tangled.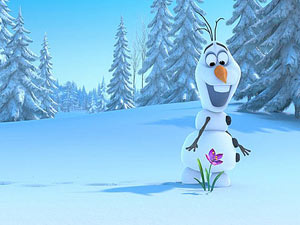 Frozen is the latest non-Pixar Disney film to grace the silver screen. Tangled had still been rather unconventional for Disney, but it was headed back in the direction of classic Disney animation (albeit zanier). Frozen goes full-on back to the 90s formula. While watching it, I was fondly reminded of seeing Beauty & The Beast–from the animation style (in the characters' expressions), on down to the way they delivered the sing-song-y dialog in and around the musical numbers. Yes, Frozen is a musical. And it's a musical in every way of the Disney "definition" of such a musical. But what Frozen has that Beauty & The Beast lacks, is a more carefully laid-out plot (just search on Google for some great articles scrutinizing Beast's baffling plot revelations), some plot twists, and a much funnier overall approach to the story. While a lot of the classic Disney films of yesteryear had an unusual sidekick in place to deliver comic relief, the rest of the story didn't have quite as much humor spread out in it. Tangled, however, was riddled with it, and wonderfully so. Frozen takes a tongue-in-cheek approach that almost–but doesn't–begin to parody the Disney model. It's actually something that has often made the DreamWorks Animation ventures work so well; a strong balance between humor and heart is achieved to make you laugh throughout the film but still shed a tear when the story calls for it.
One thing that Tangled had about it that may have hurt its popularity a little bit was the fact that it was essentially a fairytale for girls. But the character of Flynn Rider was most certainly not your typical Disney prince, and he provided enough machismo and humor in his character to make the movie more accessible for the fellas too. Last year's Brave seemed even more so like a movie for the little ladies, even though the main character wasn't your typical Disney princess, especially with her having a love for archery (and, granted, that was a Pixar effort, not exclusively Disney). However, Frozen deals with not one Disney princess, but two, and one of the musical numbers is quite the anthem for "girl power" if one has ever been heard. But it doesn't hurt that the Kristen Bell-voiced Anna is quirky and spunky and not your old-fashioned prissy princess. Her antics alone spark some really good laughs in the film. Then there's Kristoff, voiced by Jonathan Groff, who is a rugged peasant kind of character who ends up helping Anna on her quest to find her sister Elsa (voiced by the musical Wicked's Idina Menzel), who had run away after the town discovered her icy magical powers. Kristoff's sidekick is a reindeer named Sven who is sort of a happier, more friendly Chewbacca. And then there's my favorite character, Olaf. Most Disney films have that one (or two) comedic character who throws it all off-balance (in a good way, of course), whether it's Robin Williams' Genie in Aladdin or Timon and Pumbaa in The Lion King. Here, the tone of the film is a successful blend of comedy and seriousness, so it's not quite as jarring when a talking, slow-witted snowman joins the gang. Olaf does serve a purpose to the story, and surprisingly, he doesn't really appear in the film until about halfway through the movie. Comedic actor Josh Gad provides the voice of Olaf, channeling a mixture of Martin Short and Jerry Lewis to create a truly memorable animated character.
Thematically, Frozen does deal with "magic" (without giving any kind of inkling to its origin), but builds the whole story around "true love" — what that means and what it looks like. By the time they drive the message of love and sacrifice home, it's a beautifully painted picture and will likely have you reaching for a pack of tissues. The film is loaded with music and songs, just like the classic Disney musicals, so if you're not a big fan of musicals, you'll find Frozen to not really be your cup of [iced] tea.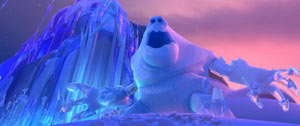 When it comes to the content of the film, it's rated PG, but it's probably more kid friendly than some of the G-rated Pixar films (Cars 2, anyone?). We did take our 3-year-old son to the film and he seemed to really enjoy it. It held his attention pretty well and the only scene he seemed to be even remotely bothered by was one that involved a giant snow monster. After the movie, he claimed that it was "scary" but it seemed to be more like an excited scary than really scary. The monster didn't look any worse than something you'd see in VeggieTales. Another sequence shows someone in chains briefly and then another scene shows a person being tossed into a cell. The snow monster chases our heroes for a while and then Hans leads a posse into the forest and ends up battling the monster with swords, even slicing one its legs off (which, being that it's made of snow and ice, isn't gory or anything). Olaf the snowman is made up of four chunks of snow and we often see him falling apart or rolling around in pieces, etc. At one point, he accidentally walks into a sharp icycle and exclaims, almost joyfully, "I've been impaled!" In the final act of the film, one character tells other characters that a main character is "dead," even though they are not, and that may be a soft spot for some parents with their kids ("death" and/or the uncertainty of whether or not a potentially beloved character is as such). And some characters' lives are legitimately threatened (with one of them really appearing possibly dead for a short time). But overall, it's a pretty family-friendly fairytale.
Overall, Disney seems to finally have found their footing in the department of animation once again. After having been giants in the industry in that field for so many years, having actually paved the way for many to follow them, it's exciting to see that they're finally putting out truly quality family productions once again. Frozen is an instant classic!
– John DiBiase, (reviewed: 11/29/13)
Blu-Ray Special Features Review
Frozen is available now at digital retailers, but is coming home on Blu-Ray and DVD as well–curiously, it doesn't seem to be available on 3D Blu-Ray yet. But even more curiously is the blatant lack of extras on this initial release for the Academy Award-winning film for Best Animated Picture and Best Song. The picture, however, looks amazing in HD and it's a really wonderful presentation. Also, the extras that do appear here are pretty decent, but one obvious feature absent is a real-deal making-of featurette and something about the voice actors in the film.
Here's what you will find, though: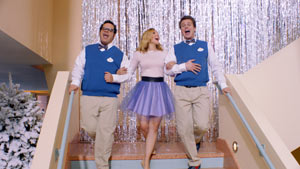 Original Theatrical Short: Get a Horse (6:00) – This is the brand new Mickey Mouse cartoon that's presented as an old school, classic "steamboat" Mickey cartoon that ends up breaking the fourth wall, so to speak, and has the characters run out of the movie screen and back into it. It's really unique and a lot of fun.
The Making of Frozen (3:18) – Don't be fooled by the title; This literally just has the voice cast and animation crew of Frozen dancing and singing (And hamming it up. It's amazing how awesome Olaf is as a character and how annoying his voice actor, Josh Gad, is in this video) about the making of Frozen. The video then ends with them saying they don't know how it was made. So, after 3 minutes of nonsense, you still don't get any insight into how the movie was made. But if you like goofy musicals, this is right up your alley.
D'frosted: Disney's journey from Hans Christian Andersen to Frozen (7:28) is the closest you get to a behind-the-scenes featurette here. It's more so about how the story made its way through the ranks at Disney and was eventually made. It takes us all the way back from Walt's day to The Little Mermaid and to "The Snow Queen," which became Frozen. Animator Marc Davis's wife Alice talks about how Marc had done designing back in the day for a wintry attraction for Disneyland that never came to be. Some of his designs helped inspire the look of Frozen.
Deleted Scenes (6:51) – There are 4 deleted scenes with an introduction from the two directors. All of the scenes are presented as unfinished, animated sketches. The first scene was conceived at a time when Elsa was planned to be a villain. The next has Elsa and Anna playfully talking about clothes in a dressing room. It's a little cheesy, so I'm glad they cut it. Lastly, we see two different brief character introductions for Kristoff, which were written at different stages in the film's script.
Music Videos – The "music videos" section really just features 4 different versions of "Let It Go (End Credit Version)" in four different languages by three different artists. The first is in English by Demi Lovato, then in Spanish and Italian, both by Martina Stoessel, and then in Malaysian by Marsha Milan. The videos show the respective singers singing, mixed with footage from the movie.
Original Teaser Trailer (1:32) – This is the fantastic original teaser trailer that doubles as a short cartoon. It features Olaf the snowman on an iced-over pond and Sven the reindeer as they fight over the carrot nose that Olaf briefly loses.
– John DiBiase, (reviewed: 3/14/14)
Parental Guide: Content Summary


 Sex/Nudity: None, just some brief kissing.

 Vulgarity/Language: None.

 Alcohol/Drugs: None.

 Blood/Gore: None. Olaf the snowman comes apart a lot, and is even briefly impaled by an icycle (which is played for comedy). Another scene shows his face warping a bit as he starts to melt (but is fixed). A huge snow monster's leg is sliced off, but it's all snow and ice, so it isn't gory.

 Violence: As children, Elsa and Anna are seen playing with Elsa's snow and ice powers. But at one point, Elsa accidentally hits Anna with a burst of her powers and Anna falls to the ground hurt; Anna and Elsa's parents board a ship and we see it get lost in a large storm. It's a very brief scene and handled rather subtly, but we soon learn their parents had perished in the storm; Anna accidentally smacks Hans in the face; While on his sled, Anna and Kristoff are chased by wolves. At one point they are seen biting Kristoff, but he ends up being fine; A huge snow monster chases Anna, Kristoff, Sven and Olaf. They then all fall off a cliff but they land in deep snow and are okay; Hans and some other guys attack the snow monster and it knocks some of them down. Hans slices off one of the monster's legs and it falls off the cliff; SPOILER: Elsa accidentally hits Anna in the heart with a blast of her ice powers. This dooms her to slowly freeze to death unless she experiences an act of true love. We see her health deteriorate as the movie progresses; A character reveals their plans to take the throne and leaves another character locked in a room to die alone, and proceeds to tell other people that person is already dead (but they don't die); We see someone chained by their hands in a cell. They end up breaking free out the side of the building; While Kristoff and Sven race across the ice, a huge ship (that's stuck in the ice) crashes around them; A character goes to cut down another person with a sword (while their back is turned), but another character steps in and holds up their hand to stop them, just as they turn to ice. The sword shatters when it hits the ice; Anna punches a man in the face and he falls off a ship into the water.