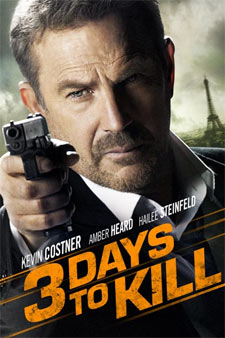 3 Days To Kill



– intense sequences of violence and action, some sensuality and language.
Director: McG
Starring: Kevin Costner, Hailee Steinfeld, Amber Heard, Connie Nielsen
Running Time: 1 hour, 57 minutes
Theatrical Release Date: February 21, 2014
Official Site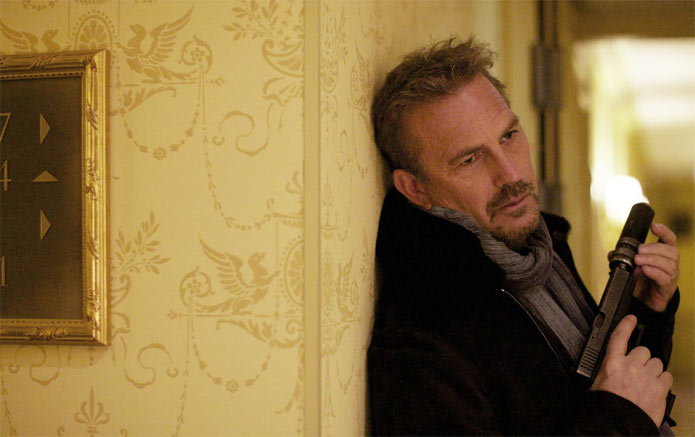 Plot Summary
A dying CIA agent trying to reconnect with his estranged daughter is offered an experimental drug that could save his life in exchange for one last assignment.
(from IMDB.com)
Film Review
It seems like Kevin Costner's been making a bit of a comeback lately. After appearing as Pa Kent in last year's Man of Steel, Costner has had three more relatively higher profile releases, starring alongside Chris Pine in Jack Ryan: Shadow Recruit, and having lead roles in the upcoming Ivan Reitman-directed football comedy Draft Day, and the recent action thriller 3 Days To Kill. Thanks to the success of the Liam Neeson vehicle Taken (and his follow up butt-kicking thrillers), Costner fills a similar role as a CIA operative in a film co-written by the Taken director and helmed by Charlie's Angels director McG.
Given that this film seemed to get very little push aside from a Super Bowl spot, one probably wouldn't have many expectations when approaching 3 Days To Kill. The story revolves around Costner's agent, Ethan Renner, who has always put his job first, especially at the expense of his estranged wife and daughter — the latter of which he has missed most of the life of. When he finds out that he's suffering from a terminal disease, he decides to reconnect with his family and the daughter he doesn't even know, but gets roped into one last hit job at the same time. The film spends most of its time juggling Ethan's attempts to connect with his teenage daughter Zooey (played by True Grit's Hailee Steinfeld) and his violent career. It's an odd mix, and the viewer may feel a bit thrown into the fire of Ethan's life, but it works more often than it doesn't.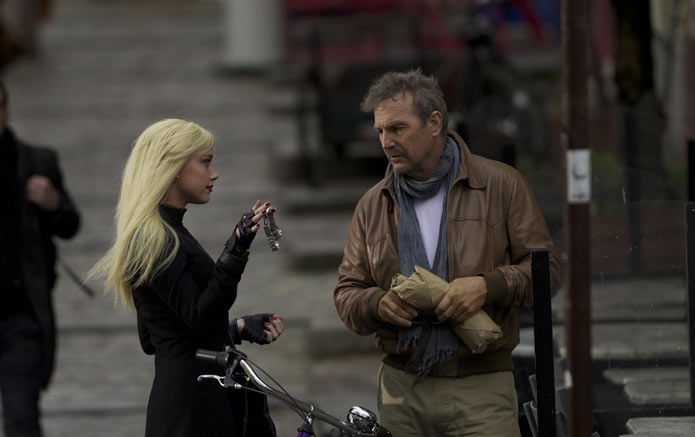 While it isn't the most original or tightly told story, McG keeps it entertaining throughout. And he fills the film with accomplished players–like Costner and Steinfeld–to keep it engaging. The film moves at a pretty quick pace from the start but things flip flop a bit drastically once Ethan starts spending time with Zooey. Some viewers may find it jarring (or even boring), but I actually enjoyed the juxtaposition of the two. You feel for what Ethan's trying to do, but you also realize he needs to try to make do with sleeping in the bed he's made. The only character that doesn't really work so well is Amber Heard playing Ethan's flashy handler, Vivi, as this femme fatale who enjoys using Ethan to do her dirty work. She seems more villain than government operative and the sadistic joy she seems to get out of him doing work for her makes her an even more difficult character to make sense of. Is she good? Is she bad? Does she have a weird crush on this famed agent? Or is he just a dog she leads around on a leash? We never really seem to get an answer either.
I'll admit, I've never been much of a Costner fan. I think he's a very, very dry actor, but I loved him as Pa Kent and I think playing the crusty older guy suits him better now. He was pretty good in Shadow Recruit, too, and this role seems to work pretty well for him. I'd actually be interested in seeing him reprise this role again, but it seems like the kind of movie that works best as a one-off (and the poor box office performance will probably prevent even the consideration of a sequel). Hailee was praised for her work in True Grit, but I found her performance in that a little too abrasive (and therefore kind of annoying), even though that's what the character was. She's a lot better here, even if she is more so just playing a parentally scorned teenager with typical teenager (if not straight-up "daddy") issues. She plays off Costner well and they have some pretty good scenes together.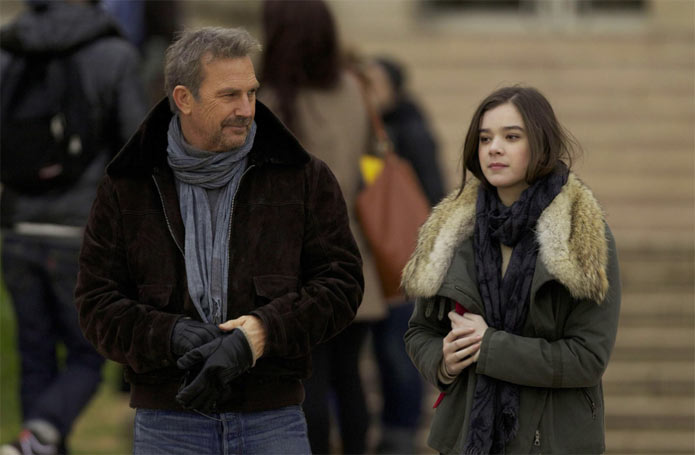 The content pushes the envelope pretty strongly, but it's most likely that this film was originally rated R and had been cut down for a wider audience. In the first 15 or so minutes, Costner mouths, partially speaks and then fully speaks the F word, and then it's later written out clearly in a subtitle and then spoken aloud in Italian. The violence is a lot, but it's not particularly gory (It's about on par with a Taken film). We do see some blood on some fallen victims but the camera often cuts away from the impact of bullets to not show anything really graphic. The roughest moment may be when a thug holds a CIA agent's head in an open elevator doorway and then we see it come down, from the angle of the victim's body and not in view of the actual decapitation. We see no gore but it's obvious to the viewer what has happened. Other blood involves Ethan's nose frequently bleeding a lot because of his condition, and again, some bloody scrapes and such on people's faces from interrogations or scuffles. Sexual content is mostly minor, but there's an awkward sequence when Ethan goes to see Vivi in a strip club and we see a topless dancer blurred out of focus in the foreground. All other shots are obscured by smoke or a glare. We then see two female dancers dancing together seductively. It's a completely unnecessary scene–which also just further clouds the Vivi character.
Overall, fans of Costner or movies like Taken will probably be most interested in 3 Days to Kill. It's pretty edgy at times in the content department, but it's also a rather entertaining thriller, especially for fans of the spy genre. Flawed but still entertaining, it'd probably be a decent rental or spontaneous NetFlix option on a rainy day, but there's really no need to rush out to the theater for this one.
– John DiBiase, (reviewed: 2/21/14)
Parental Guide: Content Summary


 Sex/Nudity: Ethan sees Christine in a nightgown and shows some interest in her, but she leaves the room; We see Ethan and Christine kiss and they wake up in bed together in the morning (they're married); We see a woman's bare back all the way down to the top of her butt as she's being tattooed. We briefly see another woman's bare back in the same tattoo parlor; In a strip club, we see a topless woman in the foreground of the shot but her nudity is out of focus and only partially visible (since it's blurry). All shots after that have the nudity obscured by being out of focus or covered with smoke or a glare of light. We then see two female dancers moving seductively around each other and possibly kiss; We see Zooey in a club where there's lots of drinking involving teens and we then see her in the bathroom surrounded by guys trying to touch her legs and up her dress to possibly rape her. Ethan stops them; Zooey and her boyfriend go into a room at another party all alone and kiss, but we don't see if it goes any further; We briefly see a topless statue (like a Renaissance style statue)

 Vulgarity/Language: 1 spoken "F" word (plus 1 "F" word mouthed, 1 incomplete, 1 written in subtitles, and 1 spoken in Italian); 1 "a" word," 1 "*ssh*le," 6 "S" words (plus 1 written in subtitles), 2 "S.O.B," 4 "G-d," 1 "g*dd*mn," 1 "J-sus," 3 "J-sus Chr-st," 1 "d*mn" (plus 1 written in subtitles), 1 "h*ll," 1 "b*stard"

 Alcohol/Drugs: A big club has lots of drinking in it and potential drugs. We then see that Zooey appears to be drunk as guys try to fondle her; Ethan is instructed to drink vodka to counteract the hallucinations of an experimental drug he takes for his condition. We see him drinking because of this several times in the film; We see more drinking at a party

 Blood/Gore: We see a room of dead bodies on the floor (who've been shot) with blood on their clothes; Ethan falls to the ground with headaches and his nose starts bleeding; We see a female agent with blood on her nose and face before she's decapitated in an elevator shaft (not seen); A man has some bloody scrapes on his face; We see blood on another man's face and on the clothes of some victims on the floor; We see a needle entering Ethan's arm and blood dribbling out; We see blood on the faces of two men; We see blood on the hand of a killer gripping a bottle; Ethan has a bloody nose again; We see blood on a man's head; Ethan has blood coming from his nose again and on his hands; Ethan has blood surrounding his body on the floor as he plays dead and then we see it on his clothes; We see more blood on Ethan's hand and on the villain's head.

 Violence: Lots and lots of lethal action violence. The following is only some of it. There's a big shoot out at the beginning that results in a van full of agents exploding and being killed, a woman being decapitated by way of a descending elevator, and a room full of dead guys in suits lying on the floor; Ethan shoots The Albino in the leg; Ethan falls to the ground with headaches and his nose starts bleeding (happens many times in the movie); Ethan shoots up a room full of men in suits, killing some of them. Vivi and Ethan interrogate a man before Vivi shoots and kills him; A man shoots up a deli (shooting Ethan with a shotgun in the process) and he and Ethan fight. The man then threatens Ethan with a broken bottle before Ethan kills him; Ethan kidnaps a man and ties him up in his apartment bathroom; Ethan punches a man tied up in his trunk; He ties a man up in his bathroom again and interrogates him; We see him put another man in the trunk of his car; There's a big shootout at a party and many thugs are shot up and killed; Ethan refuses to kill someone so Vivi shoots them; and other action violence.