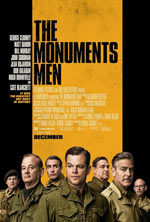 The Monuments Men



– for some images of war violence and historical smoking.
Director: George Clooney
Starring: George Clooney, Matt Damon, Bill Murray, John Goodman, Cate Blanchett, Jean Dujardin, Hugh Bonneville, Bob Balaban
Running Time: 1 hour, 58 minutes
Theatrical Release Date: February 7, 2014
Official Site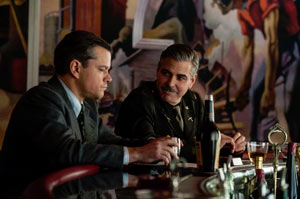 Plot Summary
In a race against time, a crew of art historians and museum curators unite to recover renown works of art stolen by Nazis before Hitler destroys it.
(from MovieWeb.com)
Film Review
When you think about inspiring and heart-wrenching tales from the devastating age of World War II and the reign of Adolf Hitler–a concept that should send chills down any free-born man or woman–one true story that hasn't been told very often has been that of a team called "The Monuments Men." These past-their-prime aged men were artists and art experts who were tasked to help locate and take back the thousands of pieces of art that Hitler had stolen from families (mostly Jewish families) to fill his very own Hitler Museum. Adolf's atrocities were far more despicable than stealing art, but those in The Monuments Men decided to risk their lives (and a couple gave them up) to rescue and preserve works of art that had been created at various points in history. While this definitely seems futile and pointless to some, others viewed it as a way of taking back their humanity, and trying to stop Hitler from destroying the history that mankind had worked so hard to create. This story has been brought to the big screen by way of actor/director George Clooney in the aptly titled The Monuments Men.
Originally slated for a Christmas 2013 release, The Monuments Men was pushed back to early 2014 and has since garnered a mostly unfavorable critical reception. Many have called it uneven or even "dull," while others questioned whether or not it's a story really worth any merit given how much bigger other sacrifices were during the war. But, as Clooney returns to directing and starring in a period piece (Leatherheads being another), he largely tries his hand at drama this time around. And, unfortunately, the film's biggest and most noticeable problem is in its pacing. The movie kind of plods along at a pretty slow pace as the viewer wonders when might these Monuments Men actually get to do something. However, the film actually ends up being pretty faithful to most classic age dramas of the very time period the movie takes place in. Much of the story revolves around setting up the film's finale, with the men searching out and trying to track down where Hitler may have stashed the priceless art pieces. It's the kind of film an Art History class or art buff might appreciate most, as there really isn't much action in the film. It lacks the fun of a normal "heist" film (like Clooney and Damon's Ocean's trilogy), but Clooney does inject plenty of personality into the characters that make them each fun to watch–especially if you're a fan of any one of the actors. The only thing he doesn't really do much of here, though, is provide much backstory for most of the characters. It's to the point where you're barely going to remember any of the characters' names by the end of the movie.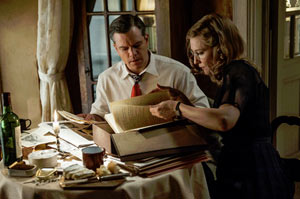 The movie's payoff at the end does redeem the sluggishness of the movie that precedes it, but the pacing will likely alienate most viewers who are more keen on action films or movies with quick cuts and lots happening. Perhaps it's a film that will improve with multiple viewings once the viewer knows what they're in for, but it's that first viewing that has proven surprisingly uneventful for the majority of moviegoers. The thing that helps The Monuments Men the most, however, is Clooney's committment to the authenticity and recreation of the time period and the acting quality of those involved. (I, however, cannot vouch for the historical accuracy of the story, though. The credits do make it clear that some factual liberties were taken for dramatic purposes.) In rounding up a batch of acclaimed talent, Clooney has assembled a dream team of reliable older actors who have all been acclaimed at some point in their careers. Together, they help bring this story to life and give it a little extra "oomph" to make up for its structural flaws. Some scenes do feel a little like filler, especially before you realize later what they were there for, but even the more frivolous scenes just help paint the picture of life during the war back then. Furthermore, these war vets and civilians who've been removed from the frontlines until this unit was put together are getting glimpses of the harsh reality of it all and the viewer begins to experience it through the eyes of these men.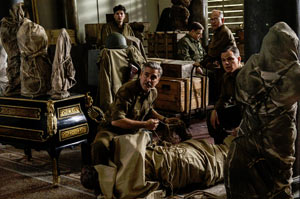 The content for the film is definitely of the PG-13 nature, but it's on the ligther side than most PG-13's these days. However, we do see a lot of famous artwork with male and female nudity on them (statues and paintings) in a non-sensual way, and some war-related violence. The worst of the latter comes in the form of some blood on a few victims who are shot and then some blood on the aprons and hands of people in a medical tent at The Battle of The Bulge. The story does focus on the great loss suffered during the war, especially in these scenes. Finally, there is some language, mostly blasphemy actually, as well as some uses of the "S" word. And I have to add, there's a moment where one married man joins a woman (who's not his wife) for dinner and she then asks him to stay over at her place (to sleep with her), but he politely says he should leave and does. It was a refreshing thing to see portrayed in a film, especially in a time, currently, where most characters in a situation like that in most movies probably wouldn't pass that up.
The Monuments Men is a good war drama about a little-known story revolving around the major art thefts by Hitler's men in WWII. Director George Clooney does a good job putting together a fantastic cast and a wonderful, detailed visual backdrop, but has trouble finding the right mix of serious and fun to make the film as strong as it can be. If you don't mind a slowly-paced drama with great acting and a great appreciation of art, then please don't miss The Monuments Men. Those who find themselves a bit more picky and uninterested in such subject matter would do better to pass it up.
– John DiBiase, (reviewed: 2/21/14)
Parental Guide: Content Summary


 Sex/Nudity: We often see famous paintings or statues with bare breasts or penises visible. They're never lingered on very long and usually look rather stylized; A woman flirts with a married man and asks her to come back to his place for dinner. He does and when she asks him to stay (to sleep with her), he says he should go and then leaves.

 Vulgarity/Language: 3 "J-sus," 2 "J-sus Chr-st," 5 "g*dd*mn," about 8 "S" words, 11 "h*ll," 2 "d*mn," 1 "S.O.B," 3 "G-d"

 Alcohol/Drugs: Two men celebrate with drinks at the beginning; We see some characters drinking in a bar. We occasionally see some characters with drinks; One of the main characters is known for being a drunk; A man and a woman share wine at dinner; There's quite a bit of cigarette smoking in the film.

 Blood/Gore: We see some blood on some letters as a person is reading them. We then see blood on a man's clothed chest after he's been shot and he's dying; A man is carried into a medical tent and we see various miscellaneous soldiers bandaged up with medical personnel having some blood on their aprons and hands. One of the Monuments Men hold the hand of a dying soldier and there is blood on his hands and the victim's. We also briefly see the blood-soaked pants of the victim's wounded leg; A man is shot and we see lots of blood as he unbuttons his coat. We also see it on his mouth and hands as another person tries to help him. We then see his friend holding onto him after he's passed on.

 Violence: The film takes place during WWII, so we see a lot of devastated buildings and hear some stories of the war; Two men are fired on, so they fire back and when one of them goes to sneak up on the shooter, they find that it's a child and they remove him from the building he was hiding in; The Nazi's raid a church and a man fires on their leader who fires back (not seen), but the camera then turns so we see the victim as he's dying; Two men park on a road and take a smoke break. One finds a team of soldiers hiding in the trees so he runs back to his car. The other man finds another team hiding in the trees on the other side of the street and runs back to the car too. That team opens fire on him, though, and he's shot and fatally wounded. We see him struggling in the car and his friend later begging for help and not getting any; A Nazi fires on a woman who's watching him from a distance, but does not hit her; We see Nazi's using flame throwers to burn up priceless art; A man steps on a mine and some other men help him with stepping off of it. As he does, it makes a small explosion and they all jump out of the way; A car explodes to block a street; A bomb blows some debris in front of a tunnel; A young German soldier hold an older American at gunpoint so another American comes by and encourages them to relax and take a smoke break. The young man eventually decides to leave.