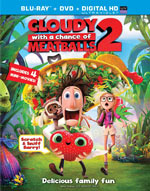 Cloudy With A Chance Of Meatballs 2



– for mild rude humor.
Director: Cody Cameron, Kris Pearn
Starring: voices of Bill Hader, Anna Faris, Scott Caan, Will Forte, Andy Samberg, Benjamin Bratt, Kristen Schaal, Terry Crews, Neil Patrick Harris
Running Time: 1 hour, 35 minutes
Theatrical Release Date: September 27, 2013
Blu-Ray Release Date: January 28, 2014 (Amazon.com)
Plot Summary
Flint Lockwood now works at The Live Corp Company for his idol Chester V. But he's forced to leave his post when he learns that his most infamous machine is still operational and is churning out menacing food-animal hybrids.
(from MovieWeb.com)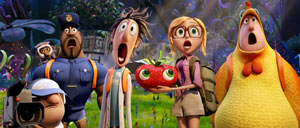 Film Review
In 2009, the Sony Pictures Animation team surprised audiences of all ages with a smart and witty film based on the quirky children's book, Cloudy With A Chance of Meatballs. Funny, clever, unpredictable and visually stunning, the film was a hit and a genuinely endearing film to revisit time and again. Its success sparked an unneeded sequel, and in the fall of 2013, four years later, the world of Cloudy With A Chance Of Meatballs was revisited with Cloudy With A Chance Of Meatballs 2.
Changing directors from one film in a series to another is a dangerous risk, and it seldom works. The sequel that most recently suffered from such changes was last year's action comedy RED 2, and it's the kind of change that affects the whole look and feel of the successor to the original. But it's quite a complicated situation because you want a sequel to be different, but it still needs to capture what everyone liked about the first film. Sadly, Cloudy 2 does not do the latter. Cody Cameron (whose only other recognizable directing credit is Sony's direct-to-video Open Season 3) and Kris Pearn (who makes his directorial debut here) take the reins here and treat the film as if they've never actually seen the first one. However, the twosome did work on the first film in the story department, so it seems even more curious why this sequel is such a departure.
Tone is everything, and from the start it's like a completely different series. The fast, snazzy animation returns, but it's much less clever this time around. Just about everything is dumbed down for this outing, and characters are literally rewritten and shoehorned into this film just to justify bringing them along for the adventure. In the first Cloudy, for example, Flint is viewed as the town screw-up and is an outcast who is made fun of by town darling "Baby" Brent and pursued by over-the-top super cop Earl. While the film has a happy ending, Brent was always viewed as a pest by Sam and Flint (they clearly didn't want him along for the finale but he tags along anyway), and Earl still viewed Flint skeptically as a town menace. At the start of Cloudy 2, Earl and Brent are best buddies with Flint and Sam. Somehow everyone acts like lifelong friends (Flint's dad even gives him a big bear hug and tells him straight out that he's very proud of him, which basically contradicts the entirety of the first film. If you remember, the first film ends with Sam taking Steve's thought translator and slapping it on Flint's dad to help him convey his pride for his son. Here, he has no problem saying it). Furthermore, this film establishes a new scientific hero for Flint — one since his childhood, which of course was never mentioned in the first movie. And, predictably, this hero of Flint's is the villain (which they reveal just as soon as they introduce the character). This character, voiced by SNL'S Will Forte, sounds much like the penguin, Skipper, from Madagascar and looks like an evil animated Steve Jobs kind of character in an orange, puffy Marty McFly kind of vest. He's a far less tangible, more outlandish villain than the mayor in the first film. He even has smooth, wobbly limbs and just feels less believable than almost any one of the foodimals. And Cloudy 2 seems to have a strange, animal rights-ish message when a point is made about the food being alive and the villain just wants to harvest it. After everything's taken into account, it just all feels glossed over with too much familiarity and way too much of a sophomoric approach. The first movie was executed with skill by directing duo Phil Lord, Christopher Miller (who have since done 21 Jump Street, its sequel, and the new LEGO Movie), and this sequel feels much more like its of the direct-to-video variety.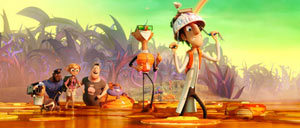 Part of the familiarity factor can be attributed to how Cloudy 2 feels a lot like both of the Jurassic Park sequels. (I half expected to hear John Williams' famous theme or someone to say "Welcome….. to Swallow Falls!") In the first sequel, The Lost World (1997), they visit a second dinosaur-covered island where scientists want to study them but the bad guys just want to imprison them for a new park back in California. In Jurassic Park III (2001), they return to the original island that has been overrun with the dinosaurs. Throw in a boat trip to the island out of King Kong and another plot that involves the hero temporarily losing their way and forsaking their friends and you've basically got Cloudy 2. Admittedly, I actually kind of liked that the movie had a Jurassic Park/King Kong vibe in a family-friendly packaging, but it still probably could have had a stronger execution.
So not all is lost here. While the setup is slow going and Flint's time working at Live Corp. is rather tedious, the film really comes alive once they set out for Swallow Falls again. The foodimals are fun and entertaining to watch and the quest aspect of the story is fun. Also, it's just great to have the main cast back together (although, really, we don't need Earl or Brent this time around). And Flint's monkey assistant Steve still has some of the best moments in the film. Finally, this go-around is a bit more kid friendly than the original (no one's running around hitting people in the face with ice cream snow balls), so my 3-year-old seemed to like this sequel better than the first (especially the food monsters). He even asked to watch it again as soon as it ended. Still, it just lacks compared to the original and just doesn't do it justice. Fans of the original are likely to be more disappointed than viewers new to the series.
The content is PG rated again, but as I said before, it's a little more kid friendly. There is less rude humor involving behavior you definitely wouldn't want your little impressionable ones imitating. However, some liberties are taken regarding language. The phrase "oh cr*p balls" is used twice, and there's an intentional play on words with a "BS" USB device. Also, before the villain meets his end, he says "oh fudge." And that's another thing — the villain actually does die this time (spoiler: he gets eaten). For violence, our heroes are almost ground in a food processor and there's a "food fight" between the foodimals and Live Corp's robotic Sentinels of Safety. Most of the other violence is slapstick and comedic. But also keep in mind that some of the food monsters are kind of scary — especially the menacing Cheesepider and Tacodile.
Overall, Cloudy With A Chance Of Meatballs 2 is one of those disappointing, unnecessary sequels that could have been done right–Despicable Me 2 is a good example of one done right–but instead, the team drops the ball here. Repeat viewings help get past the initial letdown, and it's still a watchable animated comedy, but it just pales in comparison to the original and just isn't nearly as clever or funny.
– John DiBiase, (reviewed: 1/25/14)
Blu-Ray Special Features Review
Sony brings home Cloudy With A Chance Of Meatballs 2 in a Blu-Ray/DVD/Ultraviolet combo pack, a Blu-Ray 3D/Blu-Ray 2D/DVD/Ultraviolet combo pack, and a single disc DVD. The picture is visually stunning (much like the first film), but it's one of the most colorful movies you can lay eyes on. Definitely watch it in HD if you can. Along with a feature filmmaker commentary are the following bonus features on the 2D Blu-ray disc:
Mini-Movies (22:03) – There are four brand new "Mini-Movies" exclusive to this release. The four total the running time of a given half-hour TV show (without the commercials) and are mostly animated in expressive 2D, hand-drawn animation. The first is "Steve's First Bath" which shows Sam and Flint (in their CG movie animation) sitting at a dinner table on a date when Flint tells the story of Steve's bath that turned into a disaster. He shows the story to Sam on a handheld computer that shows the 2D animation. "Super-Manny" opens with the CG animated Manny, with shards of glass sticking out of his hat, introducing the story of what just happened to him. It then cuts to the hand-drawn style of animation as Manny, while on the job, ends up saving a kitty in distress. "Attack of the 50 Ft. Gummi Bear" is entirely this hand-drawn animation and shows a Gummi Bear turning itself into a huge monster, so Steve does the same to himself to stop the Gummi Bear. The style of animation and even the semi-crude execution of the cartoon is very reminiscent of the 90s Ren & Stimpy cartoons. Finally, "Earl Scouts" shows the movie-style animation of Earl introducing his own cartoon short where, in 2D animation, we see a pickle and Barry fighting each other in a kind of "survival of the fittest" exercise for Earl's scouts. It has a bit of a classic Tom & Jerry feel but has a positive ending.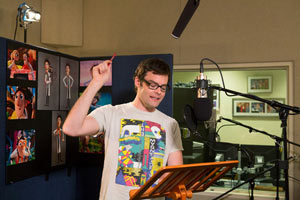 Deleted Scenes (2:20) – There are four deleted scenes totalling not even two and a half minutes of footage. However, each one is fully finished animation, so really, all of these could have been left in. The first shows Barb in a flying car picking up Flint to meet with Chester. In the second one, Flint prepares for his mission to Swallow Falls and we see him packing and saying what he's doing as he does it. It's super brief and very characteristic of Flint, so I wish they'd just left it in. Thirdly, we see Sam and Barb climbing up the tunnel to Flint's lab in his house and Barb briefly insults Sam's profession. Finally, when Chester visits Swallow Falls, he comments on the fact that Flint decided to bring friends even though Chester told him to go alone. Suddenly, Brent freaks out and mistakes his toes as worms all over his feet.
Production Design: Back in the Kitchen (6:50) – Here, the directors of Cloudy 2 talk about returning to the world of the first film. These two guys worked as part of the story department on the first film but weren't the directors, so they were excited to helm their own sequel. They admit to throwing out first movie's framework to create a new world here (since they saw it as less of a disaster movie as the first film and more of a monster/journey movie this time). They briefly examine the environments in Swallow Falls, too.
Cloudy Cafe: Who's on the Menu (6:53) – This is a great little featurette about the voice cast in the film. We hear from each of the main cast about returning or joining the film series for the first time.
Anatomy of a Foodimal (6:04) covers the hybrids of foods and animals and how they came up with some of them. The main cast also talk a bit about them too.
Awesome End Credits (6:09) – This is a featurette about the creation of the unique end credits in the film. I assumed all of it was computer generated, but apparently they used a mixture of 2D animation and puppetry/stop motion! So they show how they created some of the stop motion effects here. Also, the end credits sequence was intended to show life in Swallow Falls after the movie, where people and foodimals live in harmony.
La Da Dee Music Video (3:25) – Teen singer Cody Simpson's song "La Da Dee" is pretty silly (and borders on irritating), but it works with the end credits of the movie. As a video on its own, however, it's rather ridiculous. The video shows him singing and playing outside a diner and then going inside–where he's the only patron–and being served lots of food by a pretty waitress. He then sees reflections of the foodimals from the movie in objects next to the real food and decides to just leave the diner.
Making of La Da Dee Music Video is a 59-second promo for the video and film and briefly has Cody and others talking about the music video.
Building the Foodimals (3:50) is about designing the movement of certain foodimals, starting with the pickles (and their awkwardness). Barry is then covered, as well as the cockatiels (which they said was modeled after Bubo from the original Clash of the Titans film!), the shrimpanzees and many others.
Delicious Production Design (5:11) is a narrated batch of footage that shows how they took a painterly approach to the look of Swallow Falls. We hear here about their inspirations for the designs and locations seen in the movie.
The Mysterious Sasquash (3:08) is a pretty awesome extra. It reveals that the filmmakers hid an exclusive character all throughout the entirety of the movie. They highlight many impossible little places he was hidden in the background (like driving a car in San Franjose) or in plain sight and it's a lot of fun. It's rare when makers of movies like this openly reveal their own Easter eggs.
– John DiBiase, (reviewed: 1/26/14)
Parental Guide: Content Summary


 Sex/Nudity: Sam and Flint, at the beginning, comment that they should "get a place together" and then specify that it's to be a work place; We see adult baby Brent in his diaper briefly; In the painted, hand-drawn end credits sequence, we see adult baby Brent's bare butt cheeks for a moment while he's on a beach.

 Vulgarity/Language: 2 "Oh cr*p balls," a device is called a "BS-USB" device and when the villain reveals his plan, he says something like "Oh c'mon! It's called a BS-USB drive!"; A character says "Oh fudge"

 Alcohol/Drugs: None. But characters at Live Corp are heavily addicted to lots of coffee.

 Blood/Gore: None.

 Violence: Most of the violence is comedic, except for some of it near the end of the movie. Some of it is: Steve throws a garbage can against a wall (as part of a joke); A new invention of Flint's freezes his dad in ice; Another invention has a fork and knife on it and shoves food in Flint's dad's face; Another invention creates a wormhole that transports food on top of his dad; We see his dad trip over an invisible table; A device called "A Party in a Box" explodes flecks of color and confetti all over a room, stunning Flint's father; Later, see one of these boxes explode out of Flint's jacket and color spills everywhere and on people around him; Steve is thrown into a portal and then flies back out, shocking and spazzing with electricity. He then jumps on Flint's face and pokes and pulls on his eyes; We see lots of devastation on the island of Swallow Falls when the group returns there — buildings split in two, cars and houses in varying degrees of disrepair; A Cheespider chases them and grabs Brent in its mouth, squeezing him out of his chicken suit; The gorilla Barb makes a scary fang face; Barb pulls a knife on the strawberry Barry; Pickles attack Tim and threaten him with his own spear but then they reveal to just want his sardines; Flint runs face-first into mailbox; Chester and Flint hang and swing by their stretchy underwear; A huge, menacing Tacodile throws one of the Sentinels of Safety robot suits and we hear a voice say "I'm OK!"; The gang slap each other repeatedly as Mosquitoasts buzz around their faces; A group of our heroes are shot by freeze beams and get encased in ice; Flint and Chester briefly struggle; We see some vegetation start to shrivel up and die; The villain pushes Flint down a crevasse into a pool of liquid below and he appears unconscious; There's a big food fight between the foodimals and the Sentinels of Safety. At one point, the Cheesepider throws one and its victim escapes, so Barry takes over the Sentinel body and starts attacking the other Sentinels and freezes one of the people running away from one of the suits; The villain slaps Flint; The villain falls into the blades of a food processor, but pulls himself inside his jacket (like a turtle). He bounces around the blades and flies out, but is then eaten by the Cheespider. We then see the foodimal spit out the villain's jacket and then we see it deflate (revealing that the villain really is dead and gone).