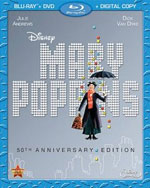 Mary Poppins




Director: Robert Stevenson
Starring: Julie Andrews, Dick Van Dyke, David Tomlinson, Glynis Johns, Karen Dotrice, Matthew Garber
Running Time: 2 hours, 19 minutes
Theatrical Release Date: August 29, 1964
Blu-Ray Release Date: December 10, 2013 (Amazon.com)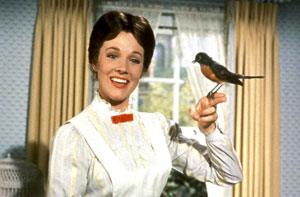 Plot Summary
MARY POPPINS is one of Walt Disney's greatest film achievements, a groundbreaking milestone in cinema history. Starring alongside Dick Van Dyke as Bert the chimney sweep, Julie Andrews won the Academy Award® for Best Actress, 1965, for her portrayal of Mary Poppins. This December, SAVING MR. BANKS tells the story of how MARY POPPINS made it to the screen and the relationship Walt Disney had with author P.L. Travers to obtain the rights to her book before he could start filming. In 1963, Disney was finally able to move ahead with his vision for MARY POPPINS. Releasing from the Disney Vault in celebration of its 50th Anniversary, MARY POPPINS shines like never before with an all-new digital restoration, available on Blu-ray™ Combo Pack & HD Digital on December 10, 2013. (from Click Communications)
(from MovieWeb.com)
Film Review
If you've grown up watching movies from a very young age, chances are quite good that you grew up viewing any number of Disney films — animated and live action. And regardless of the age of any given reader, by 2013, chances are also quite good that you've come across the Disney classic Mary Poppins at some point. Yet, it's pretty hard to believe that 2014 marks 50 years since the release of the film, and Disney is celebrating this half-century milestone by giving the movie its debut in high definition with the newly remastered Blu-Ray release.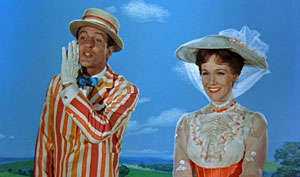 Mary Poppins is a musical that centers around a British family where the two little children–Jane and Michael Banks–are bratty and go through nannies like socks. In the event that the family suddenly needs to hire another one (after the latest quits), the kids make out a wish list of characteristics for the ideal nanny (cue musical number). When Mr. Banks tears up the list and throws it into the fireplace, the pieces float up the chimney and disappear, summoning the mysterious presence of the magical Mary Poppins who shows up for the job. From the moment she enters the lives of the Banks' family, things are drastically changed forever. Julie Andrews made her feature film debut with this 1964 family film, and it's a role that altered her career forever. It opened the door for a role in another classic, the 1965 Sound of Music. But Andrews really is an electric presence in the film as she helps show the kids how to have fun while valuing what's important in life. When Mary eventually sings the children the song "Feed The Birds" and teaches them about kindess and charity, she plants a seed that helps shape the future of the Banks family, inevitably changing the stoney heart of Mr. Banks. The ending is a bit bittersweet (as Mary leaves the family and moves on to wherever she's needed next), but there's still a warm lesson presented throughout the fun and silliness had in the film.
And that's one of the film's biggest strengths and simultaneous potential hangups; while there is hardly a serious moment to be found in the film, the underlying theme about compassion, and changing our outlook on life to be more others-minded, is shrouded by silly songs and outrageous scenes of people floating to the ceiling from being overcome with laughter, and joining song and dance numbers after jumping into a sidewalk chalk drawing. However, one of the most impressive scenes in the film is the rooftop choreography where Dick Van Dyke's Bert leads his gang of chimnee sweeps in song as they dance with brooms and leap from rooftop to rooftop. It all adds to the musical, stageshow feel of the film but it proves to be just one of the many examples of why this film is such a classic.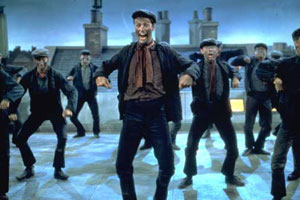 Mary Poppins is definitely an acquired taste, however. I remember loving it as a child, but unless one has grown up with watching it a lot or is a big fan of musicals, chances are today's audiences won't be quite as fond of it (my three-year-old son, however, really enjoys it). The movie feels very, very much like a Broadway play, with a lot of the acting being as if the actors are performing for a large audience. As such, there's a great deal of over-acting and corny, over-the-top line delivery that will annoy the more picky cinephiles. But Mary Poppins is so iconic, loaded with memorable songs from start to finish, with a truly charming performance from Andrews, that it's tough not to like the film. Admittedly, though, as an adult, Mary Poppins is less my cup of tea than most of today's more adult-friendly children entertainment (like Disney's new animated film, Frozen, for example), but Mary Poppins is so innocent and kid-friendly that it makes for really worry-free entertainment for the whole family.
Some 50 years later, Mary Poppins is still a sweet, fun-filled spoonful of sugar that goes down nicely. Fans of musicals (even the more recent Broadway show version of the story) or any of the principal cast members will especially enjoy this classic piece of cinematic history. And it's never looked or sounded better than it does in high definition on Blu-Ray. Don't miss this re-release of Mary Poppins!
– John DiBiase, (reviewed: 12/7/13)
Blu-Ray Special Features Review
The Blu-Ray debut of Mary Poppins includes a DVD and a digital copy version of the film (and you can choose through which digital provider you'd like to redeem it). The Blu-Ray disc includes a brand new transfer of the film that truly looks remarkable. Mary Poppins is my wife's favorite film and when we watched this new high definition transfer, she was in awe of how much more detail was visible on screen. The colors are also as vibrant as ever. The special features included on the Blu-Ray disc just add two brand new features and then include the previously released DVD extras in standard definition (like a wonderful reunion of Julie Andrews, Dick Van Dyke and songwriter Richard M. Sherman).
The following are the new extras on the Mary Poppins Blu-Ray disc…
Becoming Mr. Sherman (14:01) – With this month also marking the release of Disney's new film, Saving Mr. Banks, which is the true story of how Mary Poppins was made into a feature film, actor Jason Schwartzman sits down with the real Richard Sherman (who he plays in Saving Mr. Banks) to talk about the music in Mary Poppins and what it was like to work with Walt Disney back in the 60s. Through their conversation, we get to hear a snippet of an original demo of one of the songs, as well as get to see exclusive new clips from Saving Mr. Banks. Finally, the featurette ends with the trailer for Saving Mr. Banks.
Mary-Oke – For those ready and willing to sing along with Mary Poppins, a new feature allows you to access select songs separate from the film to sing along to, including: "A Spoonful of Sugar," "Supercalifragilisticexpialidocious," "Step In Time," and "Chim Chim Cher-ee."
Overall, the brand new features are a little slim, and it's probable that Disney and the cast have felt that other recent re-releases of the film to DVD (there have been no less than three different releases of it to DVD in the past decade or so) were comprehensive enough not to include more new content here. However, I'm sure when Saving Mr. Banks releases to Blu-Ray/DVD next year, we'll get more behind-the-scenes looks into the world of Mary Poppins.
– John DiBiase, (reviewed: 12/8/13)
Parental Guide: Content Summary


 Sex/Nudity: None.

 Vulgarity/Language: None.

 Alcohol/Drugs: When Mary Poppins changes the taste of the kids medicine to whatever flavor they'd like, she tastes a spoonful for herself and says, "Mmm! Rum punch!"

 Blood/Gore: None.

 Violence: All of the violence is playful or slapstic, not meant to be especially violent or dangerous; Bert hits himself in the face with a cymbal; The Admiral on the rooftop of the house fires a cannon fairly regularly; The head of the bank tries to take a coin out of Michael's hand. He then yells that he wants it back from the man and people overhear this, thinking the bank is withholding people's money and a riot breaks out. Michael and the bank employees struggle over the coin while people swarm the tellers asking to withdraw their funds. The kids then flee the bank and run into an alley where a black-faced stranger grabs them. It turns out to be their friend Bert covered in soot and they are relieved; The Banks' maid hits a chimnee sweep in the head with a pan; Admiral shoots fireworks out of a cannon at the chimnee sweeps and they jump around and dodge them; We hear that a man has died laughing.