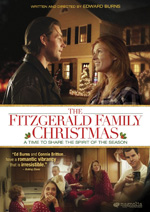 The Fitzgerald Family Christmas



– for thematic material, language, some sexual and drug references.
Director: Edward Burns
Starring: Edward Burns, Connie Britton, Michael McGlone, Kerry Bishé, Heather Burns, Marsha Dietlein, Noah Emmerich, Caitlin FitzGerald, Tom Guiry, Ed Lauter, Daniella Pineda
Running Time: 1 hour, 36 minutes
Theatrical Release Date: December 7, 2012
Blu-Ray Release Date: November 5, 2013 (Amazon.com)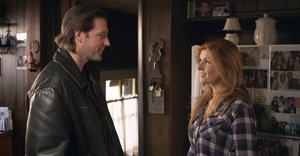 Plot Summary
The adult siblings of the Fitzgerald family prepare for their estranged father to return home for Christmas for the first time since he walked out on his family 20 years ago. Family rifts emerge, and like with any family, Christmas brings a mixed bag of complicated emotions and dynamics. Alliances form, old wounds are reopened or glossed over, and the possibility for a new hope and forgiveness emerges. (from BH Impact)
Film Review
One of the best things about the end of the year is that it's time for holiday movies once again. In 2012, indie filmmaker Ed Burns released a film he wrote and directed, called The Fitzgerald Family Christmas, about a dysfunctional Irish-American family trying to get along for the Christmas season. The story centers around Burns as Gerry Fitzgerald, the one brother in the family who puts in the effort to keep his family from completely falling apart. Based in New York City, it gives Gerry an especially emotional backstory as we eventually learn that he lost his wife in the 9/11 Twin Towers attack (although the event isn't actually mentioned by name). The film opens on the eve of his mothers 70th birthday as he tries desperately to round up the family to see her and simultaneously discuss the possibility of having their estranged father over for Christmas. The dilemma is that their father had actually walked out on the family 20 years earlier and left his wife to raise seven kids on her own. Now their father wants to spend Christmas with them after having fallen on hard times. The kids themselves are split on the idea and, as other drama in each of their lives comes into play just days before Christmas, it seems less likely by the minute that the Fitzgeralds will spend Christmas together.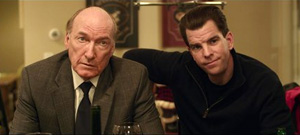 Most of the time when you think of Christmas movies, you think of whimsical stories about Santa Claus or elves or reindeer, and not necessarily dramatic tales about families dealing with real life issues. But for The Fitzgerald Family Christmas, Burns has recruited an impressive and skilled cast who embody colorful but realistic characters that many people, if not families, can relate to. There's nothing whimsical or especially light about The Fitzgerald Family Christmas, but the theme of forgiveness, family, and togetherness becomes a glue that holds the story together and actually makes it a worthwhile holiday endeavor. The acting is spot-on, too, which just helps make this indie film work so well. And it's to Burns' credit that the direction and script are also strong.
What's interesting to note, though, is that when The Fitzgerald Family Christmas released to theaters last December, it was "not rated" but basically would have fallen under the R-rated banner is presented tot he MPAA. Due mostly to language and some thematic material, there's no way the original cut would have been given a PG-13 rating. Surprisingly, however, the film was given an edit for DVD and online viewing, and when watching the PG-13 version, you'll be surprised to find several profanities either substituted (like overdubbing on TV) or simply muted out. It might feel a little sloppy to some, but I can understand both why Burns went for the original edgy take and agreed to a more family-friendly version. While I only watched the PG-13 cut (and, in all honesty, wouldn't have seen the movie otherwise), the emotion and grit of the story feels like it's geared for a more mature audience. This isn't White Christmas, after all. But the harsher content is certainly not needed to make the story work and it is just as effective and emotional in its edited form as it would be otherwise. Also, the PG-13 cut is 3 minutes shorter than the theatrical version, so I'm not sure if it's just profane lines that were sliced out or an entire scene as well.
The story wraps drama around each member of the Fitzgerald family–from an abusive husband for one to an atheist husband for another who doesn't want their toddler son to be baptized, to the youngest son having just gotten out of rehab. There are subtle spiritual themes that pepper the film, like images of Jesus and the manger scene and hints at Catholicism, but the biggest theme in the movie is forgiveness and overcoming wrong done to us to find freedom in forgiveness. Burns manages to bypass cheesy or over-sentimentality here to deliver it in a pretty real way. All of the characters have their flaws but they still remain likeable too.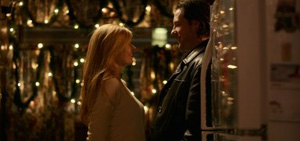 Although the content has been trimmed down, just keep in mind that there is still some profanity in the film. While a batch of the uses of the "S" word were muted, a couple are still heard during the film. No "F" words were left in, but there is at least one instance where it's very, very obvious that the Fitzgerald father says it when it's muted in one scene. There's a handful of blasphemy use too, which seems kind of out of place for a movie that is more concerned about muting out some profanity but not instances of the Lord's name in vain. And in a movie that is about Christmas, Christmastime and forgiveness, blasphemy especially feels unnecessary. There's a little bit of sexual content referenced, but nothing is shown. And a character is roughly pushed to the ground by her husband to imply some spousal abuse has been happening between the two. Overall, the movie has the tone of a film intended for a more adult audience, so it's pretty clear this one isn't meant for the whole family.
The Fitzgerald Family Christmas isn't your usual Christmas movie; it's not whimsical, it's not silly, and there's certainly no sleigh or Santa Claus to be found. What the movie is, however, is an excellent indie drama about a real American family with real American problems at Christmastime. It's certainly not for everyone, but The Fitzgerald Family Christmas is one of the better holiday efforts I've seen in recent years.
– John DiBiase, (reviewed: 11/14/13)
DVD Special Features Review
The Fitzgerald Family Christmas is available on Blu-Ray or DVD and through the usual digital providers. We were sent the DVD and the only bonus feature on it is a commentary by Edward Burns on the "Unrated" version of the movie. Other than that, there are no other extras.
– John DiBiase, (reviewed: 11/14/13)
Parental Guide: Content Summary


 Sex/Nudity: We see Sharon on the phone while sitting on the same bed that FX is sitting up under the covers in. Both are clothed, but it's obvious they spent the night together; Dottie admits to Gerry she's having an affair with her lawnmowing kid and is split up from her husband; We see Connie taking a pregnancy test (at this point we don't know it's because of her husband); Sharon mentions that Dottie had sex with college guys while she and her sisters slept in the same room growing up; Connie and JJ passionately kiss in one scene and later they talk about it, saying how it's been a while since they had done that (implying sex); Gerry and Nora passionately kiss and he offers to stick around (implying that he'd sleep with her) but she says "no" and he quickly leaves; FX tells Sharon that he plans on staying at the house with Abbie and we briefly see her in a bubble bath (no nudity) and he sits on the edge of the bathtub (clothed), implying that they have or will do stuff together; Quinn calls Gerry's date with Nora a "little Yuletide booty call;" Gerry and Nora passionately kiss and it's suggested they may have spent Christmas Eve night together.

 Vulgarity/Language: 2 visibly muted "F" words (not heard), 5 visibly muted "S" words, 2 audible "S" words, 2 "J-sus," 1 "J-sus Chr-st," 2 "g*dd*mn," 5 "h*ll," 5 "S.O.B," 6 "a" words, 9 "oh my G-d," 1 "Good L-rd," 2 "cr*p," 1 "Oh G-d," 1 "b*lls," 1 "jerk-off," 1 "jack*ss," 1 "b*tch," 1 "G-d"

 Alcohol/Drugs: Gerry helps run a bar his family started; We see Gerry visiting the bar a few times with people around having drinks; Gerry and Nora have drinks at the bar; We learn that Cyril just got out of rehab. We later hear a story that he was high and did some terrible things while under the influence but he doesn't remember it; FX tells his friends he has "the herb" and Abbie asks if he has weed and he says he does. She gets excited about the idea of hanging out and smoking weed; Gerry and Quinn have beers; Gerry and Quinn have beers at the bar; Gerry is seen with a beer while talking to his dad.

 Blood/Gore: None.

 Violence: JJ shoves Connie and she falls into the garbage cans and onto her butt; Quinn pushes JJ up against the wall and threatens him to leave town immediately.