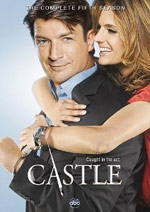 Castle: The Complete Fifth Season


Starring: Nathan Fillion, Stana Katic, Jon Huertas, Seamus Dever, Susan Sullivan, Molly C. Quinn, Tamala Jones
Running Time: 5 discs: 1032 minutes
Blu-Ray Release Date: September 10, 2013 (Amazon.com)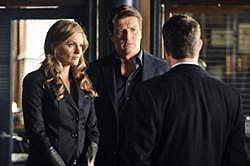 Plot Summary
Together at last! After four seasons of sparring and heated banter, TV's dynamic crime-solving team finds romance in ABC's Castle: The Complete Fifth Season. Relive all 24 unforgettable episodes, complete with never-before-seen bonus features only available on DVD, in this spectacular five-disc set. Now that Castle and Beckett ("Caskett") have finally given into their true feelings for each other, how will it affect their work together? As they try to keep their new relationship under wraps from their co-workers, the unlikely duo must track down the murderer of Beckett's mother, find the perpetrator of a major conspiracy, and untangle a line of investigation that links Castle to a ritualistic killing. The action and passion heat up like never before in the brilliant fifth season of ABC's Castle!
(from Amazon.com)
Film Review
It's autumn, which means fall TV shows — new and old — are starting up once again. At the same time, it also means that many of the previous seasons of favorite shows are coming home on DVD, Blu-Ray, and through digital retailers. Just a week before the debut of Season 6 on TV, Season 5 of ABC's Castle arrived on DVD. If you're keeping up with the show, you'll know that Season 4 (and yes, some spoilers are ahead) ended with detective Kate Beckett resigning from her job and coming to Richard Castle's door to finally confess her feelings for him. It's a moment that fans waited four full seasons for, and it was a teaser for sure.
Season 5 opens with the "morning after" that incident. We see a shirtless Castle in bed with Beckett walking around his bedroom in, presumably, his shirt. It's cute and surreal, but many avid watchers of TV shows through the years know that it's the tension between a couple that keep the audiences coming back for more each week. So, it's a realistic concern to wonder where the future of a show like Castle lies when you finally put the two main characters together (Hey, let's face it; The Office was never the same after Pam and Jim actually got together). Thankfully, the show runners actually seem to know what they're doing here. The tension remains, mostly in the couple wanting to keep their relationship a secret for different reasons, and it leads to quite a bit of quality comedy too. But the discretion leads to some really memorable moments too. In episode 3 of Season 5, the two share the most sensual yet romantic handshake you may ever see. By the next episode, when both Castle and Beckett go away for the weekend, it piques the interest of fellow detectives Ryan and Esposito who don't figure on Castle and Beckett being together. It inspires the two detectives to look into who Beckett could possibly be going away with. Slowly but surely throughout the season, characters find out about the two of them and it's always kept interesting and entertaining.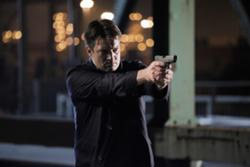 But since Castle is ultimately a murder mystery show, the main focus of each episode is centered around a murder investigation. But with this show, nearly every episode has a very, very specific theme that the murder is centered around. It's to the point where it can be kind of silly, but the character of Richard Castle (wonderfully played by Nathan Fillion) will be the first to point out any absurdities, usually to his own delight (and to Beckett's quasi-irritation), while the episode proceeds to provide a practical explanation for it. For example–for topics at least, I don't want to give away any spoilers–in the episode "Secret Santa," which is a full-on Christmas-themed episode, the victim is a man who falls out of the sky dressed completely in a Santa suit. Castle immediately jumps to the belief, albeit half-jokingly and usually for his own amusement, that is the real Santa who had fallen from his sleigh, while everyone else on the NYPD resists the notion. "Reality Star Struck" focuses on the murder of a reality TV star, and we find out that the most unexpected member of the NYPD ensemble is a diehard fan of the show. The brilliantly executed "Swan Song" is shot entirely as if this episode of Castle was caught on tape by a documentary filmmaker. The victim in this episode is the member of a band who was working on a documentary film about their band, so the camera crew decides to keep the cameras rolling for the police team. As such, we see the characters acting very aware of the camera, even talking right into it or "performing" for the documentary audience by upping the heroics, like in Javier Esposito's case. (Beckett is even given a shining moment to get the last laugh before the credits roll.) Star Trek: The Next Generation's Jonathan Frakes directs (and gets a funny cameo) in the sci-fi convention-themed "The Final Frontier," which is also genius and allows Fillion to ham it up more, and it makes room for plenty of Star Trek and Firefly jokes. "Scared to Death" is an unashamed take on the film The Ring, in which a DVD is circulated that supposedly causes those who watch it to die in a certain time span after viewing. Castle finds out about the DVD and is convinced it's cursed just like The Ring. "The Lives of Others" takes on Alfred Hitchcock's Rear Window for Castle's birthday (and the show's 100th episode), "The Fast and the Furriest" points to Big Foot, and the cutely-titled "Cloudy with a Chance of Murder" focuses on the death of a weather girl.
In some cases, though, ideas like spoofing Rear Window in "The Lives of Others" is just a little too much. While they always bring the show back to reality, it's episodes like this one that trade believability for outrageousness and really expect the audience to suspend their disbelief more. It's largely forgivable, however, because the characters are just so dang likeable and the show is so entertaining. Still, the show shines the absolute brightest in its more serious episodes when the situation is tense and the suspense gets the heart racing as the plot gets wickedly serious. The two-part episodes, "Target" and "Hunt," revolve around the kidnapping of Castle's daughter Alexis. And these days, given how many risks TV shows are willing to take, there really is an uneasiness for Castle fans in where the show could be going with the plot. But "Hunt" brings on a reveal that answers a big question fans have had since the start of the show, and it's a heck of a lot of fun. "Still" is also one of the best episodes of the season. The bittersweet fact about it is, however, that it's ultimately a "clip show." "Clip shows" are those episodes in a TV series when there's a very thin, small plot that allows the characters to reminisce about past experiences they had in the previous episodes and seasons of the show, essentially allowing the show runners to merely string together a series of "clips" from previous episodes. Now, I have to admit I've seen a lot of "clip shows" over the years–from MacGyver to Wings to Seinfeld and The Office–and "Still" is quite literally the best usage of the "clip show" idea I've seen yet. In the episode, while investigating a suspect, Beckett steps on what turns out to be a pressurized plate for an explosive. Hope is fiercely grim for Kate, and Castle ends up insisting on sticking around to keep her company as she must remain standing very still on the plate for hours while the team tries to find a safe way to get her off of it. During this time, the two examine their relationship and partnership over the 5 seasons, and it's done very quickly and smartly. The clips enhance the emotion of the episode, even injecting some much-needed humor for the story, and they end up not making up the core of the episode. And don't be tempted to skip this one just because it contains a series of flashbacks; there are still some significant developments by the episode's end (and the whole thing is just so well done). But, due to its tense direction and retrospective approach, I can't help but feel like it would have been a fantastic cliffhanger to end the season. However, the following episode begins to set up an invitation for Beckett to join the FBI in Washington D.C. and for Castle and Beckett to take a stern look at where their relationship is headed.
One last episode highlight of the season I can't overlook is "The Wild Rover." Detectives Kevin Ryan and Javier Esposito are some of the show's best characters. They're fantastic complements for Castle and Beckett and sometimes they're a bit underused. There have been a few episodes throughout the history of the show where they get heightened screentime, and "The Wild Rover" is one of them. In this one, we learn that Ryan has a history as an undercover agent and he's forced to go undercover once again to infiltrate the Staten Island crime family. It's tense, complicated, and a shining moment for actor Seamus Dever as Ryan. I'd love to see more episodes giving these guys bigger parts.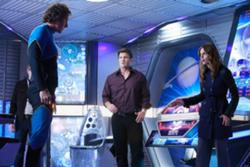 For those curious about the content of the show, if a given episode were to be rated, it'd probably be PG-13 each time. The show is seldom outright vulgar (like many of TV's comedies can be), but some episodes are likely to surprise some viewers from time to time. "Death Gone Crazy" is an episode devoted to the murder of a guy who founded a soft porn series called "College Girls Gone Crazy." As such, there's some senusal footage and the plot even involves a sex tape where we see some obscured film and photos of a man and woman in bed. The documentary style music episode, "Swan Song," shows footage of a girl straddling one of the band member suspects on their bus and removing her bra (the view is at her back), while the detective team makes a few wisecracks about it. There are also several instances of premarital sex between Castle and Beckett throughout the season (something I've always found annoyingly common in shows and movies, but is sadly the norm for Hollywood). In "Murder He Wrote," when Castle and Beckett retreat to The Hamptons, Beckett drops her robe for Castle and we see her bare back briefly. There are also a couple moments during the episode where we see the two in bed, but nothing explicit (however, it is romantic). In "Reality Star Struck," we hear the sounds of thumping coming from the other side of a door, which sounds like someone is trapped on the other side, but the team opens it to find a couple caught in the act in bed. There are also some suggested remarks, flirting, etc that, again, isn't pervasive, but it is sprinkled throughout the series. A good number of the murders are pretty violent too. While we don't usually see them happen, the aftermath can be pretty brutal. We see a charred body in a flaming drum in episode "Recoil," a blood covered corpse in "Swan Song," a woman stabbed in the neck with an icepick in "Significant Others," a woman's face is brutally mauled in "The Fast and the Furriest," a woman is suspended from the ceiling with hooks and barbed wire with a symbol carved into her forehead in "Probable Cause," and there are many instances of dead bodies on a table in the morgue who have big V-shaped stitches on their chest after an autopsy had been performed. In most cases, the gruesome stuff is brief, but it's still there and something viewers will want to be wary of. Finally, profanity isn't super frequent, but uses of "S.O.B," "*ss," "b*tch," "h*ll," "d*mn," and "Oh my God" do pop up occasionally from episode to episode. There doesn't seem to ever be intense uses of blasphemy (like "J-sus" and "g*dd*mn," which I was disappointed to find that TV show Burn Notice used in nearly every episode of its entire series), but they do occasionally say "Oh God" or "Oh my God" as exclamations. Overall, I wouldn't say the show is too fitting for younger audiences and impressionable teens, but more so for discerning adults.
Through its continued run, Castle remains as one of the best TV shows currently on the air and has successfully developed and changed well over these five seasons. Now two episodes into its sixth season, Castle is still as entertaining and interesting as ever. I'm eager to see where it goes from here. If you're a fan of murder mysteries with a hearty dose of heart and humor, you couldn't do much better than Castle.
– John DiBiase, (reviewed: 10/4/13)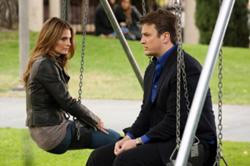 DVD Special Features Review
Castle: Season 5 is available in a 5-disc DVD set or from your usual digital video providers. I still wonder why ABC hasn't gotten on the ball to release any seasons of Castle in Blu-Ray yet, but in the meantime, DVD is all we got. (I assume when the show ends, there will be a massive "Complete Series" Blu-Ray release.) On the plus side, the DVD transfer is quite good, one of the best out there actually, so it makes the absence of an HD video release a little more forgivable. In addition to 24 episodes spread across 5 discs are the following bonus features:
Episode Commentaries – There are four episode commentaries – "The Final Frontier" (Nathan Fillion, Director Jonathan Frakes, Costume Designer Luke Reichle), "Target" (Executive Producer/Writer David Amann, Director Bill Roe, Actors Susan Sullivan and Molly Quinn), "Hunt" (Creator/Executive Producer/Writer Andrew W. Marlowe, Executive Producer/Director Rob Bowman, Actors Nathan Fillion and Molly Quinn) and "The Lives of Others" (Creator/Executive Producer/Writer Andrew W. Marlowe, Writer/Producer Terri Edda Miller, Editor Marta Evry, Composer Robert Duncan). They're pretty interesting listens, especially if you like commentaries. It was especially fun to hear Frakes and Fillion talk about their shows Firefly and Star Trek for "The Final Frontier."
Deleted Scenes – There are a few deleted scenes scattered across the five discs in Season 5. Most of them are toss-away scenes, however. For example, Disc 2 has a scene where Castle and Beckett visit a suspect and it doesn't even seem different from what's in the finished episode. However, on Disc 5, for "The Human Factor," there's a great little scene where we see Beckett sitting pensively in the dark and Castle encourages her to come to bed, and they briefly touch on where their relationship stands. It's not crucial to the story, but it's a nice addition. Other scenes, like on Disc 4, don't really add much (like Castle calling Beckett on the phone in "Hunt," or a cute scene where Castle tests a walkie talkie with Alexis and then some birthday party mingling footage, both from "The Lives of Others"). Almost each scene is a minute or less and you wouldn't be missing much if you didn't see these. I have to wonder, though, how much footage really ends up on the cutting room floor. For a show like The Office, every episode has several minutes of deleted scenes easily accessible from the disc menu, and it makes me wonder how much worthwhile footage gets lost from other shows, like this one.
Martha's Master Class (7:51) – Please DO NOT read this (or watch this) if you haven't yet seen the episode "The Lives of Others" (the Rear Window spoof). I am about to spoil it if you haven't seen it… Here, Susan Sullivan talks to the camera as her character Martha and narrates the action Castle witnesses through binoculars across the street from his loft. Given the twist at the end that the whole thing was staged for his benefit, Martha narrates the action from the perspective of those characters being actors, and how she taught them what they know. It looks like there may be a little additional footage here and there that wasn't in the episode, but I found it too close to say for certain.
Your Home is Your Castle (22:29) – This a half-hour-episode-long featurette that serves as a set visit for Castle. A host takes us into the art department on the set of Castle and we hear about how they create the sets in a matter of hours for the episodes we see on TV. First, we hear about how Castle's loft was designed and then we're taken to the set building at the studio. We also briefly see the "Little Frog" office being built for the episode "Death Gone Crazy" before we're taken on an intimate tour of Beckett's loft in Tribeca. We also hear from people on location in the real New York City who talk about the supposed neighborhood Beckett is living in before we're taken back to the set to see some of the little details in her apartment that we might otherwise not see while watching a given episode. But be warned: some viewers just might find the realization of some of the materials used to make the set a bit disenchanting (like the "brick" on the walls is actually paper egg carton material, a metallic wall surface is actually plastic, and a staircase with books on the steps leads nowhere). Actress Stana Katic talks a little about the loft and her character here too, which is a nice treat. We then see the folks in NYC again as they show us the real SoHo and then we're given a walkthrough of Castle's loft. Nathan Fillion, Molly Quinn and Susan Sullivan talk a bit about Castle's place here too, which is cool to get their perspective about it. As the art director takes us on a tour of the loft, though, be prepared to learn that the staircase to upstairs leads to absolutely nothing. We also witness a wall in his house be removed, see the skyline as a tarp backdrop, and learn that things like the kitchen faucet work, but there needs to be a bucket under the sink if they use it because there's no plumbing. It's little stuff that could ruin the mystique for some viewers, but it's still neat to see the attention to details. It's a really cool featurette.
Lot Cops (12:16) is a real gem. Jon Huertas and Seamus Dever, who play Esposito and Ryan, take us to where they train for the right way to handle police procedure on the show, and it serves as a bit of a "mockumentary" on the subject. The two clearly have a good time goofing off in the process (much to the irritation of their instructors), with Seamus asking too many questions and Jon becoming too forceful in his confrontations with perpetrators. It's especially entertaining for fans of Ryan and Esposito.
Bloopers (6:16) – The blooper reel contains mostly clips of the actors messing up their lines on the set, missing their cues and having a good time. One section in particular focuses on the actors swearing when they mess up their lines or joke around, and we see pretty much all of the main cast blurt out the "F" word and other profanities at some point. All of it is bleeped out, some more than others (where the "S" word is mostly audible in a couple spots), but sometimes it's very obvious from seeing the actor's mouth as to what is being bleeped out. Also, two uses of "g*dd*mn" were not bleeped out. Overall, however, it's a pretty amusing blooper reel.
– John DiBiase, (reviewed: 10/5/13)