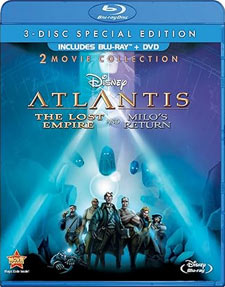 Atlantis: The Lost Empire



– for mild sci-fi action.
Director: Gary Trousdale, Kirk Wise
Starring: voices of Michael J. Fox, James Garner, John Mahoney, Claudia Christian, Jacqueline Obradors, Phil Morris
Running Time: 1 hour, 35 minutes
Theatrical Release Date: June 15, 2001
Blu-Ray Release Date: June 11, 2013 (Amazon.com)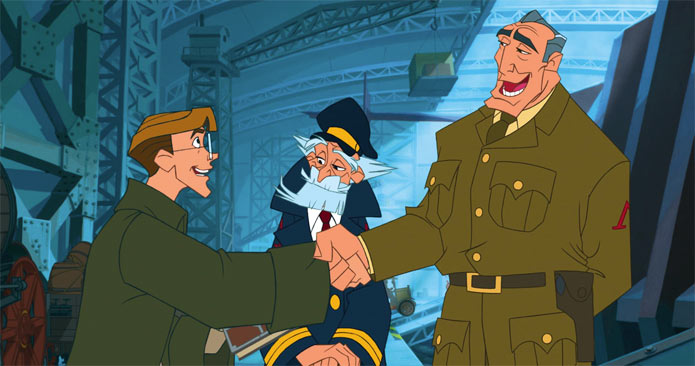 Plot Summary
The dreams of a wanna-be scientist named Milo Thatch (voiced by Michael J Fox) come true when a lost book pertaining to the culture of the ancient city of Atlantis surfaces. A friend of
Milo's grandfather sends Milo with a large team of explorers to find the city and unlock the mysteries of the legendary myth.
Film Review
In 2000, it seemed as if Disney had been testing their audience as of late with the release of the super off-the-wall (but absolutely delightful) The Emperor's New Groove. In 2001, they shook things up further with the release of the action/adventure epic Atlantis: The Lost Empire. This animated fantasy adventure film isn't much more than your basic action film presented in illustrated form, as opposed to the usual live action. The film's concept was born out of the filmmakers' love for classic adventure/quest films like Journey To The Center of the Earth and Disney's own 20,000 Leagues Under the Sea. So while the film is targeted at the usual Disney audiences, it's certainly unlike what most would expect from the film company.
The story revolves around a young man named Milo Thatch whose family is widely associated with the investigation into the theory of Atlantis. Basically just a laughing stock among the historical societies, Milo's voice remains unheard… until an old friend of his explorer grandfather makes good on a promise to fund an expedition to find Atlantis after a legendary journal is discovered. The expedition then involves a ragtag group of specialists and misfits who follow Milo's lead, along with a military general named Rourke who appears to have his own agenda for the exploration. The journey doesn't make up too much of the story before they arrive at Atlantis, but what ensues is some really action-packed scenes that push the envelope for a Disney animated adventure.
While Atlantis: The Lost Empire is certainly entertaining, the filmmakers' goals to make it bigger and badder than your usual Disney animated vehicle ends up hurting the end product a bit. Milo is a bizarre kind of hero as he's more nerdy and wimpy than a leading hero probably needs to be. Just think of the film version of Stargate, but without Kurt Russell's militant character to balance James Spader's nerdy character and you can get a good feel for The Lost Empire. When Milo is expected to get a little tougher to serve the plot, it doesn't really work that well. Furthermore, the ragtag supporting team may border too much on the weird and the extreme. The best of the bunch is arguably Vinnie, an explosives expert, and the fast talking Dr. Sweet. Both characters have the best lines and some of the best moments. Heck, the film is probably worth watching alone for Vinnie.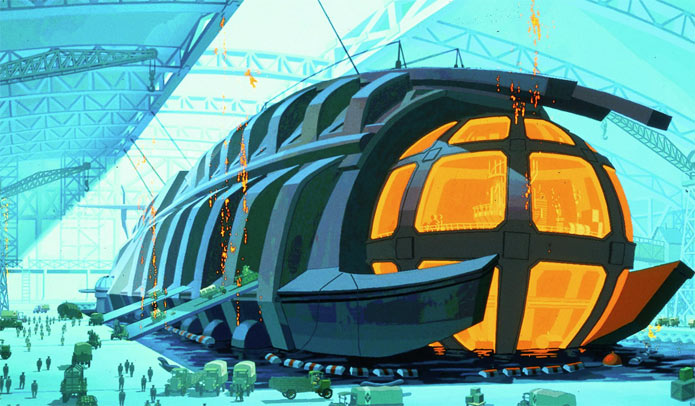 The fantasy elements of the Atlantis story may hold the film's biggest problems. The history of the Atlantians involves a spiritual theme that gets more outrageous as the story of Atlantis: The Lost Empire progresses. As a unique, originally-conceived story with an interesting plot and fun characters, the movie succeeds. On a more spiritual, true-to-life account, however, there are some troublesome elements here. (Possible SPOILERS ahead… ye been warned!) Once the expedition reaches Atlantis, we find out that the Atlantians worship their own "deity," which is what keeps the Atlantis population alive (who have, incidentally, lived for thousands of years). Crystals are shown to have special healing powers and also are the people's source of power, life, and energy. The story places much emphasis on these crystals and their importance. (End of Spoilers) God, in a Biblical sense, is made reference to a couple times in a positive light. Milo also quotes the book of Job, at one point, in a positive manner. However, that is about the extent of the references to Christian beliefs. The rest is fantasy and pretty much New Age. Personally, it didn't ruin my experience of the film because I can view the film as pure fiction and the fantasy elements within are meant to be taken as such. In fact, upon watching the behind-the-scenes featurettes on the DVD/Blu-Ray releases, the filmmakers reveal that they made up these fictional spiritual elements entirely for the sake of the story. However, with that considered, I'd suggest skipping the film entirely if you're concerned that the spirituality showcased here could confuse your child. If necessary, though, you could always pull your child aside before you watch the film to make it clear to them that the film they're about to watch is completely false and based on legend, with none of the magical elements portrayed being true.
The content of Atlantis: The Lost Empire will surprise some Disney movie watchers. Granted, in 2013, it will probably surprise fewer viewers than when it released to theaters in 2001. Since 2001, Disney has released several live action PG-13 movies under its banner that are far more shockingly violent than anything you'd see here. Still, Atlantis isn't afraid to kill off characters or shed some blood. The expedition starts out with a couple hundred people, but when it's gigantic submarine vehicle is attacked, most of the expedition is killed off. Also, there are a few violent scenes that cause Milo to get a bloody cut on his chest (with resultant blood on his hand) in one scene, and be punched spontaneously in the face by a villain, and propelled across the screen, in another (with a little blood on his face). Also, in the film's climax, a character falls to their death (but not before we see that they've briefly survived the fall), and another character is sliced by a crystal and consumed by the energy before eventually exploding. The climax of the movie is so littered with explosions and action that it's almost overwhelming. The filmmakers adopted a "more is more" mentality that didn't help the film in the longrun.
Still, with all its faults, Atlantis: The Lost Empire remains watchable and entertaining. It won't go down as a grand achievement for the studio (and it didn't perform as expected at the box office), but it's still a fun animated adventure film, (reviewed: 7/6/01; revised: 5/31/13)
Blu-Ray Special Features Review
Atlantis: The Lost Empire makes its Blu-Ray debut in 2013. As a combo pack, the The Lost Empire is featured on a single Blu-Ray disc, paired with its 2003 direct-to-home-video sequel and special features. The Lost Empire looks fantastic in HD. It's crisp, clean, and the marriage of hand-drawn animation and CGI is lovely on BD. The sequel, Atlantis: Milo's Return, is a nice addition to the set for young fans and completists, but it pales largely in comparison to the original (If I rated it, it'd get 1 star).
Atlantis: Milo's Return (1:20:00) – The 70-minute direct-to-DVD sequel is pretty terrible. The animation is considerably simpler in comparison to the original. In fact, it's so much simpler that you can tell they cut corners by animating less, which adds a cheaper feel to the appearance. Also, the story is segmented into three separate acts which makes it feel like three television-quality spin-off episodes merged into one feature film. And while most of the supporting cast return to voice their respective characters, Michael J. Fox does not return as Milo, so James Arnold Taylor steps in as a sound-alike. Everything else about the film, which involves the exploration team from the first film returning to Atlantis to retrieve Milo so he can help investigate the sudden appearance of a kraken in the seas, is just sophomoric at best. There's very little redeemable about it, and it's just overlong, boring, and hastily put together. I imagine younger viewers will probably enjoy it, but considering how it's geared to a younger audience than the first film, I'm not sure how much sense that makes. (1 star out of 5)
The Making of Atlantis (1:59:00) – There is just under two hours worth of behind-the-scenes extras. Fans of the film will not want to miss these. The crew talk about how the idea for the film was conceived, their inspirations, goals, and how it was executed. We even hear about ideas and scenes that had to be cut out. Another highlight includes a nice featurette about the voice cast and we hear brief interviews and see recording booth footage from most of the film's actors (and here we learn that Don Novello brilliantly adlibbed most of Vinnie's lines!).
The Blu-Ray also includes two exclusives: "Atlantis – Fact or Fiction?" and "How To Speak Atlantian." The Atlantis: Milo's Return portion of the disc includes one solitary bonus feature – a deleted scene after the kraken sequence of the story is resolved, hinting that a mother whose baby was saved actually is mothering a baby kraken(?!). Other than that, however, there are no special features for the sequel.
– John DiBiase, (reviewed: 5/31/13)
Parental Guide: Content Summary


 Sex/Nudity: Helga is seen acting in a seductive manner while in Milo's room; Kida's outfit is not much more than a skimpy 2-piece bathing suit. She and Milo flirt a bit as well.

 Vulgarity/Language: 1 "Good L-rd"

 Alcohol/Drugs: 2 references are separately made to whiskey and white wine (but neither is seen)

 Blood/Gore: Milo has a little bit of blood on his fingers after touching a bloody scrape on his chest; Milo has a bloody lip after being punched; We see a character receive a cut to his arm which leads to what appears to be a 'supernatural infection' of sorts that quickly consumes his body.

 Violence: The expedition ship carrying hundreds of people is attacked by a large mechanical crab and we later hear that many people died in the attack; We see many explosions which result in the death of random people; Some characters fight; Milo is punched in the face and goes flying; A person is cut on the arm with a crystal. They then are consumed by an energy and look rather scary. They eventually die in an explosion; A person falls from a great distance and eventually presumably dies; Some things catch on fire, etc; It's all pretty rough for an animated Disney film.