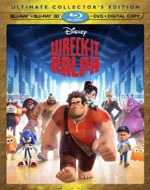 Wreck-It Ralph



– for some rude humor and mild action/violence.
Director: Rich Moore
Starring: voices of John C. Reilly, Jack McBrayer, Jane Lynch, Sarah Silverman, Mindy Kaling
Running Time: 1 hour, 41 minutes
Theatrical Release Date: November 2, 2012
Blu-Ray Release Date: March 5, 2013 (Amazon.com)
Official Site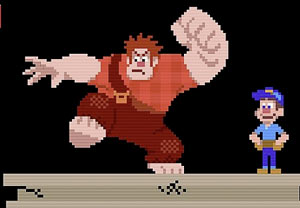 Plot Summary
Wreck-It Ralph (voice of John C. Reilly) longs to be as beloved as his game's perfect Good Guy, Fix-It Felix (voice of Jack McBrayer). Problem is, nobody loves a Bad Guy. But they do love heroes… so when a modern, first-person shooter game arrives featuring tough-as-nails Sergeant Calhoun (voice of Jane Lynch), Ralph sees it as his ticket to heroism and happiness. He sneaks into the game with a simple plan-win a medal-but soon wrecks everything, and accidently unleashes a deadly enemy that threatens every game in the arcade. Ralph's only hope? Vanellope von Schweetz (voice of Sarah Silverman), a young troublemaking glitch from a candy-coated cart racing game who might just be the one to teach Ralph what it means to be a Good Guy. But will he realize he is good enough to become a hero before it's Game Over for the entire arcade? (MovieWeb.com)
Film Review
It's no secret that film studios and screen writers in the mainstream have been having a difficult time coming up with movies that aren't sequels, prequels, reboots, or remakes. Of course, Disney can rightfully be labeled as a culprit in the sequel/prequel game (multiple Cinderella installments and a forthcoming prequel to The Wizard of Oz next year), but they're also consistently coming up with new ideas as well. This year's major animated film (aside from their annual release with Pixar) is a clever idea that's fun for the whole family and appeals to the nerd in all of us.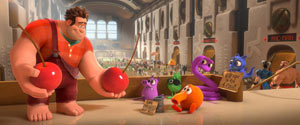 Wreck-It Ralph wastes no time introducing us to the main character, the titular hero, Wreck-It Ralph. As the boss of his own video game (Ralph is to Wreck-It Ralph as Donkey Kong is to the original Donkey Kong), Ralph's problem is this: he's a bad guy, but he's not a bad guy (which isn't giving away anything more than the previews already have). He expresses his frustration at an AA-style support group for other villains in the old-fashioned arcade they all call home. The support ends there, however, as even the characters in Ralph's own game find him as the villain and wish to have no part of him, even on the night of the 30th anniversary of the game's arrival in the arcade (to which he was not invited). Out of frustration with his own game's characters (and maybe a little bit of jealousy of the game's good guy, Fix-It Felix, Jr.), Ralph sets off to win a medal from another game and prove himself as not just another bad guy. Ralph's game-jumping doesn't take him too far before he meets his soon-to-be, loveable brat of a sidekick, Vanellope von Schweetz, who turns out to be a glitch in the kart racing game Sugar Rush. Without giving away too much of the story and plot, Vanellope steals the medal that Ralph wins while in a game called Hero's Duty so she can enter in the race that she's never gotten to be a part of; this, of course, prevents Ralph from getting back to his game in time for the arcade to open, causing Wreck-It Ralph to become out-of-order, and forcing Felix and his newfound love interest and commander of the Hero's Duty army, Calhoun, to go to Sugar Rush to bring him back.
The movie gets nerdy pretty quickly, with video game references and characters left and right. Some are games made up for Wreck-It Ralph, such as the namesake title (which, as I mentioned, is rather reminiscent of the Atari game Donkey Kong) and Sugar Rush. In the arcade, you see real games like Teenage Mutant Ninja Turtles and Dance Dance Revolution, and throughout the movie, longtime video game fans will have big smiles on their faces when they see characters like Sonic the Hedgehog, Bowser, Pacman, a weirdly-cartoony version of Kano from Mortal Kombat (my guess is they couldn't get the rights from Warner Bros., but he's a notoriously bad dude from a very arcade-style fighting game, so it makes sense to feature him), and several characters from Street Fighter II (M.Bison, Zangief, Chun Li, etc).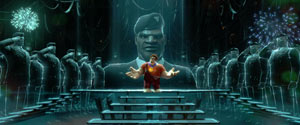 The voice acting for the four main characters was done by a smartly-selected group of actors/actresses. Ralph is voiced by John C. Reilly; his voice is instantly recognizable and was very suitable for the large villain with the even bigger heart. Sarah Silverman is charming as Vanellope, which one might find to be a little odd considering how odd and sometimes vulgar her style of comedy can be. But she's endearing and believable as a young child character (and a bit of a troublemaker). Then there's Calhoun from Hero's Duty, voiced by Jane Lynch, who is most known for her role of Coach Sue Sylvester in the Fox musical-comedy-drama show Glee. Lynch basically takes her Sylvester character and turns it into somewhat of a militaristic (yet verbally cleaner) version and runs with it. My favorite of the four is the voice of 30 Rock's Jack McBrayer as Fix-It Felix, Jr. Just as Lynch does with Calhoun, McBrayer's Felix is, in some ways, an extension of his 30 Rock character, Kenneth Parcell. He's not an exact replica by any means, but some things he says are lines that you could easily hear Kenneth saying.
The content of the movie is extremely light. Disney's animated movies are always good for the whole family, so there are no real surprises in Wreck-It Ralph as far as that is concerned. Rough language is non-existent, but there are a few double entendres that will most likely only be noticeable to the adults in the audience, such as "move your molasses," "like fun you are," and when Calhoun refers to a group as a bunch of "pussy willows." The violence is mostly cartoony and slapstick; some comical slapping and light burns from "Diet Coke lava" that you don't see. Ralph does join the Hero's Duty army in a war on a swarm of alien bug creatures, is thrown off the top of a building several times (as per the idea of his game) and a kart race gets a little out of hand with Mario Kart-style weapons and some intentional smashing from other racers. In addition, an idea that is established early on is that if you die outside of your own game, you will not regenerate, which becomes a looming-overhead idea since the characters are game-jumping.
With a solid cast (that also includes smaller roles voiced by Adam Carolla, Mindy Kaling, and Ed O'Neill), a heartwarming story, and the stellar animation specialists of Disney's studios, Wreck-It Ralph is a highlight amongst the animated films of 2012. Visually, Pixar does a much better job with the animation than a standalone Disney venture (Wall-E, Up, Brave, for example), but some of the landscaping in Hero's Duty and Sugar Rush is brilliant. The story is well-written and light, with some intense moments on occasion, but there's not a lot that the kids wouldn't be able to handle. Be prepared for a fun adventure, and if you stick around for the credits, listen for the new pop single that Owl City wrote specifically for this soundtrack!
– Scott Fryberger (reviewed: 11/11/12)



When I learned about Disney's plans for Wreck-It Ralph, I have to admit that I just plain loved the idea of an old-school video-game-themed animated comedy. For the film, Disney created a brand new game with all new characters called Fix-It Felix, Jr., which featured a villain named Wreck-It Ralph. In its Donkey Kong style gameplay, Ralph is a large-handed brute who destroys the windows on an apartment complex, only for Fix-It Felix, Jr. to come along with his magic hammer to fix them. In the film Wreck-It Ralph, Ralph has decided he no longer wishes to be seen as a villain and therefore seeks out a way to be accepted as a hero. The story that utilizes the tried-and-true theme of being yourself, while celebrating the pursuit of still becoming a better person. Through Ralph's quest to become a hero, he finds his way through a couple of other video games–from a Call Of Duty like futuristic game called Hero's Duty (which bizarrely spawned a lot of "dootie" jokes) and a Mario Kart-style racer called Sugar Rush. Most of the film, to my surprise, takes place in Sugar Rush–a land where everything is made out of candy! It's visually stunning, but, ultimately, it's a strange locale to spend most of the movie in (being that it's surprisingly girly). I was a bit disappointed that Ralph's game-hopping stopped so soon, but Sugar Rush became a key place for Ralph to meet up with the adorable and spunky Vanellope, who ultimately changes his life forever. By the time the credits rolled, I felt just a hint unsatisfied, but I still really enjoyed the movie. Even just seeing cameos by Sonic The Hedgehog and Q-Bert was really cool. However, it seemed like they could have gone much, much further with the cameos of familiar, classic video game characters (but I assume obtaining the rights to more characters may have been really tricky).

I'd have to say it's not really a film for all ages. The movie's real villain gets pretty intense at the end and there are pretty creepy bug-like aliens that are the chief enemies of Hero's Duty and spread havoc outside of the game later on. Older kids shouldn't have a problem with it, however.

Wreck-It Ralph will probably appeal most to veteran gamers and those who appreciate the nostalgia of it, and I'm sure it will be a favorite for animated film fans to revisit time and again in the future. While it's not Disney's best, Wreck-It Ralph remains one of the studio's best non-Pixar computer-animated outings yet. It's fun, clever, and visually stunning, and well worth checking out.
– John DiBiase, 3/4/13
Blu-Ray Special Features Review
You can pick up Wreck-It Ralph on one of the loaded Disney 3D Blu-Ray/2D Blu-Ray/DVD/Digital Copy 4-Disc combo packs, or just a Two-Disc Blu-ray/DVD Combo or on a single-disc DVD. Surprisingly enough, the Blu-Ray disc does not pack in all that many extras. Glaringly absent from the extras is ANYTHING about the voice cast. To me, that just seems particularly odd, not to mention not characteristic of Disney at all. Regardless, there are some good extras, like the following…
Disney Intermission – This may be my favorite of the extras. When you pause the movie, a guy pops up and starts geeking out about video game trivia and what easter eggs you can find hidden in Wreck-It Ralph. It's fun and worth pausing the movie to watch all of them.
Paperman (6:34) – There's a theatrical short included with the movie and it's a completely unrelated story about a man who bumps into a woman on the street. Without a single word of dialog, the cartoon shows the result of the chance meeting leaving her lipstick on a paper he was carrying. They part ways and all he can do is think about her. While in his office later, he looks out his window and sees her across the street in another office building. He then does what he can to get her attention… it's super cute and emotionally moving, actually. The cartoon is presented in a classic Disney animation style (think Beauty And The Beast) but its remarkable fluidity suggests it's computer animated in a classic 2D handdrawn fashion.
Deleted Scenes (14:28) – Believe it or not, you probably wouldn't miss anything if you completely skipped over these "deleted scenes." They're all presented as animated storyboards and they're pretty much alternate takes of what you see in the film. The first one shows Ralph in the brig in the game Hero's Duty. It's a bit long and unnecessary, but it sets up an alternate ending. There's then a bizarre scuffle with the Candy King in the next scene, followed by Ralph, Felix and Vanellope visiting her home. A variation of this is in the finished film, but obviously Felix wasn't with them. Then the next scene shows the three of them in bunk beds, which is also kind of odd. Finally, the last scene is the pay-off for the odd brig scene. In the brig, Ralph meets a guy encouraging him to retire to a game called Easy Living 2. Ralph gets there in the final deleted scene and realizes it's empty, dull and superficial and that becomes his motivation to save Vanellope.
Bit by Bit: Creating the Worlds of Wreck-It Ralph (16:40) – Here it is, folks, the one and only featurette about the making of the movie. Here they talk about how the movie was pitched, how it was originally conceived to center around Felix with Ralph being a monstrous villain, and how each of the game worlds were designed. Again, it's strange that the voice cast weren't covered at all.
Video Game Commercials (2:39) – There are four mock video game commercials included that debuted on the web originally to promote the film. Each one is done in the style of the generation it was originally intended for, including the original "Fix-It Felix, Jr." commercial looking like it was recorded on a VHS tape. It's fantastic!
– John DiBiase, (reviewed: 3/4/13)
Parental Guide: Content Summary


 Sex/Nudity: Two characters kiss a couple of times; Ralph knocks out a soldier, takes his uniform, and dresses him in a pair of underwear he found in a lost and found box before locking him in a closet.

 Vulgarity/Language: None, except a few double entendres ("move your molasses," "like fun you are," "pussy willows")

 Alcohol/Drugs: Some characters go to a tavern called Tapper's, which is based on an old video game of the same name that served beer, but it is made known that the characters are drinking/being served root beer; a character pours a drink into a martini glass and sips on it – it's assumed that it is a martini, as nothing is said to the contrary

 Blood/Gore: During the bad guy support meeting, Kano rips out a zombie's heart – it's played for laughs, is not bloody, and is put right back (the zombie is not grotesque-looking is any way); Ralph joins the Hero's Duty army and wages war with machine guns on alien bug creatures – the bugs explode and green goo is seen.

 Violence: Mostly cartoonish; we see a quick glimpse of two characters in Street Fighter II fighting; it's made known that there is the potential of non-regeneration if you die outside of your own game; Ralph is thrown off the top of a building several times (as per the idea of his game); Ralph throws bricks down to hit Fix-It Felix, Jr. (similar to Donkey Kong throwing barrels at Jumpman); while trying to support Ralph's feelings, Zangief tells him that his job in Street Fighter is to "crush a man's skull like a sparrow's egg between his thighs"; Ralph "wrecks" a cake; Kano rips out a zombie's heart – it's played for laughs, is not bloody, and is put right back; Ralph knocks out a soldier and takes his uniform; Ralph joins the Hero's Duty army and wages war with machine guns on alien bug creatures – the bugs explode and green goo is seen – a giant beacon shines that draws the creatures in like a bug lamp and extinguishes them all; a flashback scene shows a man being swallowed whole by a giant alien bug creature (played for laughs…kinda) – Calhoun pulls out an exaggeratedly-huge machine gun and fires at the creature; Calhoun slaps and punches Felix multiple times in the face, which he fixes by hitting himself in the face with his magical fixing hammer; Ralph gets burned by some Diet Coke lava – played for laughs, no burns actually shown; Ralph "wrecks" a kart racer; while learning to drive, Vanellope crashes into Ralph several times; a kart race gets a little out of hand with Mario Kart-style weapons and some intentional smashing from other racers; a character tries to destroy Vanellope's coding in order to eliminate her from existence; Ralph fights a boss character, who threatens to destroy all of Sugar Rush – all the characters evacuate the game, except Vanellope, because glitches cannot leave their game (which means she would die forever); a character jokes that her followers are to be executed (she is kidding, of course).