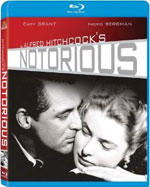 Notorious


Director: Alfred Hitchcock
Starring: Cary Grant, Ingrid Bergman, Claude Rains, Leopoldine Konstantin
Running Time: 1 hour, 42 minutes
Theatrical Release Date: September 6, 1946
Blu-Ray Release Date: January 24, 2012 (Amazon.com)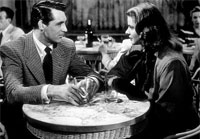 Plot Summary
A woman is asked to spy on a group of Nazi friends in South America. How far will she have to go to ingratiate herself with them? (from IMDB.com)
Film Review
When thinking of the spy film genre, your mind will most likely gravitate toward characters like James Bond, Jason Bourne, or Mission: Impossible's Ethan Hunt. However, a name that may not so quickly be associated with the spy genre these days is Alfred Hitchcock. However, most movie fans of today don't realize that Hitchcock's film Notorious greatly influenced the style of the genre. If you look at a film like Notorious, you can definitely see where the James Bond franchise got the cool, sexy, suave feel that it has almost always embraced. Watching Notorious is like watching the birth of something big; in many ways, the movie isn't all that grandiose, but through it, Hitchcock has given us the start of something pretty significant.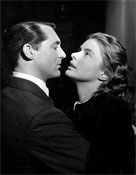 The plot takes a mysterious government agent named Devlin who enlists the help of a young woman by the name of Alicia for an important assignment. When he meets her, he isn't aware of why he's recruiting her just yet, and upon their meeting, the two begin to fall for each other. Once he's briefed on his assignment, he learns that–due to Alicia's past history of being a bit of a party girl who also has been around some–he's expected to virtually toss her to the dogs, so to speak. A man by the name of Alexander Sebastian is suspected of aiding the Nazis, and since Alicia has a history with the man, she's expected to use any means necessary to earn his trust and get close to him. Obviously, this causes a rift between Devlin and Alicia, and their relationship is pretty much over just about as quickly as it began. We soon learn just how much integrity Alicia really possesses as she begins sacrificing quite a bit for her country and fellow Americans.
If this sounds at all familiar to you, there's good reason. I remember seeing this film for the first time at one point shortly after the summer of 2000. When I did, certain plot elements seemed vaguely familiar. It just so happens that 2000's Mission: Impossible II was loosely based on the above-mentioned plot where Ethan Hunt recruits Thandie Newton's character for a job, only to learn it means she has to go back with an ex-boyfriend just to learn what evil plans the guy is cooking up. That film even has Cruise telling Newton what her job is while standing on a balcony and them meeting up while undercover at a race track. Both scenes are similar to iconic moments in Notorious. Still, nothing can match the original–especially not a film like M:I-2.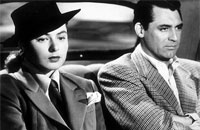 As a spy thriller, Notorious isn't a nail-biter by today's standards, but the tense situations Alicia finds herself in by being with Sebastian slow-cook through the course of the film. Also, once Alicia digs into her relationship with the villain, the film stops being about Grant and Bergman's characters, and really becomes a film centered entirely around Bergman's Alicia. Ingrid also turns in a much stronger performance than she had in the previous year's Spellbound, and it seems that Hitchcock was more on his game here too. Grant also plays Devlin in a pretty complex way. He's cool and collected; charming and intriguing, but he's also a bit of a heel. He doesn't come through for Alicia as often as you might hope he does, and he too ends up sacrificing a lot for the sake of the job. Claude Rains, who is probably better known for his contributions to Casablanca and Mr. Smith Goes to Washington, is fantastic as the villainous Alexander Sebastian. He's a weaselly fellow who doesn't necessarily seem all that bad of a man, but Rains effectively knows how to prove to be a formidable foe when the time comes for it.
The content for Notorious is overall pretty tame. While Alicia is referred to as a "tramp" and is hinted at as being a "loose" woman, it's something that isn't too focused on and is an issue that's skirted around a bit. She is clearly shown as reckless, however, and a pretty heavy drinker. Ingrid Bergman probably leans more on the classy side of actresses in her day, so it's tough to buy her as a "loose" woman, but since that's not made a big deal out of, it's nothing you really need to think about too much. The sexuality is reduced to a passionate embrace between Devlin and Alicia and her later making a comment to Devlin that he can add Sebastian to her "list of playmates." There isn't much violence, nothing graphic is shown, and no profanity is uttered. While thematically rather dark, Notorious may still be one of Hitchcock's more tame efforts.
Movie buffs will no doubt need to add Notorious to their must-see list as to witness the origin of the spy thriller as we know it today. Notorious boasts a great cast with skillful direction from Alfred Hithcock, as well as a strong script to hold it all together. You probably don't absolutely need to see this one in high definition on blu-ray, but it is the cleanest transfer that you're ever going to see of Notorious.
– John DiBiase, (reviewed: 2/3/12)
Blu-Ray Special Features Review
As I mentioned above, Notorious isn't one of the better high-definition film transfers that you can see. It's clean as can be, but the film itself looks pretty grainy at times. All of the dust and dirt has been cleansed from the picture, but casual viewers won't notice much of a difference between the HD presentation and a regular DVD. Along with the feature film, however, the Blu-Ray disc includes several featurettes–most of which seem to have appeared on a 2008 DVD release.
The Ultimate Romance: The Making of Notorious (28:22) – This is a documentary (in standard definition) about the making of Notorious that tells the story of how the film came to be and also focuses on the romance and "sexuality" of the film. Film historians talk about screenwriter Ben Hecht, the political angle of the story, and the evolution of how the story came together. One of the neatest moments in the documentary features a portion from a 1963 audio interview with Hitchcock himself.
Alfred Hitchcock: The Ultimate Spymaster (13:10) – A second documentary is devoted to Hitchcock's spy thriller films (if you haven't seen his film Sabotage yet but want to, DON'T watch this; it's loaded with spoilers!). It's intriguing to see just how much Notorious had inspired the future of spy films, especially the 60's Bond series.
The American Film Institute Award: The Key To Hitchcock (3:20) – This is a great little featurette where we hear from Hitchcock's daughter recounting the event when her father accepted the AFI Award. We then see part of his acceptance speech and later another awards ceremony where Bergman gives Hitch the prop key she steals in the film. It's neat to see Hitchcock, Grant and Bergman together in their elder years.
1948 Radio Play Starring Joseph Cotten and Ingrid Bergman (59:35) – As an added bonus, you can hear the 1948 radio play version of Notorious that aired on January 26, 1948. It was live from Lux Radio Theatre and featured Ingrid Bergman reprising her role, while Joseph Cotten stepped in as Grant's.
Hitchcock Audio Interviews – There are two audio interviews with Hitchcock. The first is with Peter Bogdanovich, the second with Francois Truffaut. The first with Peter is short, only about two minutes, while the second is over fifteen minutes and features his audio being translated into French as he speaks in English. Hitch's content is good during the first interview, but Peter is such a terrible interviewer, that it's a bit difficult to listen to his part of it.
Restoration Comparison – Over 115 hours of Digital Restoration work was completed on Notorious. This featurette gives you a side-by-side comparison of the film before restoration and the film after. Honestly, the only real noticeable difference is the film is slightly grayer instead of having a reddish hue and there is no flickering dirt or dust on the film. Otherwise, the Blu-Ray image really isn't much sharper or clearer than a DVD.
Commentary – There are two different feature-length audio commentary tracks. One is with Film Professor Rick Jewell, and the other is with Film Professor Drew Casper. Then there is an "Isolated Music and Effects Track" option as well.
– John DiBiase, (reviewed: 2/1/12)
Parental Guide: Content Summary


 Sex/Nudity: There's reference to Alicia having been a "tramp" prior to the opening of the movie; Devlin and Alicia passionately kiss, and then in the next scene we see them necking and kissing on a balcony before he leaves; Alicia is told she has to romance a man who used to be in love with her as part of a job. The details of how intimate this affair is supposed to be isn't explained; Alicia tells Devlin that he can add Sebastian to her "list of playmates;" Alicia's evening dress dips low in the front and shows some cleavage.

 Vulgarity/Language: None.

 Alcohol/Drugs: We see drinking at a party where a man is clearly drunk. Later, Alicia seems quite drunk while talking to Devlin after other guests have passed out. In the next scene, we see her driving her and Devlin recklessly while drunk; Alicia drinks in her apartment with Devlin; Alicia and Alexander drink together; Alicia leads Devlin to believe she has a hangover when, in reality, she's actually sick.

 Blood/Gore: None.

 Violence: Alicia swerves her car around the road while driving drunk; Alicia smacks Devlin while angry and he grabs her wrists to keep her from continuing to hit him. He then holds her down as she's writhing hysterically, so he knocks her out; A person slowly grows sicker and sicker as they unknowingly are being fed poison in their coffee/tea.