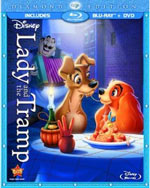 Lady and the Tramp




Director: Clyde Geronimi, Wilfred Jackson, Hamilton Luske
Starring: voices of Barbara Luddy, Larry Roberts, Peggy Lee, Bill Thompson
Running Time: 1 hour, 15 minutes
Theatrical Release Date: June 22, 1955
Blu-Ray Release Date: February 7, 2012 (Amazon.com)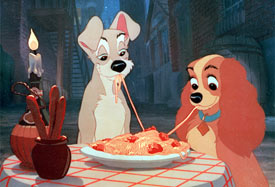 Plot Summary
Fall in love with Disney's Beloved Classic, Lady And The Tramp — now unleashed in glorious high definition for the first time ever on Blu-ray! Experience like never before the thrilling adventures of Lady, a lovingly pampered cocker spaniel, and Tramp, a freewheeling mutt with a heart of gold. This heartwarming tale now charms a new generation of families and fans with its exquisite animation, unforgettable songs, and immersive bonus that reveals the extraordinary making-of process behind one of the greatest love stories of all time. This is the night to share a special bella notte with your family and introduce them to the film Janet Maslin of the New York Times News Service hails as "one of Disney's most enduring classics" — now more beautiful than ever through the magic of Blu-ray high definition! (from Disney)
Film Review
There's a reason why Disney has a legacy for being the creators of some of the best animated films of all time. While the tone and style of animation has changed over the past couple decades, there's something charming and endearing about animation from decades past. Revisiting a film like 1955's Lady and the Tramp is a great reminder of days gone by–in both filmmaking style and quality, as well as storytelling.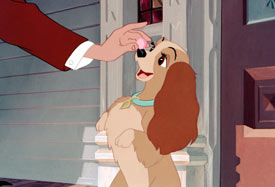 I probably last saw Lady and the Tramp in its entirety back when I was just a little kid, so it's a unique experience to see the film again through the eyes of an adult. Thematically, it surprised me just how mature the film really is. As I watched it, I realized I did remember many of the plot elements as they unfolded before me, but some of it held a much different kind of weight to it. For example, the story revolves around a young married couple, named Jim Dear and Darling, who get a puppy at Christmas time and name her Lady. She becomes everything to the couple, which changes when her owners get pregnant and give birth to a little baby. Lady begins to feel neglected, but Jim Dear and Darling still keep her involved in the family. Things get pretty out-of-control, however, when Jim Dear and Darling get away for a few days as just the two of them, leaving their baby in the care of Aunt Sarah. The older woman brings with her her pet Siamese cats, who don't take too kindly to Lady's presence. They frame Lady and she finds herself out on the street, mingling with a new friend–a stray dog known as "The Tramp." The film is at its most fun when Lady is with Tramp and they're galavanting around town, but her naivety makes the outside world more of a dangerous place for her. It's also implied that Tramp is a bit of a womanizer (well, as implied as a Disney cartoon can get), but his affection for Lady helps set him straight.
The scale of Lady and the Tramp as a film is kept rather small. Instead of sweeping locations and lots of action happening–with fast-paced humor or frantic animation–Disney focuses on the characters and their interactions with each other. It's pretty slow-paced, but it works well regardless. The movie is about Lady's journey first and foremost, and the filmmakers put a lot of effort into crafting crisp and colorful hand-drawn animation. The Blu-Ray presentation, which did more harm than good for the 1981 film The Fox and the Hound, brings out the colorfulness of the artwork, which really brings life to its characters.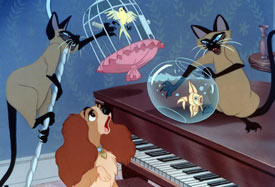 As a family film, Lady and the Tramp is almost perfect. However, when Lady has a run-in with a pack of stray dogs, it's a pretty intense confrontation that ends with Tramp attacking the menacing wild dogs. Most of the action here is shown in silhouette, however, as Lady looks on in horror. Also, there's a climactic encounter with Lady chasing a rat that runs into Jim Dear and Darling's house. The rat is shown to have glowing eyes and is pretty creepy, but it's not a long scene. Overall, it's a movie that is suitable for families, but probably not the really little ones.
When you think of the top Disney animated movies of all time, Lady and the Tramp may not be among them, but there is enough about this film–from the iconic spaghetti and meatball-sharing scene between Lady and Tramp, to the Siamese cat song number–to make it stand out. It's cute, it's heartwarming, and it's still enjoyable almost 57 years later.
– John DiBiase, (reviewed: 2/6/12)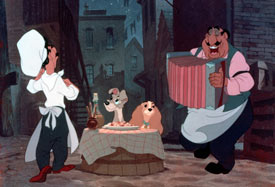 Blu-Ray Special Features Review
Lady and the Tramp is not only available on DVD, but Disney has finally released the classic to Blu-Ray in two separate Blu-Ray combo packs: one with a digital copy and one without. The film looks lovely in HD, and while it's not a movie that begs to be seen in high definition, it's a brilliantly clean and colorful digital transfer that really allows the artwork to shine. Along with the feature film are quite a few extras too…
Backstage Disney: Diamond Edition
Diane Disney Miller: Remembering Dad (7:51) – Walt Disney's daughter tells some stories of her father and the opening of Disneyland in California — including a little-known apartment Walt had built in the firehouse at Disneyland, which we see images and pieces from. (Apparently the Disney Second Screen allows you to view the apartment in a 360-degree explorative mode!)
Deleted Scenes (19:11) – There are three deleted scenes: "Introduction of Boris," "Waiting For Baby" and "Dog Show."
The first one is narrated by someone who explains the intentions of the original scene and then provides voices and dialog for the scenes while we see frame-by-frame storyboards. This scene involves two dogs who were neighbors to Lady–Homer and Boris–who were characters that were removed from the final film entirely. The second scene shows Jim Dear with Lady as he's daydreaming spastically about their baby [hopefully] being a boy. This is all while Darling is giving birth in a nearby room and Jim Dear is waiting for the baby to be born. When he finds out it's a boy, he passes out. The last scene is Tramp and Lady who accidentally get entered into a dog show while the two are hanging out around the town; it gets pretty silly. None of these scenes were necessary and, although the movie was short enough to allow these scenes to be included, these scenes probably wouldn't have added anything to the movie (except A LOT more dog characters).
Music & More
Never Recorded Song: "I'm Free As The Breeze," Lyrics by Ray Gilbert and Music By Eliot Daniel (1:26) – This was a song developed in 1946 for Tramp to have sung to express his life philosophy. However, by the film's completion, they'd decided that Tramp should not be a singing character at all. Here we get to hear a reproduction of what would have been the song, had it been recorded and used, set to some drawings of scenes not in the movie.
Classic DVD Bonus Features
All of the bonus features from the debut DVD release of Lady and the Tramp from several years ago are also included here in standard definition.
Lady's Pedigree: The Making of Lady and the Tramp (52:35) is a near-hour long documentary about how Lady and the Tramp came to be. It starts with Walt Disney's upbringing and how that became the direct inspiration to the film. Interestingly enough, it also talks about how the film began being conceived in 1939, before it finally found life in the 50's, and how the idea was from someone who never properly received the credit that was due him.
Finding Lady: The Art Of The Storyboard (13:02) explains what storyboarding is and how it originated from Disney himself.
Original 1943 Storyboard Version Of The Film (11:52) – A couple of Disney animators reveal the original storyboard frames they discovered in the animation vault and read through the original story frame by frame. It's a pretty neat piece of history that they share with us.
"The Siamese Cat Song" Finding A Voice For The Cats (1:52) – This short video shows the storyboard sketches of the Siamese cats with various recorded takes featuring different voices put together in a montage from the original recording sessions!
PuppyPedia: Going to the Dogs (9:22) – This is a corny little video, hosted by Fred Willard, dedicated to the history of dogs.
"Bella Notte" Music Video (2:55) is a music video for the song, performed by Steve Tyrell, featured on his Once Upon a Dream: The Disney Standards album. It's also pretty corny.
Deleted Scenes (12:52) – Three more deleted scenes were included on the standard DVD. The first scene is shown in storyboard form with the original audio and music from the characters set to the storyboards of where Tramp imagines what it would be like if dogs walked humans and treated humans as dogs. It totally wouldn't have fit in the movie. The next one is an extended version of the baby's arrival with some early, unused dialog recordings and storyboards.
– John DiBiase, (reviewed: 2/6/12)
Parental Guide: Content Summary


Sex/Nudity: We see Lady and Tramp lying next to each other on a hillside as the sun is going down and the scene fades out. In the morning, they're still lying next to each other. At the end of the film, we see Lady with puppies and it's never specified when exactly that happened. Everything is subtle enough that nothing may have happened that night, but it's also possible to read into it; We briefly see Jim Dear and Darling's baby's butt cheeks at the end when the puppies are pulling on his pajamas.

Vulgarity/Language: None.

Alcohol/Drugs: None.

Blood/Gore: None.

Violence: We see Tramp attack a dog catcher to free some friends; Darling slaps Lady on the butt for pulling on her yarn while she's knitting baby booties; The Siamese cats make a mess of the house, breaking things. Lady chases them, causing more destruction; We see a pet store owner put a muzzle on Lady who then runs away, dodges cars in the street (and almost getting hit), and is chased by wild dogs; Tramp fights and bites a pack of wild dogs; Tramp starts a fight between a cop and an innocent bystander to use as a diversion; Tramp chases a rat into Jim and Darling's house; A dog causes a dog catcher carriage to crash and we then see the dog lying lifeless by its wheel. Later we find out the dog was only injured.