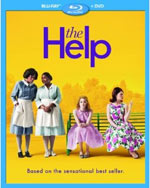 The Help


– for thematic material.
Director: Tate Taylor
Starring: Emma Stone, Viola Davis, Bryce Dallas Howard, Octavia Spencer, Jessica Chastain
Running Time: 2 hours, 26 minutes
Theatrical Release Date: August 10, 2011
Blu-Ray Release Date: December 6, 2011 (Amazon.com)
Official Site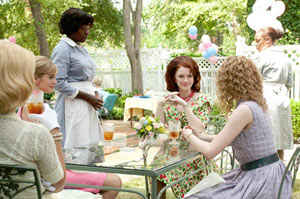 Plot Summary
Based on one of the most talked about books in years and a #1 New York Times best-selling phenomenon, "The Help" stars Emma Stone ("Easy A") as Skeeter, Academy Award®–nominated Viola Davis ("Doubt") as Aibileen and Octavia Spencer as Minny—three very different, extraordinary women in Mississippi during the 1960s, who build an unlikely friendship around a secret writing project that breaks societal rules and puts them all at risk. From their improbable alliance a remarkable sisterhood emerges, instilling all of them with the courage to transcend the lines that define them, and the realization that sometimes those lines are made to be crossed—even if it means bringing everyone in town face-to-face with the changing times. (from MovieWeb.com)
Film Review
Movies that go beyond entertainment to really impact your life are a rare find. The Help is a dramatic story about a young girl who crosses the boundaries of what is acceptable in the south during the 1960s and writes a tell-all book about the injustices done to African American maids by the white Americans who hired them to raise their children and care for their home. The Help digs deep into the lives of the people involved on both sides of the fence, and its the skillful direction of Tate Taylor, bolstered by a cast of incredible performers, that create a film that you won't soon forget.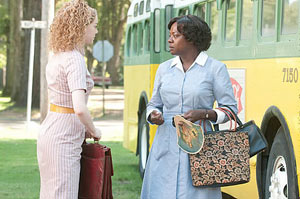 Emma Stone, hot on the heels of her appearance in the romantic comedy Crazy Stupid Love, stars as a girl in here early-20s named Eugenia–who goes by the nickname "Skeeter"–who was the member of one of the many white families in Jackson, Mississippi in the 60's who were raised with maids caring for them in their home. Viola Jones steps into some challenging shoes as Aibileen, the primary maid in this story. Skeeter and Aibil soon strike up an unlikely friendship as they decide to pen what would ultimately become a book called "The Help." Director Tate Taylor, a lifelong friend of the original novel The Help's author, Kathryn Scott, uses the film to really shed some light on the despicable characters that many white socialites were during this time period. Bryce Dallas Howard gives a wonderful performance as Hilly, a friend of Skeeter's who has grown callous toward the humanity of these wonderful African American women. Another friend of Taylor and Scott, Octavia Spencer, stars as Minny Jackson, a maid who is close to Aibil, and her strong spirit gets her in some pretty serious trouble on more than one occasion. Jessica Chastain stars as Celia Foote, a more kind-spirited and naive woman who sees past Minny's skin color to the beauty that lies within her. With all of the horrible people in the Jackson community, it's people like Celia and Skeeter that end up bringing some rays of hope to these women's lives. The Help is one of those few films that has powerful performances across the board with a strong script and wonderful direction to bring it all together.
The heart behind The Help (which is elaborated on in the Special Features found on the Blu-Ray disc) reveals that this film hits close to home for both the film's director and the source novel's author. Because of that, it's more than evident that this film is a labor of love. While segregation is a big theme in the film, and a true stain on American History that is difficult to revisit, it's present in the story to stay true to the times. The film is more about "The Help" specifically and the kind of lives they led, specifically the impact they had on the families they aided and their own children they raised at home. Both Viola and Octavia deliver Oscar-worthy performances, while Taylor himself has truly put together a film worth celebrating. There's so much emotion packed into this film with people portrayed so genuinely that it's truly difficult not to get pulled into the events of the story. Because of this, it's thematically quite weighty–adressing everything from spousal abuse and child neglect on down to miscarriages and difficulty starting a family. It's a tear-jerker in its truest form without ever feeling like those emotional moments are forced or contrived. Things like this really happened at one time in the U.S.'s history and some of it honestly makes me feel ashamed, as a white male, to know these women were treated so harshly just because of the color of their skin.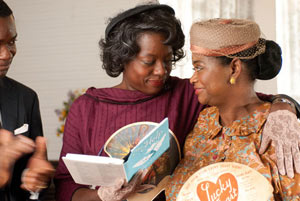 Thematic content included, the film definitely earns its PG-13 rating, although the objectionable content never feels included with the intention to offend. Some language is present, including variations of the "n" word and some blasphemy to represent life in the south back then and the kinds of people that made up that society. That, of course, isn't to excuse such things as blasphemy here, but you can tell the intentions were more for authenticity than gratuity. There is also one scene where we briefly see glimpses of blood smeared on a bathroom floor after a woman suffers a miscarriage, while there are references to some spousal abuse that is mostly talked about and not shown (we briefly see some things being thrown at a woman and then hear screaming on the other end of the phone, but that's it). It's a weighty film with some very serious topics to consider and digest. I can't imagine too many younger viewers may be interested in a movie like this, but it's definitely more appropriate for older audiences.
Typically, heavy and emotional dramas aren't my cup of tea, but fantastic acting and storytelling, with an emphasis on injustice and hope rising to overcome it, really make a story like The Help one to stand up and applaud. There's also a nice spiritual element that runs through the film that adds to the hope that these women possess. It's a refreshing film that will inspire and maybe even convict–so keep tissues within reach. The Help is one of the best films of 2011.
– John DiBiase, (12/4/11)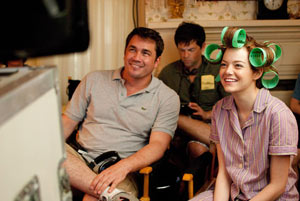 Blu-Ray Special Features Review
The Mississippi backdrop, coupled with the colorful cinematography used to represent this time period make The Help a nice film to view in high definition. The film is available in a Blu-Ray/DVD combo pack as well as one with a Digital Copy included. Along with the feature film are a few nice bonus features…
Deleted Scenes with Introductions by Director Tate Taylor (9:36) – There are five deleted scenes with introductions from director Tate Taylor. In the first scene, Stuart comes to see Skeeter and her mother after their first date. The sequence actually explains Stuart's reaction to something that happens later on in the film, despite Taylor's intro saying the scene wasn't really needed. It definitely should have been included in the film. The second scene shows Skeeter being outcast after having pulled a prank on Hilly. The next shows Minny hiding when Johnny got home. We then briefly see Celia and Johnny start making out (1 "h*ll). The fourth scene, omitted for pacing issues, shows Minny, Aibileen and Skeeter sitting around worrying about the impact of the book (1 possible mouthed "s" word). The final deleted scene, which would have been at the end of the movie, shows Minny, after she's been beaten by Leroy, phoning Aibileen for advice (1 "n*gger," 1 "L*rd"). It was wise of Taylor to leave it out.
The Making of The Help: From Friendship To Film (23:25) – This is a wonderful behind-the-scenes featurette which explains how the movie came to be. It opens with revealing that the author of the book, Kathryn Scott and the film's director Tate Taylor had actually grown up together in Mississippi. Both Scott and Taylor talk about their own upbringings and how it affected their lives. They focus on the friendships that inspired the novel and film and it's really a fascinating story.
In Their Own Words: A Tribute To The Maids of Mississippi (11:51) – Taylor and Octavia sit down in the church used in the film with some of the maids in Greenwood, Mississippi to give them a chance to share some of their real-life stories. It's a really touching and emotional collection of testimonies and stories shared here.
"The Living Proof" Music Video rounds out the special features for this package. The Help is a wonderful film and the few extras just make it an even more impactful experience.
– John DiBiase, (reviewed: 12/4/11)
Parental Guide: Content Summary


 Sex/Nudity: A man comes up behind his wife and gooses her before nuzzling her; We see Skeeter's mother in her slip after she gets out of her dress. We then see Skeeter in her slip as she tries the same dress on; Skeeter's mom asks her if she has impure thoughts about other girls or women and Skeeter acts horrified and storms away; Minny refers to Celia's pregnancy as being "knocked up;" We see Celia wearing a dress that accentuates her cleavage and causes several men to stop and stare at her; Celia shows cleavage in other scenes as well


 Vulgarity/Language: 8 "S" words, 1 "J-sus," 4 "g*dd*mn," 11 "Lord," 1 "a–h*le," 1 "a" word, 8 "d*mn," 1 "Chr-st," 5 "n*gra," 2 "n*gger," 6 "h*ll," 3 "oh my G-d," 1 "oh G-d," 1 "For G-d's sake"


 Alcohol/Drugs: We see Hilly drinking while driving; Celia gets drunk at a party and pukes on the floor (we don't see this, but we hear it)


 Blood/Gore: We see blood smeared all over the floor and toilet as we learn about a woman's miscarriage; We see a little dried bloody cut above Minny's eye; We find out a pie was baked with excrement in it (and a character unknowingly eats some of it)


 Violence: We hear yelling and things being thrown by a man at Minny's house; Celia takes a chicken over to a chopping block; A mother slaps her little daughter repeatedly across the face (seen from behind the mother, so we don't actually see her slapping her); Skeeter's mom grabs her by the arm rather roughly; We hear about an African American who has been shot; Hilly trips and falls while running; Two cops wrestle a maid to the hood of their car. We then see one of them raise a nightclub and although we don't see it hit, we hear the thump of them hitting her; Hilly pushes Skeeter forcefully; Minny runs away from someone and picks up a large tree branch for defense, thinking that person may want to hurt her, but they do not.